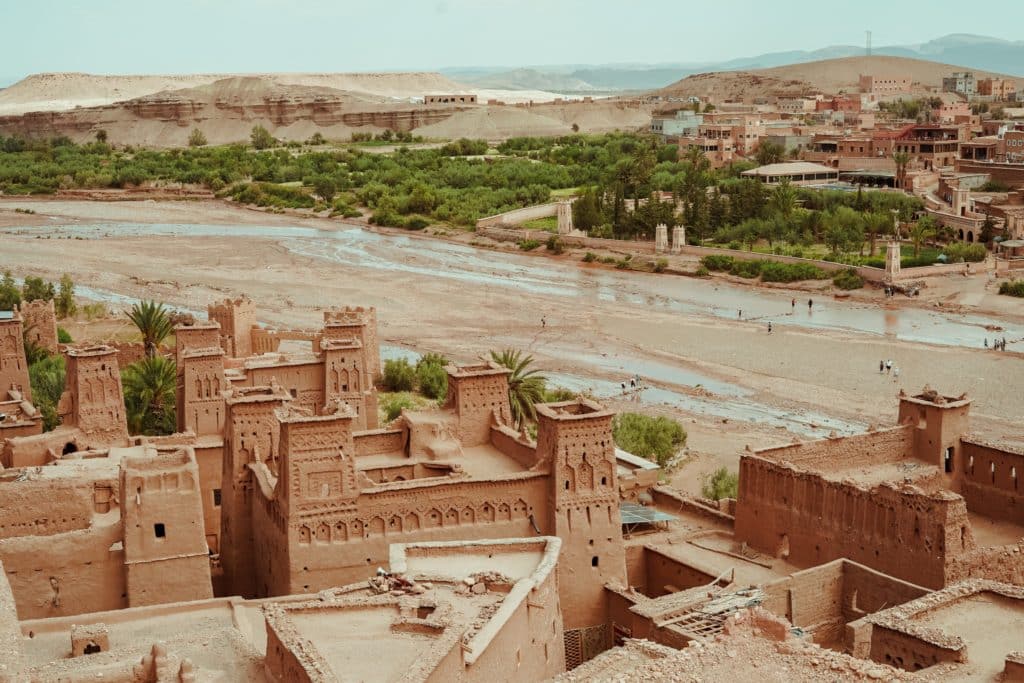 If you're wondering how to visit Ait Ben Haddou during your visit to Morocco, this post is for you.
Ait Ben Haddou is an ancient village near the popular desert town of Ouarzazate and is a must for first time visitors to Morocco.
Ait Ben Haddou was built along a former trading route between the Sahara desert and Marrakech. The village is estimated to have existed from the 17th century and features traditional Morrocan earthen architecture.
It's neighbor, Ouarzazate, is known for it's many movie studios and is considered the Hollywood of Morocco.
Ait Ben Haddou itself has been the setting for many major films including Gladiator, Babel, Prince of Persia and many more.
Currently, there are only four families that continue to reside in Ait Ben Haddou. The remaining families have moved across the river into more modern homes. 
In 1987 Ait Ben Haddou was designated an UNESCO World Heritage Site.
A visit to Ait Ben Haddou provides a unique opportunity to see ancient Moroccan architecture and observe how locals previously lived.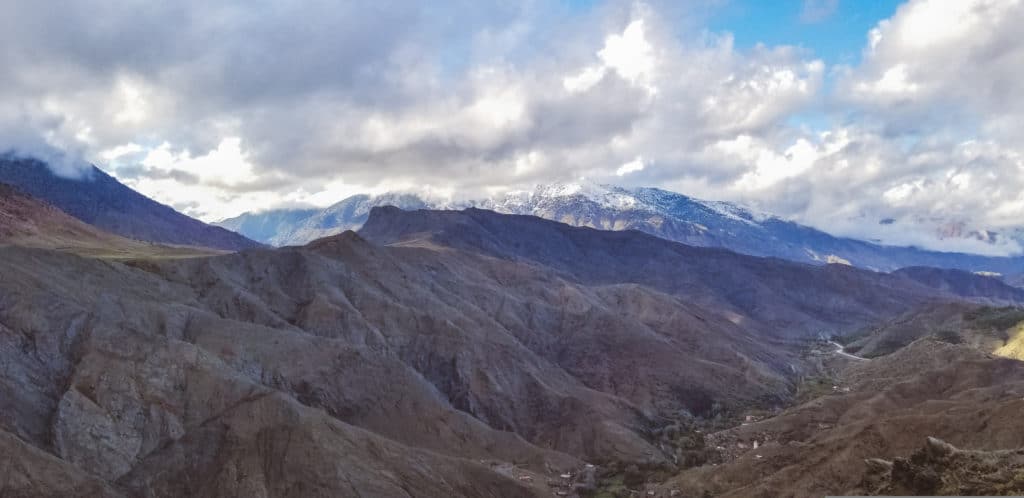 Getting to Ait Ben Haddou
To get to Ait Ben Haddou you can either fly into the local airport in Ouarzazate or make the drive from Marrakech through the Atlas Mountains.
If flying, there are direct flights from Marrakech on Royal Air Maroc. Airfare varies, but flights can be found for as little as $29 (USD), and take about 40 minutes.
If traveling by land, the drive from Marrakech to Ait Ben Haddou will take about four hours.
Be advised, the road from Marrakech to Ait Ben Haddou is a long, windy, two-lane road as you pass through the Atlas Mountains.
I suggest making the trek during the day if possible. 
If you're looking for the cheapest and slowest option to get from Marrakech to Ait Benhaddou, you can take the bus.
The bus will cost about 90 Dirhams and takes about 5 hours. There are about 4 busses that run per day beginning at 8:00 a.m. Tickets should be purchased in advance.
When taking the bus you will need to request to exit the bus at the crossroads before Ouarzazate.
From the crossroads near Ouarzazate you will need to take a taxi or grand taxi (shared taxi) the remainder of the way to Ait Benhaddou.
There are typically taxis waiting in this area during the day time. The ride in the taxi will take about 15 minutes and should cost about 10 Dirhams.
Many local tour groups will lead day trips from Marrakech to Ait Ben Haddou and Ouarzazate. These tours will leave early in the morning and return in the evening.
For those on a guided group desert tour out to the Sahara, visitors will usually make the four hour drive from Marrakech to Ait Ben Haddou, see the signts and then spend the night before heading into the Sahara the next morning.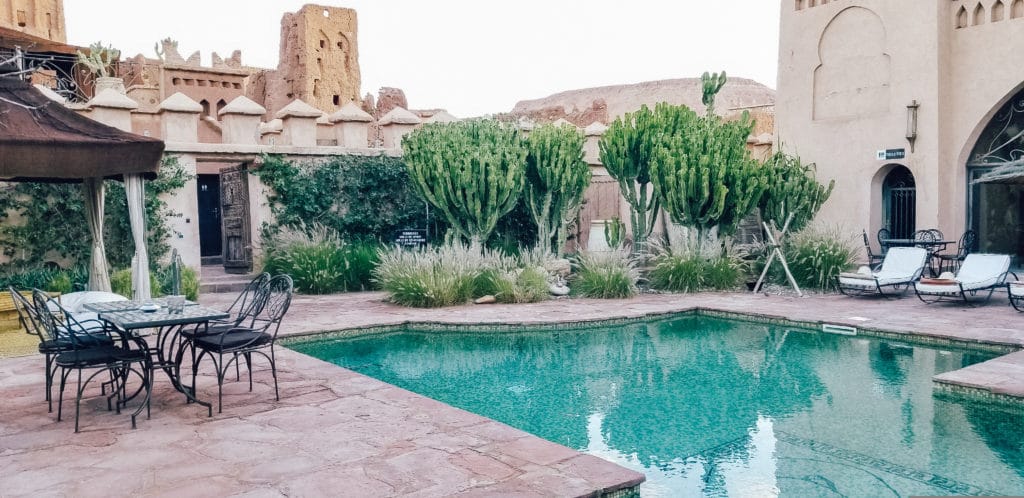 Where to Stay when visiting Ait Ben Haddou
During my visit to Ait Ben Haddou, I stayed at Riad Ksar Ighnda.
The grounds and courtyard were well-kept and quite pretty.
They also served a great buffet dinner and buffet breakfast with plenty of options for vegetarians, including both hot and cold items.
The rooms were large with equally spacious bathrooms.
The real standout of my stay here was the shower as the water pressure was incredible. The average nightly rate for Riad Ksar Ighnda is about $120 (USD). 
If you're looking for more affordable riads or hotels, there are plenty of other accommodations nearby.
If you're looking for something a bit fancier, consider booking accomodations about 30 minutes away in Ouarzazate.
Take a look at your favorite hotel booking site like Travelocity, to see what your many options are.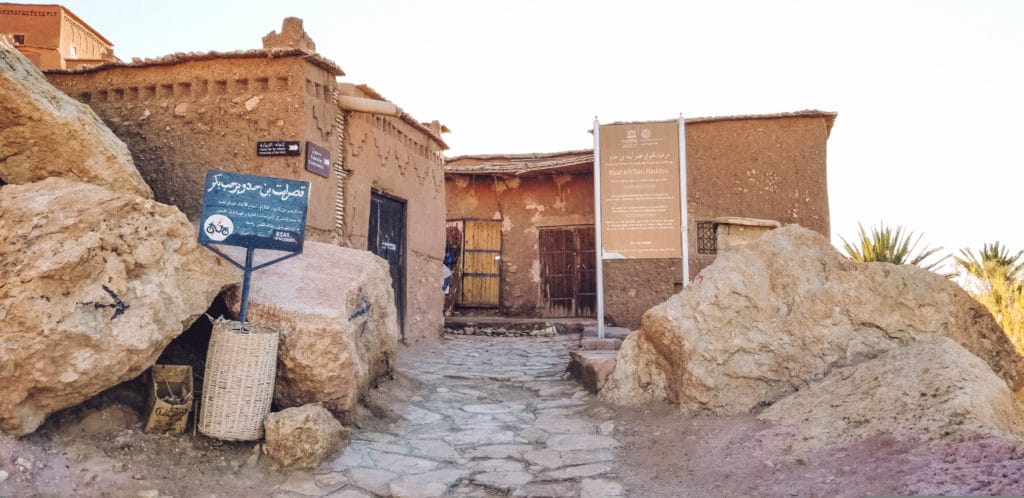 How to visit Ait Ben Haddou
When visiting Ait Ben Haddou, I recommend arriving as early as possible.
Arriving early will allow you to beat both the crowds and the heat. 
Admission to Ait Ben Haddou is 10 Dirhams, or about $1 (U.S.). Visitors are welcome from sunrise to sunset.
Visiting Ait Ben Haddou will require moderate hiking and climbing of several stairways.
Bring good shoes and a bottle of water. You should also bring along extra Dirhams in case you wish to make any purchases.
If visiting during the middle of the day bring a hat.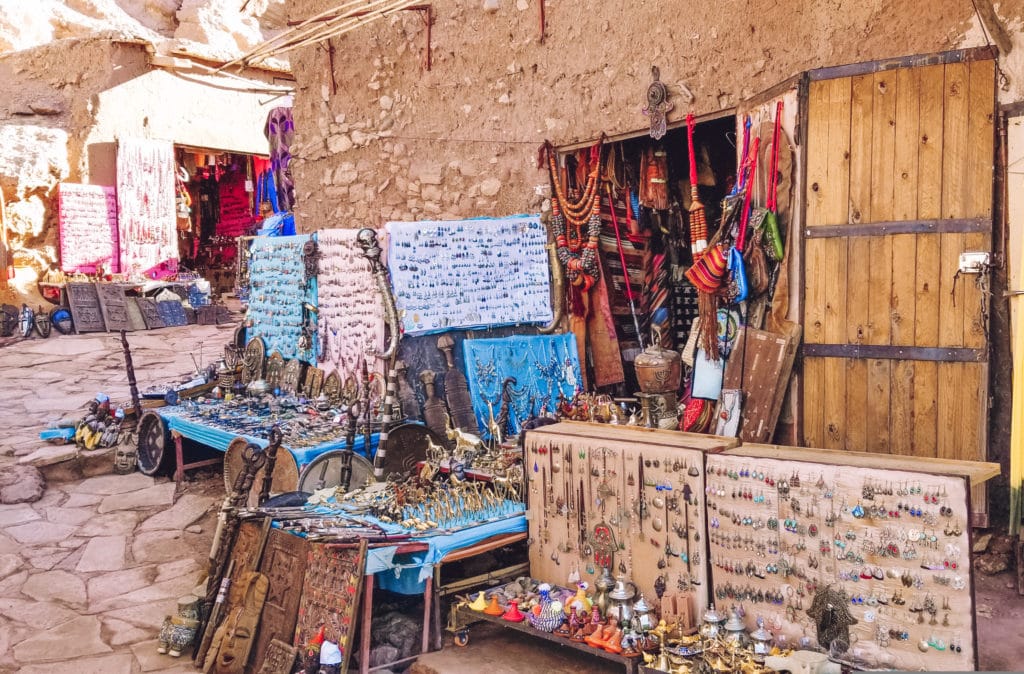 Ait Ben Haddou Shopping
As you make your way up the path through Ait Ben Haddou, you will pass a few areas where the residents and locals sell handmade clothing, jewelry, textiles, and art.
Feel free to browse and look around if you like, there's no pressure to buy and the locals are friendly.
I found prices here to be reasonable, but don't forget to bargain.
As a general rule, always make a counteroffer when making souvenir purchases in Morocco. It is expected, so don't be shy and just pay the first price you receive.
Bargaining when you shop is part of the experience of being here. Have fun with it, but make sure you're offering a fair price in return and always be polite.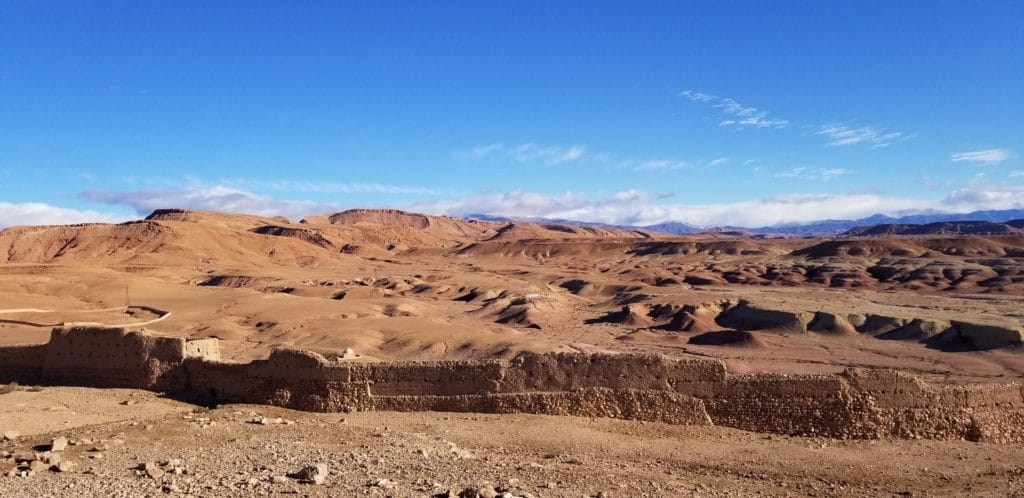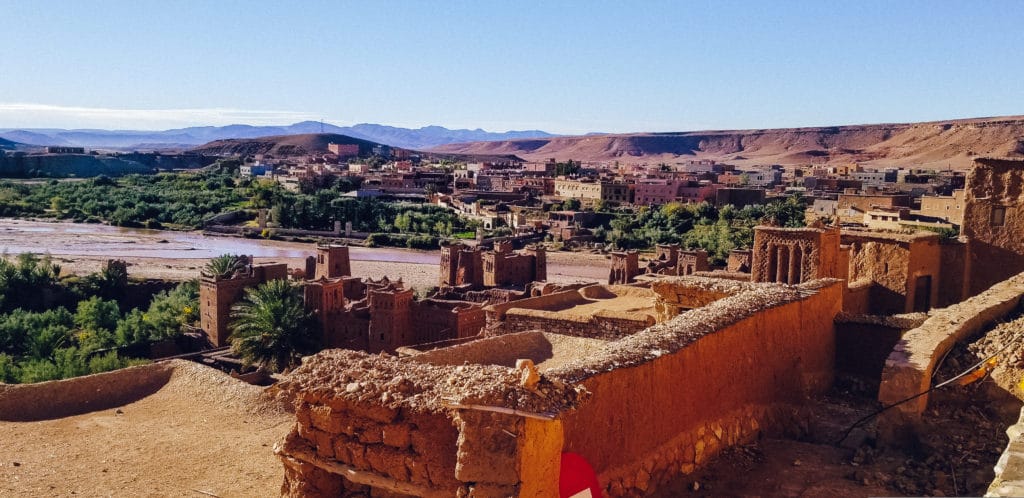 Walk to the top
During your visit, be sure to make your way all the way to the top of the hill.
When you do, you'll be rewarded with a beautiful view of the surrounding desert along with a birds-eye view of Ait Ben Haddou.
At the top of the hill, you'll find a small rectangular building which used to be the vault or bank for the city.
Today the building is no longer in use, but the hilltop makes a great place to get photos of the surrounding desert landscape. 
I hope you've enjoyed this post about how to visit Ait Ben Haddou Morocco and that you've found it useful in planning your own trip.
I found my time exploring Ait Ben Haddou to be one of my favorite memories from my visit to Morocco. I'm sure it will be an experience you remember for years to come as well.
Hopefully after visiting Ait Ben Haddou you plan to go Camping in the Sahara as well. I'll never forget how quiet and peaceful it was. If you enjoyed this post I would love it if you could share it. It really helps me a lot. Thanks for reading.
Book Your Trip
Find the best flight deals by using Google Flights, then book direct with the airline. This is the search engine I use to compare flights and prices before booking my own trips.

BOOK YOUR ACCOMODATION
I recommend searching for hotels through Booking.com to compare hotels on amenities, location, and price. If you are a member of a hotel's rewards program, always book direct with the hotel. If you are not loyal to a specific hotel brand, using Booking.com for the best price.

TRAVEL INSURANCE
Travel insurance is more important than ever. For just a few dollars a day you can protect yourself and your trip. I personally use World Nomads, but whomever you choose, don't skip out on travel insurance. It can literally save you thousands of dollars.


Want to save it? Pin it. 
Related Posts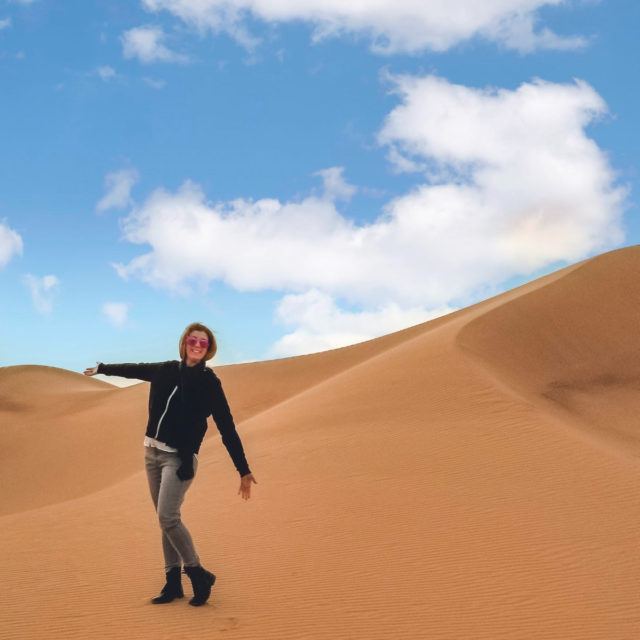 Desert camping in Morocco has been one of my greatest adventures yet. During my visit to Morocco in November, our group spent an incredible night …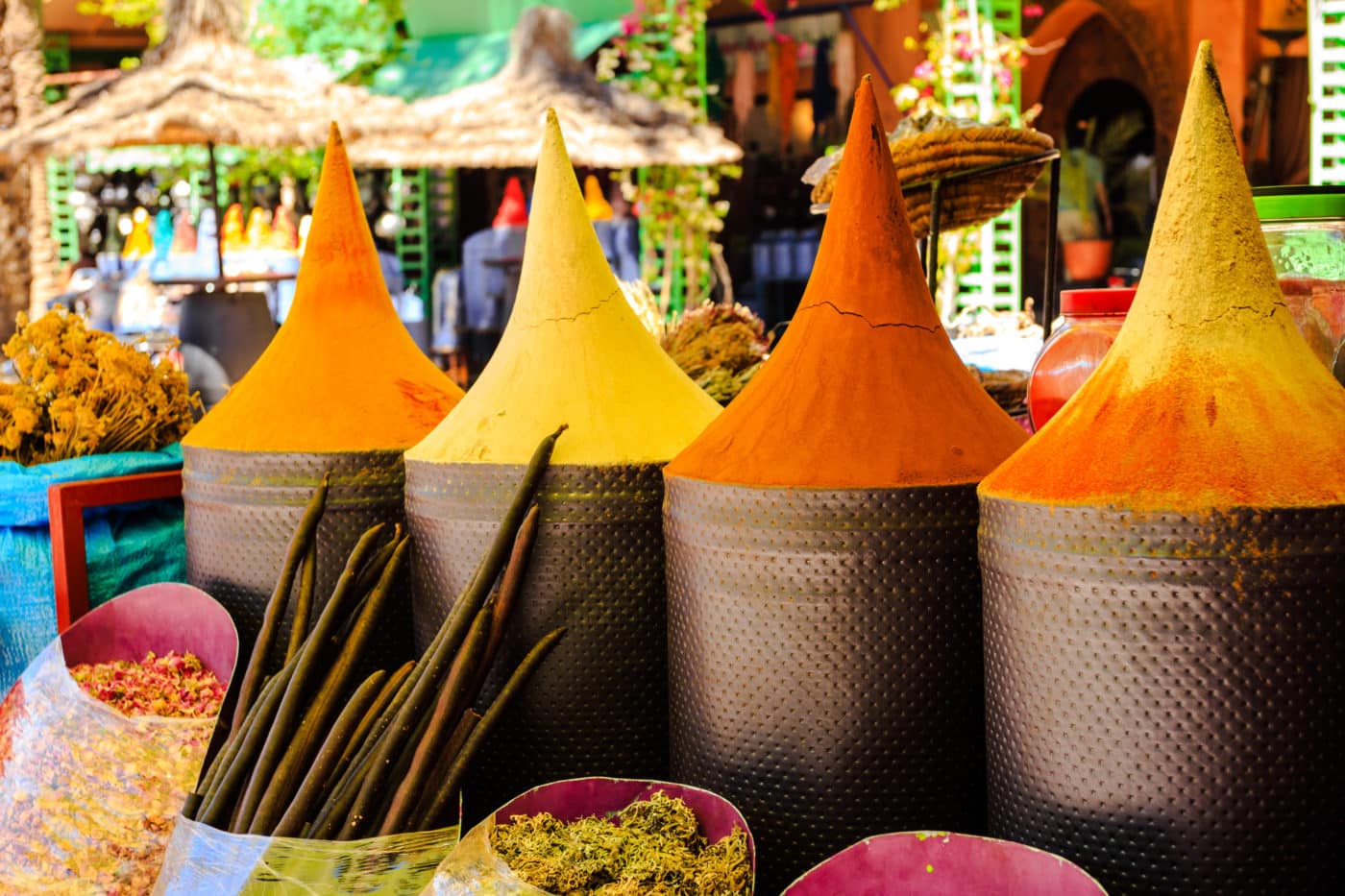 Photo by Getty Images Any trip to Morocco should include at least one day in Marrakech. This vibrant and bustling capital city offers a total sensory …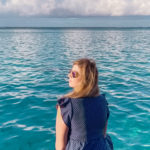 Eden Fite
Part-time Traveler | Dog Lover | Avoider of Crowds
I help busy people find creative ways to travel more.