Any trip to Morocco should include at least one day in Marrakech. This vibrant and bustling capital city offers a total sensory overload.
From the constant buzzing of motorbikes to the sights and smells of the Medina and spice markets, Marrakech is like no place else. Trust me when I tell you, you don't want to miss this.
While there's plenty to see and do, you can cover a lot of ground with just one day in Marrakech.
This itinerary takes you to all the must-see places in Marrakech. It includes travel time between stops and some helpful tips to make your day run smoothly.
Let's get started.
Quick Tips for Spending One Day in Marrakech
Get up early today or plan to arrive very early if you only have one day in Marrakech. You want to have as much of the day as possible because we've got lots to see.
Wear comfortable shoes. You will be doing a ton of walking.
Pack a couple of bottles of water and some snacks so you don't have to go looking for these things later.
Have Dirhams on you in small denominations. It will be easier to pay for things as you go through the day.
Make sure all your devices are charged. You'll be out all day and may not have access to an outlet.
Don't forget your camera. There will be many opportunities for photos throughout the day.
Dress appropriately. Remember that you are in a conservative country, so wear pants or long dresses and do not wear low cut tops.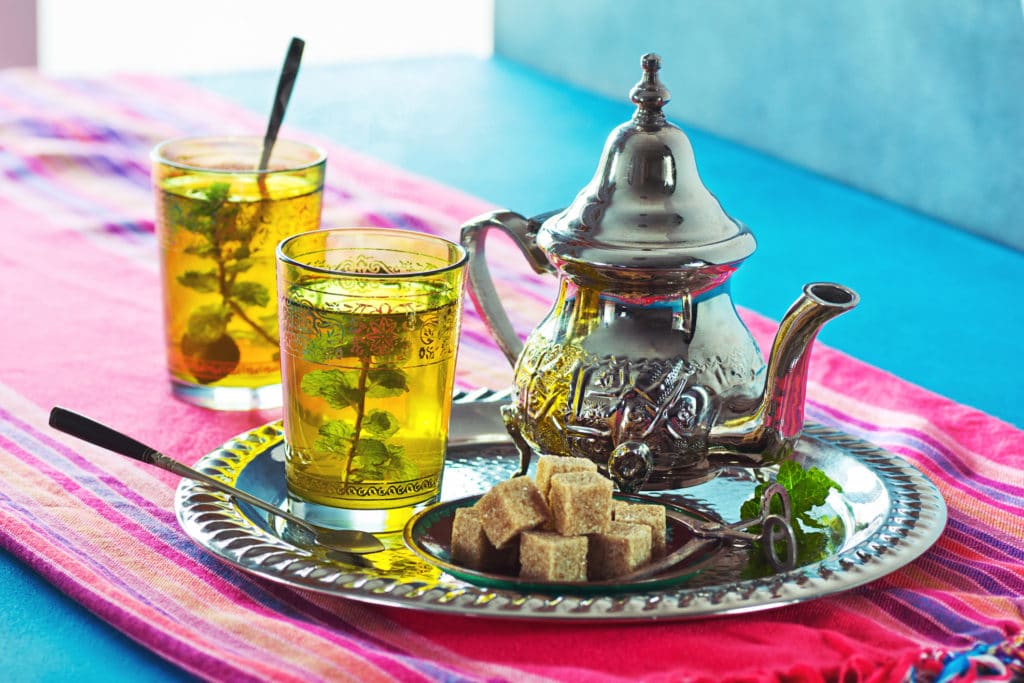 Try Moroccan Mint Tea
Start off your one day in Marrakech by sampling some of the local mint tea with breakfast.
Moroccan mint tea is available just about everywhere in Morocco and will be served alongside most meals.
The tea is made from green tea and fresh mint leaves. It can be served sweetened if you like.
Like green tea, Moroccan mint tea is said to have many health benefits and is often enjoyed multiple times throughout the day.
Next destination: Koutoubia Mosque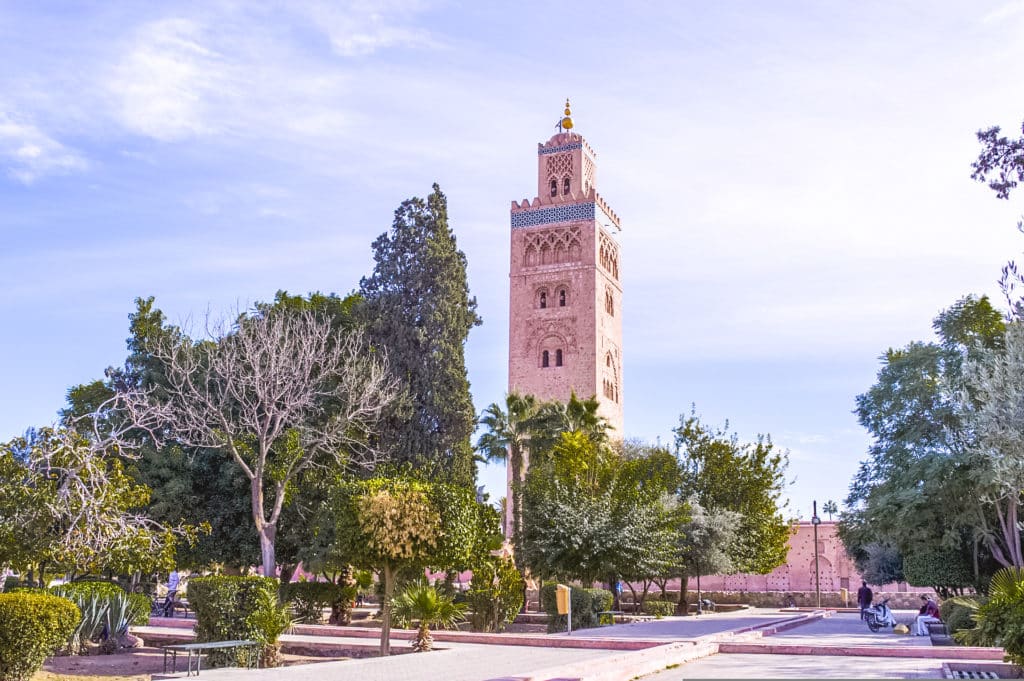 Visit Koutoubia Mosque
Koutoubia Mosque is the largest mosque in Marrakech and is considered a very important landmark.
The minaret tower pictured above stands at 253 feet. You can see the minaret from up to 18 miles away on a clear day.
The top of the minaret is where the call to prayer is made from.
You will hear the call to prayer 5 times a day while visiting Morocco. The first is usually before sunrise at around 5:00 a.m.
It is important to note, non-Muslims may not enter the mosque. I have also heard that the guards will typically only allow locals to enter, regardless of faith.
That being said, the Koutoubia Mosque is an important landmark for the city and well worth your time to see.
Next destination: The Bahia Palace – 9 minutes driving time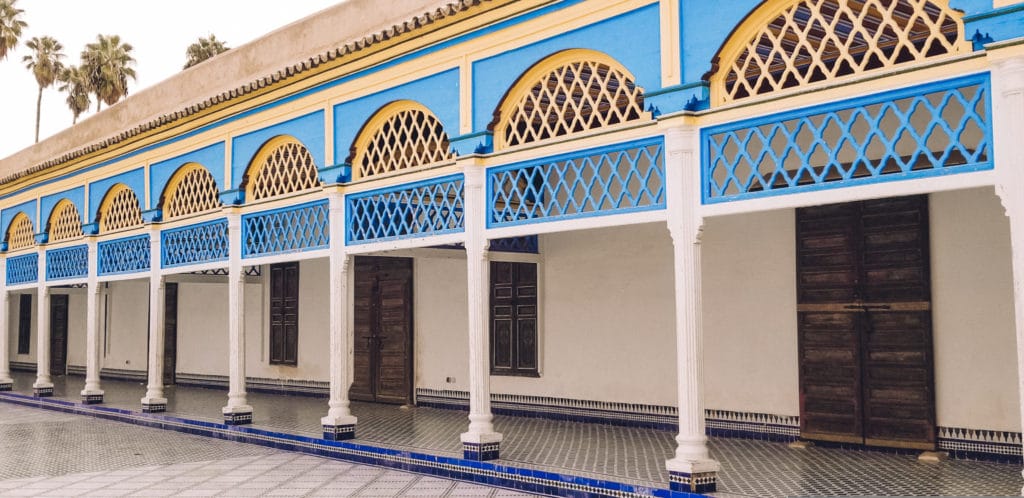 Visit Bahia Palace
After you've finished at Koutoubia Mosque, make your way to the Bahia Palace. The palace is beautiful and is considered a masterpiece of Moroccan architecture.
It was built in the 19th century and is quite massive, covering almost 20 acres. At the time it was built it was intended to be the greatest palace ever built.
The Bahia Palace consists of over 100 rooms, several courtyards, gardens, fountains, and artwork. Visitors can walk through the palace on their own or as part of a guided tour.
The Bahia Palace is open daily from 9:00 a.m. to 4:30 and 9:00 a.m. to 5:00 p.m. on Fridays. Admission is 10 Dirhams per person.
Next destination: Yves Saint Laurent Museum – 16 minutes driving time
Yves Saint Laurent Museum
The Yves Saint Laurent Museum is dedicated entirely to legendary fashion designer Yves Saint Laurent.
The exhibits in the museum take you through the designer's life and career, including his time spent in Marrakech.
You will get to see up close some of his most iconic pieces from his collections over the years.
The museum is open daily from 10:00 a.m. to 6:00 p.m. except for Wednesdays. Admission is 100 Dirhams per person.
Next destination: The Majorelle Garden – 2 minutes walking time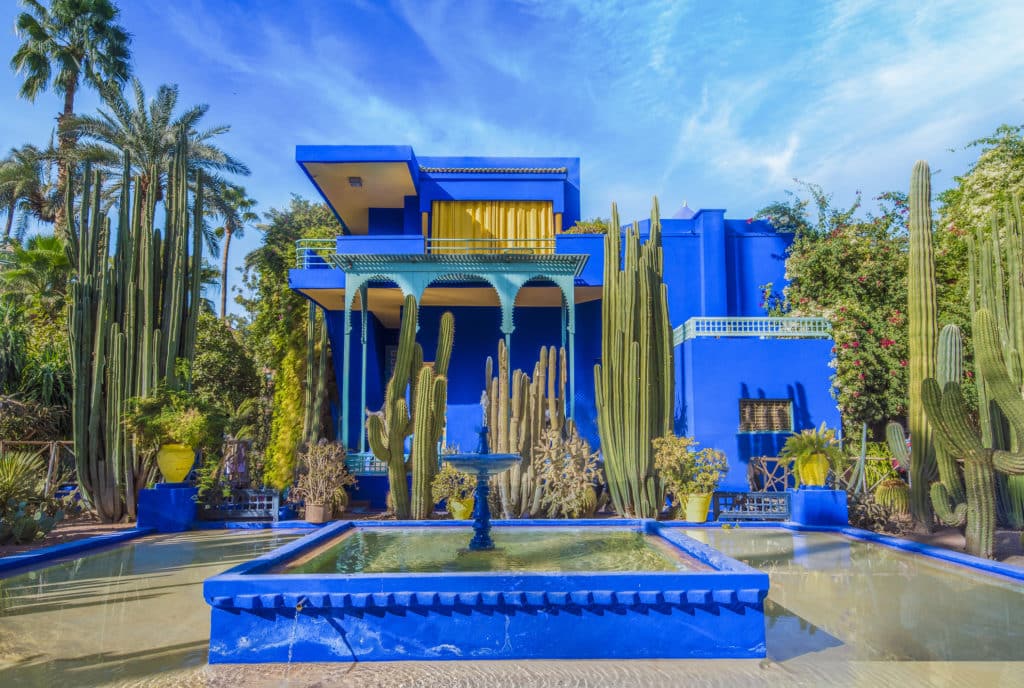 The Majorelle Garden
The beautiful Majorelle Garden is located just next door to the Yves Saint Laurent Museum.
In 1931 French painter Jacques Majorelle commissioned architect Paul Sinoir to build him an art-deco home in Marrakech.
Majorelle lived in and worked out of the home until the 1950's when he sold the home and surrounding gardens.
In 1980, the property was purchased by Yves Saint Laurent and his business partner Pierre Berge.
Saint Laurent and Berge had become familiar with the gardens during a visit to Marrakech back in 1966.
They decided to purchase it when they heard it was for sale and might be replaced with a hotel.
After purchasing the property, Saint Laurent and Berge moved into the villa and began restoring the gardens. They also began acquiring art from Jacques Marjorelle to display on the property.
When Saint Laurent passed away in 2008, Berge donated the property to his foundation so that it would remain well kept accessible to the public.
Saint Laurent's ashes were scattered in the garden.
The Majorelle Garden is open every day of the year. From October through April they are open from 8:00 a.m. to 5:30 p.m.
From May through September they are open from 8:00 a.m. to 6:00 p.m. During the month of Ramadan they are open from 9:00 a.m. to 5:00 p.m.
Admission is 70 Dirhams per person.
Next destination: Amal – 6 minutes driving time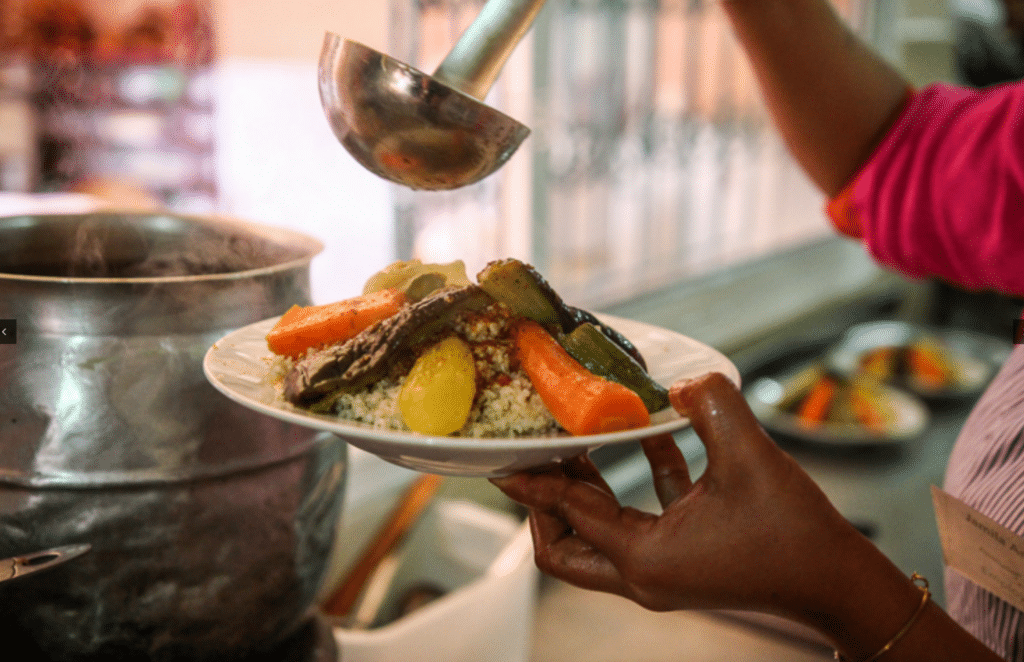 Lunch at AMAL
When you're ready for lunch head over to AMAL for some really good Moroccan food.
The restaurant menu changes daily but serves delicious traditional Moroccan dishes, some international favorites, and fresh-baked pastries.
The AMAL restaurant serves as a training center for disadvantaged women.
Through the training program, they learn to prepare traditional Moroccan cuisine and international dishes.
The women trainees are often uneducated divorced mothers, widows, orphans, or former child maids.
The restaurant trains 30 to 40 women annually. The AMAL training program has been very successful and often leads to traditional employment in other restaurants or elsewhere in the food industry.
AMAL is open daily from 8:00 a.m. to 3:30 p.m. for breakfast or lunch. Dinner is by reservation only for groups of 20 or more.
Next Destination: Marrakech Medina – 10 minutes driving time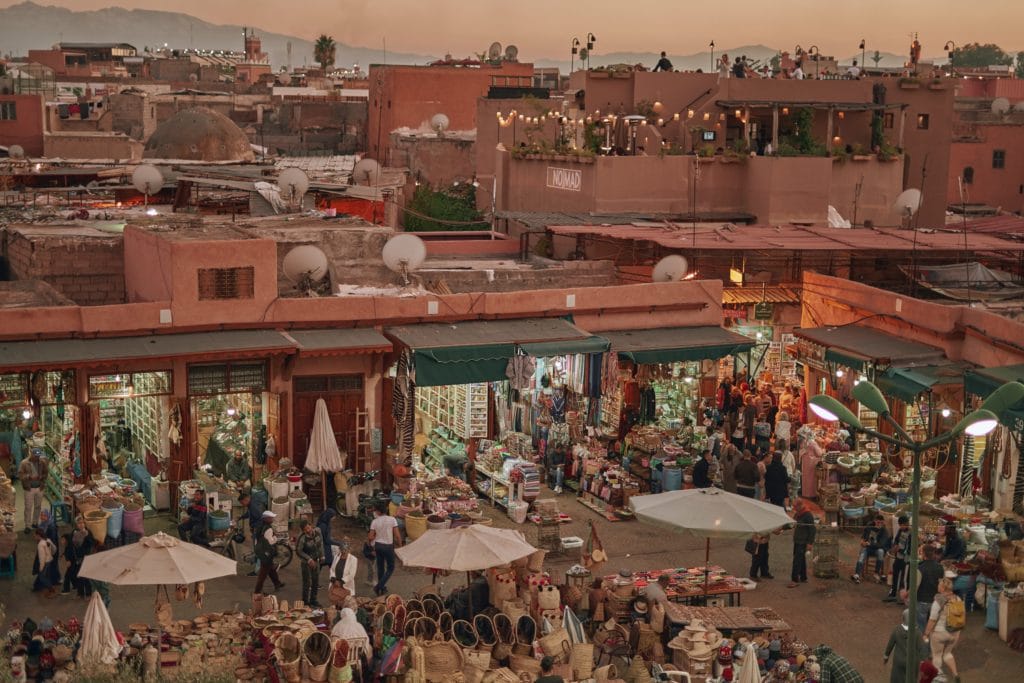 Marrakech Medina
After lunch make your way over to the famous Marrakech medina. Here you will get lost in the busy souks and visit Jemaa el Fna, the main market square.
If you were hoping to do any shopping in Morocco, this is the place to do it. There are over 3,000 stalls in the medina selling everything from rugs, pottery, scarves, bags, jewelry, and tons more.
If you're planning to purchase any items from the souks, be sure to bring cash and be ready to bargain.
It is expected that you will counter the first price you're given, so don't be shy about trying to get a great deal.
Once you've finished wandering through the souks, be sure to head over to Jemaa el Fna before you leave.
Jemaa el Fna is where you'll find the snake charmers, henna artists, horse carriages, and everything else you can think of.
It's very hectic in there, so keep your eyes open and give a firm NO to anyone selling you things you don't want.
Walk around the square for a bit and get a few pictures before you leave.
Just be sure to avoid the Marrakech snake scam. Anyone standing in the square with a snake is just there to hustle you out of your money. So avoid them.
Despite the scammers, Jemaa el Fna is worth a walk through. It's such a scene, you really don't want to miss it.
Next destination: Saadian Tombs – 8 minutes driving time
Saadian Tombs
The Saadian Tombs hold the bodies of important leaders and figures from the Saadian Dynasty, dating back to the 1500s.
The Saadian Tombs consist of two mausoleums containing about 66 tombs and an outdoor garden with an additional 100 tombs.
The mausoleums were constructed lavishly and are made from imported Italian marble, gold, and quite impressive tile work.
In the centuries following the Saadian Dynasty, the tombs were forgotten about.
It wasn't until 1917 that the Saadian Tombs were rediscovered due to aerial photographs that were taken of the area. Since that time they have been restored and preserved.
The Saadian Tombs are open daily from 9:00 a.m. to 5:00 p.m. Admission is about 7 Euros.
Next destination: El Badi Palace – 6 minutes walking time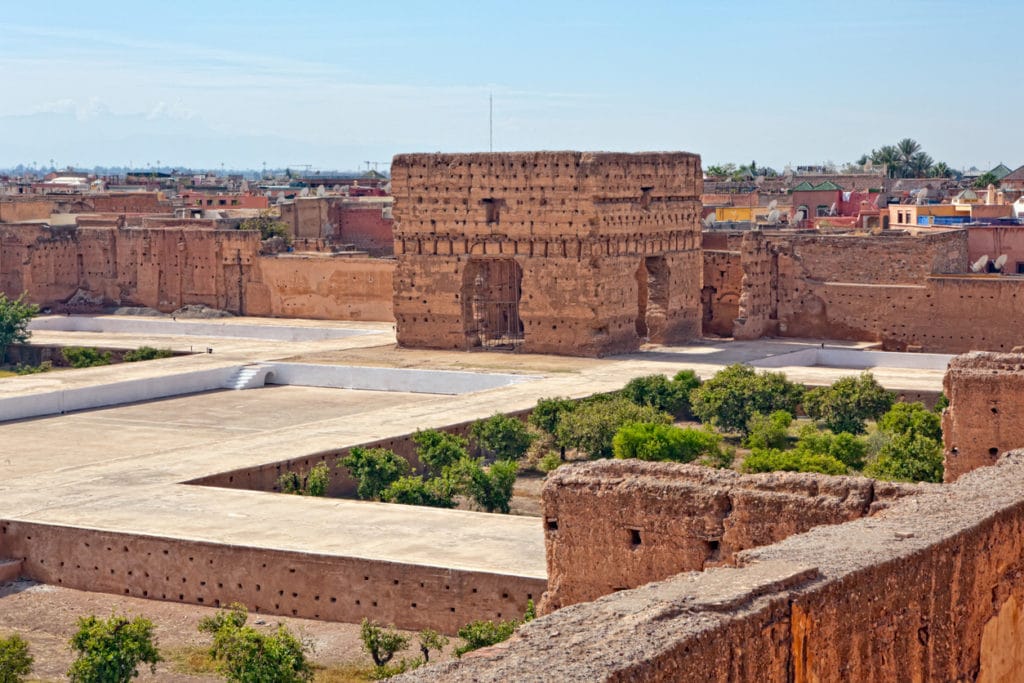 El Badi Palace
As you're nearing the end of your one day in Marrakech, you'll want to squeeze in a quick visit to the El Badi Palace.
The El Badi Palace was also constructed during the Saadian Dynasty. While it is mostly in ruins today, it is still worth a visit.
At the time it was built it was one of the most luxurious palaces in Marrakech.
The palace was constructed with a large sum of ransom money paid by the Portuguese after the Battle of the Three Kings in 1578.
It took about 15 years to build, with construction nearing completion around 1593.
The palace was constructed using some of the most expensive materials available at the time including onyx and gold.
It is believed to have contained about 360 rooms, a massive courtyard, a large pool, and several pavilions believed to be used as summer houses.
El Badi Palace is open daily from 9:00 a.m. to 5:00 p.m. Admission is 70 Dirhams.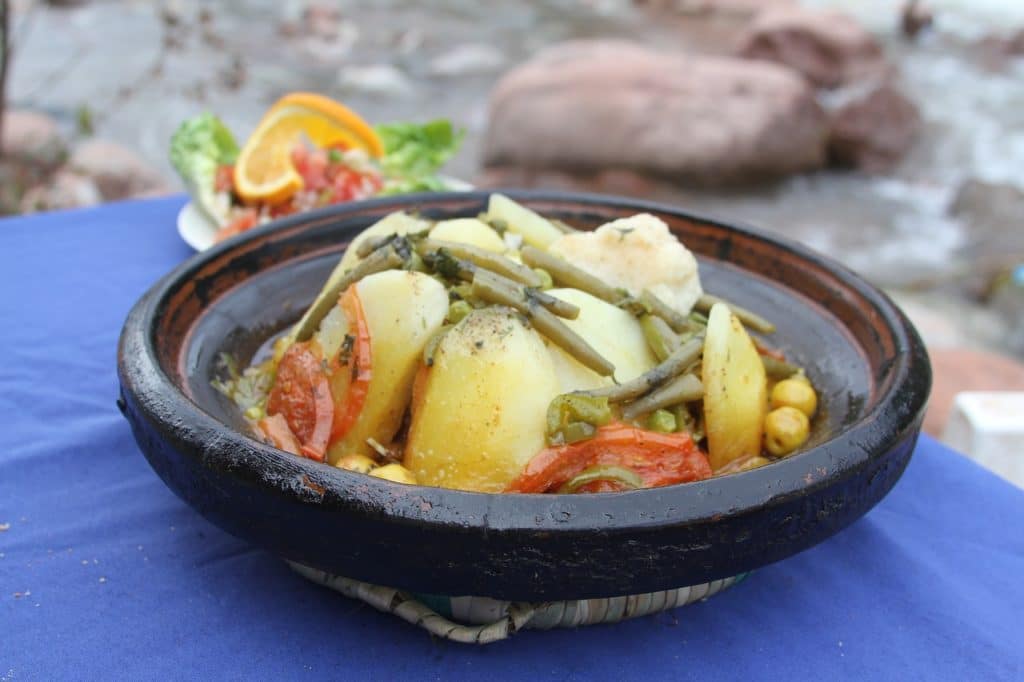 Where to eat in Marrakech
There are so many great restaurants in Marrakech, I promise you won't have any trouble finding great food. Here are a few that I recommend:
Nomad: Nomad serves modern Moroccan cuisine in a beautiful rooftop restaurant overlooking the medina. They feature fresh local produce with plenty of vegetarian options.
Naranj: Naranj is located just outside the Medina and serves fresh Lebanese and Moroccan cuisine. They offer salads, sandwiches, falafel, and other popular Mediterranean dishes.
La Grande Table Marocaine: If you're looking for elegant dining and the opportunity to try some of the best traditional Moroccan food in Africa, this is the place. I haven't been, but I've heard it's the best.
Cafe des Epices: Another rooftop overlooking the Medina, Cafe des Epices serves authentic and fresh traditional Moroccan cuisine.
If you're looking for a quick and affordable meal, I highly recommend stopping at one of the many food stalls in the Medina. You'll find food of all kinds for a great price.
If you have extra time, you may even want to consider joining a food tour while you're in Marrakech.
There are so many different and unique dishes to try in Morocco. A guided food tour with a local who knows their way around the city would be an excellent way to experience the culinary scene in Marrakech.
It would also make the perfect end to your incredible one day in Marrakech.
This is something I didn't get the chance to do during my visit but really wish I had.
Let me know what you think about this One Day in Marrakech travel guide. I'd love to know if there is anything else you'd add to the itinerary.
If you're wondering where to head next consider desert camping in Morocco in the Sahara. It may very well end up being one of your favorite nights in Morocco.
Book Your Trip
Find the best flight deals by using Google Flights, then book direct with the airline. This is the search engine I use to compare flights and prices before booking my own trips.

BOOK YOUR ACCOMODATION
I recommend searching for hotels through Booking.com to compare hotels on amenities, location, and price. If you are a member of a hotel's rewards program, always book direct with the hotel. If you are not loyal to a specific hotel brand, using Booking.com for the best price.

TRAVEL INSURANCE
Travel insurance is more important than ever. For just a few dollars a day you can protect yourself and your trip. I personally use World Nomads, but whomever you choose, don't skip out on travel insurance. It can literally save you thousands of dollars.


Want to save it? Pin it.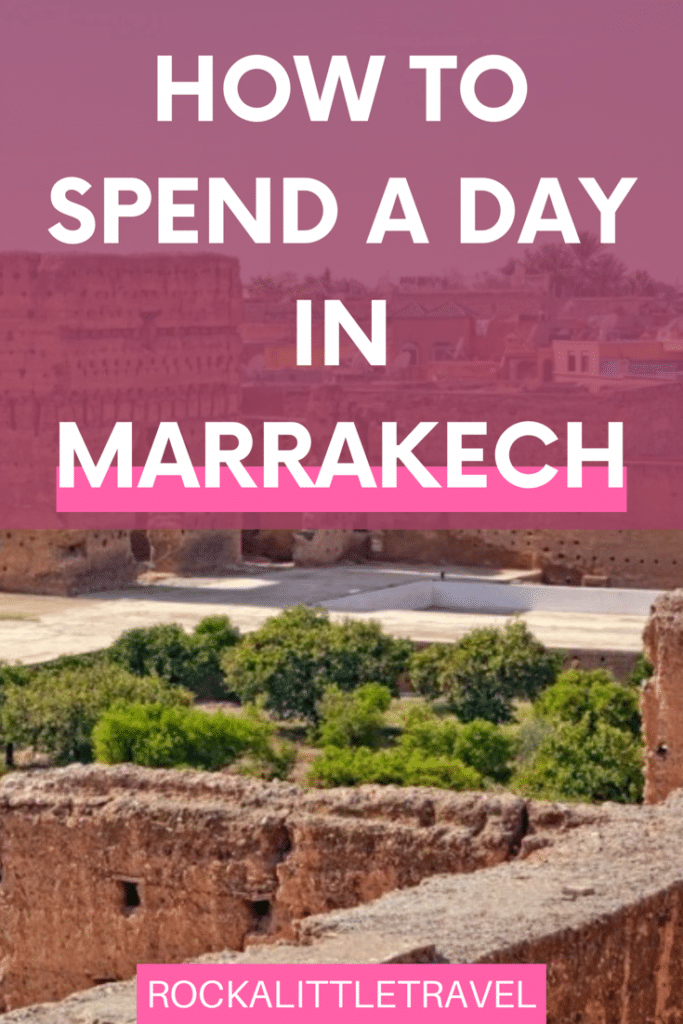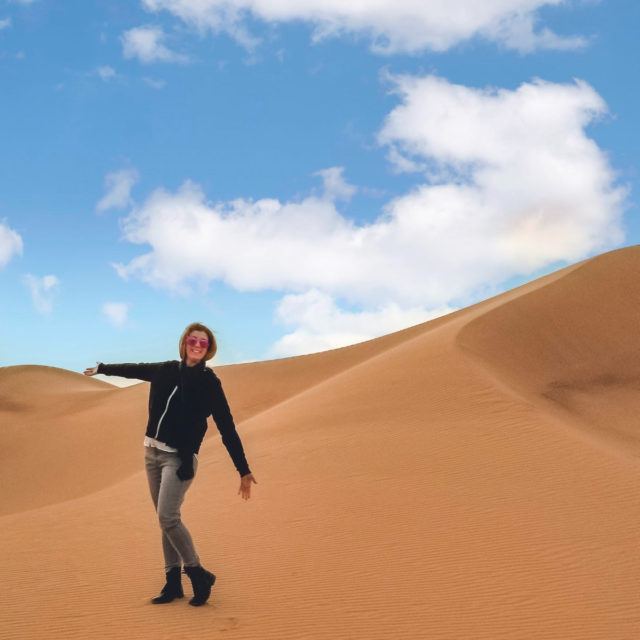 Desert camping in Morocco has been one of my greatest adventures yet. During my visit to Morocco in November, our group spent an incredible night …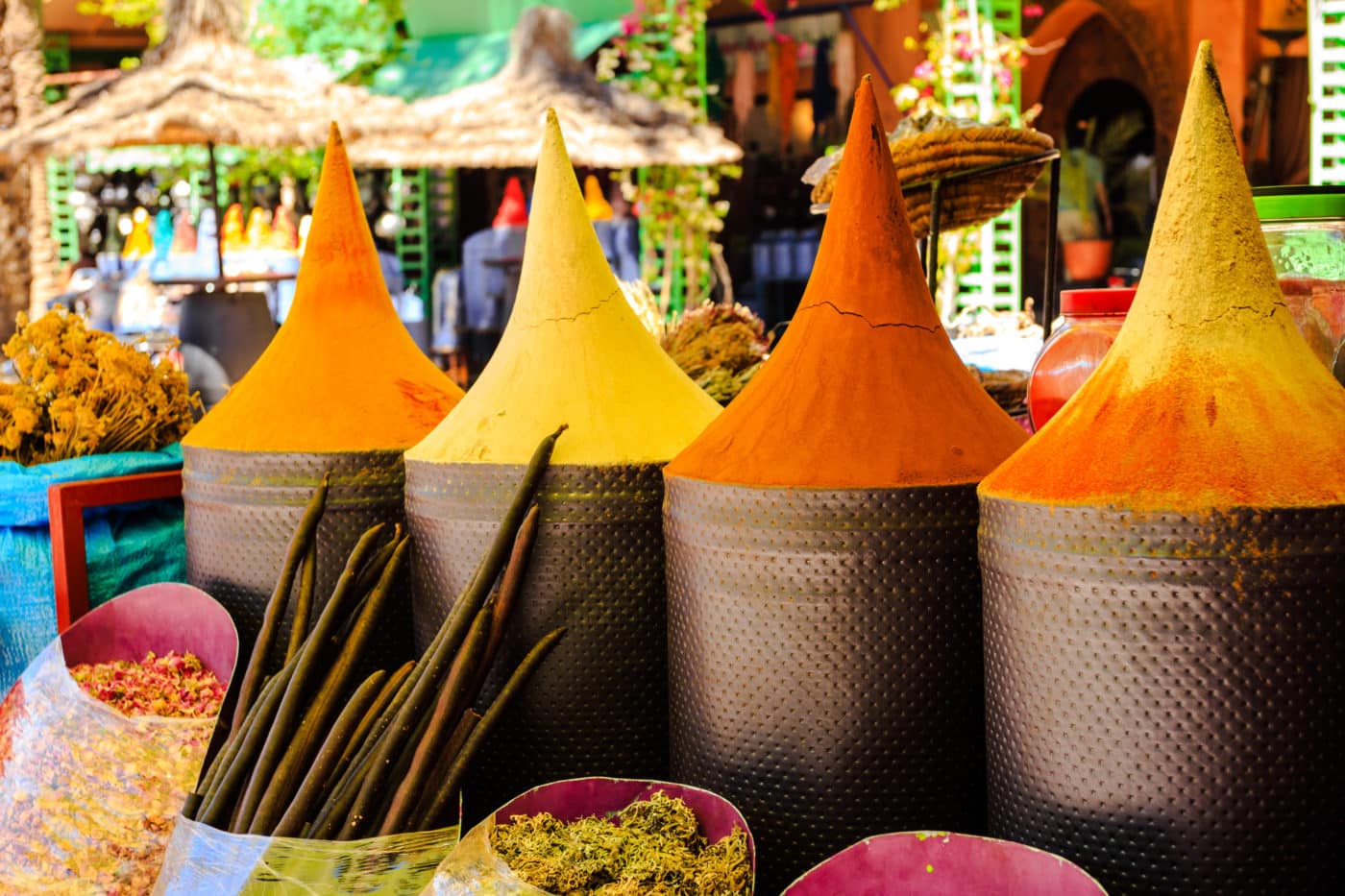 Photo by Getty Images Any trip to Morocco should include at least one day in Marrakech. This vibrant and bustling capital city offers a total sensory …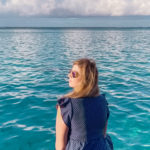 Eden Fite
Part-time Traveler | Dog Lover | Avoider of Crowds
I help busy people find creative ways to travel more.