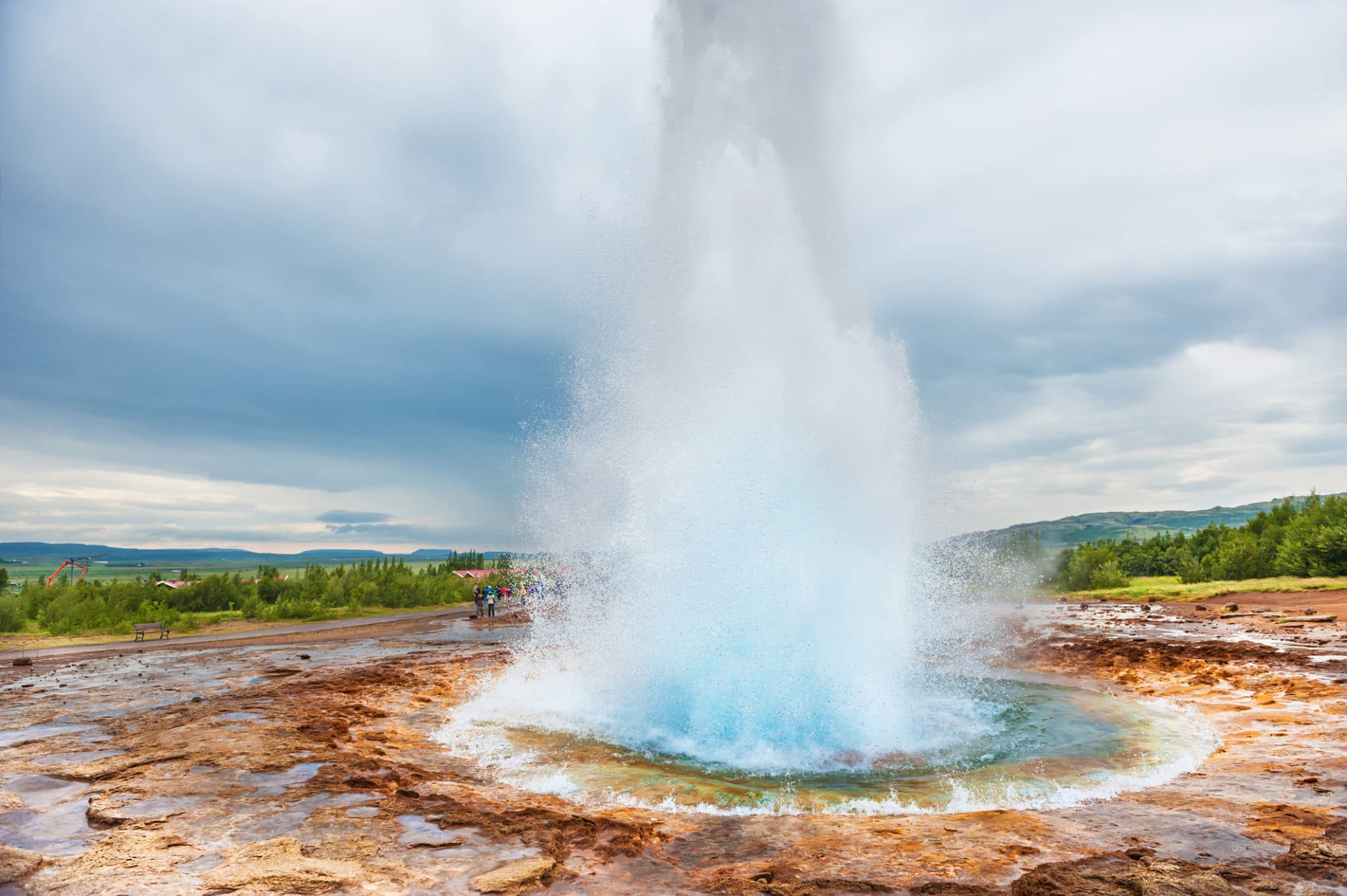 If you're planning a visit to Iceland, you'll surely be spending some time in Reykjavik.
Once you've had atleast one day in Reykjavik to explore this lively and fun capital city, you'll want to get to exploring the rest of the country.
Most visitors to Iceland find it easiest to base themselves out of Reykjavik. If you do this, you'll want to make sure to book at least a few day trips from Reykjavik during your visit.
Fortunately, many of the country's most popular destinations are found just a short drive outside of Reykjavik.
You'll be able to expreience many of the country's most famous waterfalls, hot springs, glaciers, and even the Northern Lights, all of which are less than two hours away.
With so many options for day trips from Reykjavik you'll need to narrow down your list.
This post will review the most popular day trips from Reykjavik and provide a brief desccription of what you can expect, along with estimated driving times.
Let's get started.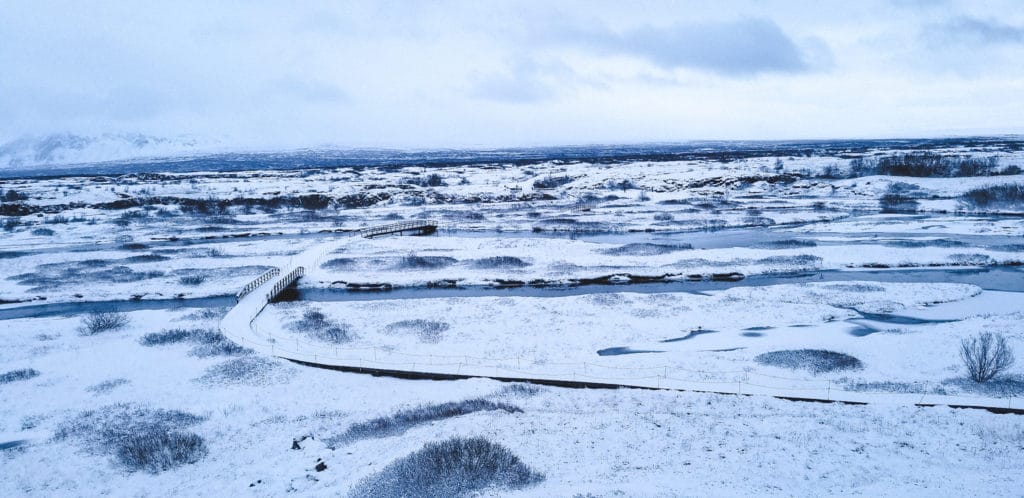 1. Thingvellir National Park
Þingvellir National Park is located along Iceland's famous Golden Circle.
The national park is best known as the only place in the world where the rift between two tectonic plates is visible above sea level.
Visitors to the park can actually walk along the rift between the North American and Eurasian tectonic plates.
Due to the location of the rift between the tectonic plates, there are dozens of small earthquakes in the area daily, though most are too light to be felt by people.
The plates are currently moving apart at about 2.5 centimeters per year.
One of the most popular activities in the park is the opportunity to snorkel between the two tectonic plates in the Silfra ravine.
Divers and snorkelers wear dry suits due to the year round frigid temperatures, but visibility is excellent.
Silfa is considered one of the most amazing dive and snorkel sites in the world due to its uniqueness.
Thingvellir National Park is about 45 minutes from Reykjavik. The park is open year round.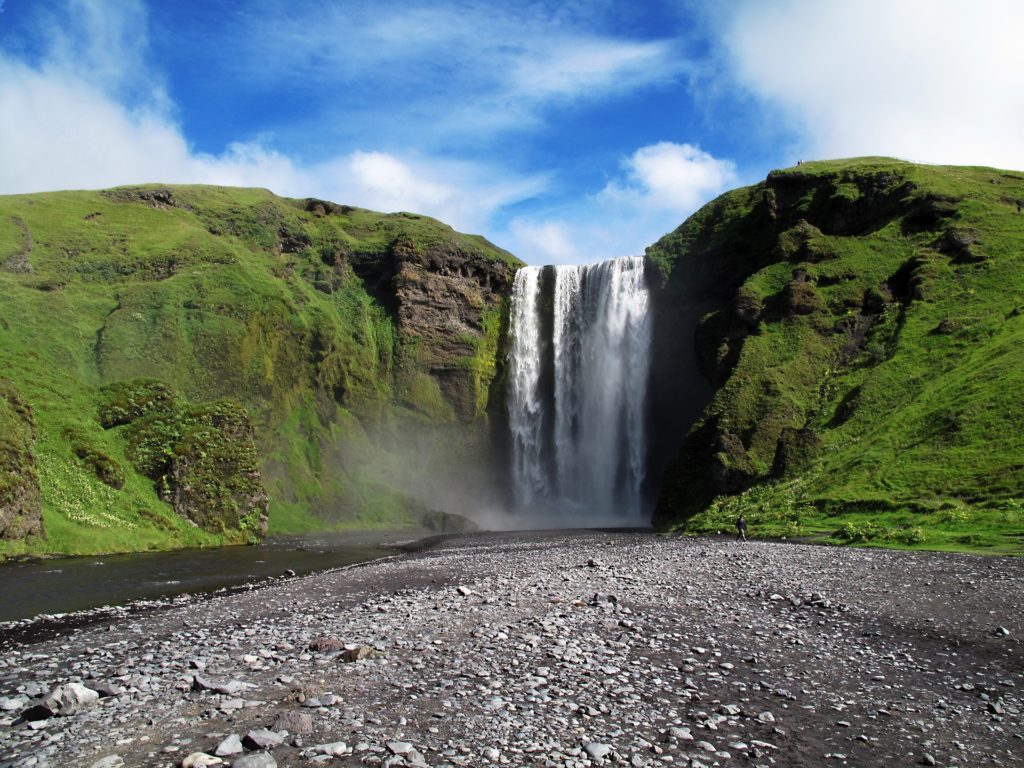 2. Skogafoss
Skogafoss waterfall is one of the most visited destinations in Iceland and one of the most popular day trips from Reykjavik.
The waterfall is so popular due to its size and location along the country's stunning south coast.
It spans about 49 feet wide and drops about 200 feet off a sharp cliff.
The waterfall is also known for spraying a lot of mist, which creates beautiful rainbows when the conditions are right.
The Skogafoss waterfall can be viewed from the front and from the top.
There is a large staircase to the right of the waterfall where visitors can make the climb to the top. There are about 370 stairs to climb.
It took me about 5 minutes 15 minutes to reach the top. Your mileage may vary. But don't let the stairs discourage you, the view from the top is beautiful and its worth the effort.
You can reach Skogafoss from Reykjavik in about 2 hours and 10 minutes.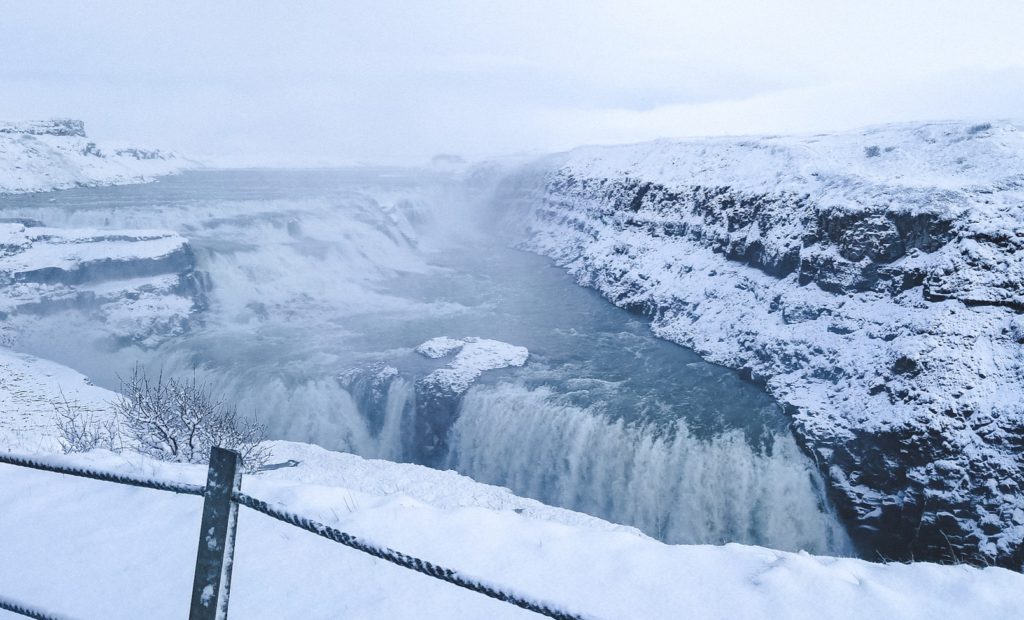 3. Gullfoss
One of the most popular day trips from Reykjavik is to Gullfoss waterfall also found on the Golden Circle.
Gullfoss is one of the largest waterfalls by volume in all of Europe and it's just spectacular in person.
This is easily the most impressive waterfall I've ever seen. There's just so many layers and so much water, it's hard to believe it's real.
Make sure you put your camera down for a while and just enjoy it.
There are several different view points of Gullfoss, all of which are from the top of the falls.
When you visit make sure you walk around to the various lookout points so you can see as much of the falls as possible.
If you have a video camera or Go Pro, be sure to bring it with you. This is the perfect waterfall to get video footage of.
You don't really need to plan your visit to Gullfoss to avoid crowds because once you're at the viewpoint, there won't be anyone in the way of your photos.
So just arrive when the lighting is good if you're after nice pictures.
Gullfoss is about a 90 minute drive from Reykjavik but is also included on every Golden Circle guided tour.
4. Sólheimajökull Glacier
Sólheimajökull Glacier is found on the south coast of Iceland. There is a black sand and pebble trail that leads from the parking lot to the glacier and once you see it for the first time, it's just amazing.
While the photo above was lightened a bit, the colors you see are real. The light turqoise can be seen all over the glacier and its beautiful.
If you're seeing Sólheimajökull Glacier as part of a guided tour, you may also be hiking on top of the glacier as well. But if you're just stopping by to see it, that's okay too.
During my visit I made the point of walking all the way out to the glacier so I could touch it.
I'd never seen a glacier in person before and I thought it was cool. I'm kind of a dork. I have a picture of that, but I'll spare you.
You can get to Sólheimajökull Glacier in about 2 hours and 15 minutes from Reykjavik.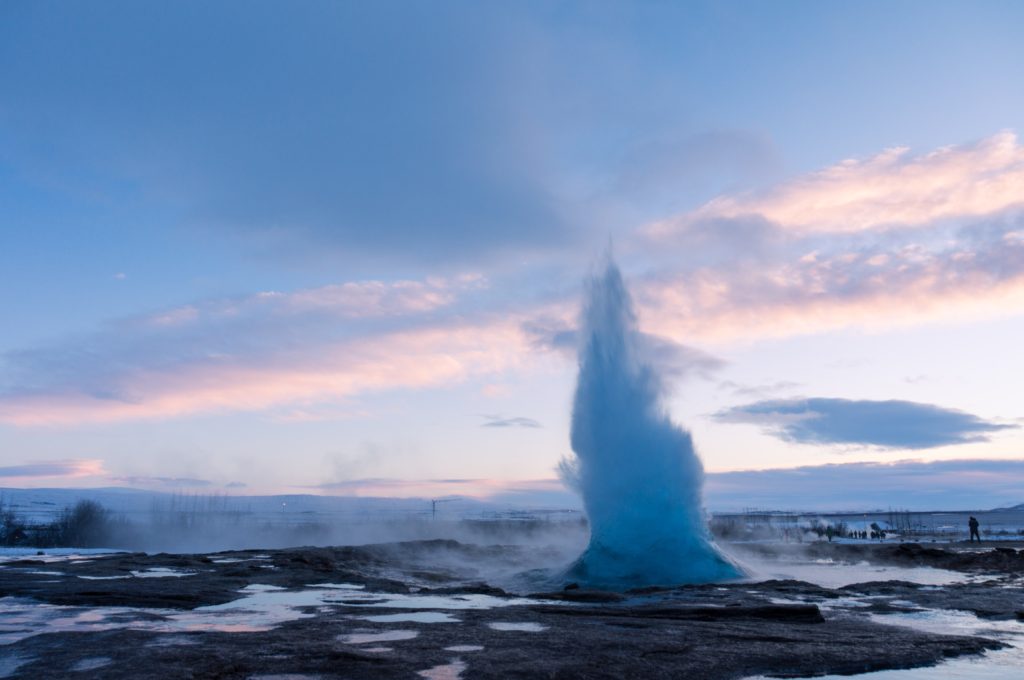 5. Geysir Geothermal Area
Another busy spot along the Golden Circle is the Geysir Geothermal Area where you can see an active geysir.
The famous Geysir erups every few minutes or so and shoots water up into the air about 100 feet.
It gets very busy here, so plan to arrive early in the morning or later in the afternoon if you prefer to avoid the crowds.
The entire geothermal area is believed to be just under 2 square miles with most of the hot spings running the same direction as the tectonic lines in the area.
Included in this geothermal area are more than a dozen hot water blow holes. The hot springs and geysirs have been active for over 1000 years.
Across the street from the geothermal area you will find restrooms, a cafe, and a huge giftshop. It's a good stop for a light lunch or to pick up some souvenirs if you need them.
Geysir Geothermal Area is about 90 minutes east of Reykjavik.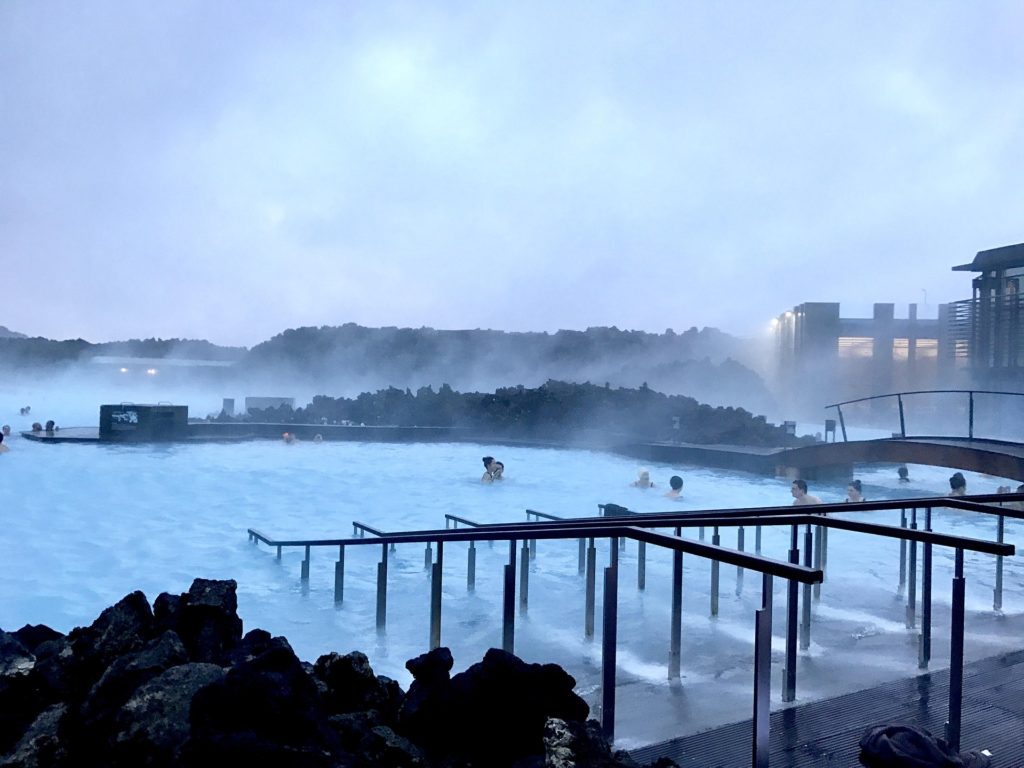 6. Blue Lagoon
I'm pretty sure the Blue Lagoon is the most popular Iceland travel destination and one of the most touristy day trips from Reykjavik.
However, despite the popularity of the Blue Lagoon, I think you should go anyway. It's unique. It's beautiful. It's fun.
One of my best travel tips for Iceland is to visit the Blue Lagoon right after landing at Keflavik airport. You'll make good use of your time and save money.
But if you decide not to go that route, plan to visit the Blue Lagoon either early in the morning right when they open, or towards the end of the day near closing time.
This will place your visit during the slower hours so you can enjoy the experience a bit more.
The Blue Lagoon is about 20 minutes from the airport or about 1 hour from Reykjavik.
7. Secret Lagoon Iceland
If the Blue Lagoon is too touristy for you, consider visiting the Secret Lagoon instead.
The Secret Lagoon is a natural geothermal hot spring, complete with a geyser. It's much smaller than the Blue Lagoon, but it's far less busy as well.
The Secret Lagoon also offers showers, a restaurant, and a bar. The are open daily from 10:00 a.m. to 10:00 p.m.
Admission is about $25 (USD). The Secret Lagoon is about 90 minutes east of Reykjavik.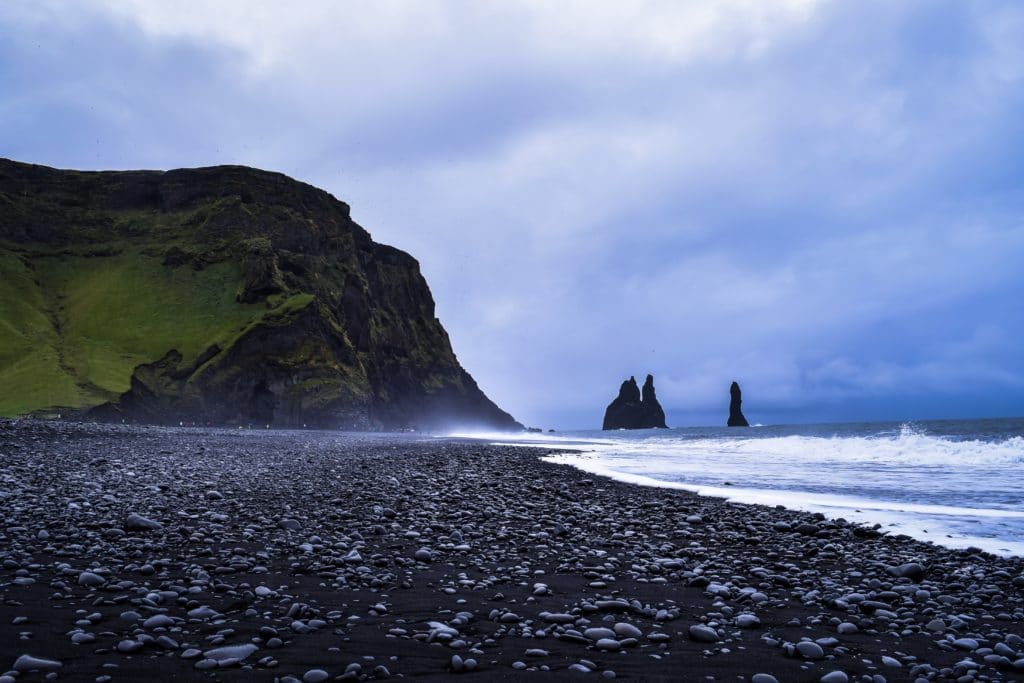 8. Black Sand Beach
While there are many black sand beaches in Iceland, none are as famous as Reynisfjara found on the country's south coast.
Reynisfjara is most famous for the stunning basalt stacks that dot the coastline just off shore.
This is the perfect place to get some beautiful photos of your time in Iceland if the weather is right.
Just be aware that it can get quite foggy in the area during the winter months, making the view far less stunning. But it's pretty none the less.
This beach also has huge waves crashing into the shore. It's quite spectacular actually, but not a place for swimming or surfing.
If you have little ones or pets with you, be sure to keep them away from the water.
I encourage you to arrive early if you're looking to get nice photos. The beach gets very busy in the middle of the day.
There's also a cafe located near the beach called Black Beach Restuarant. They serve delicious soup with bread if you're looking for a healthy lunch during your visit.
Reynisfjara is about 2 hours and 30 minutes from Reykjavik.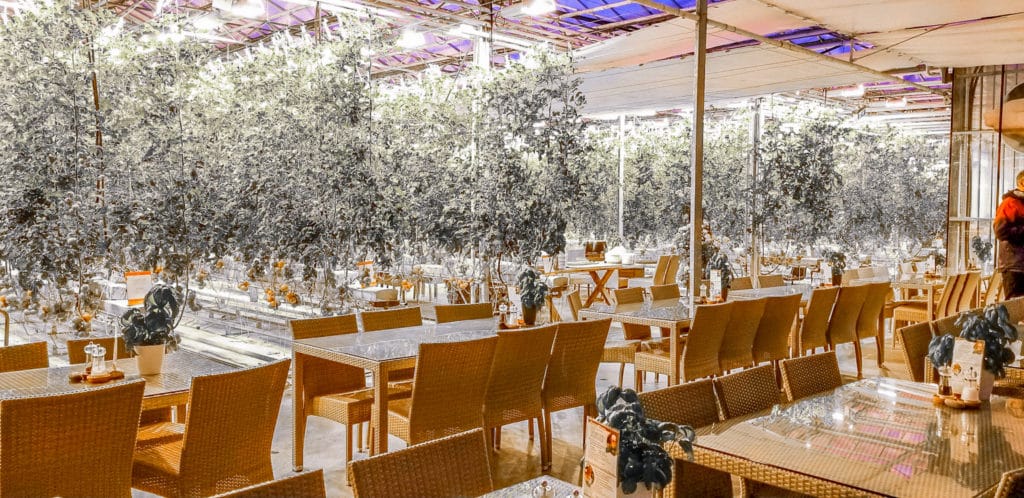 9. Fridheimar Greenhouse
A visit to Fridheimar Greenhouse is the perfect Reykjavik day trip if you're a foodie, and especially if you're a tomato soup fan.
The Fridheimar Greenhouse grows tomatoes with naturally occuring geothermal energy from the region.
Visitors to the greenhouse can learn about how the tomatoes are grown and cared for. It's more interesting than it sounds, I promise.
But what's even better is that they have a restaurant inside the greenhouse that serves the most delicious tomato soup.
They also serve tomato beer and Bloody Mary's, so yeah. You need to visit here for lunch while you're exploring the Golden Circle.
Fridheimar Greenhouse is open daily from 10:00 a.m. to 6:00 p.m. They are located about 90 minutes east of Reykjavik.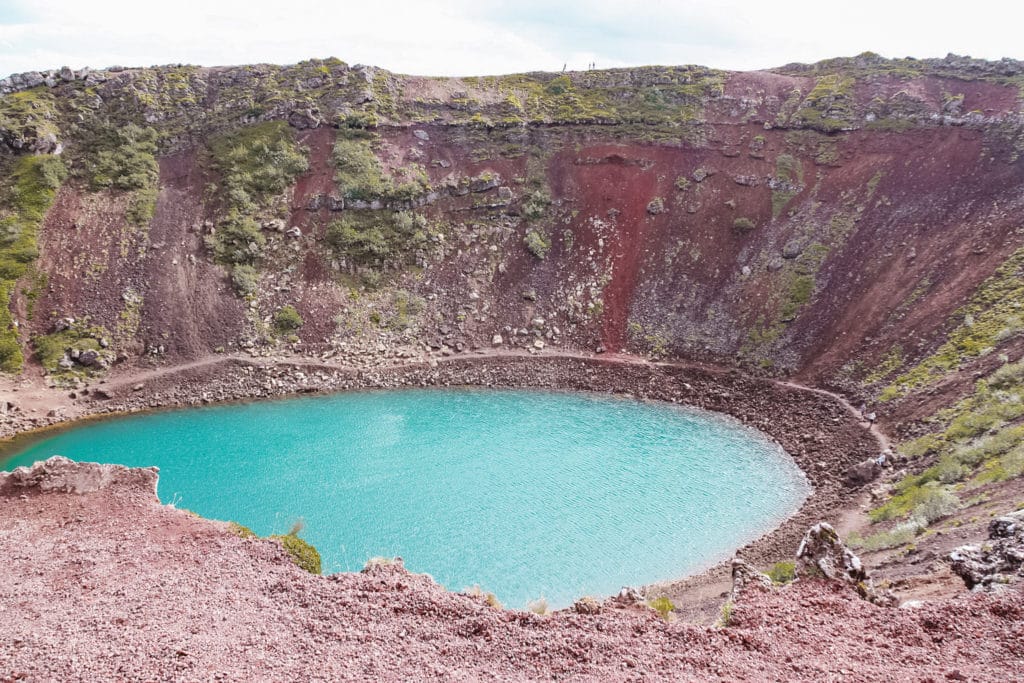 10. Kerid Crater
Kerid Crater is a volcanic crater found near Iceland's Golden Circle. It's just one of several volcanic crater lakes in Iceland's volcanic zone. This particular crater is over 3000 years old.
From the parking lot its just a short walk to the rim of the crater. There's a viewpoint overlooking the crater that makes the perfect photo spot.
To the left of the viewpoint, there's a staircase that will take you down into the crater. Some of the stairs are a bit uneven, but it's an easy enough decent.
The walls of the crater are a beautiful reddish color and the water in the lake is a bright aquamarine. The bright colors make for some stunning photos.
If you visit in the winter, it's still a remarkable place to visit. You lose the bright colors, but it's just as pretty under a blanket of snow.
Kerid Crater is about one hour east of Reykjavik.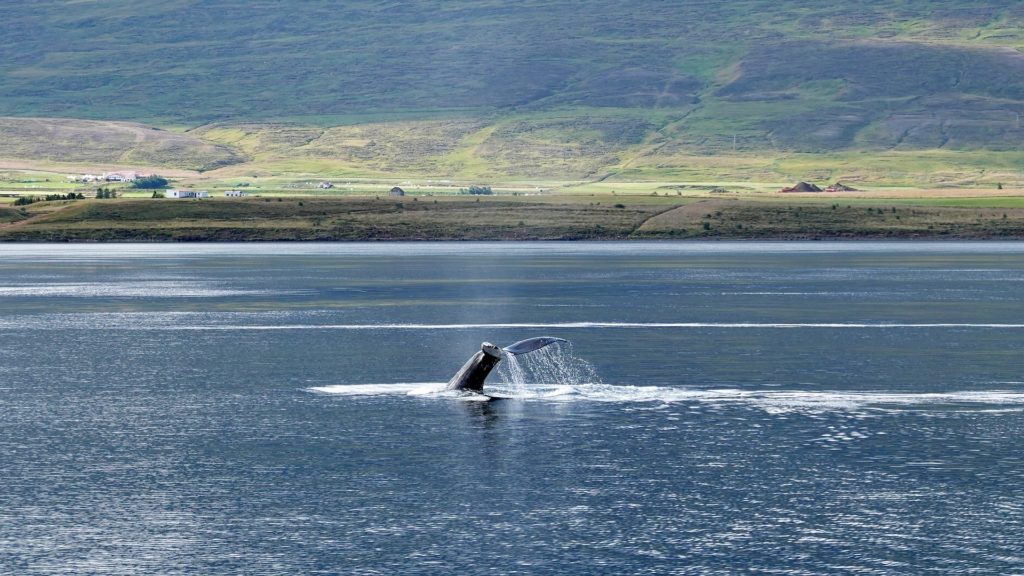 11. Whale Watching
The optimal time for whale watching in Iceland is in the summer months from June to August with the high season running from April to mid October.
Even if you're visiting outside of the summer months, there are many whales that remain in the waters around Iceland year round.
Many of the whale watching tours also include trips to see other sights around Iceland, including a stop to see Puffins if you're visiting in the summer.
Whale watching tours typically include pick up from your hotel in Reykjavik and last about ten to twelve hours.
Prices for most whale watching tours range from about $100 to $200 depending on the type of tour you select.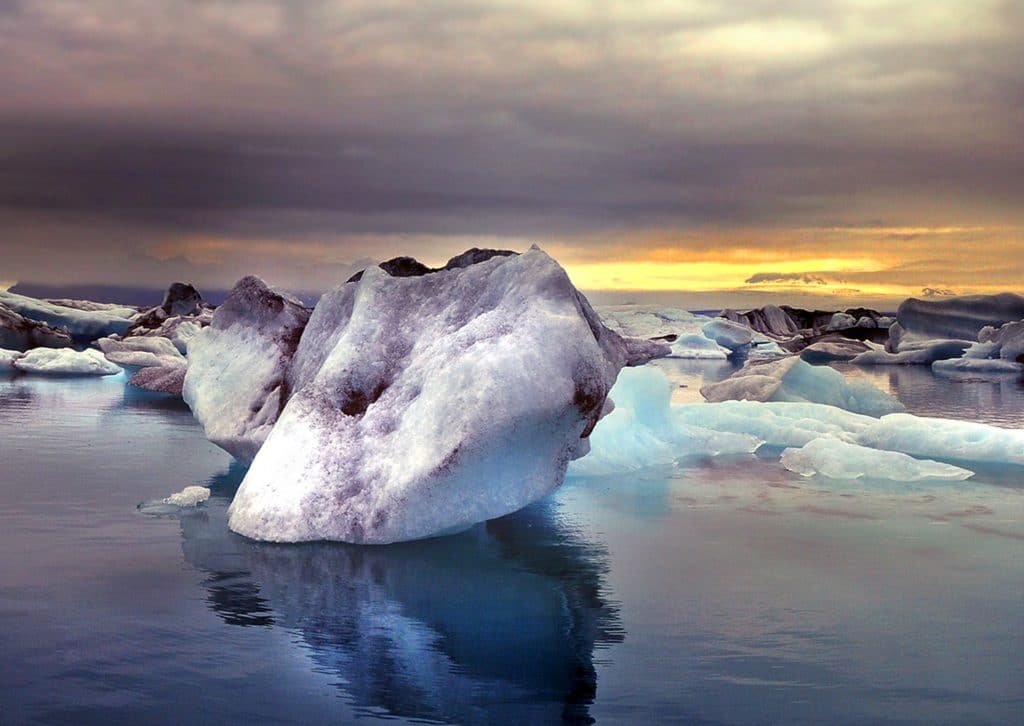 12. Jökulsárlón Glacier Lagoon
Jokulsarlon glacier lagoon boders Vatnajökull National Park in southeastern Iceland. The lagoon is dotted with icebergs from the surrouning Breiðamerkurjökull and Vatnajökull Glaciers.
The scenery here is always changing as new icebergs drop from the front of the glacier and old ones flow through the waterway towards the Atlantic Ocean.
The floating icebergs are of various shapes, sizes, and colors. Some of the icebergs appear bright blue in color, some are white, and some can even be transparent.
For wildlife enthusiasts, the lagoon is also full of fresh fish which draws hunderds of hungry seals. The seals usually visit the lagoon during the winter months.
Jokulsarlon Glacier Lagoon is about 5 hours east of Reykjavik along Iceland's stunning south coast. Of all the day trips from Reykjavik, this one is by far the furthest.
However, if you have the extra time and don't mind the added distance while exploring the south coast, its worthy of a visit.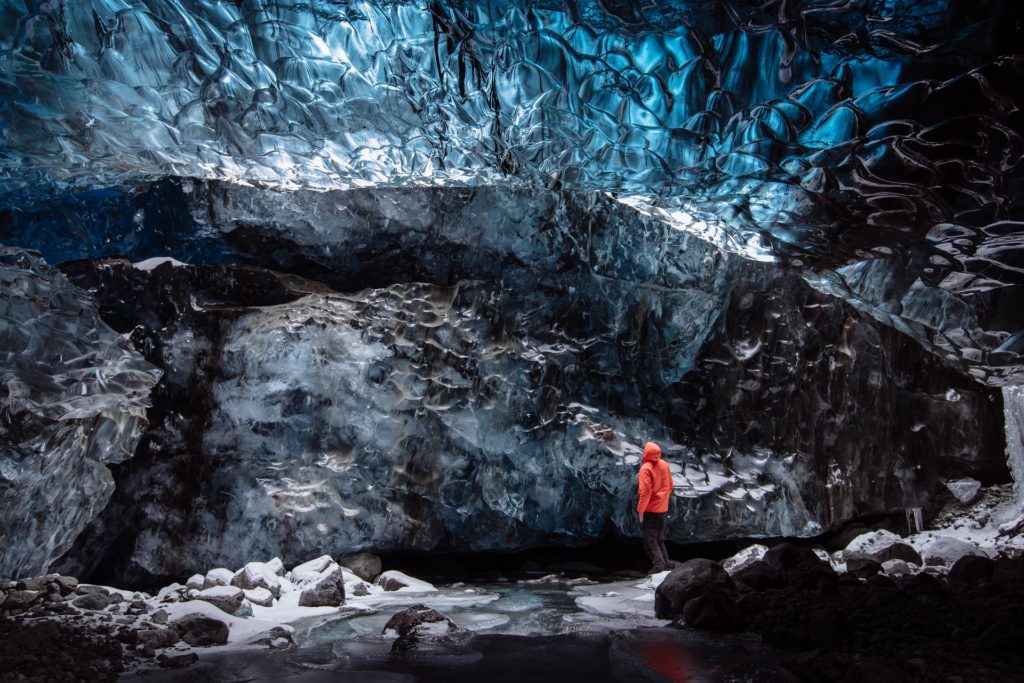 13. Ice Caves
If you don't think just seeing or hiking on a glacier is enough of an experience for you, and you must get INSIDE of a glacier, consider an Ice Cave Tour.
This is likely one of the most unique day trips from Reykjavik you can do. There are a few options available for ice cave tours, some are super jeep tours and some are in big monster trucks.
But basically they drive you out to one of the country's many glaciers. Then you'll walk into the ice caves that form inside the glaciers when they melt and freeze as the seasons change.
I didn't get to join an ice cave tour during my visit because I ran out of time, but the photos I've seen are just beautiful. You should give it a try if you have the time during your visit.
Most of the ice cave tours are full day tours and most can accomodate a pick up from Reykjavik in the morning.
Prices range from about $200 to $400 per person depending on which tour you select.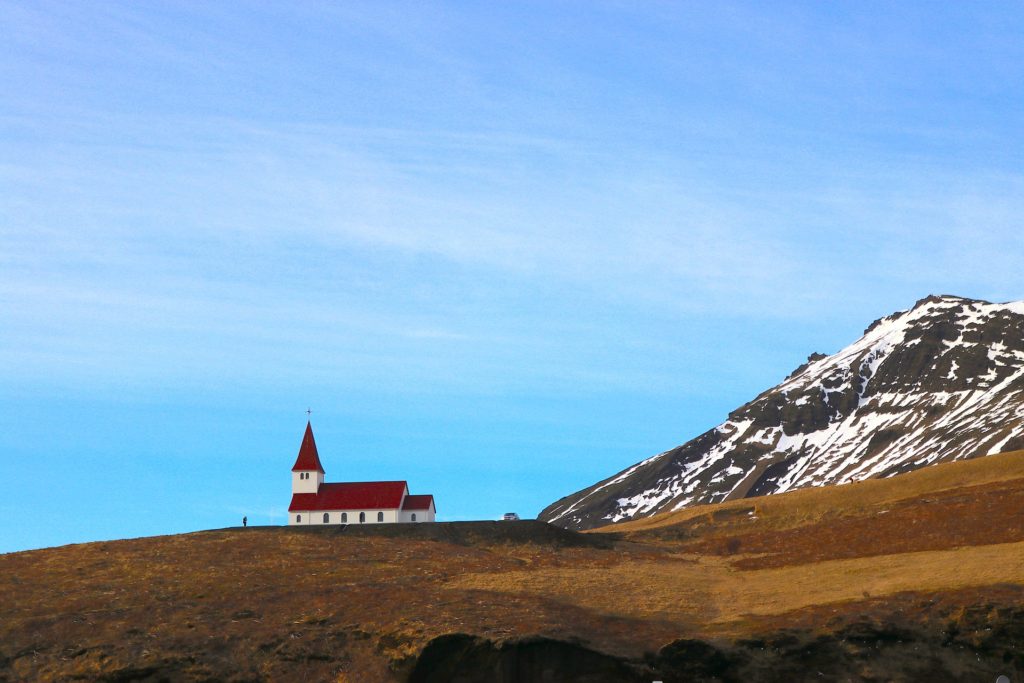 14. Vik
Vik is a remote village along Iceland's south coast. It makes the perfect stop after visiting Reynisfjara, the country's famous black sand beach.
The wooden church pictured above is the most photographed landmark in the village. The church was built back in 1929 and is frequently used for weddings.
The town also has several hotels and restuarants, a heated outdoor swimming pool, and a lively pub.
Mostly though, visitors come to take pictures of the church and surrounding area.
Vik is located about 2 hours and 30 minutes from Reykjavik.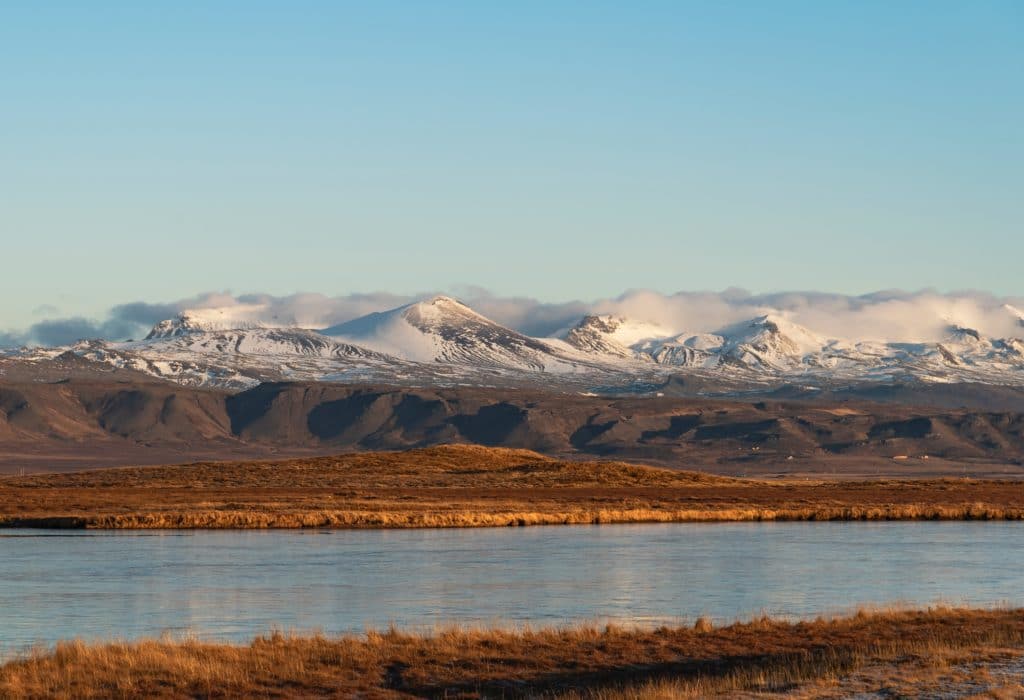 15. Snaefellsnes Peninsula
One of the most beautiful day trips from Reykjavik has got to be to Snaefellsnes Peninsula.
The peninsula is home to some of the most dramatic landscapes in the country, complete with a black pebble beach, Iceland's smallest national park, a volcano, caves, waterfalls, and even a glacier.
There's a ton to see and do on the Snaefellsnes Peninsula and it makes a great second destintion if you're looking to spend some time outside of Reykjavik for a few days.
Snaefellsnes Peninsula is about 2 hours and 90 minutes north of Reykjavik.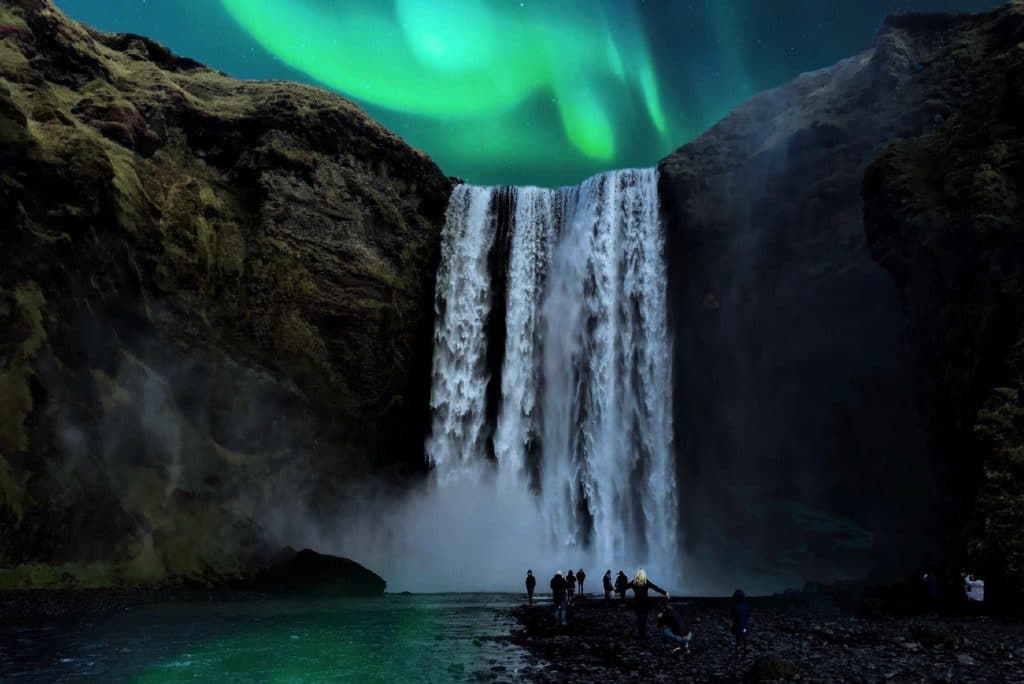 16. Northern Lights
If you're hoping to see the Northern LIghts during your time in Iceland, be sure to book your tour beginning the first night of your visit.
This way, if you don't get to see them the first night, you'll get to try again the remaining nights of your visit.
While a Northern Lights tour doesn't exactly fall under the category of day trips from Reykjavik, it is worth mentioning and it's quite the experience if you actually get the chance to see them.
Or so I hear, I didn't get to see them. Maybe if you do you can tell me about it.
So the Northern Lights tours leave around 8:00 p.m. each evening depending on the weather of course.
On the more affordable tours you'll board a large coach bus and be driven out into an empty field by the highway somewhere.
You then get to stand in that field freezing your a$$ off while you wait to see if the Northern Lights appear. Do yourself a favor, dress warm and bring headphones.
I hope you've enjoyed reading about these 16 Spectacular Day Trips from Reykjavik and I've helped you plan your adventure in Iceland.
If you've been to Iceland I'd love to hear about your recommendations on fun day trips from Reykjavik. Leave a comment down below or send me a message.
Book Your Trip
Find the best flight deals by using Google Flights, then book direct with the airline. This is the search engine I use to compare flights and prices before booking my own trips.

BOOK YOUR ACCOMODATION
I recommend searching for hotels through Booking.com to compare hotels on amenities, location, and price. If you are a member of a hotel's rewards program, always book direct with the hotel. If you are not loyal to a specific hotel brand, using Booking.com for the best price.

TRAVEL INSURANCE
Travel insurance is more important than ever. For just a few dollars a day you can protect yourself and your trip. I personally use World Nomads, but whomever you choose, don't skip out on travel insurance. It can literally save you thousands of dollars.


Want to save it? Pin it.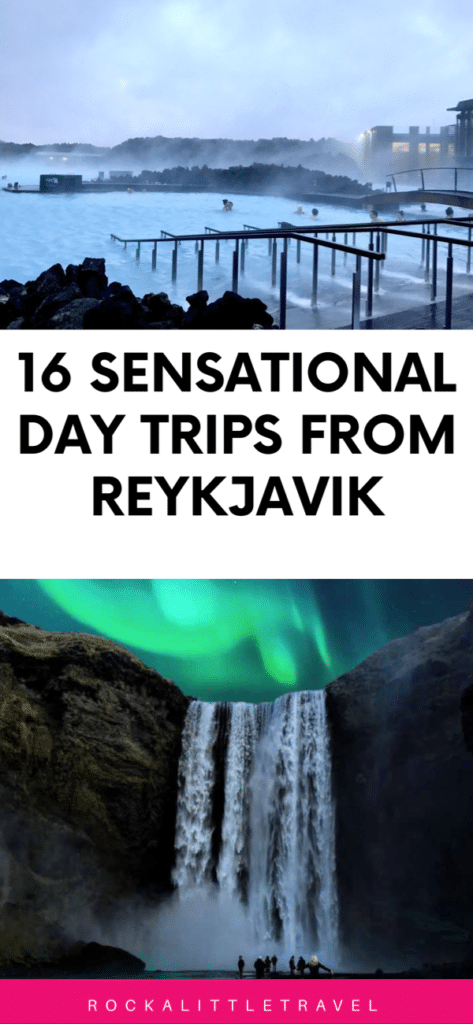 Photo by Olga Gavrilova If you're planning a visit to Iceland, you'll surely be spending…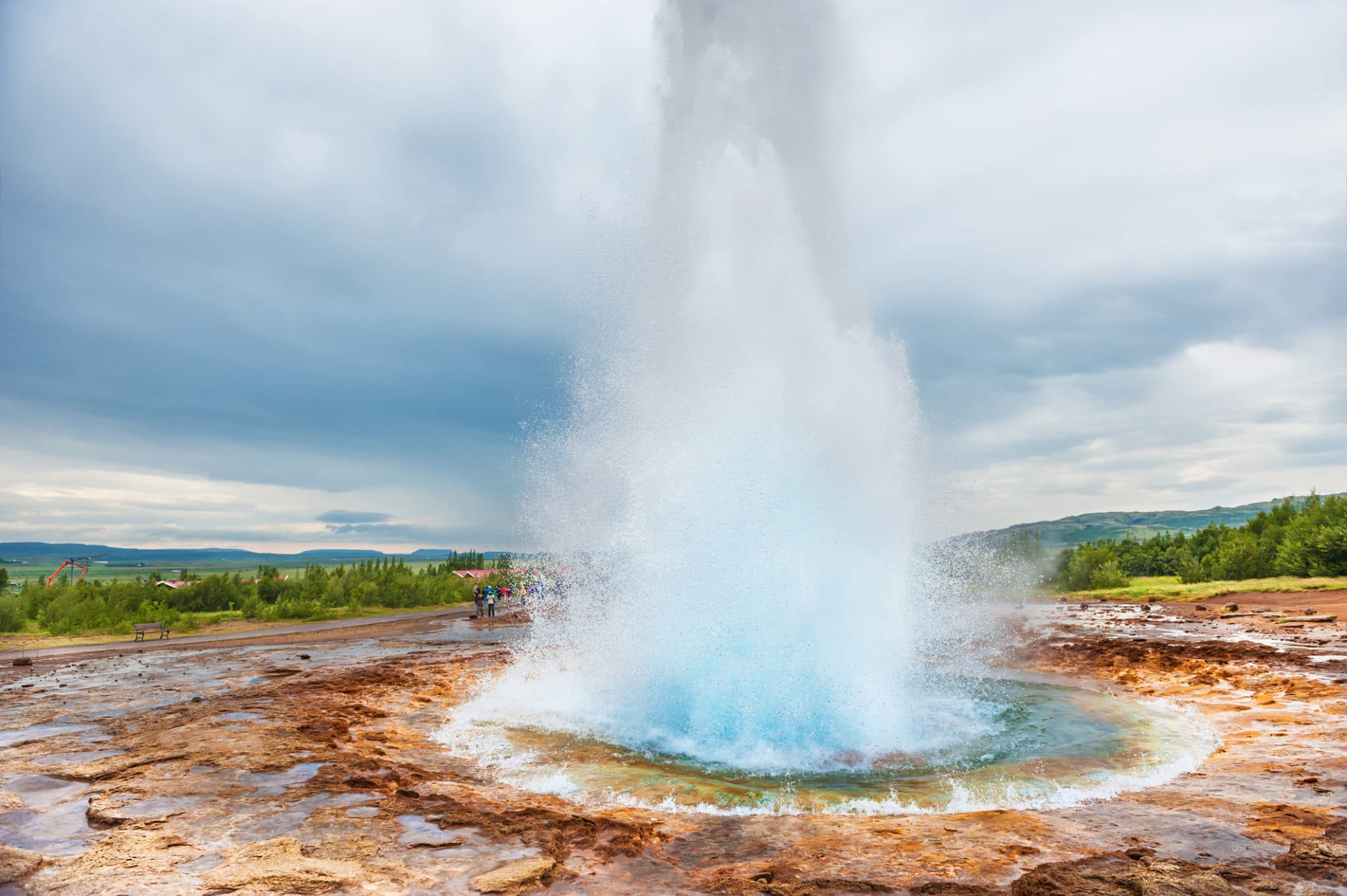 Photo by Creative Family Planning to visit Iceland for your next vacation or maybe just…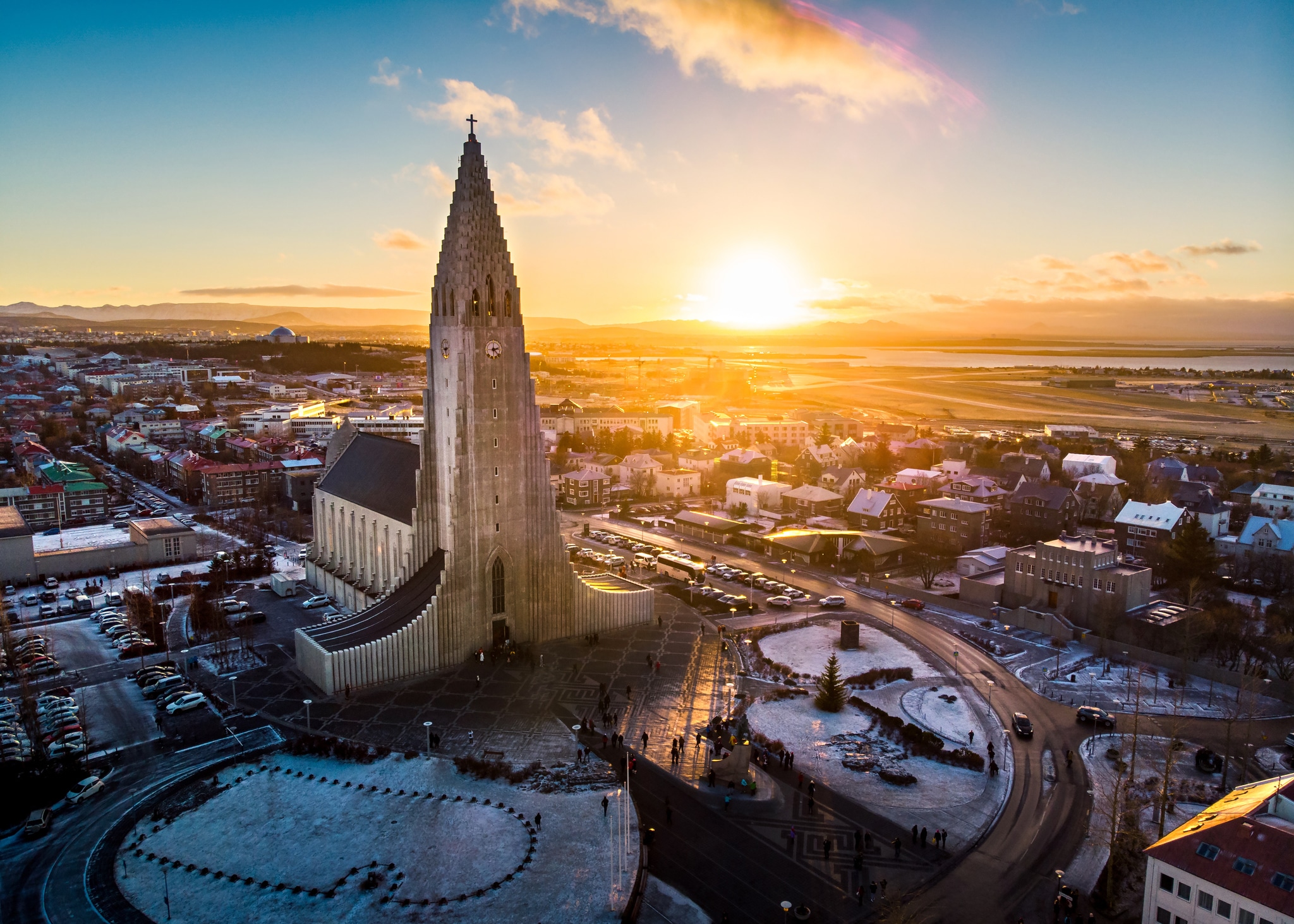 If it's totally helpful travel tips for Iceland you're seeking, then look no further. Iceland…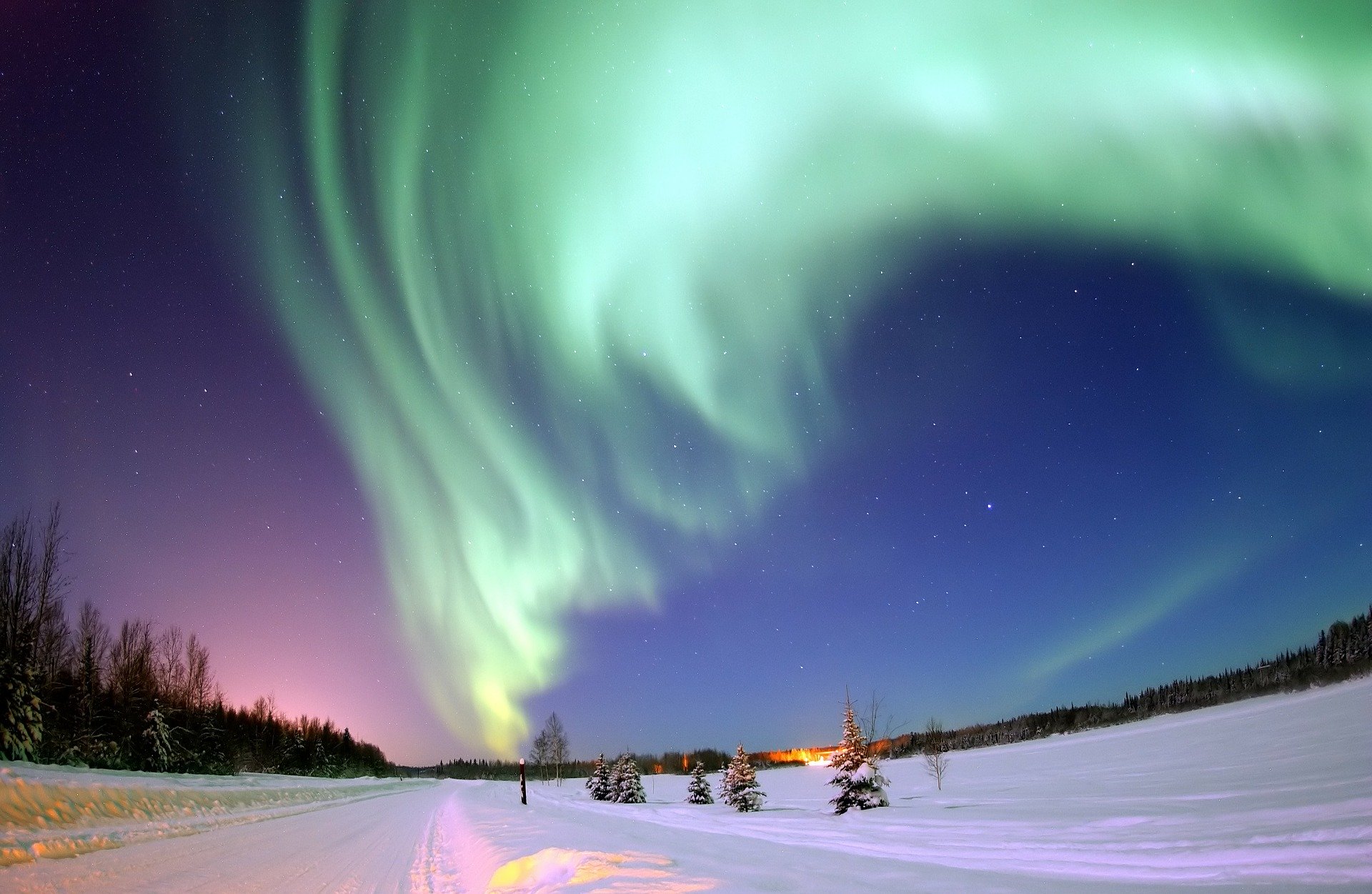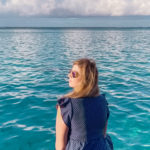 Eden Fite
Part-time Traveler | Dog Lover | Avoider of Crowds
I help busy people find creative ways to travel more.