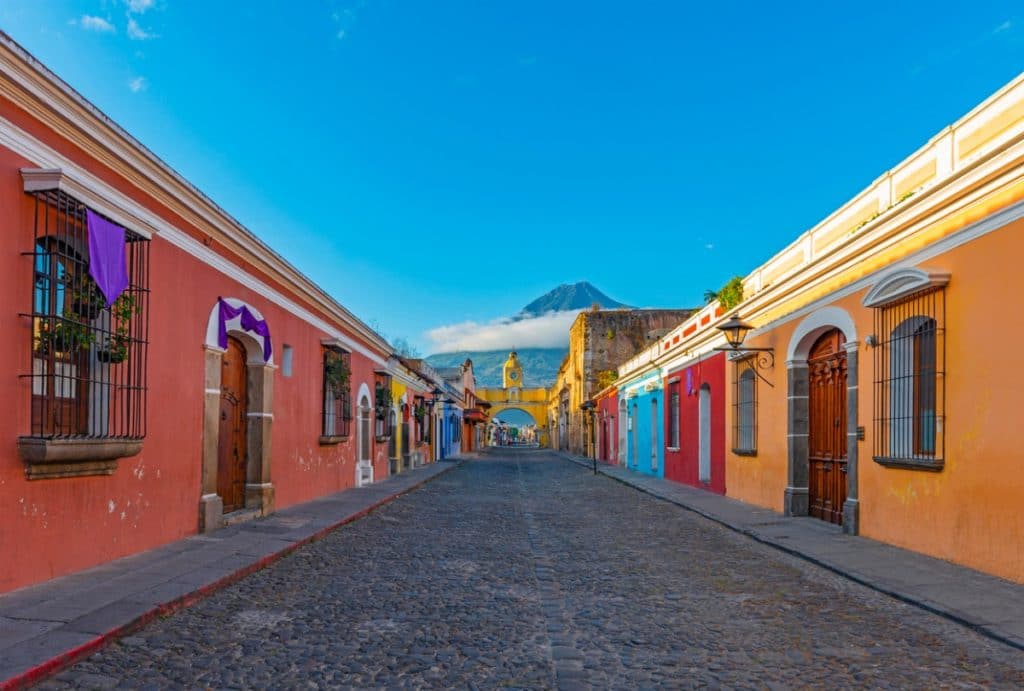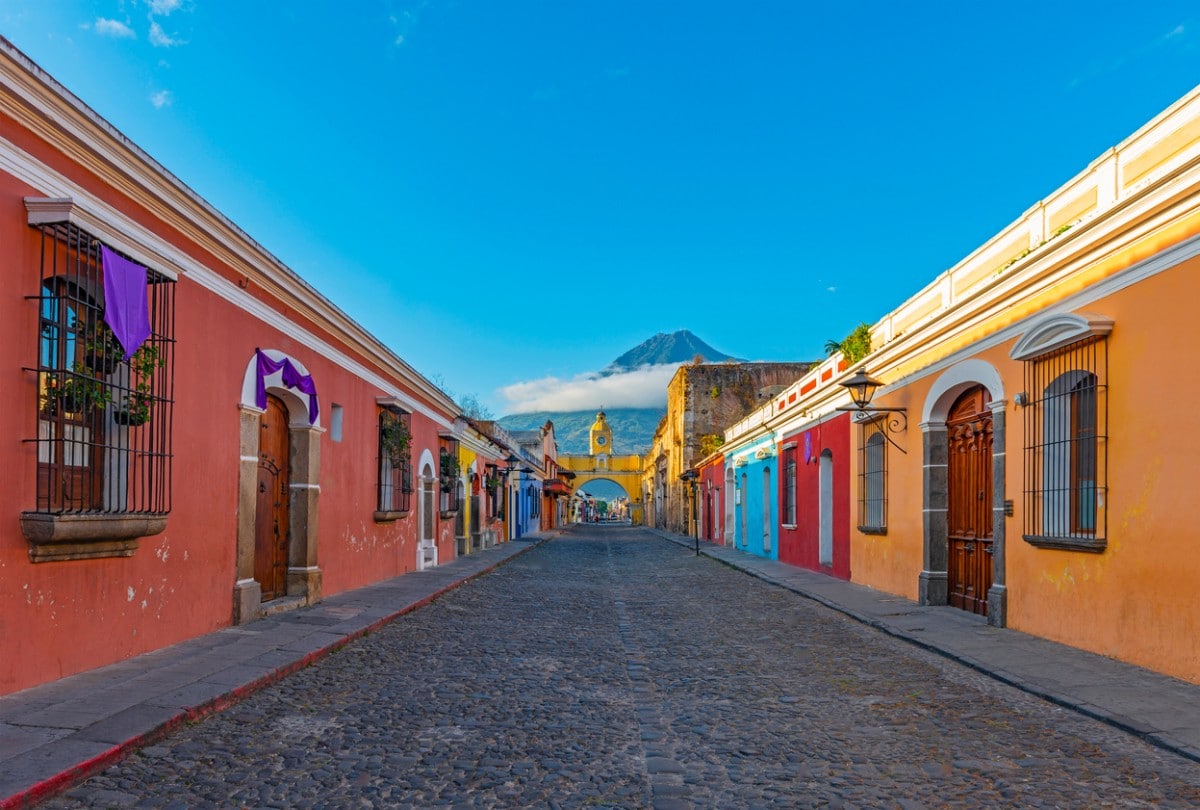 Wondering about things to do in Antigua Guatemala? Well you're in the right place.
The city of Antigua is one of the top tourist destinations in Guatemala.
The city is located in the country's central highlands and is about a one hour drive from the capital Guatemala City.
Antigua is known for its Baroque-style architecture built along cobblestone streets. The city is also a UNESCO World Heritage site.
To help you make the most of your time during your visit, I put together this list of the top things to do in Antigua Guatemala. 
Let's get started.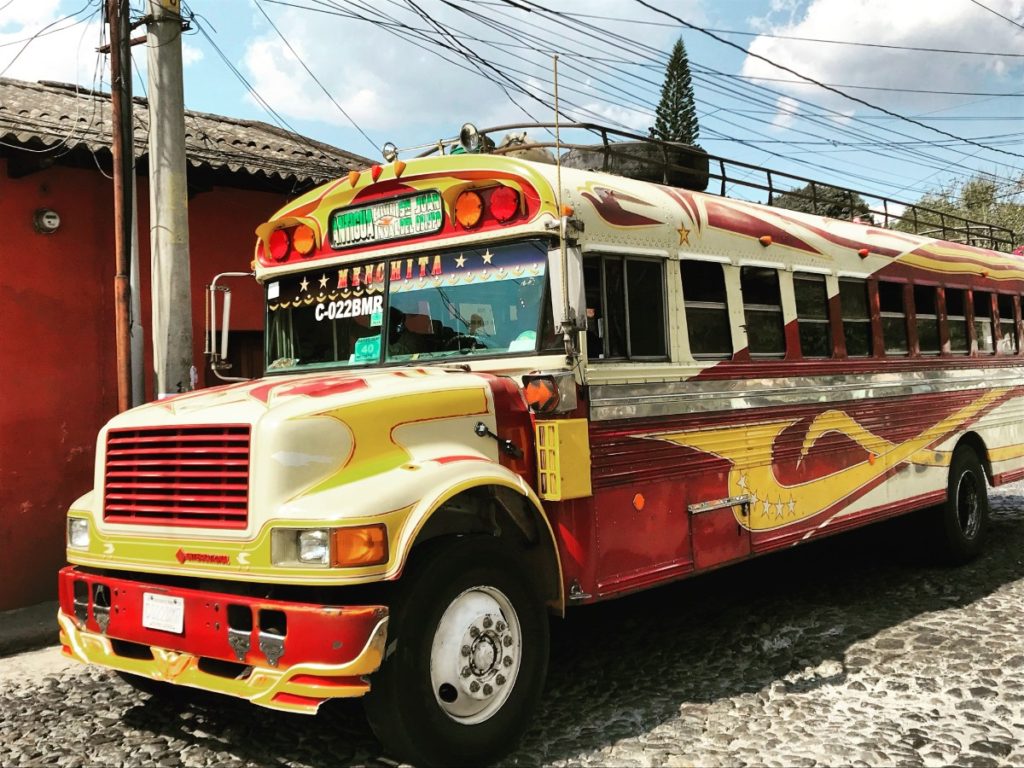 How to get to Antigua Guatemala
Guatemala is the northernmost country in Central America. The easiest way to get to Antigua is to fly into Guatemala City.
If you're coming fron North America, there are frequent flights into Guatemala City from Los Angeles and Houston in the United States.
From Guatemala City airport to Antiqua, you can either rent a car and drive, request an Uber, or arrange for a shuttle.
It will take about one hour to get to Antigua if you drive, slightly more if you take a shuttle.
The price for a shuttle to Antigua is $18 US. You can book your shuttle with GuateGo online.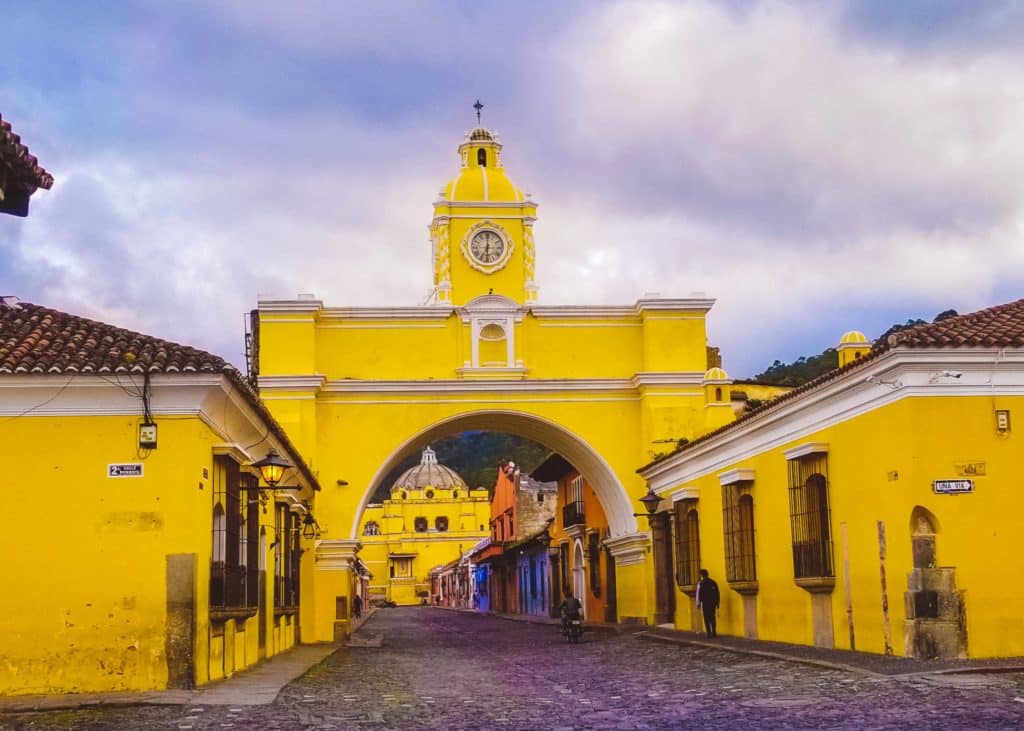 1. Arco de Santa Catalina
The Arco de Santa Catalina is the most recognized and most photographed landmark in Antigua.
A visit to the Arco de Santa Catalina is one of the most popular things to do in Antigua Guatemala.
The beautiful arch, built in the 17th century, crosses 5th Avenue North just above 2nd Street.
Arco de Santa Catalina was built to connect Santa Catalina school with the convent across the street. This was so the nuns would not have to go outside when crossing back and forth.
The arch and surrounding buildings are painted in a vibrant bright yellow.
If you stand on the south side of the arch about a half block down the street, you can see the arch over the cobblestone street.
Both Iglesia de la Merced and the massive Agua Volcano can be seen in the background. It's a stunning sight to see on a clear day.
Side note: If you want a photo like the one pictured above without people (or very few), you will need to wake up early.
Plan to arrive at Arco de Santa Catalina by 6:15 a.m. at the latest.
Fortunately, Antigua is small so the arch should be within a few minutes walking distance from your hotel.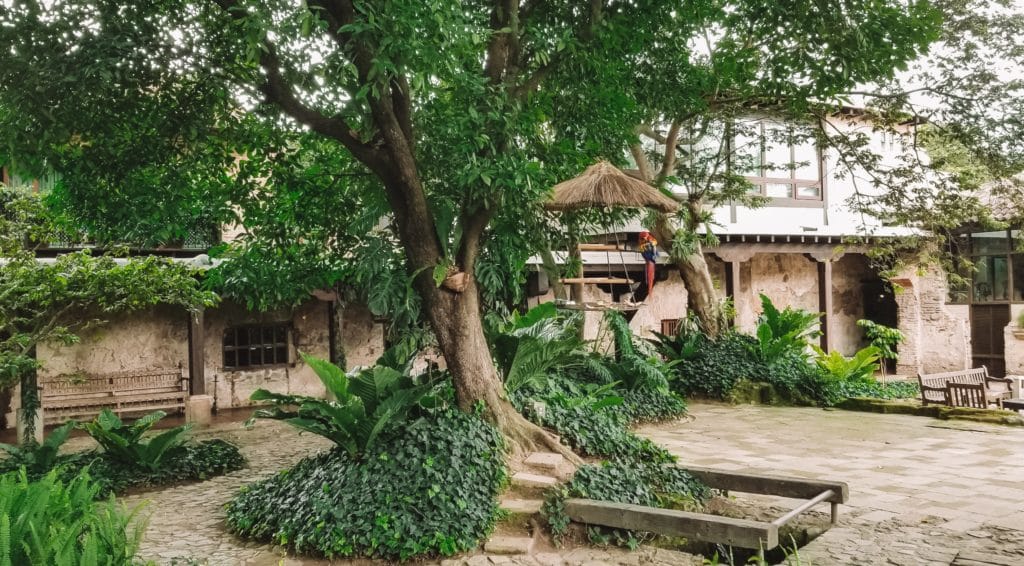 2. Casa Santo Domingo
If you visit Antigua, Casa Santo Domingo is a must-see.
My visit to Casa Santo Domingo was one of the highlights of my time in Antigua.
The property has a tremendous amount of history and currently operates as a five-star hotel.
In addition to the hotel, there are also multiple restaurants, a spa,  and a total of six museums on site. 
For just a couple of dollars, you can explore all six museums including the Colonial Museum, Archeology Museum, Museum of Pre-Colombian Art, Marco Augusto Quiroa and the Artist Halls, Silver Museum and the Pharmacy Museum.
You can get through all six in about 90 minutes if you keep a good pace. 
Casa Santo Domingo is a great place to spend an afternoon.
I recommend exploring the grounds and hotel, walking through the museums, and then grabbing lunch or a glass of wine at one of the restaurants on-site.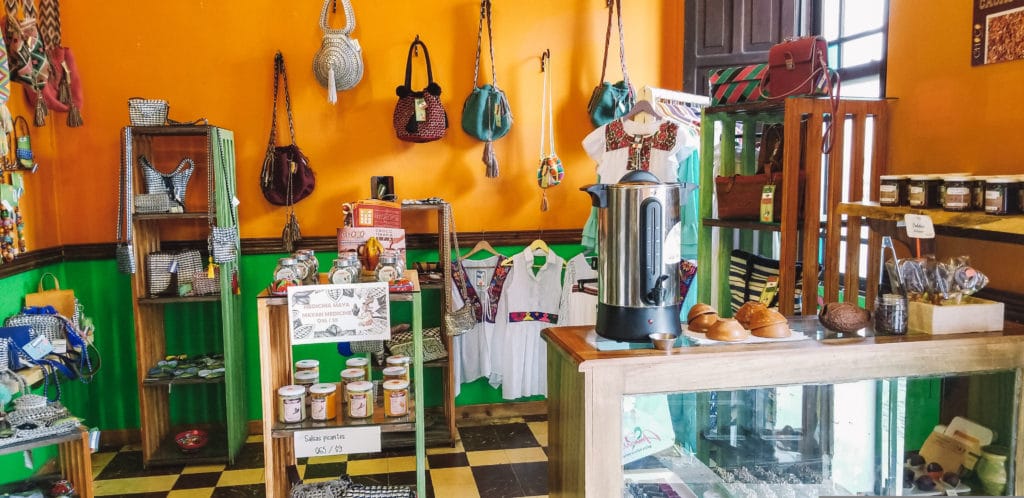 3. Choco Museo
Another one of the top things to do in Antigua Guatemala is the chocolate museum. 
Choco Museo Antigua is located on 5th Avenue about a block and a half from Arco de Santa Catalina.
What's fun about the museum is that they offer a variety of free samples of their delicious Guatemalan chocolate.
They sell everything from chocolate bars to truffles to liqueurs.
Guatemala is known for both its coffee and its chocolate, so you might as well indulge in both while you are here.
If you're looking for gifts to bring back to friends and family, this is a good place to look. They sell lots of cute sampler packs that I'm sure anyone back home would appreciate receiving. 
The staff here are super friendly and can answer any questions you might have about their products.
The museum also offers several workshops including a chocolate bar and truffle making cooking class if you'd like a more hands-on experience during your visit. 
Choco Museo Antigua is open daily from 10:00 a.m. to 7:30 p.m. Admission is free.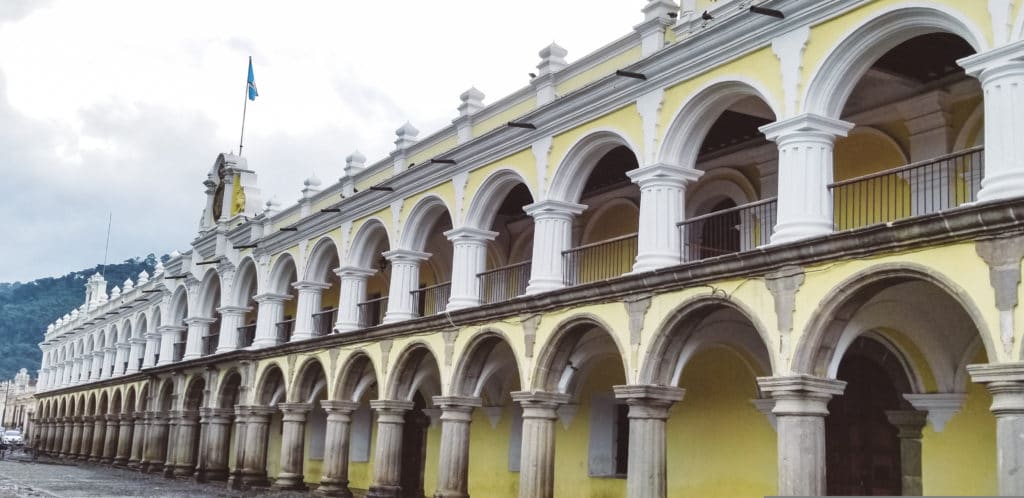 4. Central Park
The Central Park in Antigua is located three blocks south of Arco de Santa Catalina on 5th Avenue North.
The park is surrounded by the Captain General Palace (pictured above) and San Jose Cathedral.
There are several shops and cafes in the immediate area. You will find a large fountain in the center of the park along with plenty of benches to sit down and people watch if you need a break from all that walking around.
I recommend grabbing a cup of coffee and lingering for a short while just to take in the area.
You'll see lots going on in Central Park, with plenty of locals in the area just going about their day.
If your Spanish is decent (or not) maybe strike up a conversation and make a new friend. All the locals I encountered during my time in Antigua were very friendly.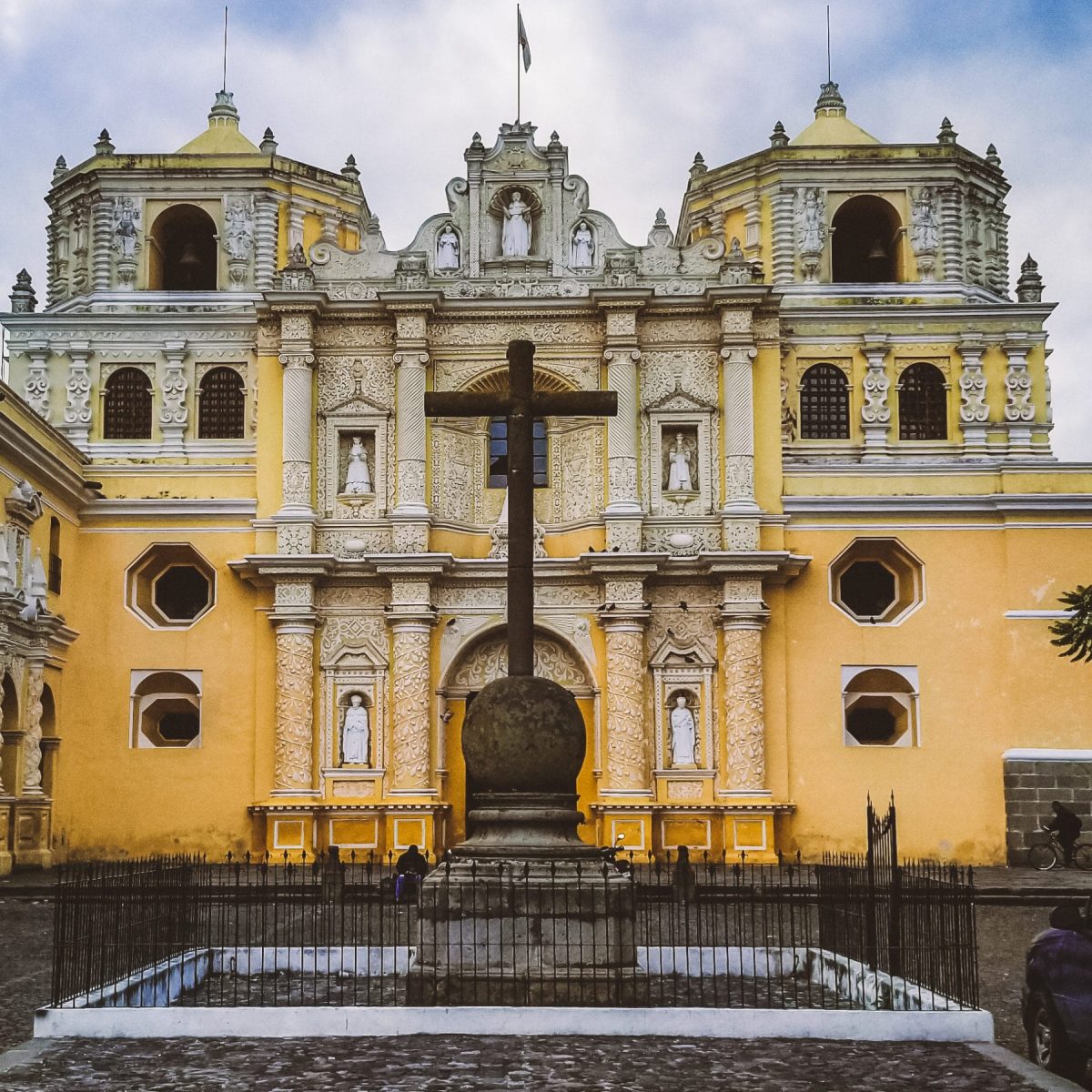 5. Iglesia de la Merced
Iglesia de la Merced is a baroque church built-in 1548. It was rebuilt on several occasions in the 1700s after suffering damage from earthquakes.
You can find Iglesia de la Merced one block north of Arco de Santa Catalina. If you're in the area, it's worth taking the time to see it.
The inside is usually open during the day, and there is no charge for admission. 
However, the church is used for services, so it may not always be open to visitors. Do not plan to visit on Sundays or religious holidays unless you plan on attending the services.
As always when visiting churches or other religious buildings, make sure you are dressed appropriately.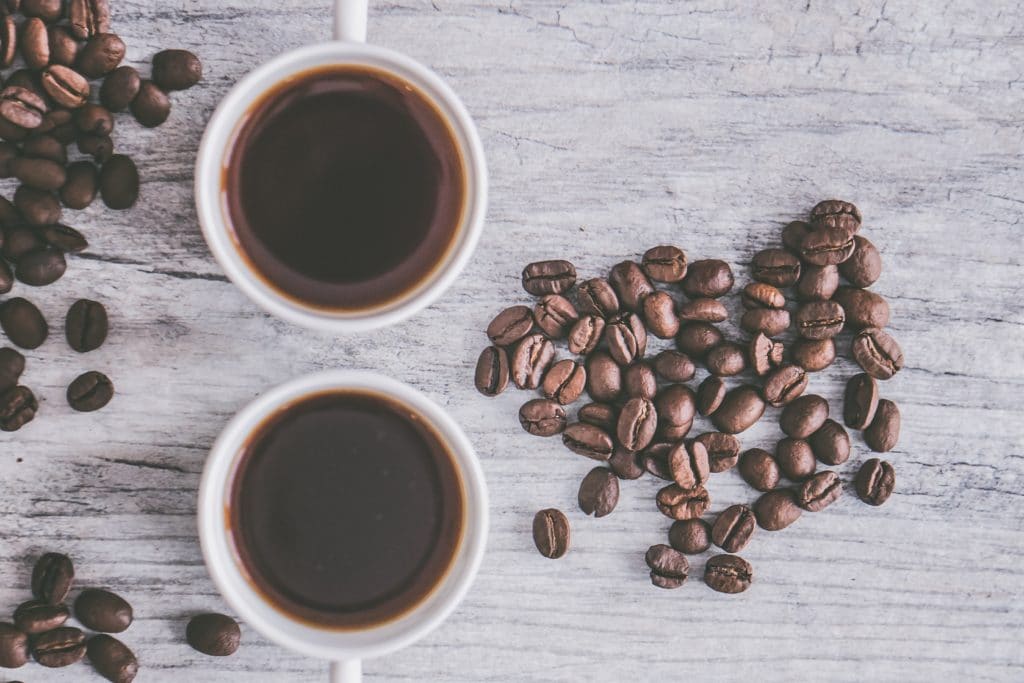 6. Go on a coffee tour
Another one of the unique and fun things to do in Antigua Guatemala is to take a day trip on a coffee tour.
There are several coffee tours available in the area.
They typically include a walkthrough of the coffee farm where the coffee beans are grown, the milling and drying area where the beans are sorted and processed, and the opportunity to learn about the coffee growing and coffee making process.
And of course, plenty of samples are provided.
The coffee tours will last a few hours and most begin in the morning. Here is a short list of available tours in and around Antigua:
 Filadelfia Coffee Tours: The tours here are two hours long and run at 9:00 a.m., 11:00 a.m., and 2:00 p.m. The tours cost $15 US. 
De la Gente: The tours at De la Gente are three hours long and run at 9:00 a.m. or 1:00 p.m. You must make a reservation for your tour at least one day in advance. The tour will cost $29 US and comes with a bag of coffee. 
Finca Colombia: The tours at Finca Colombia are available Tuesday through Friday and run about 90 minutes long. You must contact them via their website to request a time in advance. Their coffee tours are $15 US.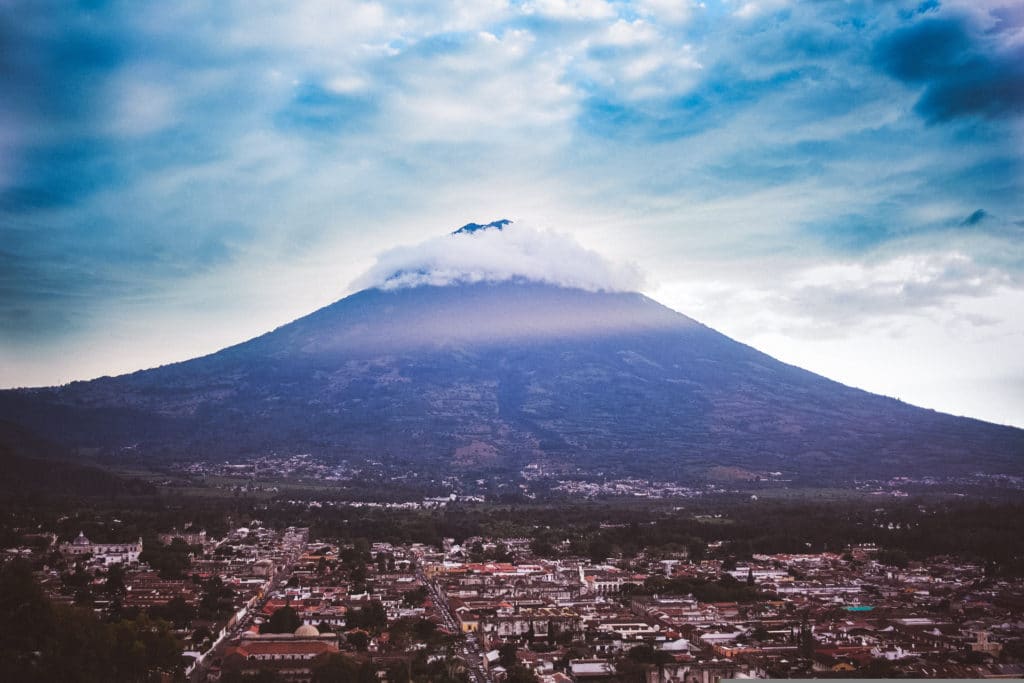 7. Hike a volcano
If you're looking for some outdoorsy things to do in Antigua Guatemala, you're in luck. The city is surrounded by nature and several massive volcanoes.
There are three volcanoes located near Antigua that you can hike.
You can climb all the way to the summit of all three, though some are a bit more challenging than the others.
Here's a quick overview of your options should you choose to accept the challenge:
Volcan Pacaya: Pacaya volcano is located about an hour outside of Antigua. It is a fairly easy climb to the top that should take you about 90 minutes or so. 
Volcan Fuego: This volcano erupted most recently on June 3, 2018, but is now considered safe (generally speaking) to climb. This is an exceptionally challenging hike and if you are not in great shape you should not attempt this hike. Reaching the summit of Volcan Fuego will take the majority of your day and you will need an extremely early start (think 4:00 a.m.). 
Volcan Actenango: This is a challenging hike that will take you about half a day. Plan to get up very early to ensure you make it back before sunset. The summit stands at 13,044 feet. 
If you want to make this whole experience much easier, I suggest you reserve your spot on a tour.
OX Expeditions receives rave reviews and offers dozens of tours in and around Antigua.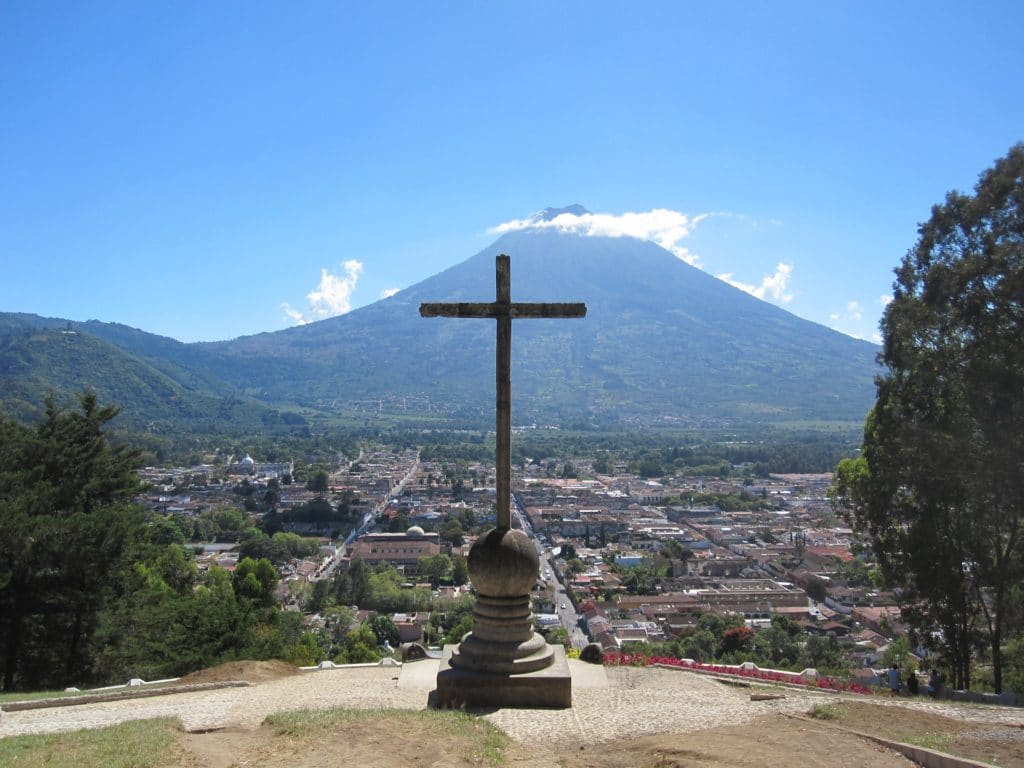 8. Cerro de la Cruz
If you're looking for even more active things to do in Antigua Guatemala, consider a hike up to Cerro de la Cruz.
It's a short hike, about 15 minutes, but the view from the top of the hill is quite spectacular.
You'll see all of Antigua below along with an unobstructed view of Volcan Agua in the background.
This is a great spot to get to in the morning as the sun is coming up, or in the early evening at golden hour. It won't be too hot and the lighting will be perfect for photos.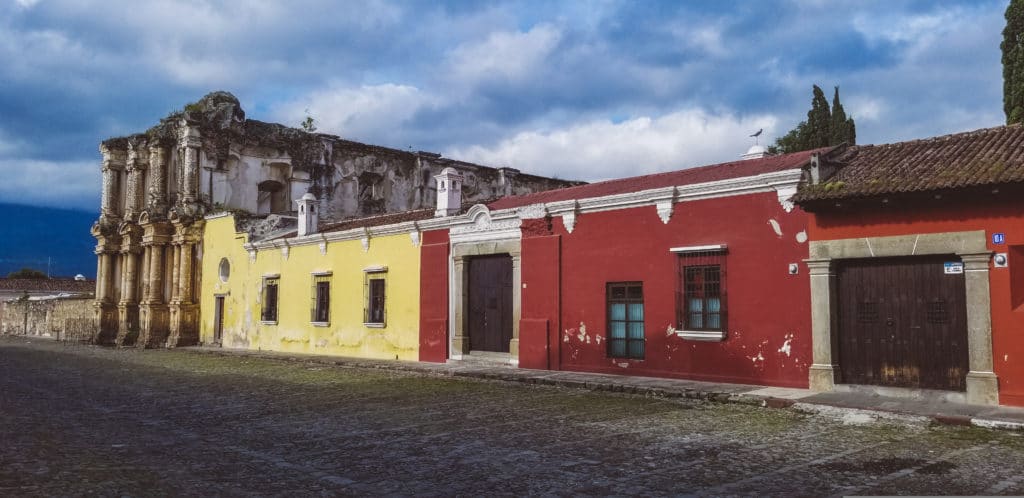 9. Walk Around and Explore
Like most places, part of the fun of visiting Antigua is just exploring on foot and seeing where the day leads you. Make your own walking tour and explore the city.
If you can handle it, I recommend waking up early at least one day during your stay.
If you can get out on the streets with your camera by 6:15 a.m. or so, you'll get some amazing pictures of the city.
There are very few people out at this time, so you can get pictures of all the major sites without having crowds or cars in your shot. 
In addition to the pictures though, it's the perfect way to get to know the city better.
It's quiet and peaceful in the morning and you'll pretty much have the place to yourself, though not for long.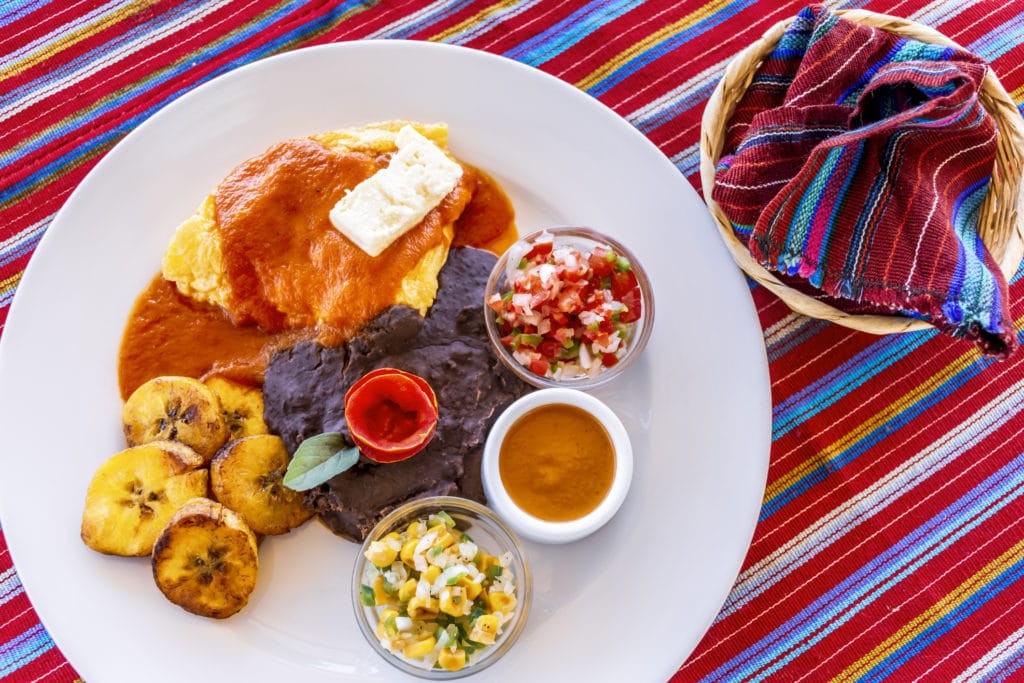 10. Try the food
One of my own favorite things to do in Antigua Guatemala was trying all the delicious food.
The food in Guatemala is excellent and you definitely won't have any trouble finding it.
There are restaurants all over the historic center and plaza central in Antigua.
Here are a few restaurant options to get you started:
Caoba Farms: This is a fantastic farm to table restaurant found about a 15 minute walk from central Antigua.
Canela: This is the perfect spot for breakfast. They serve great breakfast sandwiches and pastries.
Fat Cat Coffee House: The perfect place to go in Antigua for a great cup of coffee. They also have great wifi.
Kombu Ramen Shop: I'm told they serve an excellent bowl of ramen so I had to include it in this list. Please go here and tell me how it is.
Rincon Tipico: If you're looking for delicious and affordable local cuisine, look no further. Roncon Tipico serves affordable Guatemalan cuisine featuring fresh ingredients and roasted chicken.
In addition to the restaurants above, be sure to leave room to try the local street food as you're walking around. It's incredibly affordable and a great way to try more local dishes.
If you'd like to see more about things to do in Antigua Guatemala, the video above shows wonderful things to see, do, and eat in Antigua.
The vidoe is part of a New York Times travel series, so it's made very well. It also features some things to do that I have not mentioned here.
I think you'll be happy you watched it.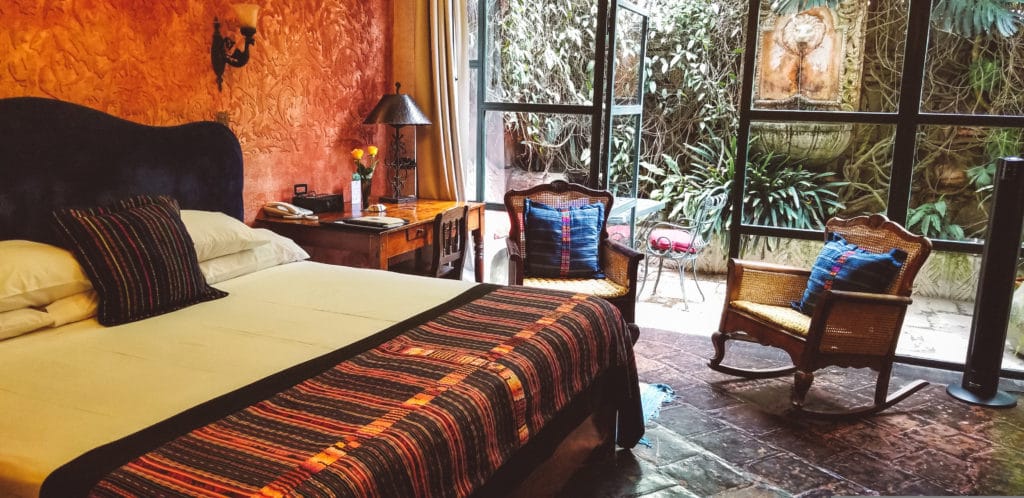 Where to stay in Antigua Guatemala
There are many nice hotel options in Antigua, some of which are really unique properties with an interesting history. 
Here is a short list of recommended accommodations in Antigua:
Budget
Yellow House Hostel: If you've got a backpacker's budget and want to be in the center of town, this is your spot. This hostel is locally owned and operated. They have 24-hour reception, comfortable sleeping areas, excellent service, and private rooms are available. 
Moderate
Meson Panza Verde: This is an affordable luxury boutique hotel located a short walk for Arco de Santa Catalina. The rooms here are gorgeous and spacious. On-site they have one of the best restaurants in the city, and complimentary Guatemalan breakfast is served each morning. 
Luxury
Casa Santo Domingo: This is a luxury hotel on a gorgeous property with lush green courtyards, a pool, a spa, multiple restaurants, and several museums on site. There is lots to do on the property and the rooms are really nice. Book your room as soon as possible as this hotel is often sold out. 
If you have time so see more of Guatemala and plan on visiting the Lake Atitlan area, read my Lake Atitlan travel guide to help you make the best use of your time. 
I hope you've enjoyed reading this list of my Top 10 Things to Do in Antigua Guatemala and that you find it helpful in planning your trip. If you've enjoyed this post I'd love it if you shared it. It really helps me a lot. Thanks for reading.
Book Your Trip
Find the best flight deals by using Google Flights, then book direct with the airline. This is the search engine I use to compare flights and prices before booking my own trips.

BOOK YOUR ACCOMODATION
I recommend searching for hotels through Booking.com to compare hotels on amenities, location, and price. If you are a member of a hotel's rewards program, always book direct with the hotel. If you are not loyal to a specific hotel brand, using Booking.com for the best price.

TRAVEL INSURANCE
Travel insurance is more important than ever. For just a few dollars a day you can protect yourself and your trip. I personally use World Nomads, but whomever you choose, don't skip out on travel insurance. It can literally save you thousands of dollars.


Want to save it? Pin it.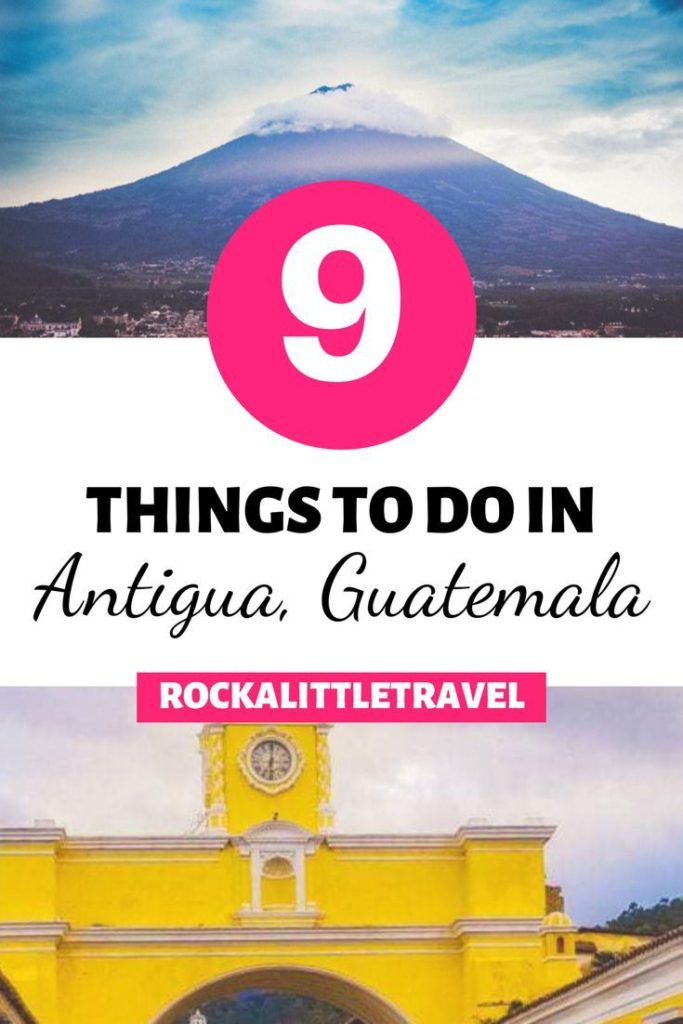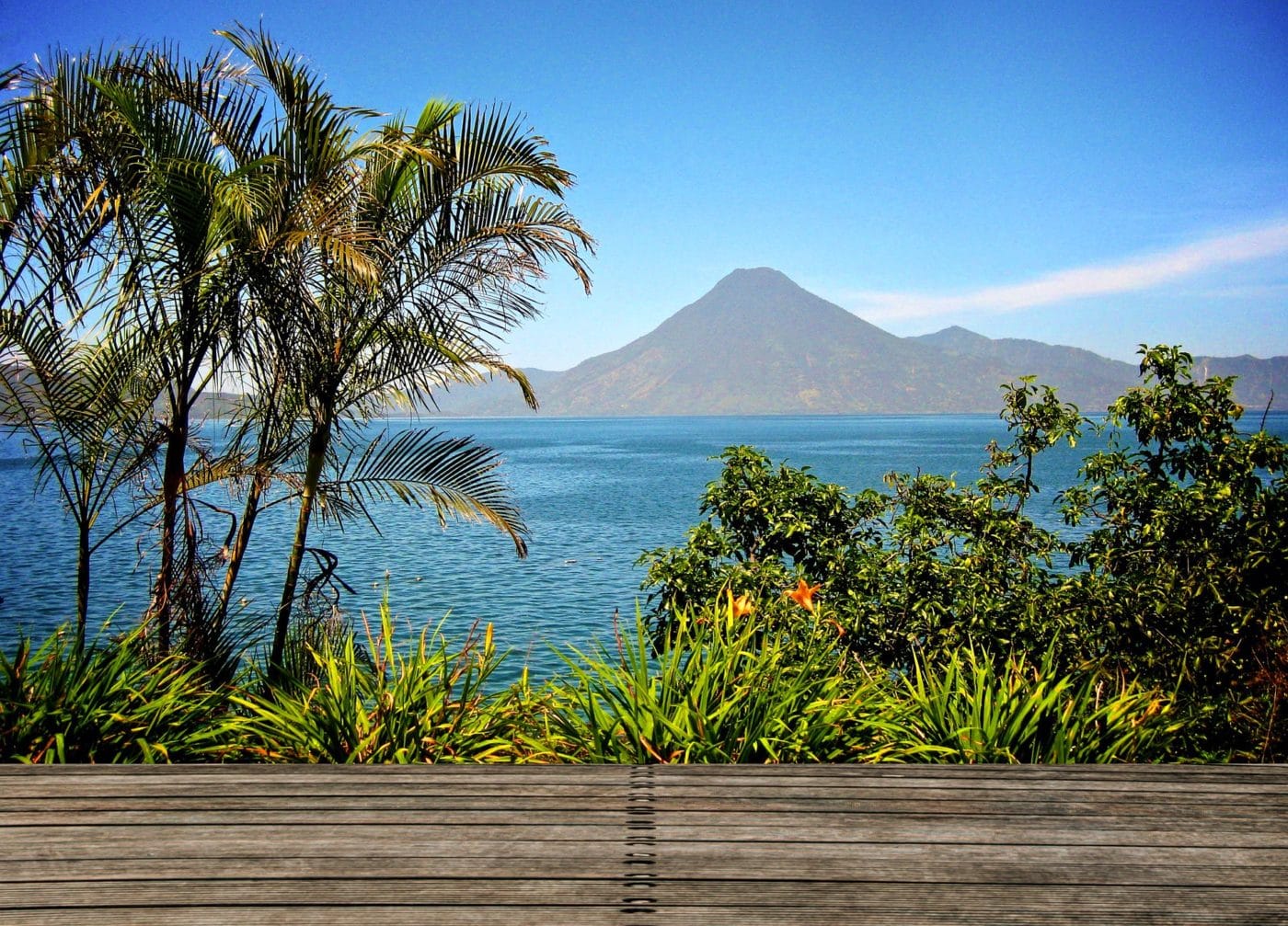 Photo by Marco Antonio Reyes Guatemala was one of the most surprising destinations I've ever visited. When in the planning stages figuring out what to do …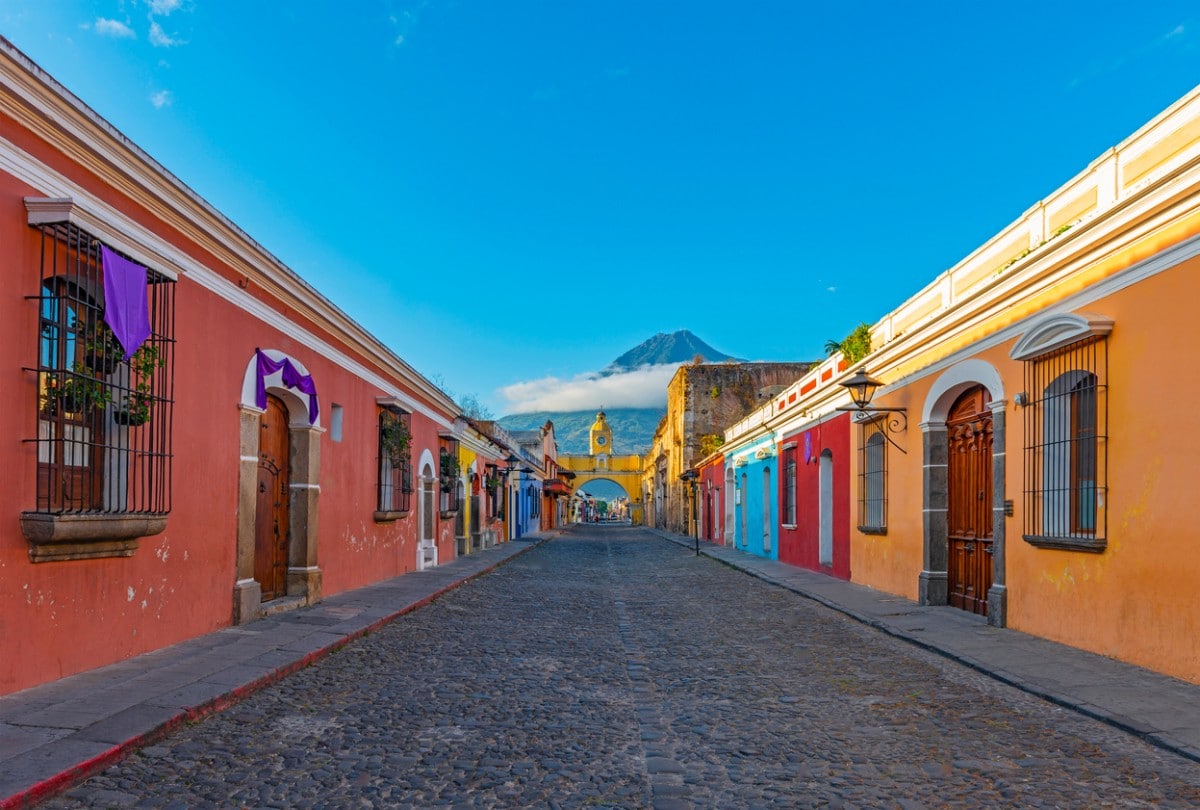 Wondering about things to do in Antigua Guatemala? Well you're in the right place. The city of Antigua is one of the top tourist destinations …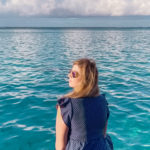 Eden Fite
Part-time Traveler | Dog Lover | Avoider of Crowds
I help busy people find creative ways to travel more.