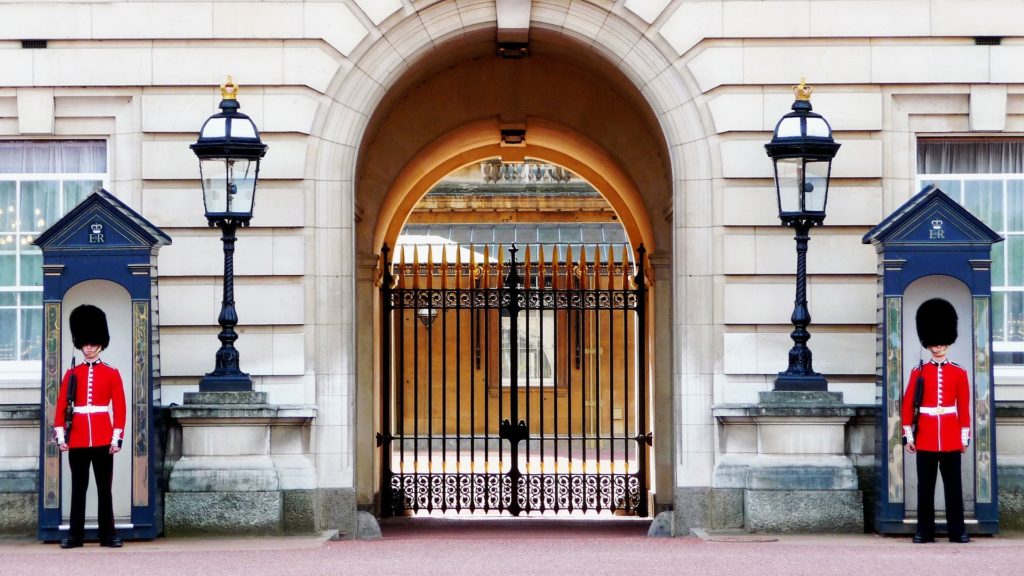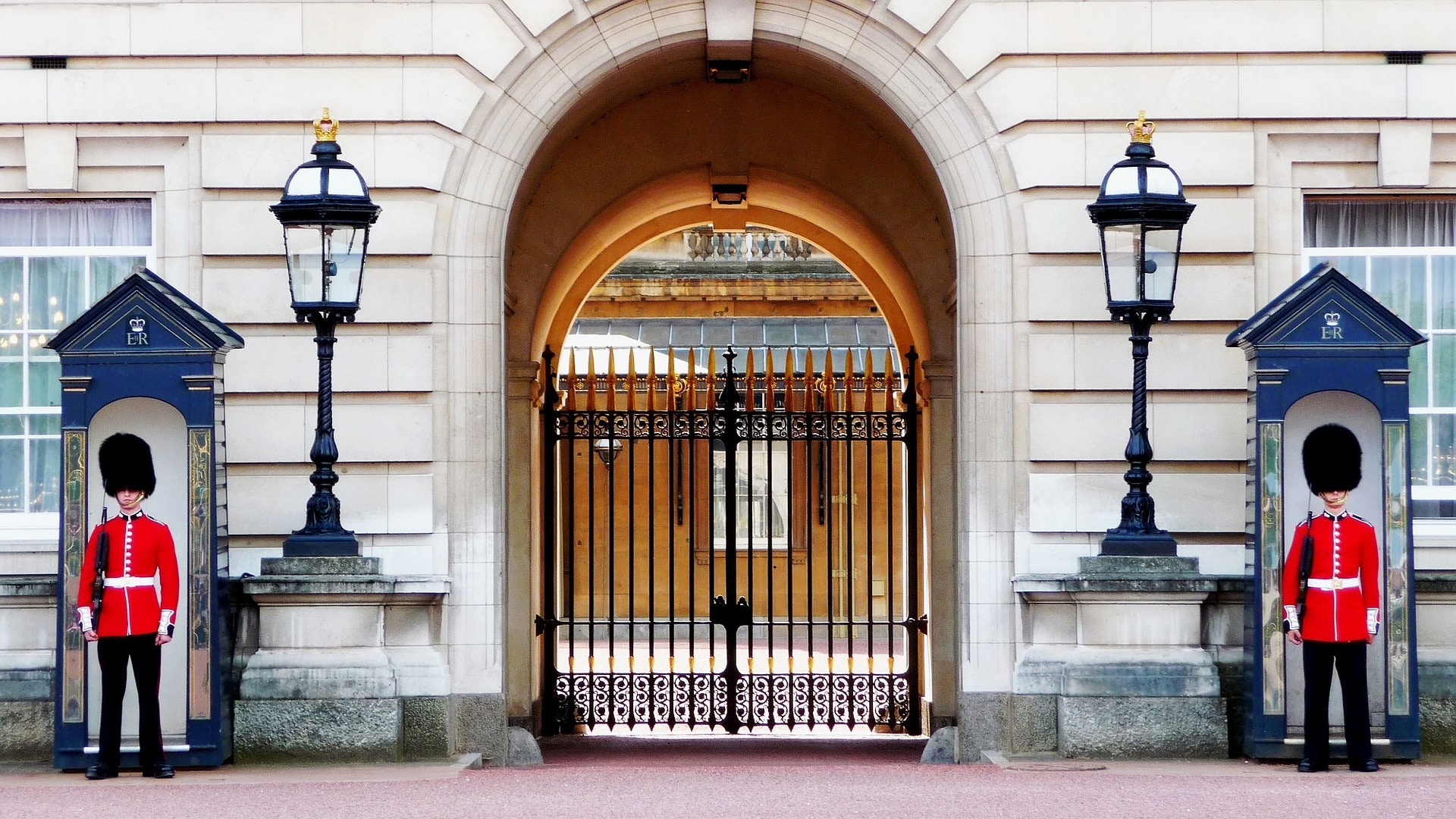 Planning a visit to England and need to see London in a day? Well keep reading, this post is for you.
I put together this travel guide for those of you short on time but ambitious enough to try and see it all.
This is a no nonsense guide to get you in front of all the major tourist spots in the city. This is perfect for those who have never been to London before and want to see the biggest landmarks.
Hopefully you'll get the chance to return one day. When you do, you won't have to worry about doing these touristy things.
So let's get to it. Here is my recommended itinerary of the Top 14 Things to Do in London in a Day.
Top 14 Things to See in London in a Day
To navigate London in a day you'll want to have comfortable shoes and a fully charged cell phone.
You'll be using Google Maps to get walking and transit directions in between destinations.
Also, be sure to pick up an Oyster Card (the metro card for London) as soon as possible so you can just hop on the train when you need to.
If you're not comfortable using the tube to get around from place to place, you can always use Uber or hail a taxi to get to your next destination.
The destinations on this itinerary are in order based on location to make it easy for you to visit them all.
However, feel free to move things around as you see fit. If you think I've included a destination that sounds boring, skip it. This is your trip, make it your own.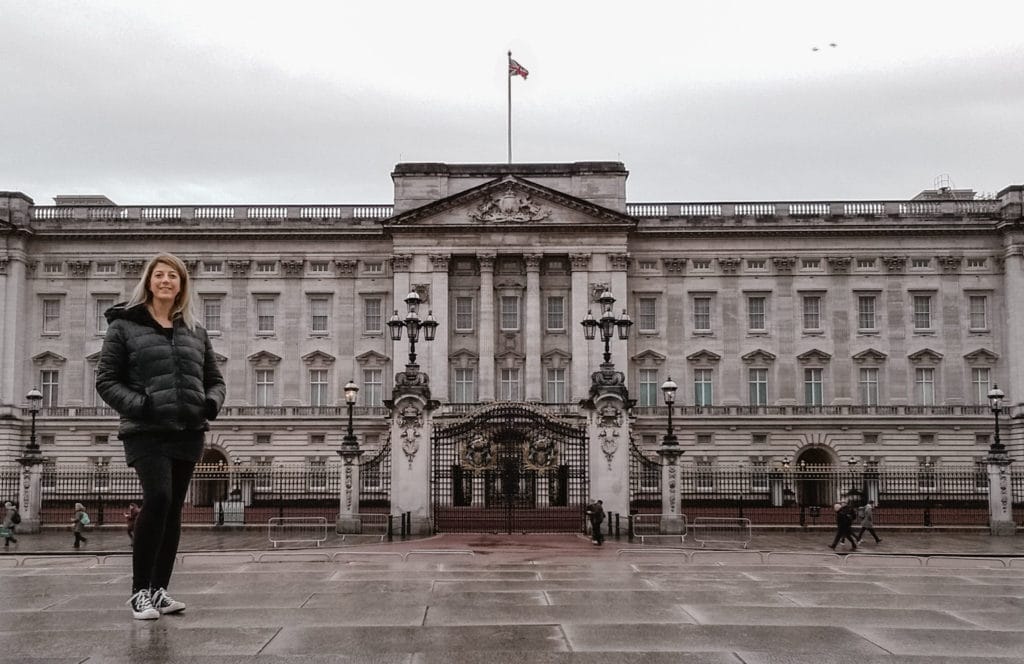 1. Buckingham Palace
We start this visit to London in a Day at Buckingham Palace because it's nice to see early in the morning before all the crowds arrive.
It also gives you the opportunity to get a nice picture, such as the one above.
For those who don't know, Buckingham Palace has been the principal British royal residence since 1837.
It has a total of 775 rooms and is home to several royal couples, including Queen Elizabeth and Prince Phillip.
Buckingham Palace is also the location of the famous Changing of the Guard, which is held several times per week most of the year, and daily during the summer months.
The Changing of the Guard occurs around 10:45 a.m., so you'll want to come by later in the morning if this is something you need to see.
If you want to go inside Buckingham Palace, guided tours are available. However, if you want to see London in a day, you'll need to skip this for now.
Next Stop – St. James Park
Once you're done snapping pictures of yourself alone in front of Buckingham Palace, simply turn around and begin walking. You'll find St. James Park just across the street.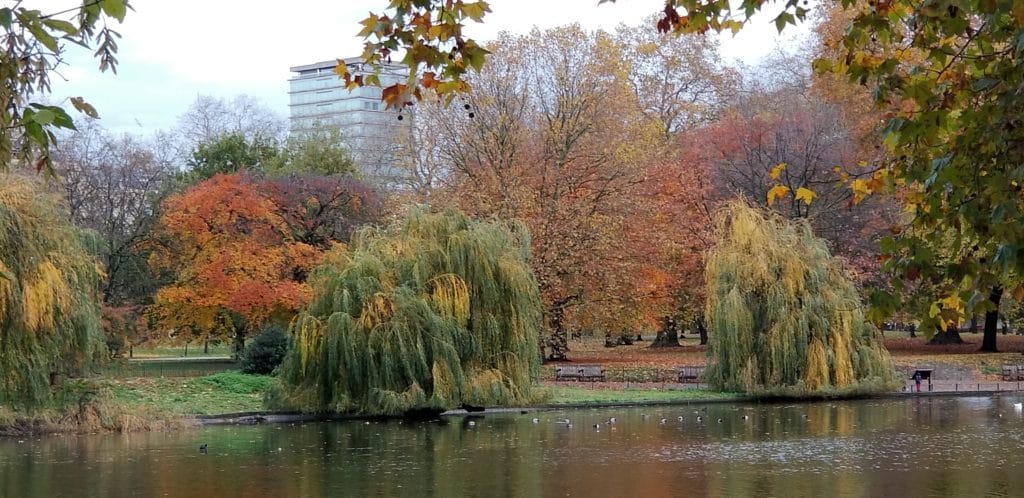 2. St. James Park
St. James Park is a large 57 acre public park located in Central London. The park is bordered by Buckingham Palace to the west, the London Mall, Horse Guards, and Birdcage Walk to the south.
Inside the park, visitors will find St. James Lake, home to two small islands with large waterfowl populations, including a colony of pelicans.
St. James Park also features several walking paths, a bridge, a fountain, a children's playground, and a sandpit.
If you happen to be visiting London in the fall, St. James Park is a perfect destination for fall foliage. The park has beautiful fall colors on display all over the park, especially near the lake.
Next Stop – Westminster Abbey
Once you've made your way through St. James Park, pull up walking directions to Westminster Abbey. It will be a short seven to ten minute walk from the park.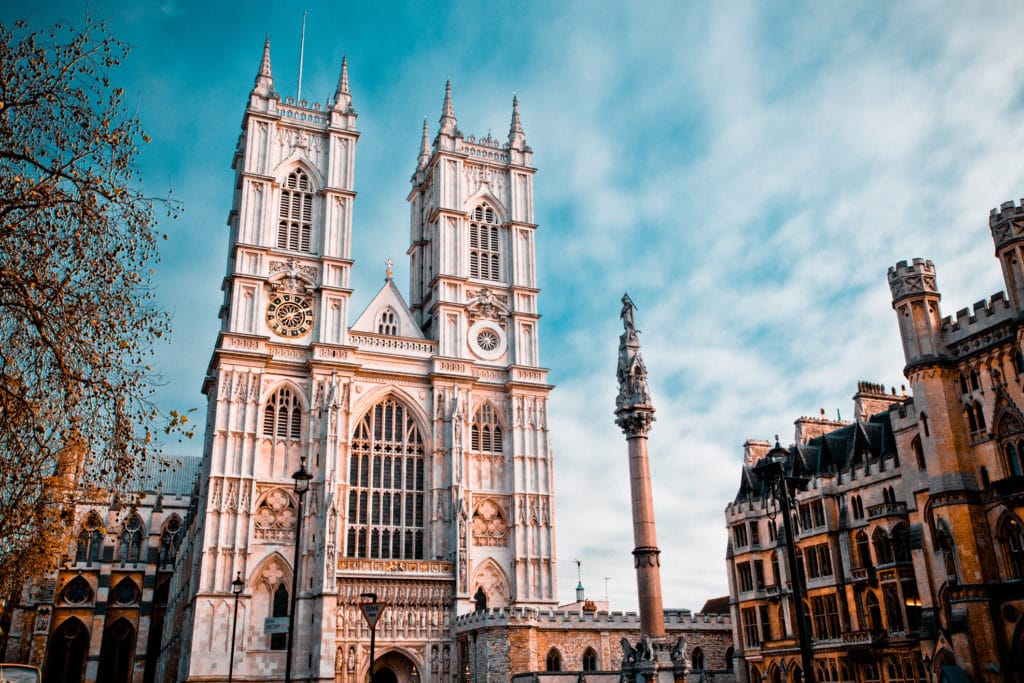 3. Westminster Abbey
The Collegiate Church of Saint Peter at Westminster, otherwise known as Westminster Abbey, is a large gothic church in central London.
Westminster Abbey is the most well known church in London and has been the location of 16 royal weddings.
Most recently, Prince William married Catherine Middleton at Westminster Abbey on April 29, 2011.
Westminster Abbey is open Monday through Friday from 9:30 a.m. to 3:30 p.m. Hours vary on Saturdays depending on the time of year.
They generally open at 9:00 a.m. and close at either 1:00 p.m. or 3:00 p.m. Services are held on Sundays.
Admission tickets should be purchased in advance and will cost $21 Euro per person for adults.
Since Westminster Abbey doesn't open until 9:30 a.m. and you've only got one day in London, you should skip this for now.
Next Stop – Palace of Westminster
Once you've finished admiring Westminster Abbey, bring up walking directions to the Palace of Westminster. It's basically just across the street, so it will only take you a few minutes to get over there.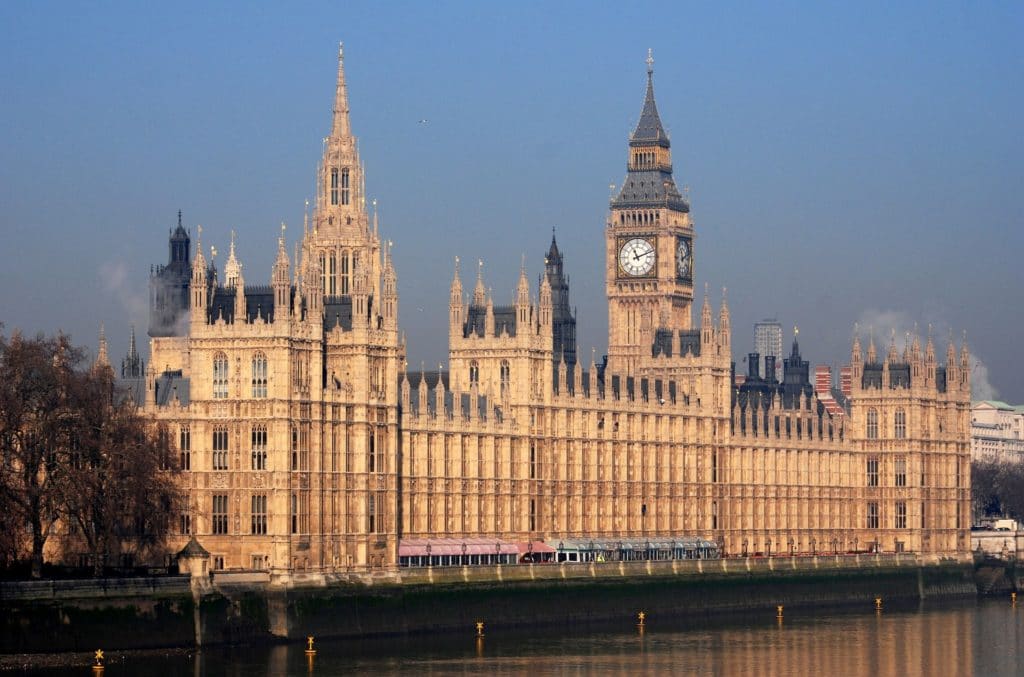 4. Palace of Westminster
The Palace of Westminster, more commonly known as the Houses of Parliament, is also where you can find London's most famous landmark, Big Ben.
This is the building where the House of Commons and the House of Lords meet. It's the home of English politics and where the day to day business of the country is conducted.
Guided tours and audio tours are available starting at around $20 Euros per person.
The tours run on different days and times throughout the week, be sure to check their website prior to your visit for more information and to plan your visit.
Ticket lines can get long. You should also account for the security line, which can take up to 45 minutes or longer, depending on the crowds that day.
I include information about ticketing and admission so you know how to go about it, but the lines are too long for a London in a Day itinerary.
We'll skip the inside tour for now, we've got more to see.
Next Stop – Big Ben
Once you're done viewing the Palace of Westminster, head down the block towards the River Thames.
You'll actually get the best view of Big Ben from across the river. Bring up walking directions for CJD Memorial Plaque, located in the St. Thomas Hospital Gardens across the Westminster Bridge. This will be about a 5 minute walk across the bridge.
Quick note, while you're crossing the bridge, be sure to snap a picture of the London Eye on the opposite side of the bridge. This is one of the best places to get pictures of the full wheel before you get closer.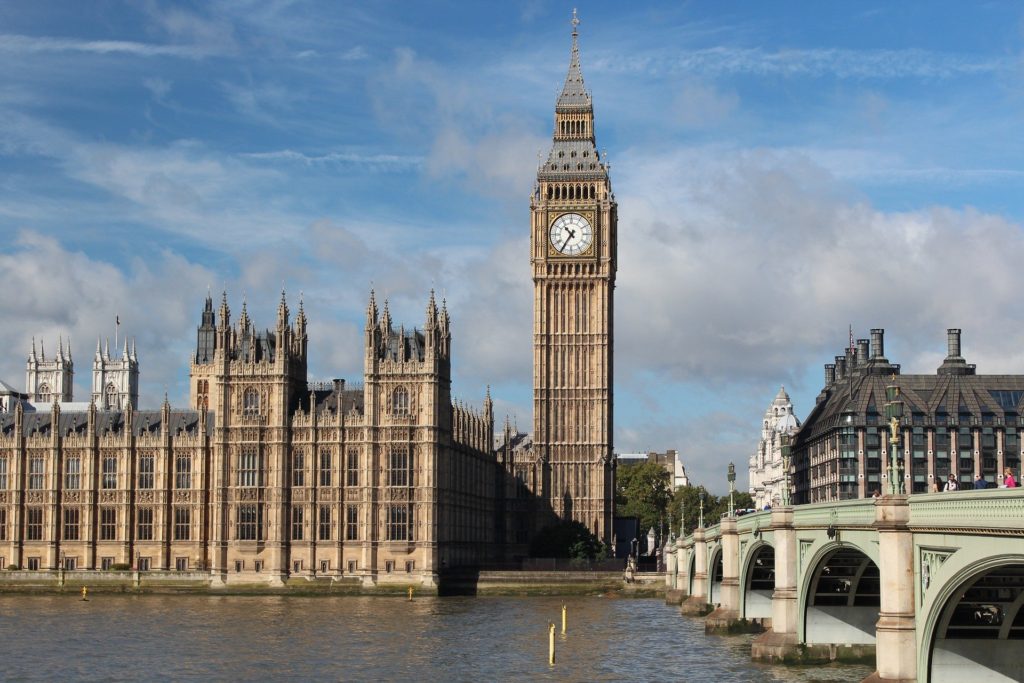 5. Big Ben
A one day London itinerary wouldn't be complete without a stop to see Big Ben.
However, Big Ben is currently undergoing renevations, so getting a glimpse of the world's most famous clock tower isn't as exciting as it used to be.
Big Ben is slated to return to his original glory some time next year (in 2021). In the meantime, London visitors can observe the renovations from afar.
The official reopening of Big Ben will be announced closer to the conclusion of the renovations.
For those who don't know, Big Ben is actually the nickname of the largest bell inside the clock tower.
It is one of five bells housed in the Elizabeth Tower. Big Ben is said to be about 160 years old.
Next Stop – The London Eye
Once you're finished snapping pictures of Big Ben, head down the path along the River Thames called The Queens Walk. After a short 5 minute walk, you will arrive at the popular London Eye.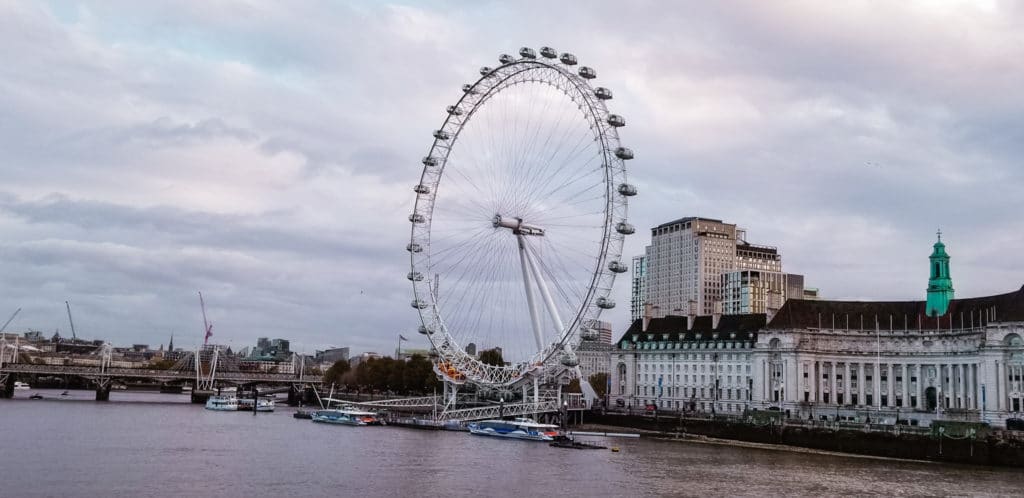 6. The London Eye
The London Eye has become one of the most iconic sights in London since it opened back in March 2000.
The massive observation wheel sits along the south bank of the River Thames near central London.
The London Eye is so popular that it's the busiest paid tourist destination in all of the United Kingdom. It gets over 3.75 million visitors annually.
If you're looking for an impressive view of London, this is one of the best places to go.
Due to its popularity, it's advised that you purchase tickets in advance and plan to arrive early. If at all possible, plan to arrive right when they open.
The London Eye consists of 32 capsules which hold up to 25 people each. Seating is available inside but guests are free to walk around the capsule as it makes it's way around.
It takes 30 minutes for each capsule to make a full rotation back to the boarding area.
If you're on the mission to see London in a day, you'll want to plan ahead for this one. Book your ticket online in advance and select the Fast Track option so you don't have to wait in line.
The hours of operation vary depending on the day and time of year. In general, the London Eye is open from 10:00 a.m. to 8:30 p.m.
Standard tickets cost about $27 Euro while Fast Track tickets start at about $37 Euro. If you'd like your own capsule, that will cost you $450 Euro.
If you want to complete the full London in a day itinerary, I recommend doing either the London Eye, or going to the top of The Shard. I would just pick one, but not both.
Next Stop – The Shard
After you've completed your spin around The London Eye, catch a train or request an Uber to take you to The Shard.
It will take you about 15 minutes to reach The Shard by car or train. If you prefer to walk, it will take you approximately 35 minutes.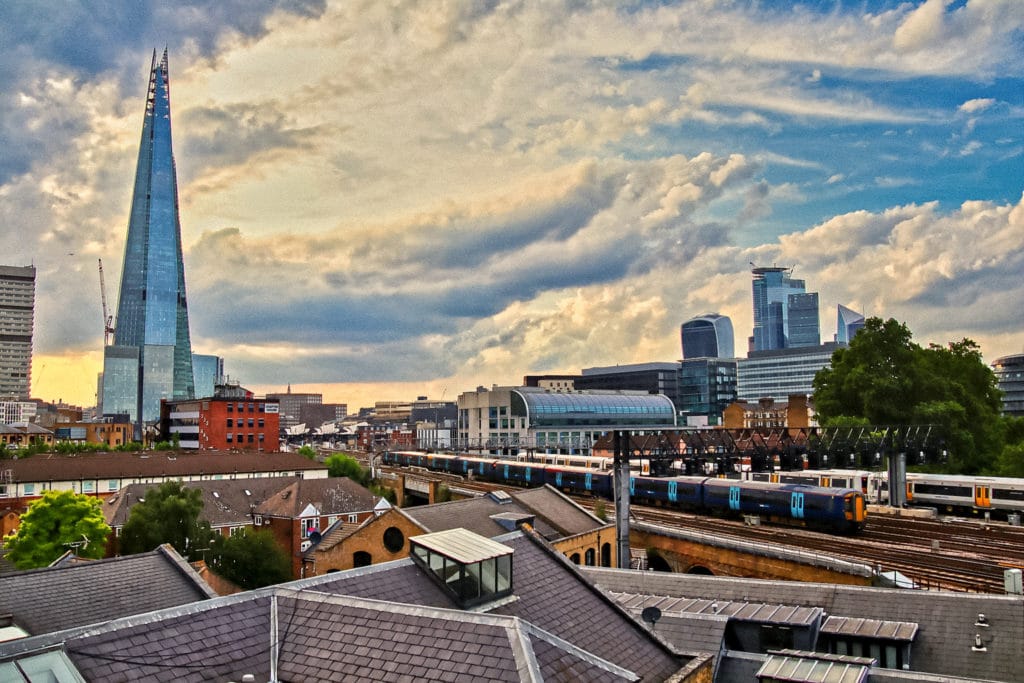 7. The Shard
If you're in search of an even better view of London than the London Eye can provide, make your way over to The Shard.
The Shard is a 95 story skyscrapper that stands 1,016 feet high. In fact, it is currently the tallest building in the entire United Kingdon, you really can't miss it.
It sits on the south side of the River Thames and is located a short walk from London Bridge.
The observation deck, appropriately named, The View from the Shard, opened to the public back in February 2013.
The View from the Shard sits on the 68th floor of the tower. There is a second observation deck on the 72nd floor as well.
The main viewing gallery sits on the 69th floor and takes up 3 levels. There are 360 degree views and visitors can see up to 40 miles in every direction, weather permitting of course.
On the 72nd floor, visitors can enter a partially open air observation deck. This platform allows for 360 degree views and guests can see the pinnacle of the buidling.
If you want to spoil yourself, the five star Shangi-La Hotel is found inside The Shard on floors 34 to 52.
The View from the Shard is open daily at 10:00 a.m. Closing hours vary depending on the day of the week and time of the year. In general. closing times will range from 6:30 p.m. to 9:00 p.m.
Admission prices for The View from the Shard vary as well, but advance tickets begin at $25 Euro per person.
Next Stop – Tower Bridge
Once you make your way back down to Earth from The View from the Shard, plug in walking directions to Potters Fields Park. This park borders the River Thames and has a spectacular view of Tower Bridge. This walk will take you about 15 minutes.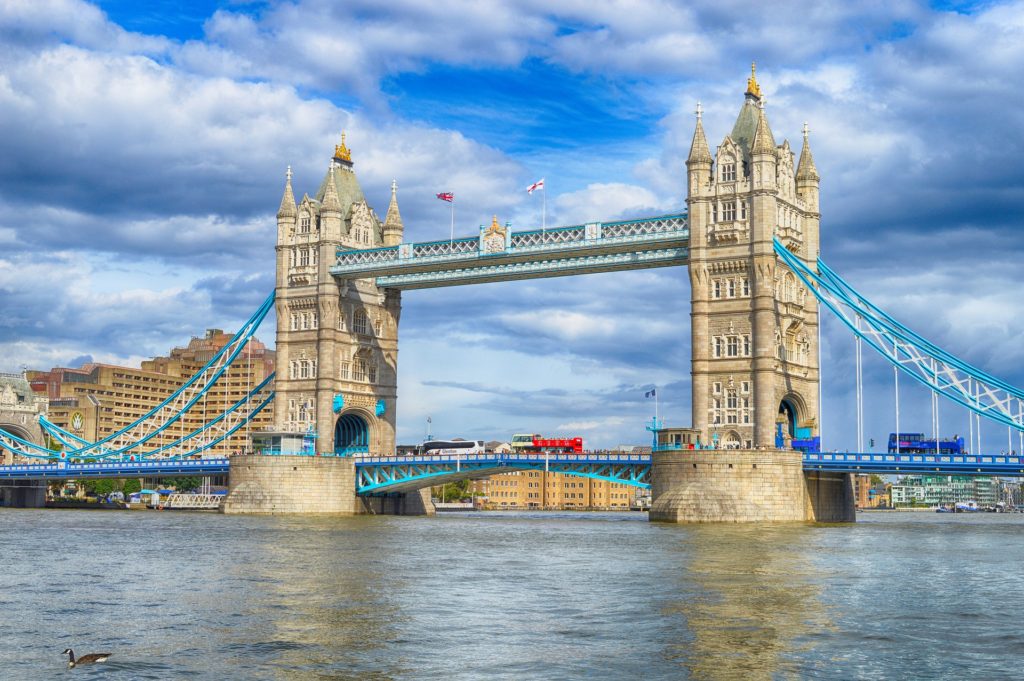 8. Tower Bridge
Tower Bridge is one of the most photographed spots in London and one of the most famous bridges in the world.
The bridge is a suspension and bascule bridge built between 1886 and 1894. Visitors can cross the bridge on foot on the sidewalks on the main level free of charge.
There is also a Tower Bridge Exhibition that teaches guests about the bridge's construction and history. The exhibition also features access to an upper level walkway with a glass floor.
The Tower Bridge Exhibition is open daily from 9:30 a.m. to 5:00 p.m. Tickets are $9.80 Euros per person.
Guided tours are also available. It is recommended you purchase your tickets online in advance in order to avoid the lines.
Even if you're doing the full London in a Day itinerary, you should have plenty of time for this one. Get your tickets in advance and don't linger too long.
Next Stop – Tower of London
If you've made your way across Tower Bridge, you're just a short walk from the Tower of London. You'll find a walking path on the left just as you cross the River Thames.
Follow that path a short distance along the river and you'll arrive at the Tower of London. From the bridge, this should be just a 5 minute walk.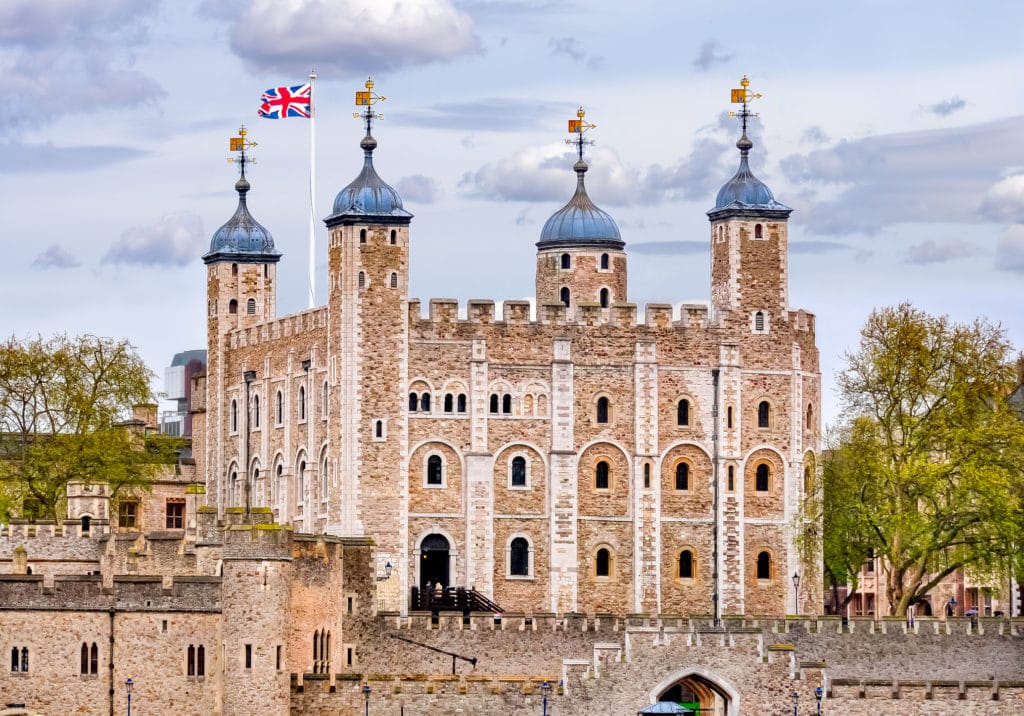 9. Tower of London
The Tower of London is a historic castle located on the north bank of the River Thames.
The first portion of the castle (the White Tower) was built back in 1078, with several more recent additions being constructed in the 1300s.
The Tower of London has had a variety of uses over the years, from a royal residence to a prison.
Today the Tower of London is an UNESCO World Heritage Site and is still used to house the Crown Jewels.
Visitors to the Tower of London can view the famous Crown Jewels, a collection of 23,578 gemstones, many of which are still used in royal ceremonies today.
The Crown Jewels are held in a section of the Tower of London called the Jewel House, which is watched by armed guards. You can also see when certain pieces are in use as there will be a sign in its place.
Opening hours for the Tower of London vary. Weekdays from Tuesday though Saturday they are open from 9:00 a.m. to 5:30 p.m.
(They close at 4:30 p.m. in the winter from November through February.) Sundays and Mondays they open at 10:00 a.m. and close at 5:30 p.m. (4:30 p.m. in the winter).
Admission for adults is about 25 Euros per person. As with all major tourist destinations, you are advised to purchase your ticket online in advance.
Next Stop – Afternoon Tea in London
Once you've finished exploring the Tower of London it should be about lunchtime. This means it's time for afternoon tea.
Select from one of the many options in the city and make your way there via the tube or the rideshare service of your choice.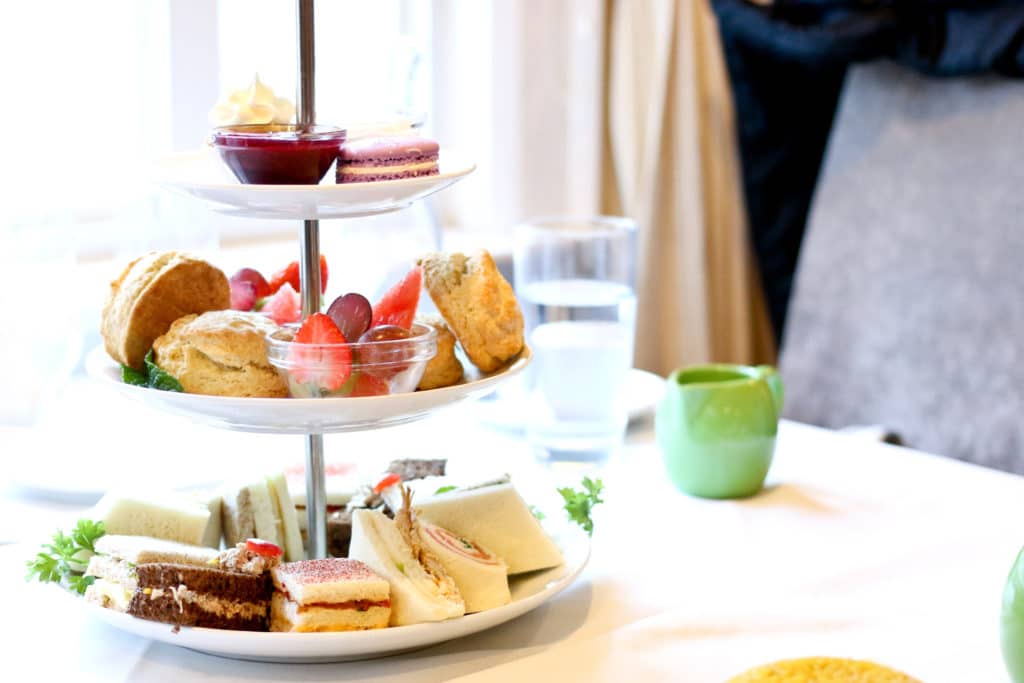 10. Afternoon Tea in London
You are encouraged to plan ahead for afternoon tea in London. Many of the most popular locations for afternoon tea require reservations or have a long wait.
You can save yourself the hassle and a significant amount of time by making your reservation before you arrive.
The British take their afternoon tea very seriously, so it's quite the affiar. Be sure to arrive on time and dress appropriately. Think smart casual.
In case you are unaware, afternoon tea in London is also served with small sandwiches, scones, and sweets. There is typically plenty to hold you over until dinner.
Here are a few of popular spots for afternoon tea in London:
Reservations at the above mentioned spots are highly recommended. Prices vary depending on location but you can expect to pay anywhere from $40 to $60 Euros per person.
Next Stop – The National Gallery
Make your way from wheverer you had afternoon tea to The National Gallery. The nearest underground stations will be either Charing Cross or Leicester Square if you're taking the tube.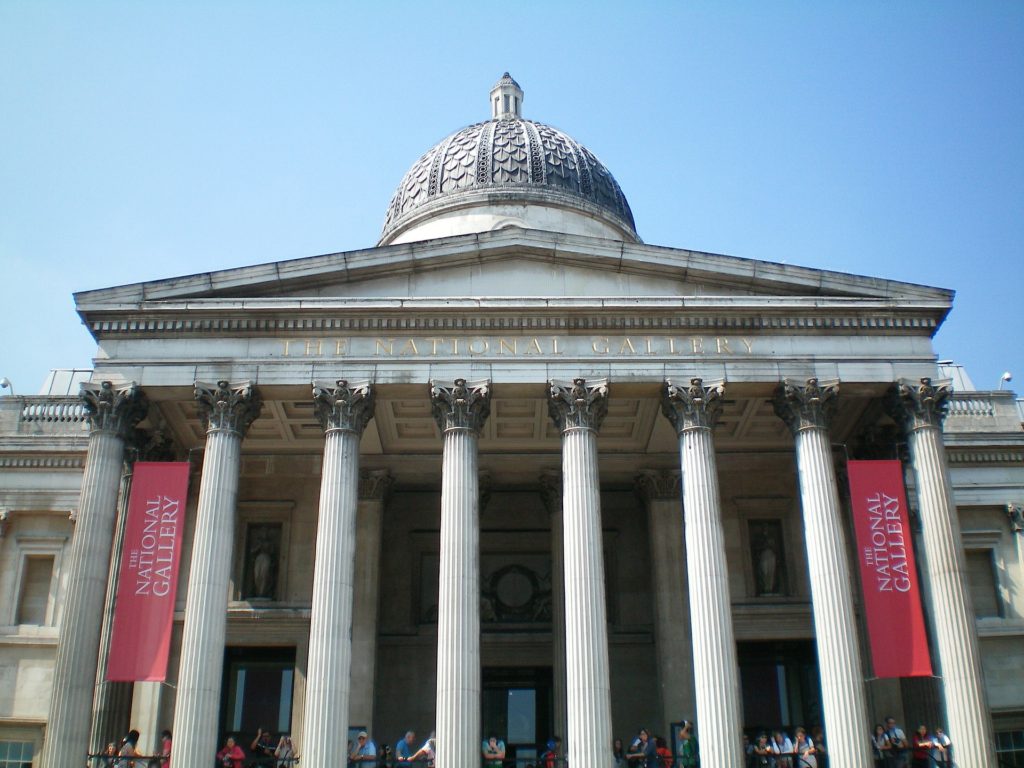 11. The National Gallery
The National Gallery is a beautiful art museum located in Trafalgar Square in central London.
The museum's impressive collection includes over 2,300 paintings dating from the 13th Century to the 1900s.
It is one of the most visited musuems in the world, after the Louvre, the British Museum, and the MET in New York City.
The National Gallery's collection features paintings from artists such as Rembrandt, van Eyck, Van Gogh, Michelangelo, and many more.
Audio and guided tours are available for those who would like a more immersive experience.
Admission to the main collection is free of charge. The National Gallery is open daily from 10:00 a.m. to 6:00 p.m. They are open late until 9:00 p.m. on Fridays.
Next Stop – Piccadilly Circus
If you want to take a quick look at Piccadilly Circus while you're in London, it's just an 8 minute walk from The National Gallery. Use your Google Maps for the walking directions.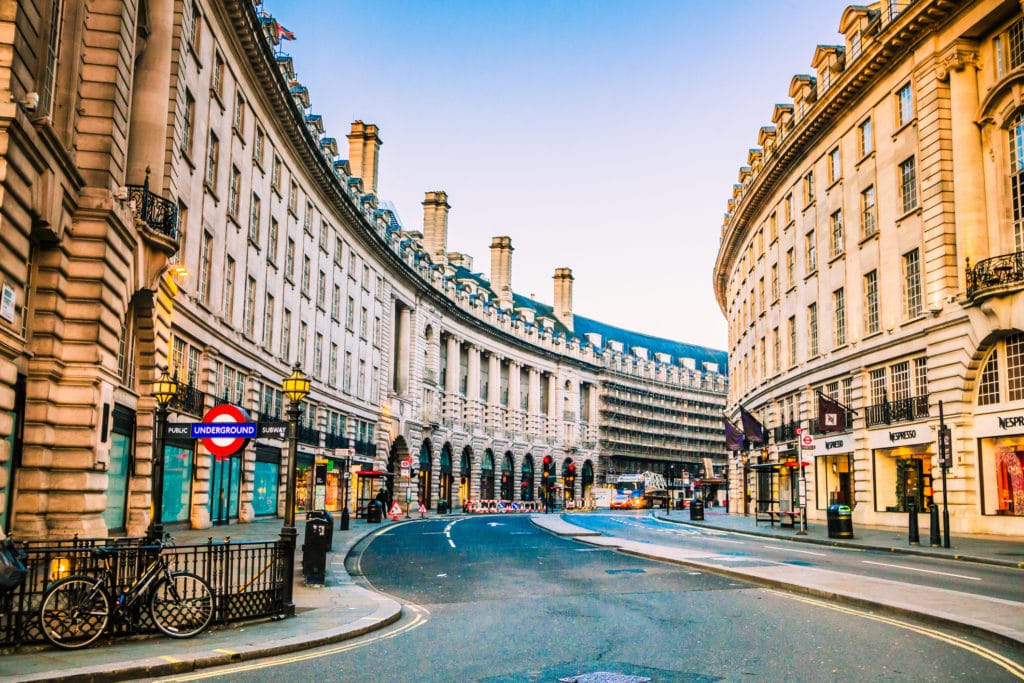 12. Piccadilly Circus
To be honest, Piccadilly Circus wasn't the most interesting London attraction to me. It's basically just a traffic circle with tons of traffic, advertisements, stores, and crowds.
It pretty much reminded me of a smaller version of Times Square in New York, which I don't like much either.
I'm including Piccadilly Circus in my one day in London itinerary because if you're passing by, it's worth a look.
It's located in the SoHo neighborhood, which is where many of the most popular hotels and restuarants are, so it's not much of a hassle to get to.
However, I would not make a special trip just to see Piccadilly Circus. You will likely be disappointed.
Next Stop – The British Museum
You can get from Piccadilly Circus to The British Museum in about a 20 minute walk or a 16 minute train ride. Take whichever method of transportation sounds easiest to you.
And congratulations, you've almost made it through this marathon of a one day in London itinerary.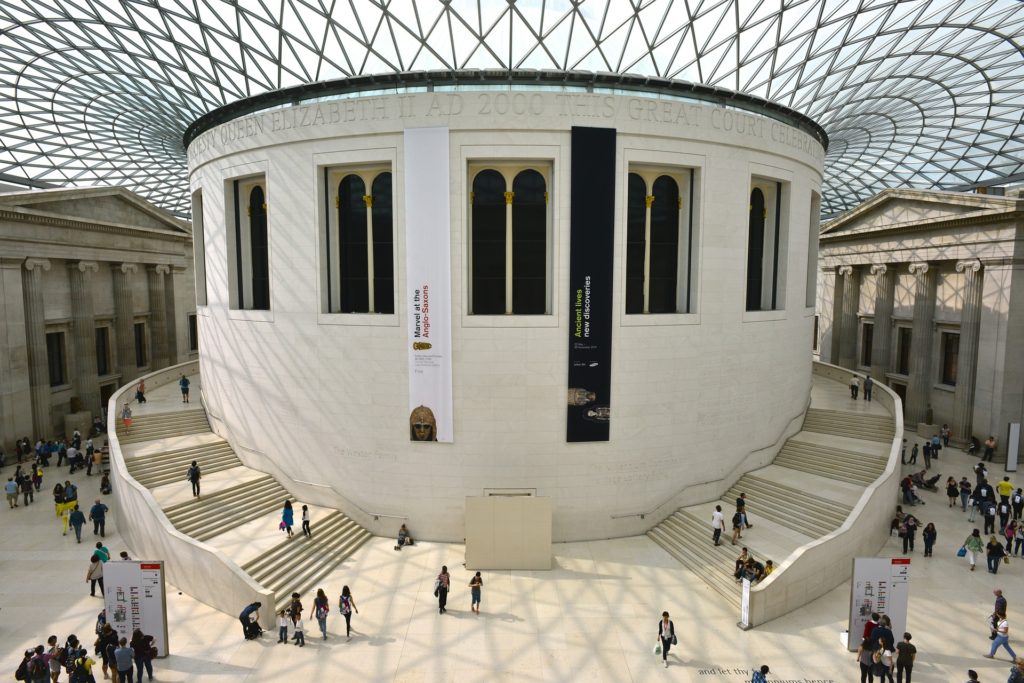 13. The British Museum
The British Museum is a public institution in London that showcases human history, art and culture.
The museum holds over 8 million works and is the largest in existence. It was also the first public museum in the world.
The musuem was created back in 1753 and obtained most of its collection during the time of the British Empire.
I won't get into the details of their collection here, but you can expect to see art and artifacts from all over the world.
The British Museum makes for a fascinating time. While you will not have time to see it all, spend at least an hour here if you can. You won't be disappointed.
The British Museum is open daily from 10:00 a.m. to 5:30 p.m. Admission is free.
Next Stop – Beer
That's it. You did it. You're done. Now let's find you a pub so you can celebrate with dinner and a case of beer.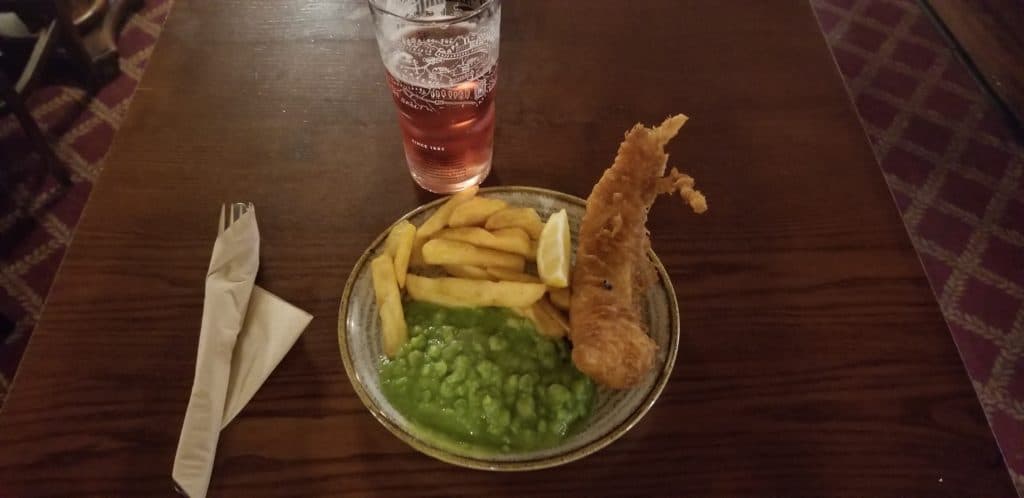 14. Visit a pub
There are hundreds (maybe thousands) of great pubs in London. From local neighborhood pubs to trendy hipster pubs. No matter which you choose you're bound to have a good time.
Order the fish and chips and a beer for the perfect end to your one day in London trip.
Here are a few pub suggestions in central London to get you started:
If none of the options on my list sound good to you, just walk around for a bit. You're sure to run into a place.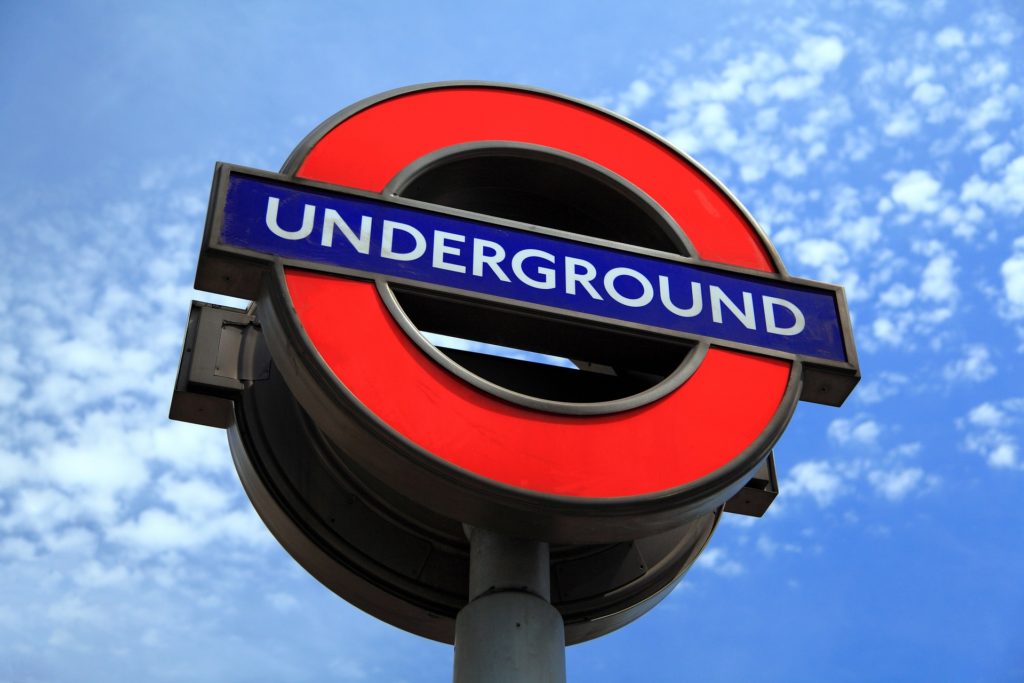 10 Tips for visiting London in a day
Here are some additional tips to help your visit to London in a day go smoothly.
Get an early start – You'll need to be out the door and ready to go around sunrise if you want to see everything on this list.
Dress in layers – London can be chilly depending on the time of year you visit, but you will warm up as you're walking around from place to place.
Don't linger too long – You'll need to keep moving if you want to hit all the spots on this list.
Bring water: Since you'll be doing a lot of running around, you'll want to stay hydrated.
Use a travel credit card – Use a good travel credit card to make your purchases throughout the day. This way you'll be earning points for your next trip.
Make reservations for afternoon tea – If you plan to enjoy afternoon tea during your visit, be sure to make reservations in advance.
Consider purchasing a London Pass – If you're looking to save money during your visit, look into getting a London Pass which gives discounts on transportation and entrance fees to local attractions.
Take advantage of sunrise and sunset – These are the best times for pictures, so try to be somewhere you can take advantage of the great lighting during these times.
Book a hotel just outside of the city centre – London hotels are crazy expensive. Try looking for deals just outside central London.
Don't skip the pub – Pubs are a big part of the culture in England, so stop in to at least one pub during your visit and have a beer.
I hope you've found this London in a Day itinerary useful and that it makes your visit to the city more enjoyable.
If you enjoyed this post, consider sharing it. It really helps a lot!
Frequently Asked Questions about London
1. Is London a day trip from Paris?
Well it certainly could be. However, it depends on how much time and energy you have when traveling.
It's about a 2 hour and 20 minute train ride from central London to central Paris.
If you plan to do this I recommend getting on the first train from Paris at 7:13 a.m. This will put you in London at about 8:30 a.m.
London is in a different time zone so you'll gain an hour on the way there. Just don't forget you lose it on the way back.
The last train departs London at 8:00 p.m. This will place you back in central Paris at about 11:30 p.m.
If you do visit London in a day on a day trip from Paris, you can visit all the stops in this itinerary, but you'll need to move at a good pace.
Does London observe daylight savings time?
Yes.
In March clocks in London will be turned forward one hour. In October clocks in London will be turned back one hour.
Can you DO London in a day?
Nope.
There's a lot more to London than just a list of popular tourist destinations. So while you can't DO London in a day, you can GET TO KNOW London in a day.
Hopefully, you'll get to come back again sometime and get to know London even better.
Book Your Trip
Find the best flight deals by using Google Flights, then book direct with the airline. This is the search engine I use to compare flights and prices before booking my own trips.

BOOK YOUR ACCOMODATION
I recommend searching for hotels through Booking.com to compare hotels on amenities, location, and price. If you are a member of a hotel's rewards program, always book direct with the hotel. If you are not loyal to a specific hotel brand, using Booking.com for the best price.

TRAVEL INSURANCE
Travel insurance is more important than ever. For just a few dollars a day you can protect yourself and your trip. I personally use World Nomads, but whomever you choose, don't skip out on travel insurance. It can literally save you thousands of dollars.


Want to save it? Pin it.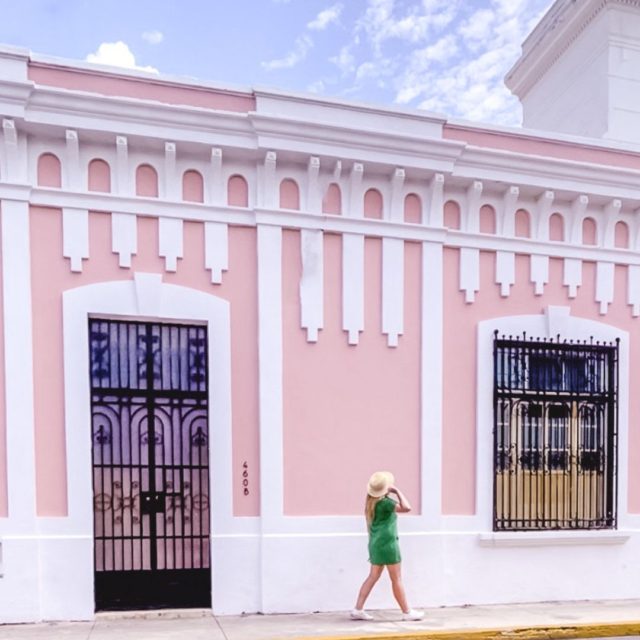 The best things to do in Merida Mexico can all be enjoyed with just a few days in this beautiful, vibrant city. Merida is located …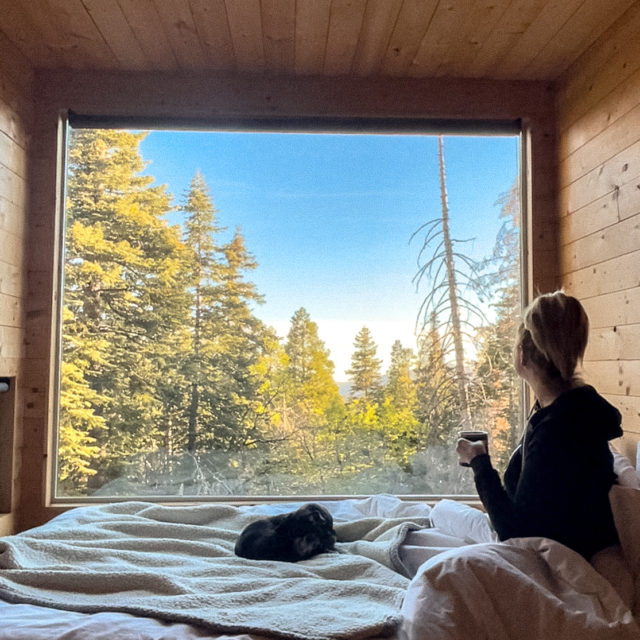 Is Getaway House Big Bear is worth the hype? Let's find out. Just last week I booked a last minute stay at Getaway House …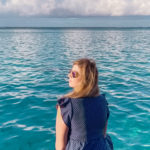 Eden Fite
Part-time Traveler | Dog Lover | Avoider of Crowds
I help busy people find creative ways to travel more.