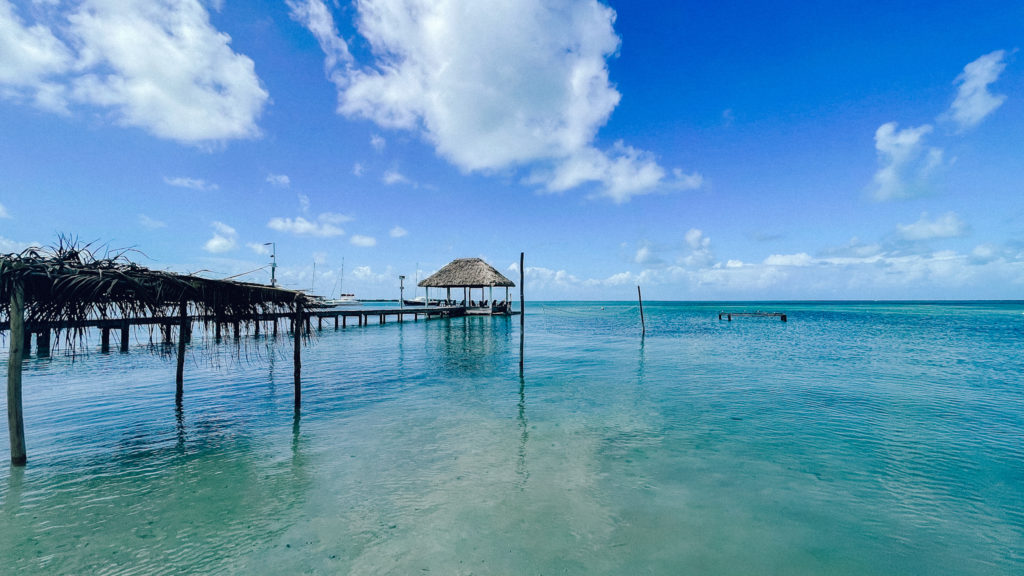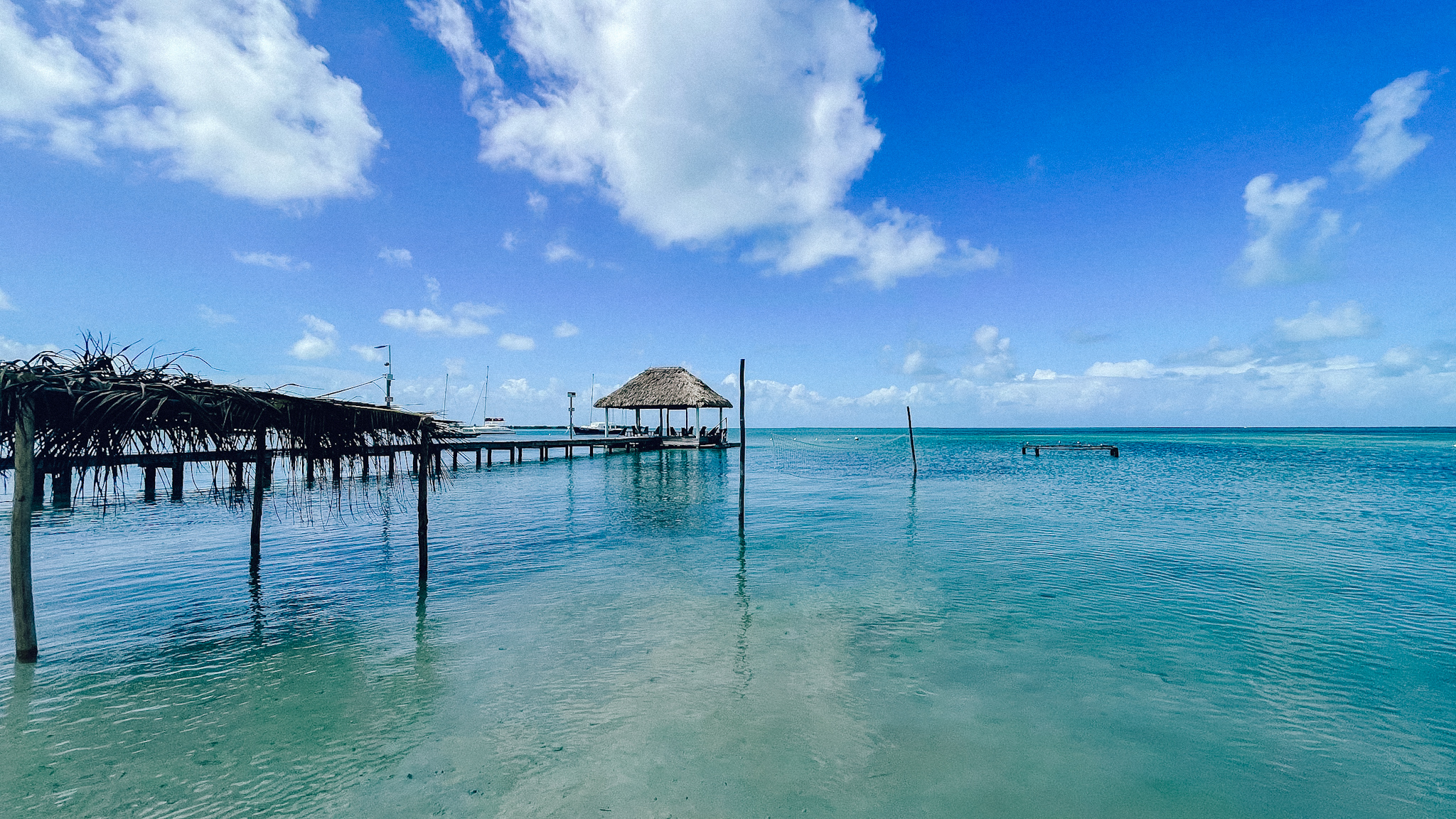 Caye Caulker snorkeling tours are extremely popular when visiting the islands. The reason for this is that Caye Caulker is just a few thousand feet from the Belize Barrier Reef.
You can see the waves crashing into the reef from shore.
People come from all over the world to snorkel and SCUBA dive at the Belize Barrier Reef and to dive at the Blue Hole, a large sinkhole in the ocean about 43 miles offshore. While the Blue Hole isn't much for snorkeling, the barrier reef is fantastic.
The Belize Barrier Reef is one of the largest in the world, second only to the Great Barrier Reef off the coast of Australia. So if you've ever wanted to give snorkeling a try, Caye Caulker is one of the best places to do it.
If I'm being honest, the marine life here is off the charts amazing, you really don't want to miss it. Snorkeling is one of my favorite things to do in Caye Caulker or any island for the matter.
This post is intended to be a comprehensive guide to Caye Caulker snorkeling options available on the island.
There are a handful of Caye Caulker snorkeling trips that you can choose from which are offered at different prices.
I'll give you an idea of what you can expect to see in each snorkeling spot, and which tours I recommend, and why.
Some of the links in the post are affiliate links. If you make a purchase through these links it helps to support this site at no extra cost to you.
Caye Caulker Snorkeling Tours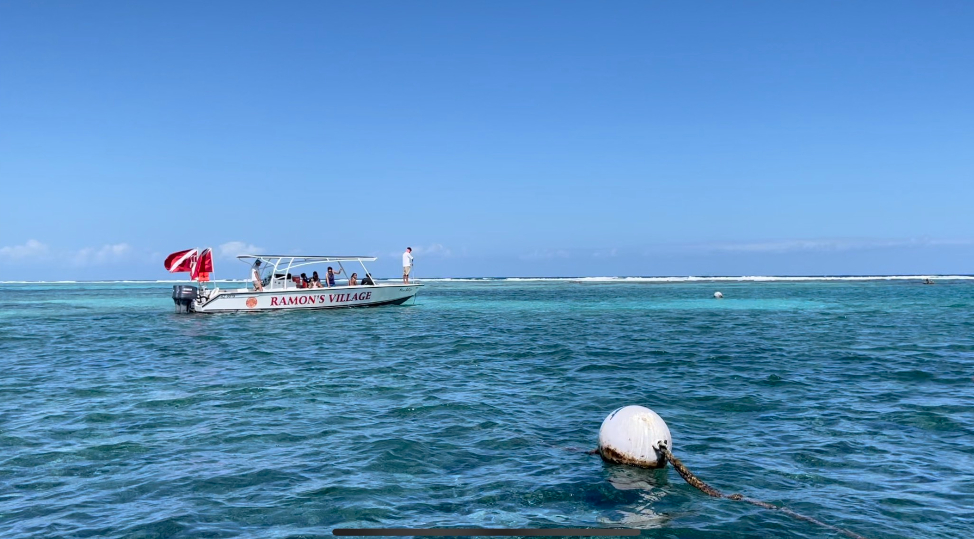 There are a variety of Caye Caulker snorkeling tours to choose from during your visit. Here are the main tours that depart directly from Caye Caulker.
1. Small Group Hol Chan Marine Reserve
Duration: 5.5 hours
This is the tour I did and I totally loved it. It's a small group so a bit more peaceful than the larger tours, which I liked.
I felt like we had just the right amount of time in each spot and I got to see plenty of cool fish and sharks on this trip. Plus, our tour guide was super fun and was able to tell us all about the fish we were seeing.
2. Seven Stop Snorkel Tour on Belize Barrier Reef
Duration: 6 hours
If you want to see it all, this is the one to choose. This tour is only 30 minutes longer than the Hol Chan tour so the stops are shorter in each location, but its nice to see all the best spots along the island.
3. Caye Caulker Local Reef Half Day Snorkeling Tour (from San Pedro)
Duration: 3 hours
If you want to do some snorkeling, but you don't feel you need six hours of it, this is the tour for you.
On this short 3 hour snorkeling tour you'll get a sample of the best snorkeling along Caye Caulker along with a stop on the island for a quick snack.
Prices for snorkeling tours on Caye Caulker range in price anywhere from about $70 to $105 per person depending on what you're looking for.
A shorter half-day snorkeling trip without lunch or snacks will be less expensive. Longer full-day tours, especially those that include drinks will be on the pricier side.
There are also snorkeling tours that will depart from San Pedro over on Ambergris Caye (like #3 above), or even from Belize City. You can easily reach San Pedro or Belize City via a water taxi.
This is the same water taxi you arrived on. It will take about 30 minutes to get to San Pedro from Caye Caulker and about an hour to get back to Belize City.
Most snorkeling trips will depart Caye Caulker in the morning around 10:00 a.m. The afternoon departures are around 1:00 p.m.
If you have a large group or just prefer your own boat, private tours are also available. You can inquire at any of the dive and snorkel shops on the island.
Traveling Soon? Don't forget your travel insurance.
Travel insurance is now more important than ever.
Travel insurance is probably less than you think it is. (Ex. For a week in Spain next month I'm paying less than $62.00.)
Travel insurance covers a lot more than you think it does.
It's better to have it, than need it and wish you'd bought it.
See for yourself. Check prices here.
Caye Caulker Snorkeling Spots
There are a handful of great snorkeling spots near Caye Caulker that you will have the chance to visit. By great snorkeling spots, I mean some of the best in Central America, if not the world.
I've listed the main snorkel spots around the island below along with a brief description of what to expect at each location.
Hol Chan Marine Reserve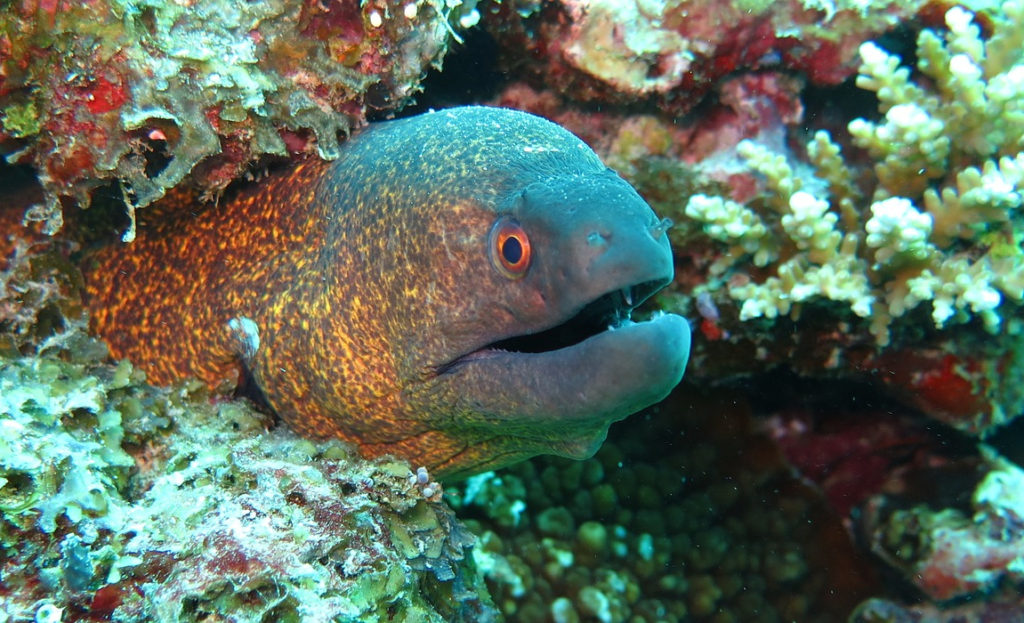 Hol Chan Marine Reserve is found north of Caye Caulker on the southern tip of Ambergris Caye. Hol Chan is by far the most popular stop on all the Caye Caulker snorkeling tours. I believe all the tours stop at this location.
Hol Chan is a local marine reserve covering about 7 square miles along the Belize Barrier Reef. The water is crystal clear and you'll get to see all kinds of sea life here. I promise you won't be disappointed.
During my recent snorkeling tour we were able to see Angel Fish, Sting Rays, Sea Turtles, Moray Eels, and all kinds of other colorful fish I cannot name. It was incredible and easily my favorite stop on the tour.
There is also a Caye Caulker Marine Reserve which you may also visit. The Caye Caulker reserve runs along the section of the Belize Barrier Reef that runs parallel to the island.
Snorkelers and divers will find similar marine life in both reserves.
Shark Ray Alley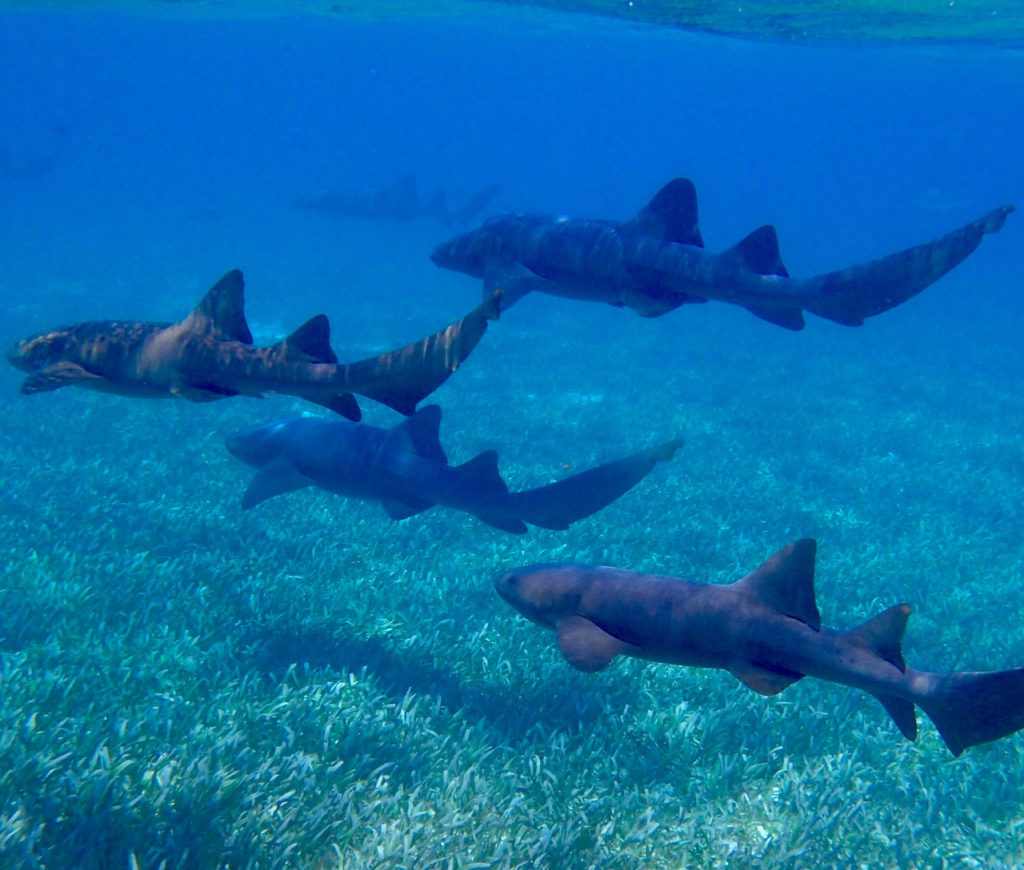 Shark Ray Alley is located just south of Hol Chan Marine Reserve. This is where you'll have the opportunity to swim with Sting Rays, Nurse Sharks, and Sea Turtles.
You shouldn't have any trouble spotting all three if you snorkel here. There are a lot of them, and believe me, you can't miss them.
I should also note, there is a second Shark Ray Alley closer to Caye Caulker that you may visit as well, depending on which snorkeling tours you select.
Coral Gardens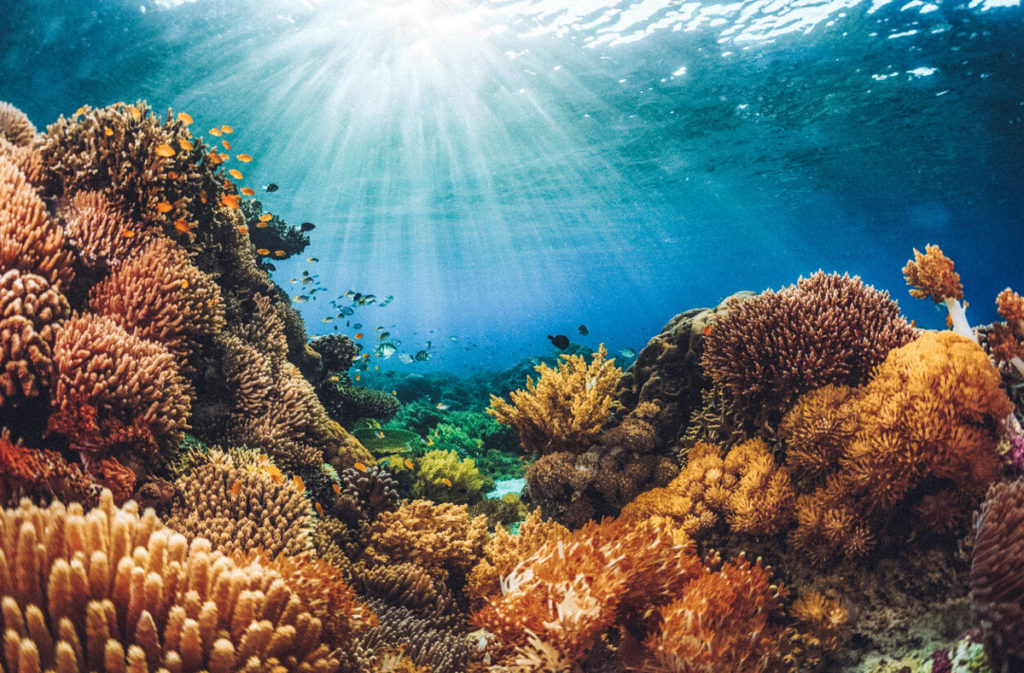 Coral Gardens is located in the Caye Caulker Marine Reserve and is the perfect snorkel spot for beginners due to the calm shallow waters and great visibility.
This section of the Belize Barrier Reef features rows of rainbow-colored coral formations with strips of sand in between. It's fun to swim up and down all the rows checking out all the different types of coral and fish.
Mexico Rocks
Mexico Rocks is located north of Caye Caulker near Ambergris Caye. It's about a 20-minute boat ride from the main town on the island, San Pedro.
This snorkeling spot is known for its large boulder-like coral formations which attract younger and smaller fish. The small fish in this section of the reef use the coral formations to hide from larger predators.
In addition to the younger fish, you'll also see plenty of other marine life like stingrays, turtles, and sharks.
The Wreck
There is a shipwreck just a short distance offshore from San Pedro on Ambergris Caye. The sunken ship is covered in corals so it attracts a fair amount of fish.
This snorkel spot can be a bit less impressive as the water here is a bit rough as it's located next to an opening in the barrier reef. Visibility can also be poor.
The Wreck tends to be included on the longer all-day snorkel trips, the shorter trips usually skip this one.
What to bring on a Caye Caulker Snorkeling Tour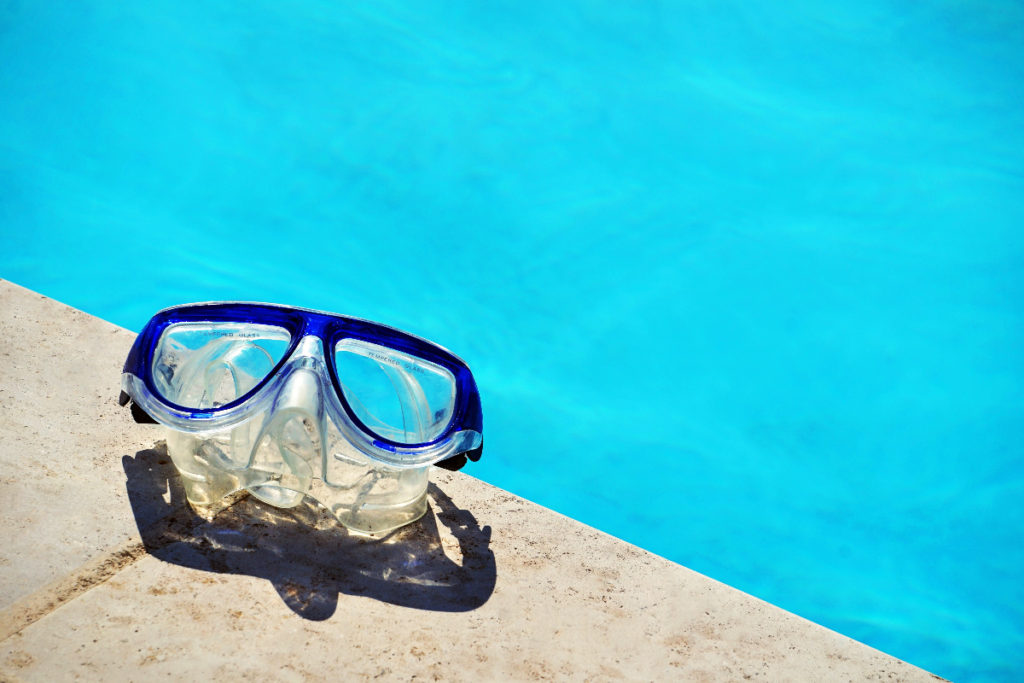 Here's a quick rundown of what you'll want to bring along with you on your Belize Caye Caulker snorkeling tour. Generally, the tour will come with the actual snorkel gear. So you don't need fins, a mask, or a snorkel. You are of course welcome to bring your own if you like.
Here is what you do need to bring.
Towels
Flip flops
Sun hat
Hair tie
GoPro or waterproof camera
Water
Sunscreen
Sunglasses
Snacks
Cover up
I recommend at least bringing along what's listed above, and anything else you think you might need.
I hope you enjoyed this guide to snorkeling tours in Caye Caulker and that I've helped you plan your visit. If you enjoyed this post please considering sharing it. As always, thanks for reading.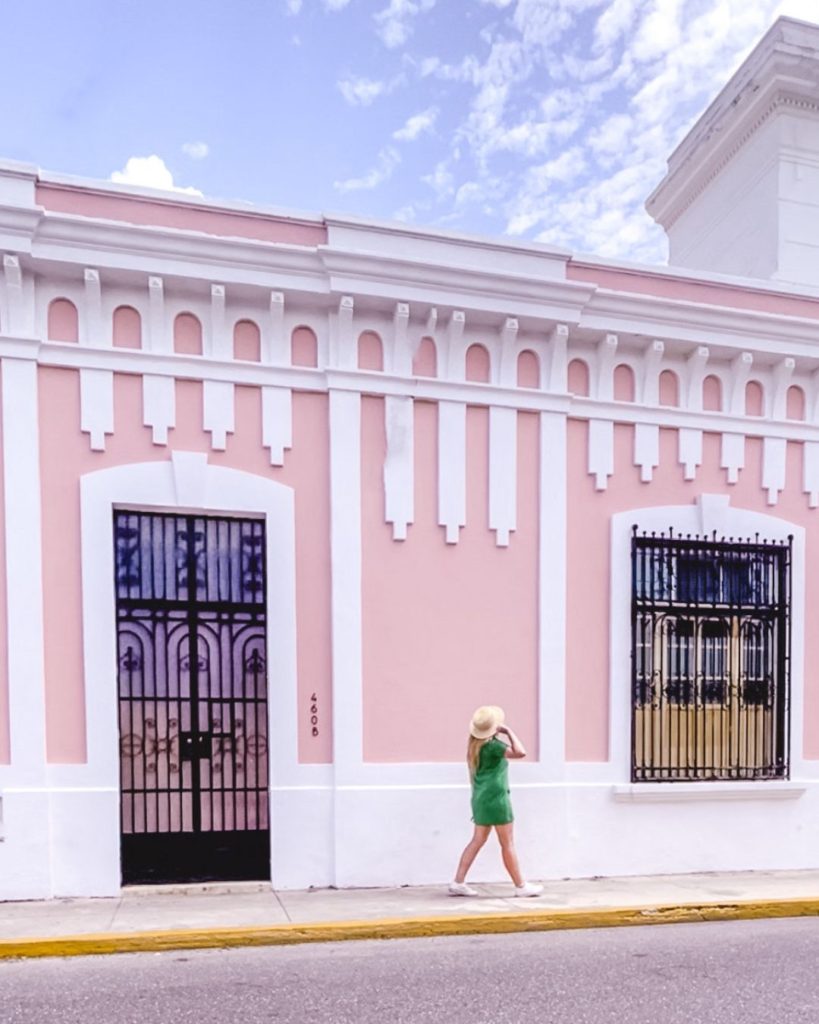 The best things to do in Merida Mexico can all be enjoyed with just a few days in this beautiful, vibrant city. Merida is located …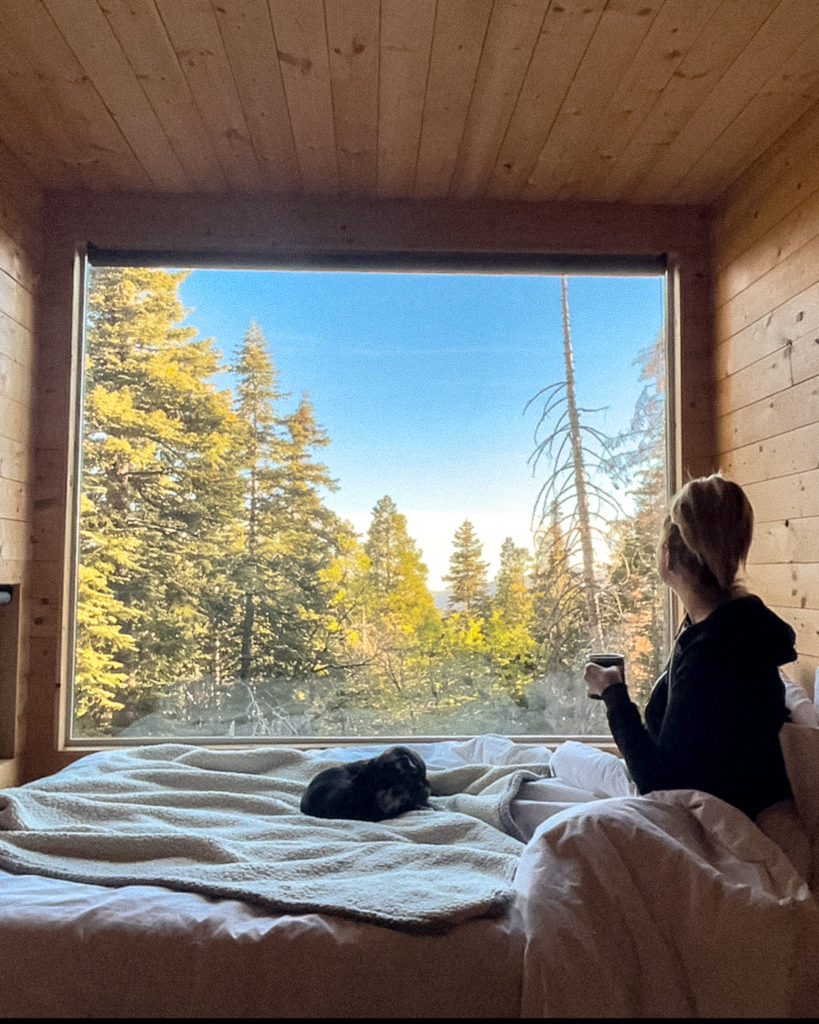 Is Getaway House Big Bear is worth the hype? Let's find out. Just last week I booked a last minute stay at Getaway House …
Book Your Trip
Find the best flight deals by using Google Flights, then book direct with the airline. This is the search engine I use to compare flights and prices before booking my own trips.

BOOK YOUR ACCOMODATION
I recommend searching for hotels through Booking.com to compare hotels on amenities, location, and price. If you are a member of a hotel's rewards program, always book direct with the hotel. If you are not loyal to a specific hotel brand, using Booking.com for the best price.

TRAVEL INSURANCE
Travel insurance is more important than ever. For just a few dollars a day you can protect yourself and your trip. I personally use World Nomads, but whomever you choose, don't skip out on travel insurance. It can literally save you thousands of dollars.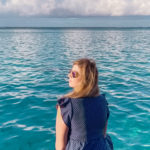 Eden Fite
Part-time Traveler | Dog Lover | Avoider of Crowds
I help busy people find creative ways to travel more.