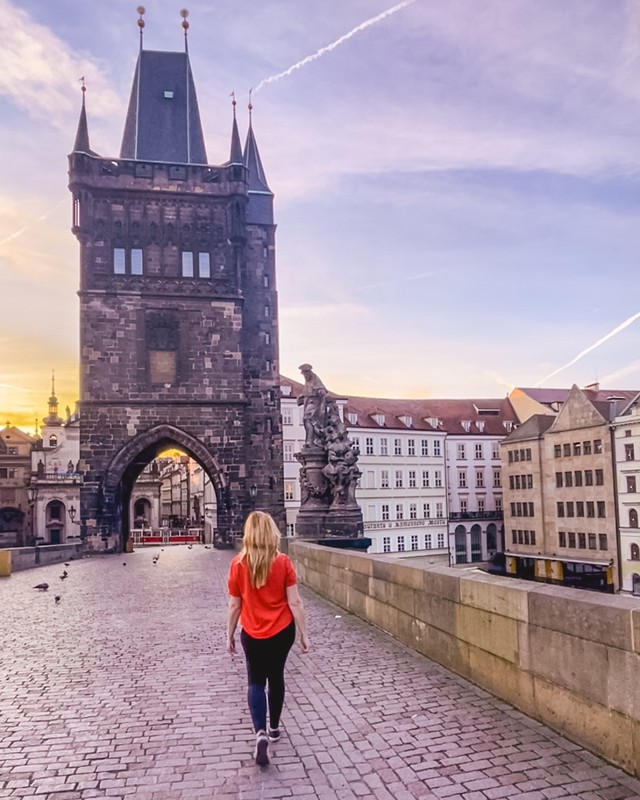 This Prague 2 day itinerary is perfect for anyone planning their first visit to the city.
With 2 days in Prague you'll have time to see many of the city's biggest attractions while also sampling some of Prague's best restaurants and pubs.
I recently returned from a visit to Prague and had such a good time exploring the city on foot in the morning hours. Prague is beautiful, and the soft early morning light makes it all the better.
For full transparency, there are a lot of things to do in Prague. With a two day itinerary in Prague you will have time to see and do a lot, but you're not going to see it all.
Trust me, you won't be too disappointed that you'll have a reason to come back to Prague. I didn't get to see everything I wanted during my visit either, but I'll definitely be back.
Some of the links in the post are affiliate links. If you make a purchase through these links it helps to support this site at no extra cost to you.
2 Days in Prague Itinerary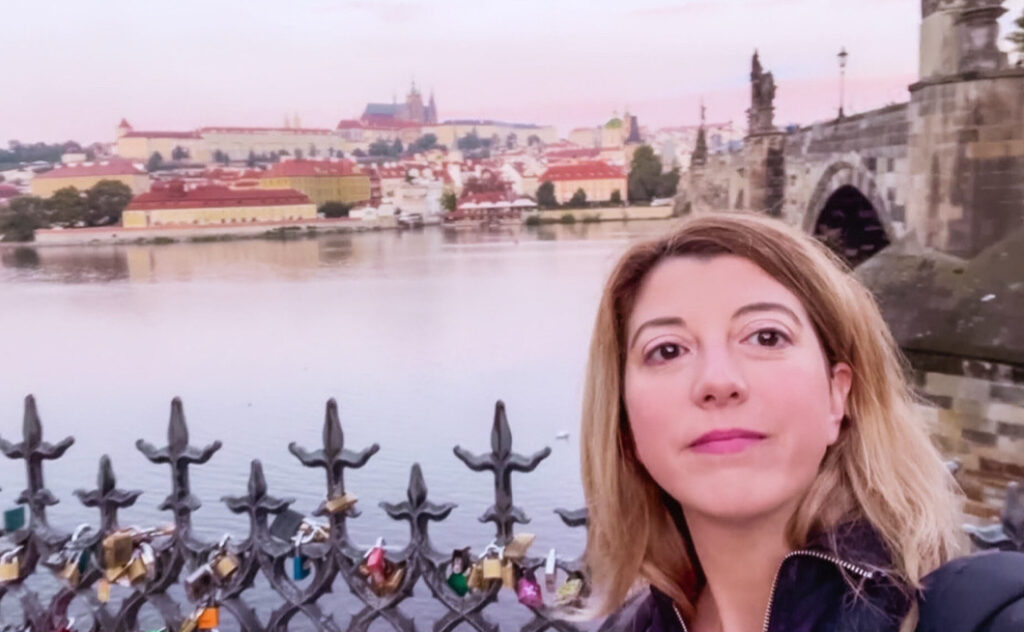 This Prague two day itinerary includes most of the city's main attractions broken up across two full days.
Since Prague is such a large city I have grouped activities together based on their location to save you time. Trust me, your feet will thank you.
For day one you'll be exploring the Prague historic center on the east side of the Vltava River. For day two you'll be exploring Prague west of the Vltava River.
On both days plan to get up early and you'll want to wear very comfortable shoes.
As with most cities, you can use Google Maps to get walking directions to each attraction listed below. Also, as always, make this Prague 2 day itinerary your own.
If something doesn't interest you leave it off the schedule and do something else. Prague is on nearly everybody's travel bucket list because there is so much fun stuff to do here, you don't want to waste your time doing something you don't enjoy.
Is two days enough for Prague?
With two days in Prague you're not going to see everything there is to see, but you can still see a lot. You'll be able to visit most of Prague's main attractions with two days in Prague.
Prague 2 Day Itinerary – Day 1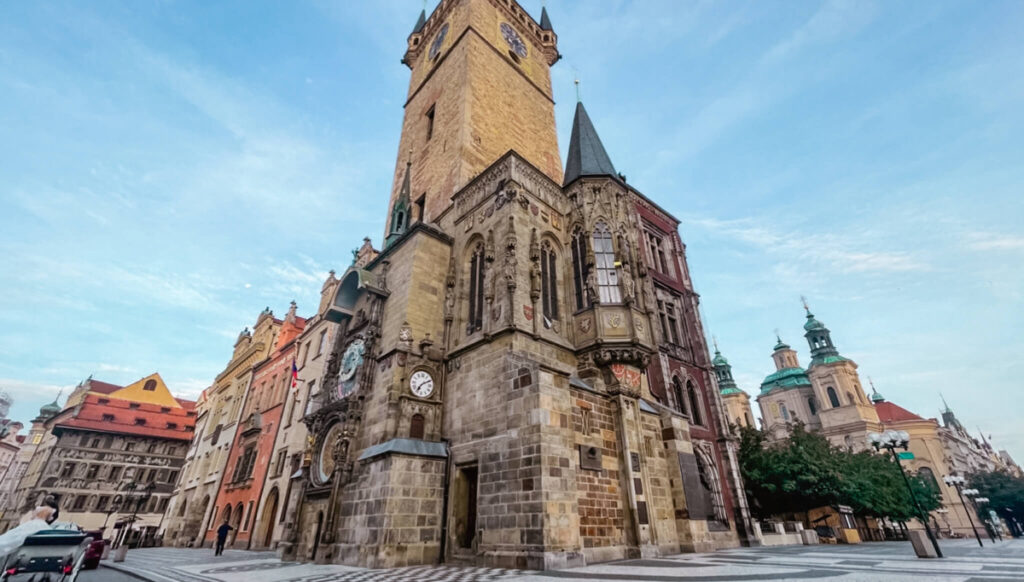 When sightseeing in Prague Czech Republic you'll want to start off in the city's famous historic center. This is one of the oldest parts of the city and where you can see some of Prague's most unique architecture.
The historic center is also where you'll find many of the city's best museums, restaurants, and pubs.
Old Town Square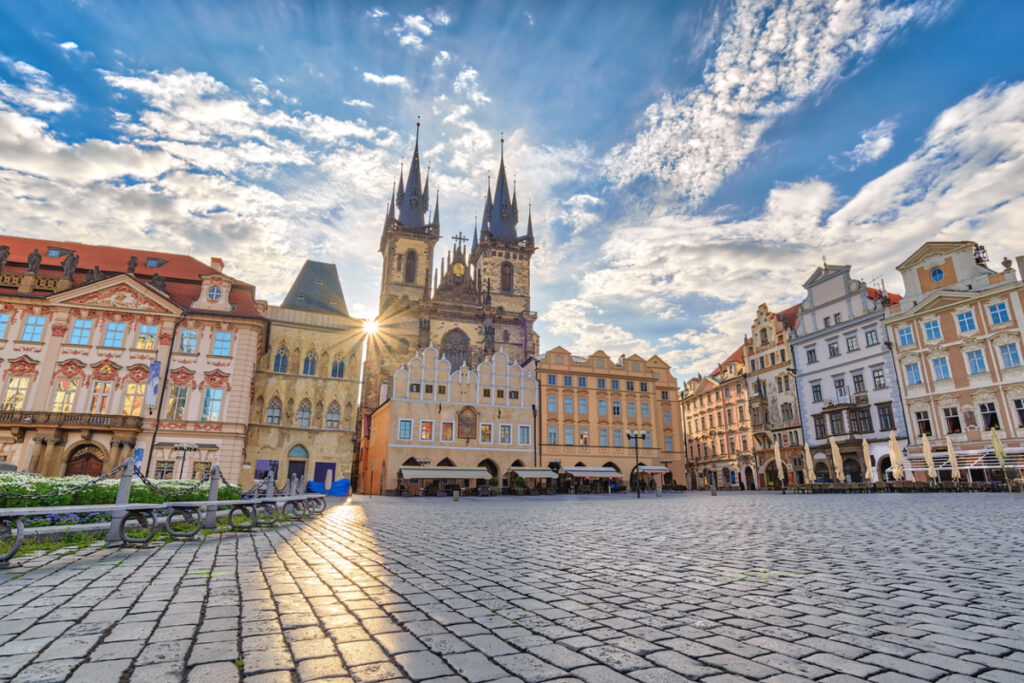 Prague's Old Town Square is one of my favorite squares in Europe.
In the early morning hours you'll have the square mostly to yourself except for a few local workers setting up at the adjacent restaurants.
The Old Town Square is lined with historic buildings, cathedrals, and cafes. This is also where you'll find the city's famous Astronomical Clock, which I'll discuss in more detail below. This is also where you'll find Prague's Old Town Hall.
By late morning and mid afternoon, Old Town Square will be filled with tourists taking photos and dining at the surrounding cafes.
I recommend stopping by Old Town Square both in the early morning, and later in the day. This way you can enjoy the square when its quiet and peaceful in the morning, and see it come alive in the afternoon.
Prague Astronomical Clock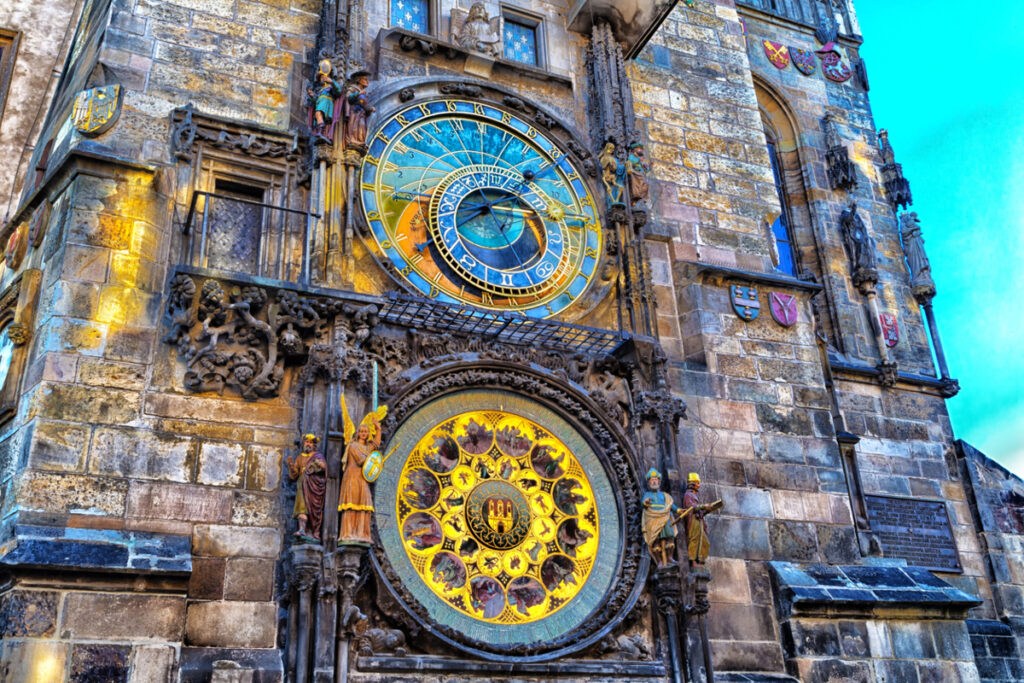 In the corner of Prague's Old Town Square is a 600-year-old clock that has been fascinating visitors for centuries. This is perhaps one of the most unique stops on this Prague 2 day itinerary,
The Prague Astronomical Clock, or Orloj, is a complex piece of machinery that not only tells time but also tracks the movements of the sun and moon, predicts eclipses, and displays the phases of the moon.
This intricate clock is a must-see for anyone visiting Prague.
The Astronomical Clock dates back to 1410 and has undergone several repairs and renovations over the centuries.
The most famous feature of the Astronomical Clock is undoubtedly the 12 apostles who appear in two windows above the main face of the clock at exactly noon every day. As bells toll and trumpets sound, these figures come to life and give blessings to onlookers below.
Another popular feature is the hourly show that takes place on the hour from 9:00 am to 11:00 pm. During this show, various figures on the face of the clock move and chime while a skeleton rings a bell to mark each hour.
At 9:00 o'clock, an angel emerges from behind a trapdoor and rings a bell three times. At 10:00 o'clock, Christ appears above his crucifix.
Finally, at 11:00 o'clock, Death tolls his bell four times as all of the other figures retreat into their hiding places.
Honestly though, the Prague Astronomical Clock is worth visiting any time of day.
If you'd like to visit the inside of Old Town Hall and the Astronomical Clock you can purchase tickets here.
Church of Our Lady before Tyn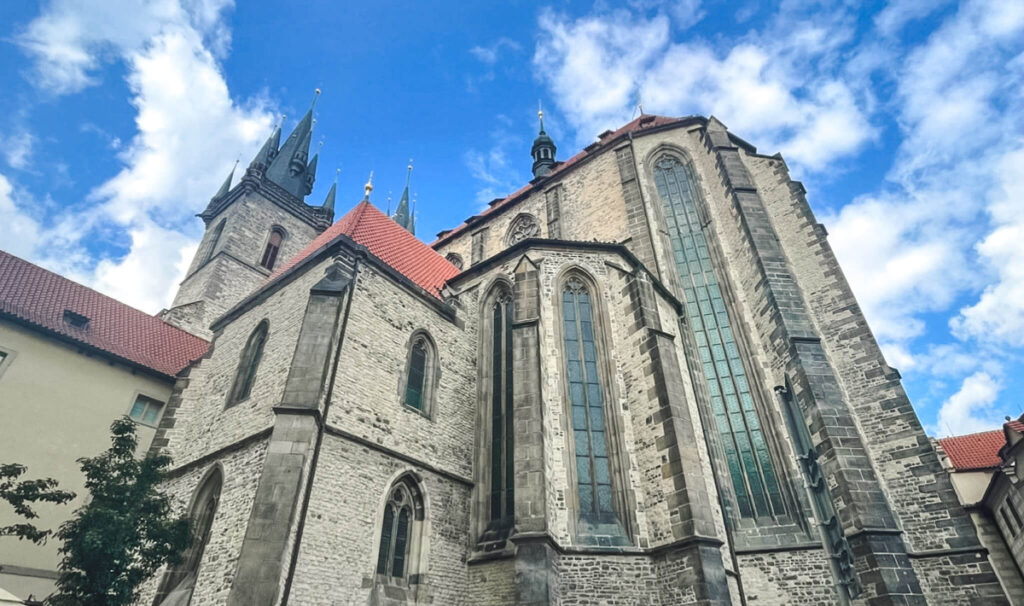 When in Prague you'll also want to be sure to check out the Church of Our Lady Before Tyn.
This magnificent church is one of the city's hidden gems. Nestled in the heart of Old Town, the Church of Our Lady Before Tyn is a must-see for any first time visitor to the city.
The Church of Our Lady Before Tyn is a Gothic church located in Old Town, Prague. The church was built in the 14th century and is one of the city's most popular tourist attractions. The church is home to many beautiful works of art, including a statue of the Virgin Mary and a painting by Josef Mánes.
The Church of Our Lady Before Tyn is open to the public every day from 9am to 5pm. Admission is free for all visitors.
St. Nicholas Church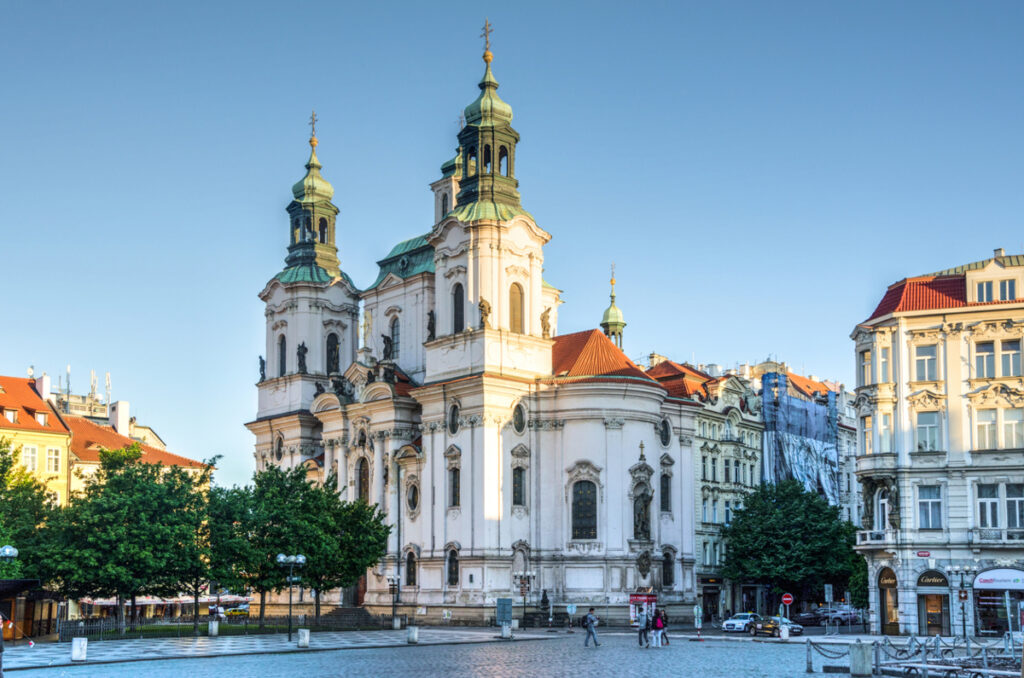 St. Nicholas Church is a beautiful Baroque church located in Old Town Prague.
The church is named after Saint Nicholas, the patron saint of sailors and travelers. It was built in the early 18th century, and it has been a popular destination for tourists ever since.
Construction of St. Nicholas Church began in 1704, and it was consecrated in 1711. The church is located on a site that has been used for religious purposes since the 13th century.
The original Gothic church on the site was destroyed by fire in 1689, and the current Baroque church was built in its place.
On the exterior of St. Nicholas Church you can see statues of saints and angels. The interior of the church is decorated with lavish Baroque frescoes and artwork.
St. Nicholas Church also contains a number of interesting historical artifacts, including a chalice that was used by Saint Wenceslaus I, the Duke of Bohemia.
Municipal Library of Prague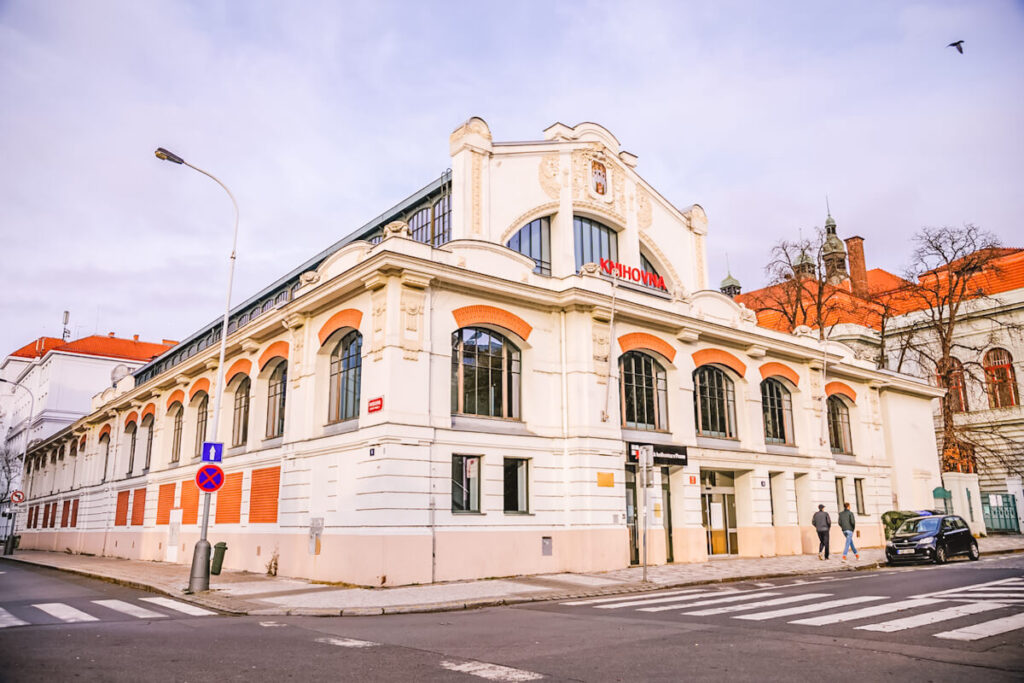 This beautiful library is home to over six million books, making it one of the largest libraries in Europe and a must see on this Prague 2 day itinerary.
The Municipal Library of Prague was founded in 1906 with the merger of two smaller libraries. The library's original building was designed by Josef Schulz and completed in 1909.
In 1942, during World War II, the Nazis occupied Czechoslovakia and looted many of the country's cultural treasures, including over 100,000 books from the Municipal Library of Prague.
Fortunately, librarians were able to hide much of the collection in underground vaults before the Nazis arrived. However, about 30,000 volumes were lost during the war.
In 1968, following the Soviet invasion of Czechoslovakia, more than half a million books were confiscated by the Communist government and either destroyed or sent to Russia. The library didn't regain its full collection until after the fall of communism in 1989.
Today, the Municipal Library of Prague is once again a thriving institution. In addition to its traditional role as a lending library, the Municipal Library of Prague also serves as a research center and hosts regular exhibitions on topics ranging from history to art.
When visiting the Municipal Library of Prague, be sure to take some time to admire its beautiful Art Nouveau interior. The main hall is decorated with stained glass windows, mosaics, and sculptures by some of Czech Republic's most famous artists.
You'll also want to visit the Mirror Chapel, which is located in an underground vault beneath the main hall. This small chapel is decorated with hundreds of tiny mirrors that reflect light from dozens of candles, creating a truly magical atmosphere.
Jewish Quarter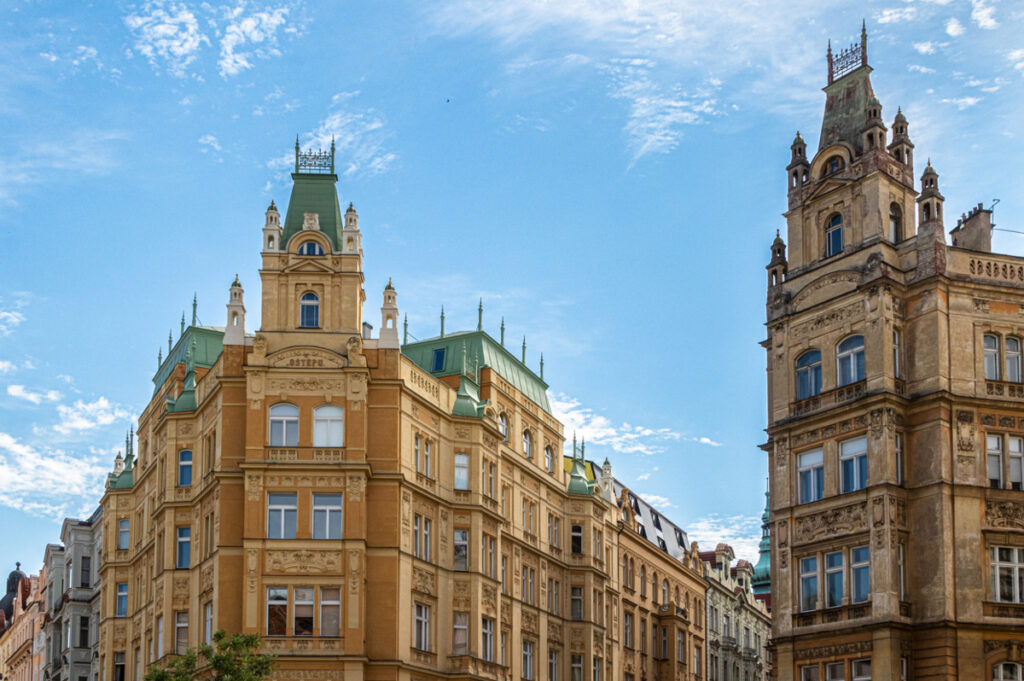 Prague is a city with a rich history, and nowhere is that history more evident than in the Jewish Quarter. Once home to a thriving Jewish community, the Quarter was all but abandoned during WWII.
These days, it's a popular tourist destination, full of museums, synagogues, and monuments.
Located in the Jewish Quarter is the Old-New Synagogue, which was built in 1270 and is the oldest active synagogue in Europe.
From there, you can walk to the Pinkas Synagogue, where you can see the names of 77,297 Holocaust victims inscribed on the walls.
Next you can visit the Spanish Synagogue, built in 1868 in a Moorish Revival style. While you're in the neighborhood you'll also want to stop by the old Jewish Cemetery, where 12,000 tombstones dating back to 1439 can be found.
If you'd like to learn more about the history of this neighborhood there is a popular Jewish Quarter walking tour you can join.
Klementinum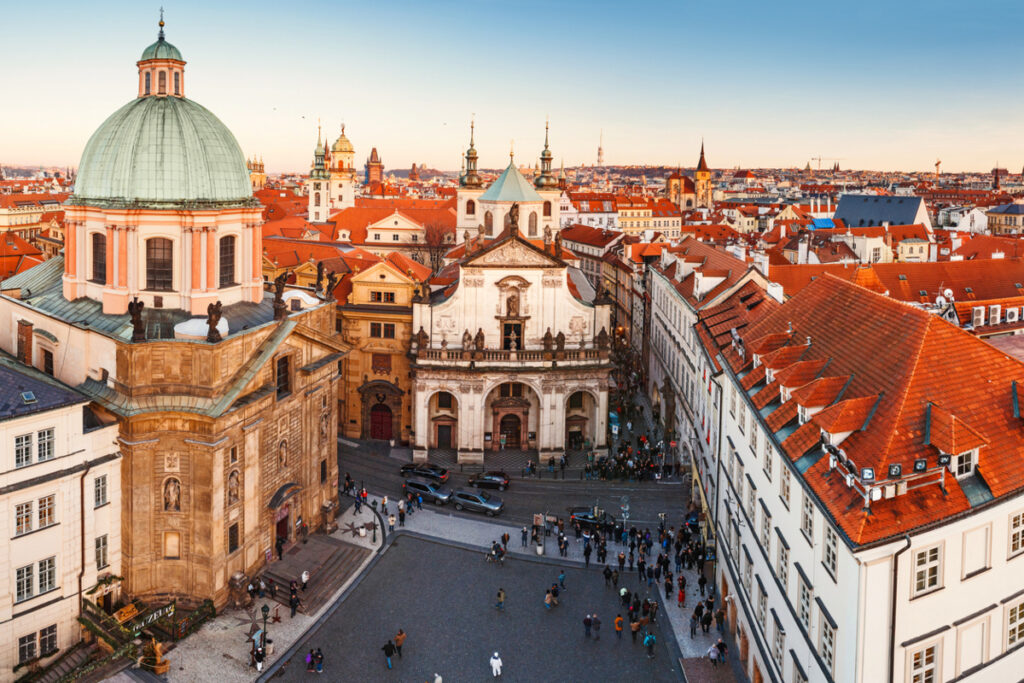 The Klementinum is a beautiful baroque library in Prague that is often overlooked by tourists.
Built in the 18th century, this stunning library is one of the largest in the world and houses over 20,000 books.
The Klementinum was commissioned by Emperor Charles VI and built between 1722 and 1727. It was originally intended to be a Jesuit college, but after the Jesuits were expelled from Prague in 1773, it became a university library.
One of the most striking features of the Klementinum is its astronomical tower, which offers stunning views of Prague. The tower also houses an astronomical clock that dates back to 1714. Visitors can also see an original copy of Tycho Brahe's star chart, which shows 1,004 stars.
The Klementinum's Mirror Chapel is another must-see. This gorgeous chapel is decorated with mirrors, crystal chandeliers, and gilded stucco work.
In 2008, the Klementinum was included on the UNESCO World Heritage list.
Prague 2 Day Itinerary – Day 2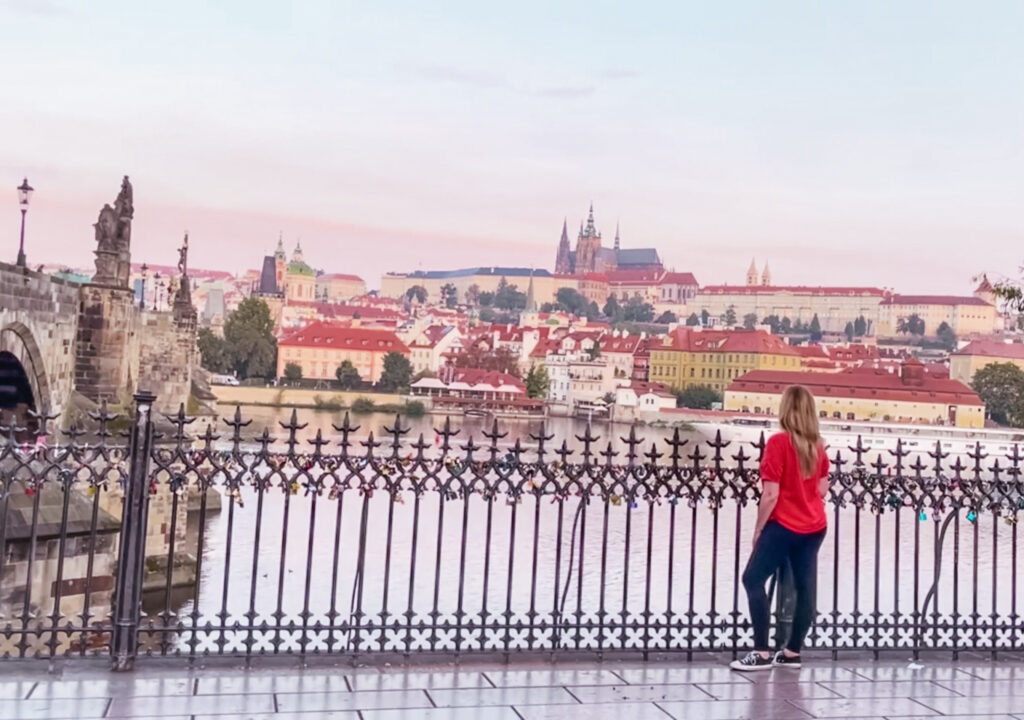 The second day of this 2 day Prague itinerary will take you across the beautiful Charles Bridge over to the eastern side of the river.
On day two you'll be visiting the Prague castle complex and several other important attractions located outside the Prague historic center.
We'll start day two in Prague in the early morning so you can can catch a sunrise from the famous Charles Bridge.
Don't worry, if waking up for sunrise isn't your idea of a good time feel free to skip that part. For those of you who don't mind an early wake up, Charles Bridge is the place to be in Prague for sunrise.
Charles Bridge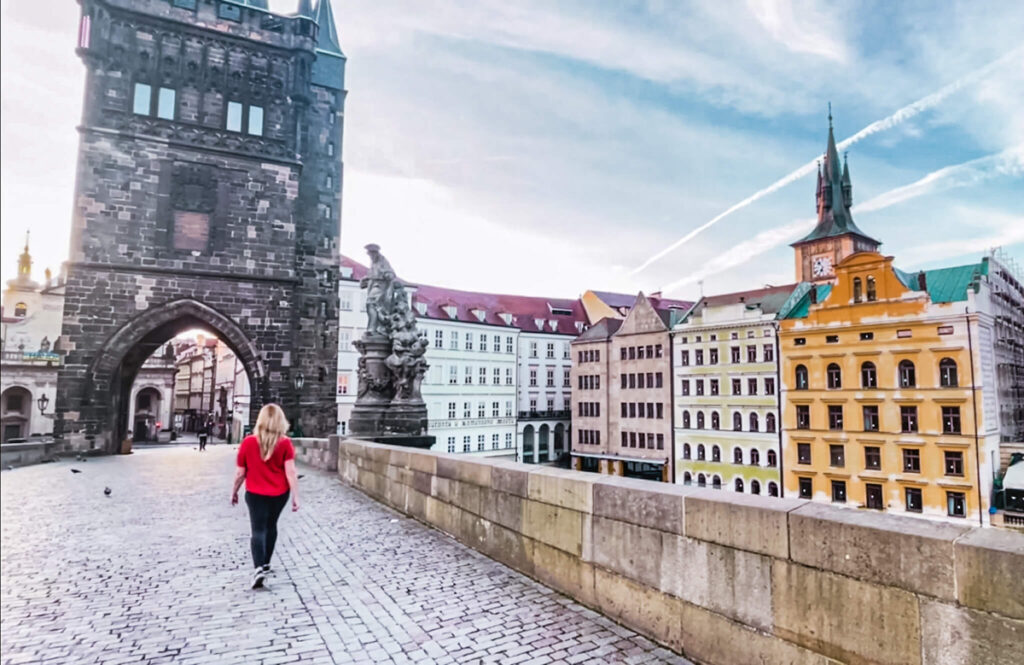 If you're visiting Prague, chances are good that you'll want to see the Charles Bridge. After all, it's one of the city's most iconic landmarks.
As I mentioned above, it's also one of the best places in the city to enjoy sunrise.
Spanning the Vltava River, the Charles Bridge is a beautiful stone structure that was built in the 14th century. Today, it's a popular spot for tourists and locals alike.
The Charles Bridge was commissioned by Charles IV in 1357 and was completed in the early 15th century. It replaced an older wooden bridge that had been damaged by floods. At the time it was built, the Charles Bridge was the longest stone bridge in Europe.
The bridge is decorated with 30 statues of saints, which were added in the 17th century. These statues were designed to protect the city from disease and flooding (which were major problems at the time).
Unfortunately, many of the originals were damaged or destroyed during various wars over the years. Today you can view replicas which have been put in their place.
At the entrance to the bridge you'll also see the Old Town Bridge Tower, one of the most beautiful Gothic gateways in the world.
In addition to being a beautiful piece of architecture, the Charles Bridge is also a great place to people-watch. On any given day you'll find musicians performing, artists selling their wares, and street performers putting on shows.
There are also a number of vendors selling souvenirs and snacks. Be sure to try a trdelník, a type of chimney cake that's popular in Prague.
This is my favorite stop on this Prague 2 day itinerary. I loved walking around this bridge in the morning and taking pictures. You definitely don't want to skip this one.
Prague Castle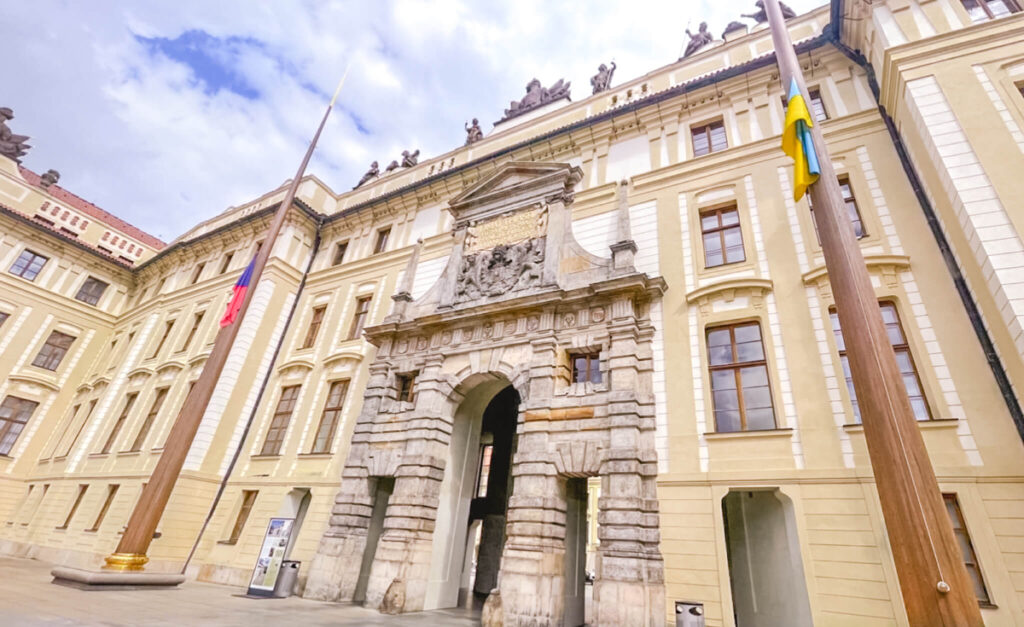 Prague Castle is a large complex of historic buildings located on a hill across Charles Bridge.
The castle has been around for over a thousand years and is the largest ancient castle in the world according to the Guinness Book of World Records. It is also the most popular tourist destination in Prague, with over 1.8 million visitors each year.
The main buildings of Prague Castle include St. Vitus Cathedral, Old Royal Palace, New Royal Palace, and St. George's Basilica. These are just a few of the highlights that you can see on a tour of the castle complex.
The Old Royal Palace is where Czech kings used to live and govern from centuries ago. It is now part of the Czech National Gallery, which houses an extensive collection of art from the Middle Ages to the present day.
The New Royal Palace was built in the 18th century for Emperor Charles VI and his family. Today, it is used by the President of the Czech Republic as his official residence.
St. George's Basilica is one of the oldest surviving churches in Prague Castle, dating back to 920 AD. It was originally built as a Romanesque basilica but was later converted into a Gothic church. The basilica is currently used as a concert hall due to its excellent acoustics.
If you'd like to skip the line you can purchase your Prague Castle tickets here.
St. Vitus Cathedral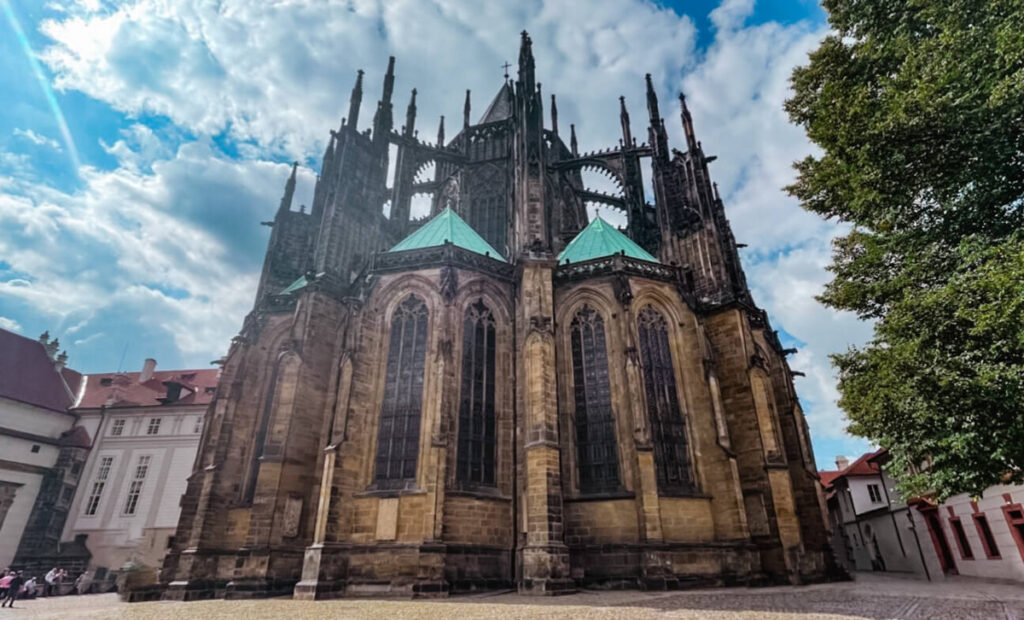 The St. Vitus Cathedral is a Gothic cathedral located within the castle complex and is one of the most important churches in the Czech Republic.
The interior of the St. Vitus Cathedral is absolutely breathtaking. The large space is filled with beautiful stained glass windows, intricate stone carvings, and grandiose chandeliers.
One of the most popular features of the cathedral is the Chapel of St. Wenceslas. This chapel contains the tomb of St. Wenceslas, the patron saint of Bohemia.
The tomb is made out of black marble and is decorated with gold leaf. If you're interested in seeing the tomb up close, you can pay a small fee to do so. Just be aware that there will likely be a long line to get in.
The exterior of the cathedral is also quite impressive. The main facade is decorated with statues of saints and kings, and there are two large spires that tower over everything else.
If you want to get a good view of the exterior, head to one of the nearby bridges (the Charles Bridge is a great option). From there, you'll be able to see all sides of the cathedral.
I also recommend walking around to the back of the cathedral for another great view. This is also a perfect spot for pictures.
The tickets for Prague Castle also get you into St. Vitus Cathedral.
Strahov Monastery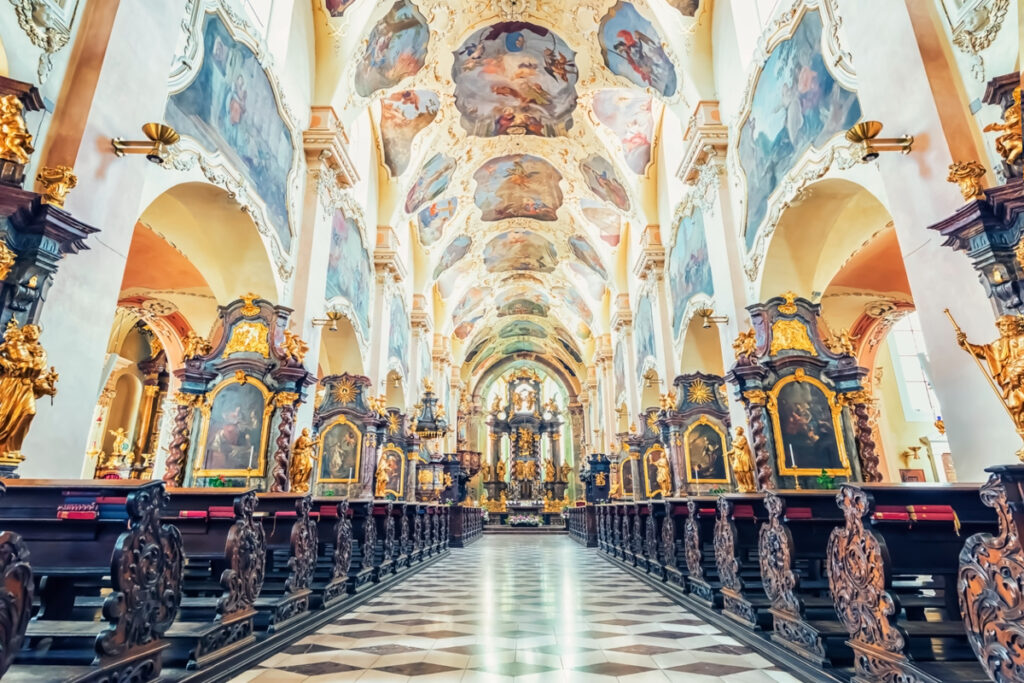 Tucked away in a quiet corner of Prague, the Strahov Monastery has been a place of worship and study for centuries.
Founded in 1140 by King Vladislav II, the monastery was originally home to a community of Benedictine monks. However, during the Hussite Wars of the 15th century, the monastery was sacked and burned to the ground.
It wasn't until the 16th century that the monastery was rebuilt, this time in the Baroque style that can still be seen today.
The monastery is perhaps best known for its two magnificent libraries, both of which are open to the public. The Theological Hall, completed in 1679, is decorated with an impressive ceiling fresco depicting scenes from the Old Testament.
The Philosophical Hall, on the other hand, contains a collection of over 20,000 volumes on topics ranging from philosophy and history to science and art.
While much of the monastery is off-limits to visitors, there are still plenty of fascinating things to see and do here. Be sure to check out the following sights during your visit:
-The magnificent library halls
-The beautiful cloisters
-The Chapel of Mirrors (a small but stunning chapel with an altar made entirely of mirrors)
-The Basilica of St. George (the largest church in the monastery)
-The Tomb of Saint Norbert (the founder of the Premonstratensian order)
Although Strahov Monastery is not as well-known as some of Prague's other tourist attractions, this historic monastery is well worth a visit.
Petrin Tower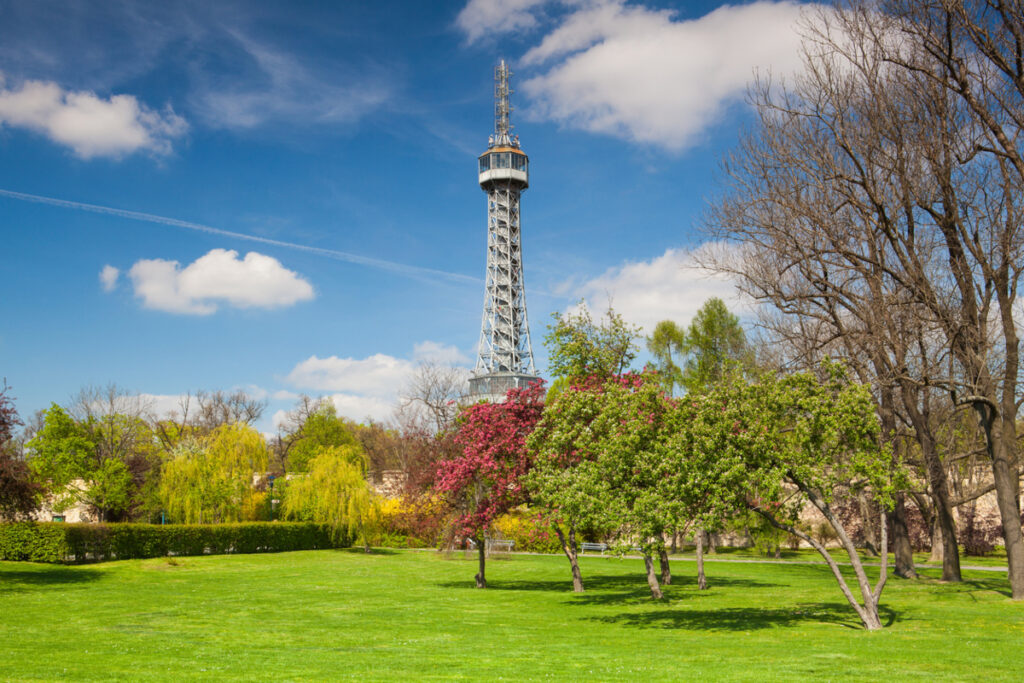 If you're looking for a fun activity to do while in Prague, look no further than the Petrin Tower. This imposing structure is located in the heart of the city and offers stunning views of the surrounding area.
The Petrin Tower was built in 1891 and was modeled after the Eiffel Tower in Paris. It stands at a height of 60 meters (about 200 feet) and has 299 steps leading to the top. The tower is made of iron and is painted green, which gives it a unique appearance.
The tower was originally built as part of an exhibition celebrating the 100th anniversary of the invention of the hot air balloon. However, it proved to be so popular with locals and tourists alike that it was decided to keep it as a permanent fixture in the city.
The best time to visit the Petrin Tower is early in the morning or late in the evening when there are fewer crowds. During peak times, there can be quite a wait to get to the top, so it's best to avoid visiting then if possible.
Once you reach the top of the tower you'll be greeted with breathtaking views of Prague.
Be sure to bring your camera so you can snap some photos. There is also a small café at the top of the tower where you can enjoy a drink while taking in the scenery.
John Lennon Wall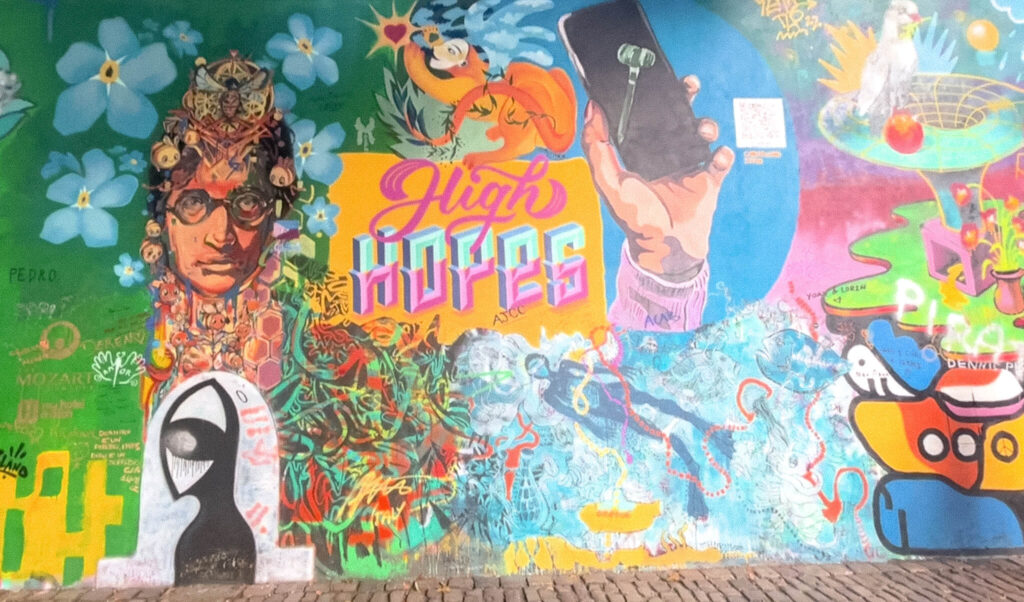 If you're a fan of the Beatles, then a visit to the John Lennon Wall in Prague is a must. This unique attraction is also a must-see for any music lover.
The John Lennon Wall in Prague is a tribute to the late musician and peace activist, John Lennon. It's covered in graffiti and artwork inspired by Lennon and his music.
The wall became a symbol of hope and peace during the communist regime in Czechoslovakia. Today, it remains a popular tourist destination for music lovers from all over the world.
The John Lennon Wall started out as an ordinary wall in an alleyway near the French Embassy in Prague. In the early 1980s, young people began using the wall as a canvas for their art and political messages.
This continued until police began removing the graffiti from the wall. In 1988, after the death of John Lennon, students painted a portrait of him on the wall along with the words "Imagine all the people living life in peace."
The wall quickly became a symbol of hope and freedom for people living under communist rule.
When you visit the John Lennon Wall today, you'll see that it's still covered in graffiti and artwork. The colors are bright and vibrant, and there's always something new to see.
The messages on the wall are also ever-changing, but they still promote peace and love. Visitors often leave their own messages on the wall as well. If you're lucky, you might even see someone painting or adding new artwork while you're there.
Dancing House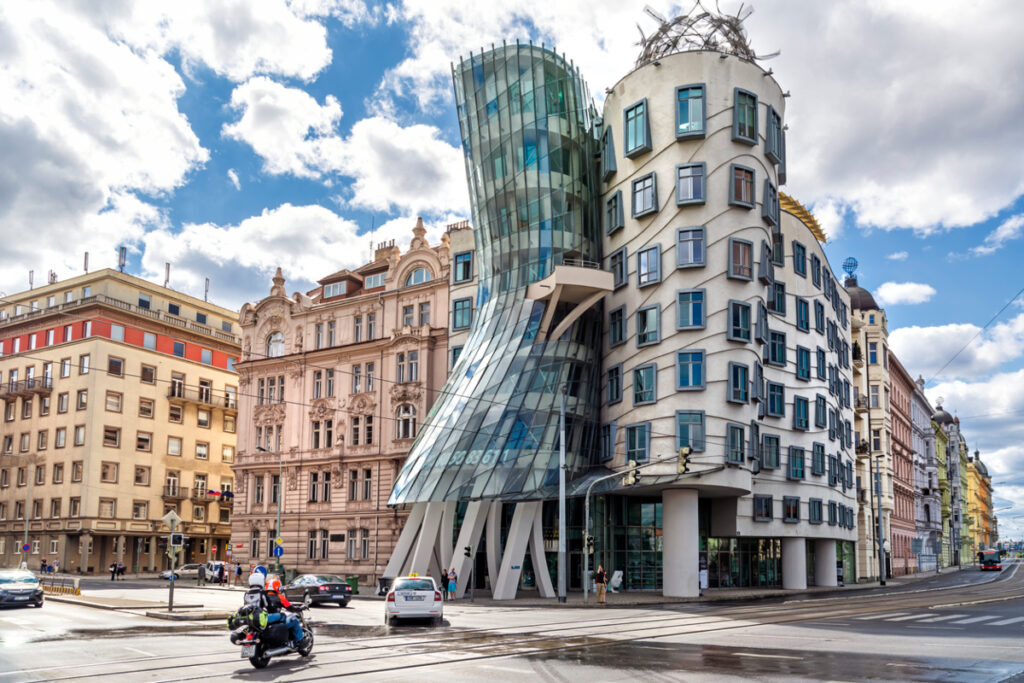 When you think of Prague, you might think of its stunning Old Town Square, its imposing castle, or its beautiful Charles Bridge. But there's one other sight in Prague that's just as worthy of your attention: the Dancing House.
This unique building, also known as Fred and Ginger after the famous dancing duo, is a must-see for any traveler to Prague.
The Dancing House was designed by world-renowned architects Frank Gehry and Vlado Milunic and completed in 1996. The building is located on a busy street corner in Prague's New Town district, and it stands out for its unusual design.
The two principal towers of the building are asymmetrical and seem to be "dancing" with each other, hence the building's nickname.
The Dancing House is more than just a pretty face, it's also a functional office building. The ground floor houses a restaurant, cafe, and gallery, while the upper floors are occupied by offices and apartments.
If you're interested in learning more about the building's history and architecture, there are guided tours available for a small fee.
Prague Museums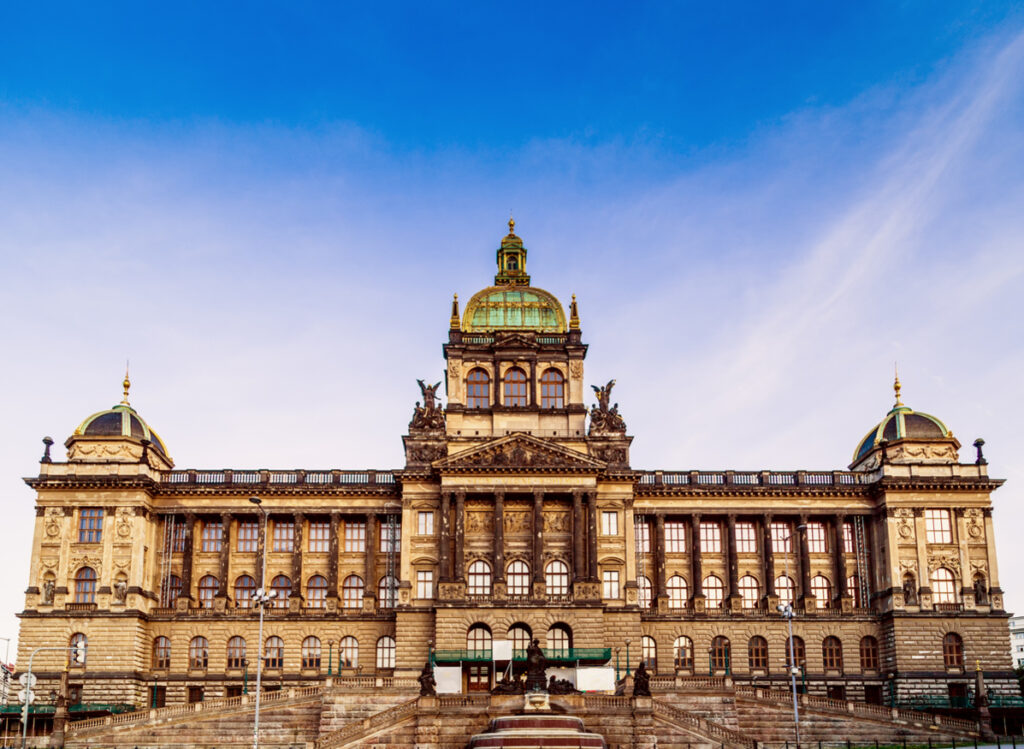 Prague is a city with a rich history and culture, and there are plenty of museums that reflect that. From art museums to history museums to interactive science museums, there's something for everyone in Prague.
Here are the five best museums in Prague for travelers.
The National Museum – This museum is perfect for history buffs. It chronicles the history of the Czech Republic from prehistoric times to the present day. There are also temporary exhibitions on topics like fashion and music.
The Czech Museum of Music – This museum is perfect for music lovers. It houses over 200,000 musical instruments and covers the history of Czech music from the Middle Ages to the present day.
The Museum of Decorative Arts – This museum is perfect for those interested in art and design. It has a wide collection of furniture, glassware, textiles, and other objects from the Middle Ages to the present day.
The Mucha Museum – This museum is perfect for fans of Art Nouveau. It houses a collection of work by Alphonse Mucha, as well as work by other artists in this style.
The Prague City Museum – This museum is perfect for those interested in the history and culture of Prague. It covers the city's history from its founding to the present day, with exhibits on topics like architecture, art, and daily life.
There are literally dozens of other great museums in Prague in addition to the ones listed above. The Franz Kafka Museum and the Museum of Communism are also very popular.
I recommend selecting one or two museums to visit to start off with. If you have extra time after completing your Prague 2 day itinerary you can always visit more.
Prague Restaurants
Not only is Prague a beautiful city with plenty of things to see and do, but it also has some of the best food in Europe.
From traditional Czech dishes to international cuisine, there's something for everyone in Prague. To help you make the most of your trip on this Prague 2 day itinerary, here are 5 of the best restaurants in Prague that you'll love.
5 Best Restaurants in Prague
La Degustation Bohême Bourgeoise: If you're looking for an exquisite dining experience, look no further than La Degustation Bohême Bourgeoise. This Michelin-starred restaurant serves up traditional Czech dishes with a modern twist. Trust us, your taste buds will thank you!
Lokál: Lokál is the perfect spot if you want to try some traditional Czech fare without breaking the bank. This casual eatery is known for its delicious dumplings and hearty goulash. And with 4 locations around the city, it's easy to find one close to where you're staying.
Kampa Park: Kampa Park is a great option if you're looking for international cuisine. Located on the banks of the Vltava River, this restaurant offers stunning views of Charles Bridge and the Old Town Square. The menu features dishes from all over Europe, so there's something for everyone.
Augustine – A Hotel Bar & Restaurant: Augustine is located in the Five Star Augustine Hotel, which was once a 13th century Augustinian monastery. The restaurant serves up contemporary European cuisine made with fresh, locally-sourced ingredients. And with its gorgeous setting and attentive service, Augustine is perfect for a special night out.
Na Zdrowie: Na Zdrowie is a great option if you're looking for healthy food that doesn't sacrifice flavor. This vegetarian restaurant serves up delicious dishes made with fresh vegetables, grains, and legumes. And with 2 locations in Prague, it's easy to find one near you.
Best Pubs in Prague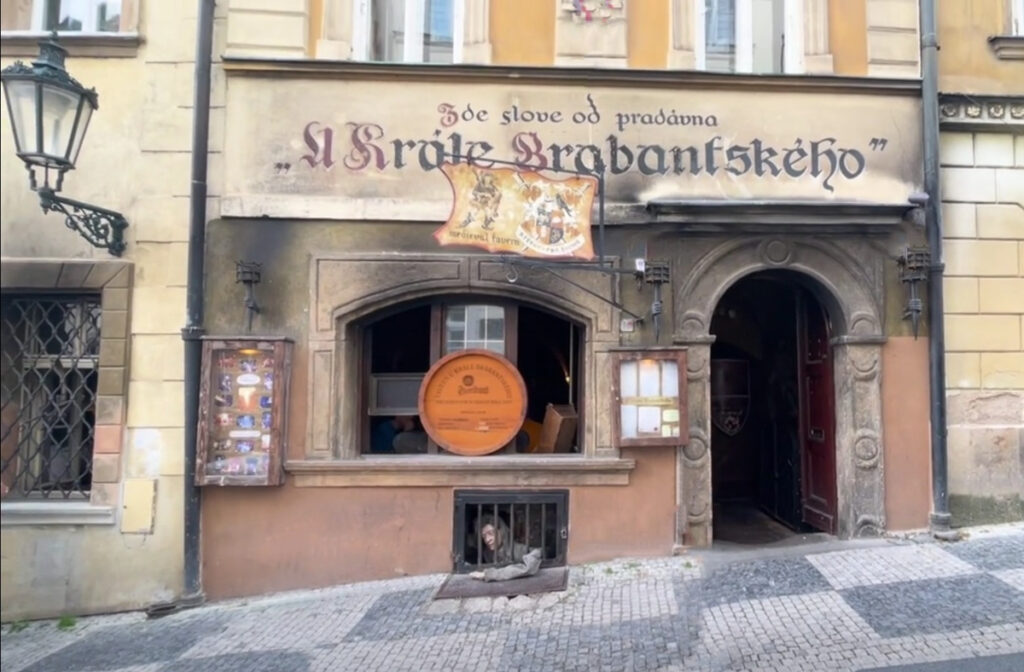 If you're coming to Prague, there's no doubt you'll want to check out some of the city's best pubs. The pub culture is what this city is known for after all. Well, that and it's incredible history and architecture, but for the moment let's find some beer.
This list of the best pubs in Prague will have you covered, whether you're looking for a traditional Czech beer hall or a cozy neighborhood bar.
If you're traveling solo or just want to meet other travelers, you can join this guided Czech Beer tour.
Best Pubs in Prague
U Fleku: U Fleku is one of the most famous beer halls in Prague, and for good reason. This historic spot has been serving up delicious beer since 1499, making it the perfect place to enjoy a traditional Czech pint. The brewery produces its own dark lager, which is served fresh from the tap along with a variety of other beers. U Fleku also offers traditional Czech food, making it the perfect spot to enjoy a meal with your pint.
Kavarna Slavia: Kavarna Slavia is located in the heart of Prague just steps from Wenceslas Square. This cafe has been serving up coffee and sweets since 1884, making it one of the oldest cafes in the city. These days, Kavarna Slavia is just as popular as ever, thanks to its prime location and charming decor. Be sure to try one of the famous hot chocolate drinks while you're here!
Zly Casy: Zly Casy is a popular bar located in Prague's Old Town district. This cozy spot is perfect for enjoying a few drinks with friends. The bar has an extensive selection of both local and international beers, as well as a menu of delicious bar snacks. Zly Casy also hosts live music on some nights, making it the perfect spot for an evening out in Prague.
I also loved U Krále Brabantského, which is an old Medieval tavern located right under Prague Castle. You'll walk right past it on your way to visit the castle. I highly recommend stopping in for a pint on your way back. This is one of the oldest pubs in Prague and it's a fun place to visit.
You should have time at the end of each day on this Prague 2 day itinerary to grab dinner and check out some of the city's best pubs.
Where to Stay in Prague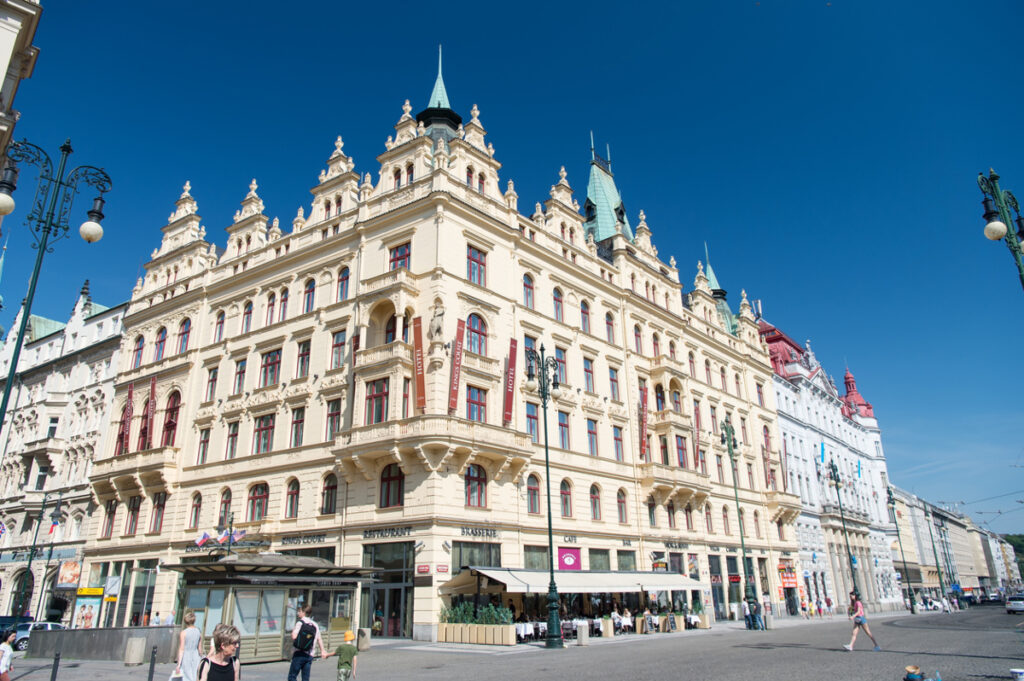 As you would imagine, there are many great hotels in Prague. I include a few of the hotels I recommend down below including the hotel that I stayed at during my visit.
Best Hotels in Prague
Each of these hotels is conveniently located near the attractions included on this Prague 2 day itinerary. As long as you're near the city center, you'll have no problem getting around the city on foot.
I hope you've enjoyed this Prague 2 Day Itinerary and that I've inspired you to plan a trip of your own. As always, thanks for reading.
Related Posts
This guide to the Top 10 Things To Do in Essaouira will help you plan…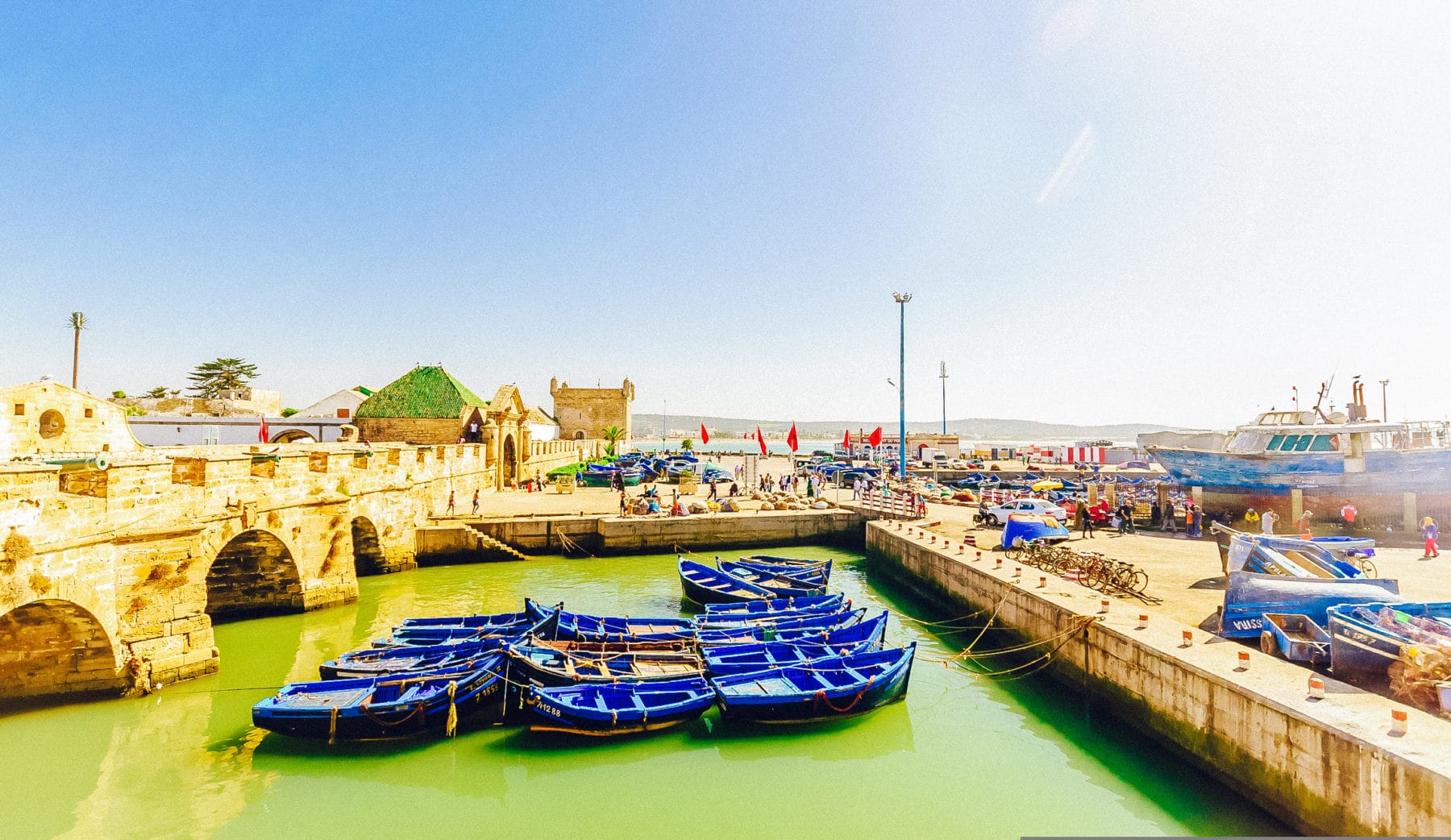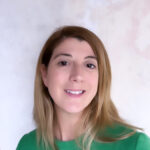 Eden Fite
Part-time Traveler | Dog Lover | Avoider of Crowds
I help busy people find creative ways to travel more.