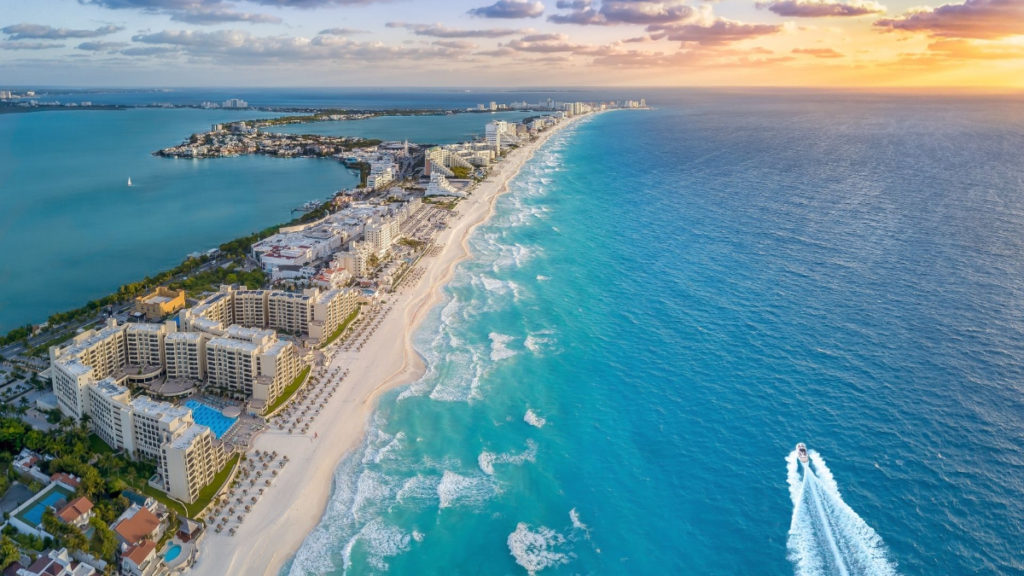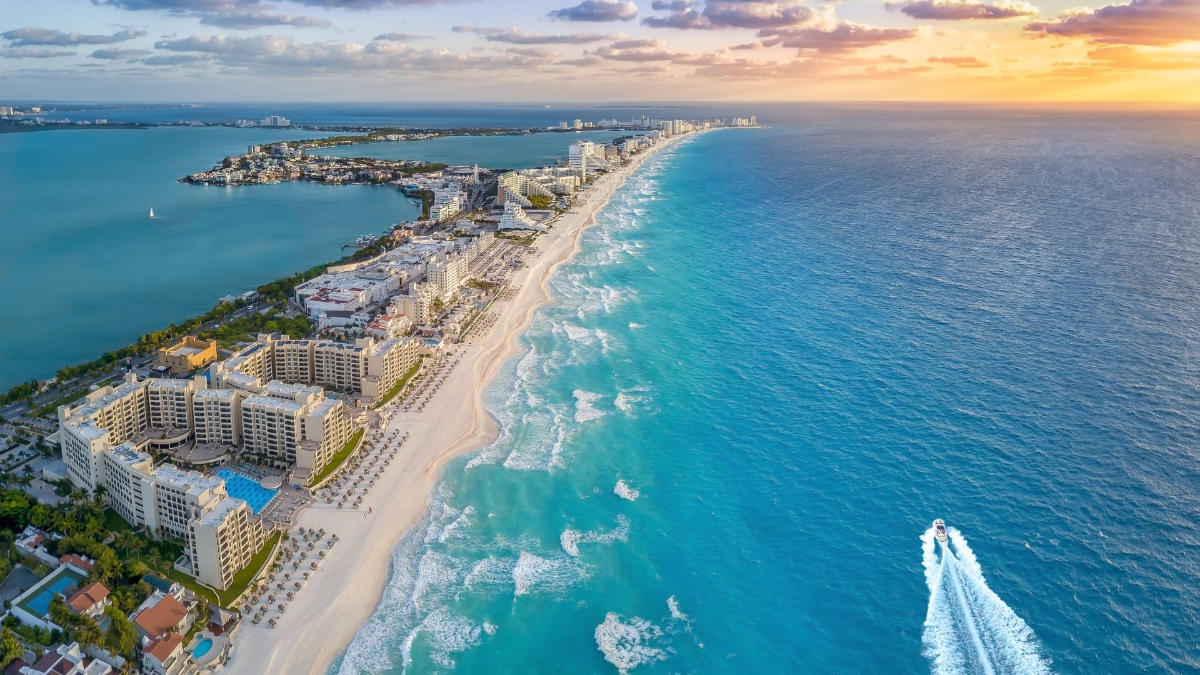 Looking for the best AirBnBs in Cancun Mexico for your upcoming getaway?
This post will show you ten modern, affordable, and conveniently located AirBnBs in Cancun to choose from.
If this is going to be your first visit to Cancun I recommend spending at least a week enjoying Cancun's beaches and restaurants. This will give you extra time for day trips to Chichen Itza, Tulum ruins, Playa del Carmen, and the local cenotes.
I recently returned from a solo trip to Cancun in November. It was my first time visiting and I absolutely loved it. I think you will too.
For those of you looking to keep to a budget, the first few listings in this post are actually hotel rooms at the local resorts. These rooms are available on AirBnB (often) for a lower price than if you booked directly with the resort. Plus, you'll still have access to all the resorts activities and amenities.
Some of the links in the post are affiliate links. If you make a purchase through these links it helps to support this site at no extra cost to you.
PLEASE NOTE: All outbound links to AirBnB have been removed from this website due to their unethical business practices and lack of professionalism towards bloggers.
You are encouraged to book your Cancun accommodation through Booking.com instead.
10 Best AirBnBs in Cancun Mexico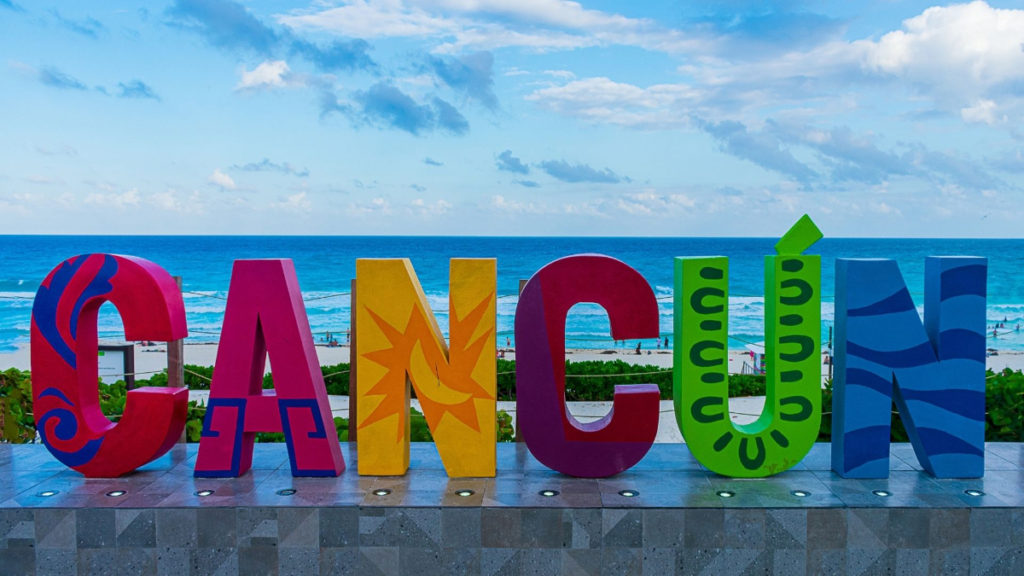 The 10 AirBnBs in Cancun Mexico listed below are all located in the city of Cancun, and most are conveniently located in the Cancun hotel zone. The hotel zone is where you'll find the area's best beaches, restaurants and bars.
Since I was specifically looking for affordable AirBnBs in Cancun, most listings were in the $50 to $200 range at the time I was doing research for this post. I have included a button after each listing so you can check availability and view current pricing for your travel dates.
Please also keep in mind that AirBnB rentals often come with multiple fees such as a cleaning fee, service fee, and occupancy taxes. These can add up quickly and significantly increase the cost of a stay. Be sure to review the total price, including any fees, prior to booking.
These fees are the reason I focused on affordable listings. I am hoping to help others find affordable accommodations, even in the most in demand locations. I think I did a pretty good job and hope you can find something that works for you.
Please keep in mind prices will fluctuate significantly throughout the year. You should expect much higher prices during high season, which for Cancun is November to April.
For lighter crowds and lower prices considering planning your visit in the summer or fall.
Traveling Soon? Don't forget your travel insurance.
Travel insurance is now more important than ever.
Travel insurance is probably less than you think it is. (Ex. For a week in Spain next month I'm paying less than $62.00.)
Travel insurance covers a lot more than you think it does.
It's better to have it, than need it and wish you'd bought it.
See for yourself. Check prices here.
1. Gorgeous Garden Loft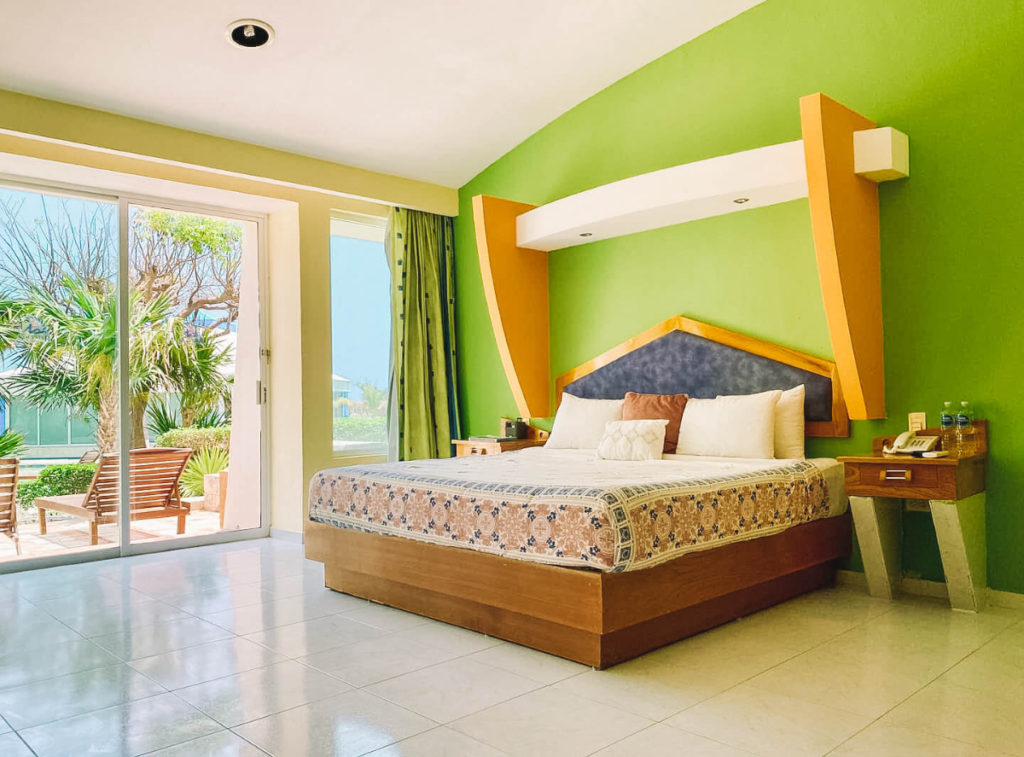 This bright and airy rental comes with swimming pool access and a small patio located on the ground floor, just steps from the beach. This AirBnB is part of the Solymar Resort and Villas, so guests will have access to the property's full list of amenities.
The unit features a king bed and one bathroom. While there is no kitchen, the property has several restaurants onsite.
Gorgeous Garden Loft is located in Cancun's Hotel Zone.
Sleeps: 2 guests
Size: 1 bedroom / 1 bathroom
Price starting at: $44/night
2. Ocean Front Room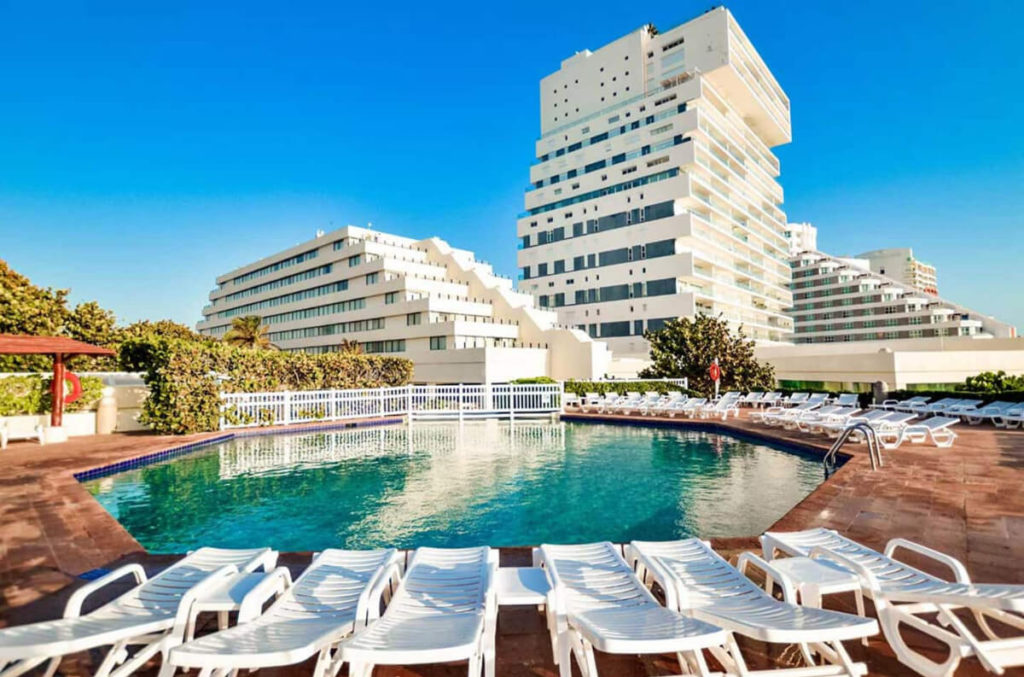 This is an ocean front deluxe hotel room in a local resort located in the Zona Hotelera (Hotel Zone).
Guest will be just steps to the beach and have access to the resort's two pools, three restaurants, gym, and free parking.
The room itself comes with two double beds, wifi, cable, Netflix, coffee maker, mini fridge, and a microwave.
Sleeps: 4 guests
Size: Studio / 1 bathroom
Prices starting at: $50/night
3. Private Cancun Studio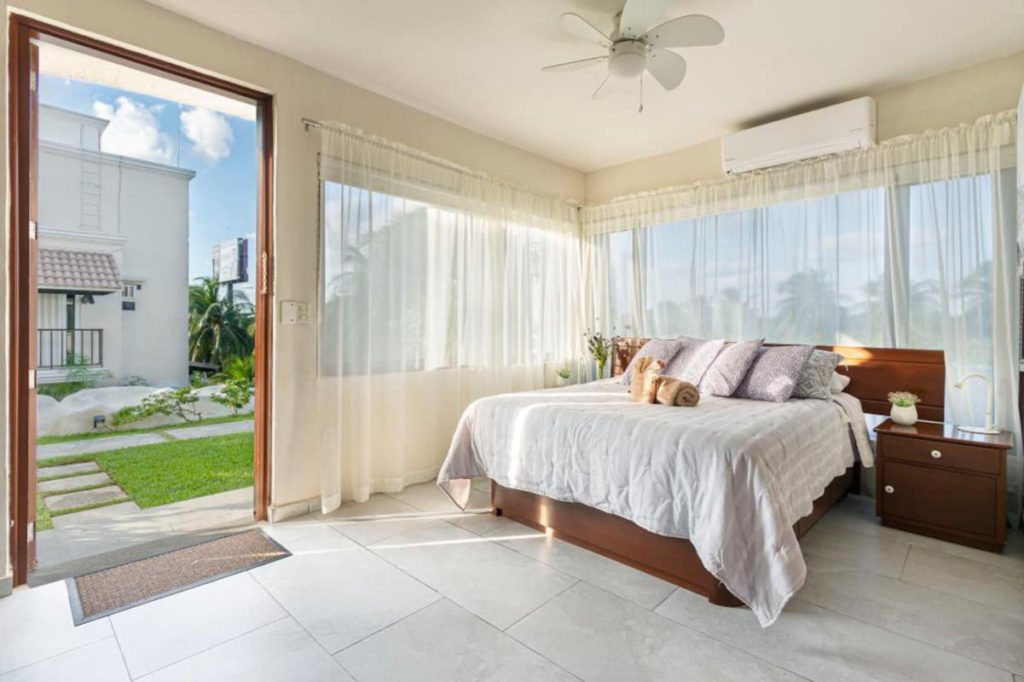 This small and bright studio is perfect for a solo traveler looking for affordable accommodations in the Hotel Zone.
The rental is a short walk to Playa Ballenas, local restaurants and shopping. The rental is a private room with separate entrance located on a residential property with 3 pools.
Sleeps: 2 guests
Size: Studio / 1 bathroom
Prices starting at: $58/night
4. Spacious Cancun Condo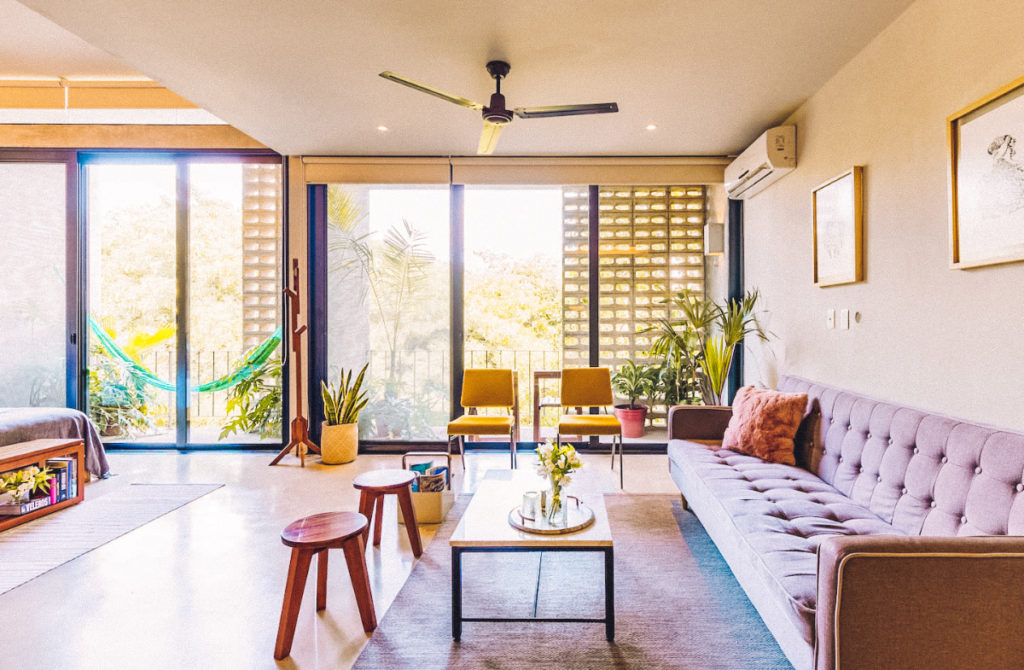 A bright and sunny studio located in the city of Cancun just outside of the Hotel Zone.
This rental is perfect for couples or solo travelers looking to explore Cancun and Quintana Roo outside of the hotel zone. You'll be close to restaurants and local transportation.
There is no beach access or swimming pool, but you will have a full kitchen, private patio, wifi, and a washer and dryer.
Sleeps: 3 guests
Size: Studio / 1 bathroom
Price: $70/night
5. Designer Cancun Apartment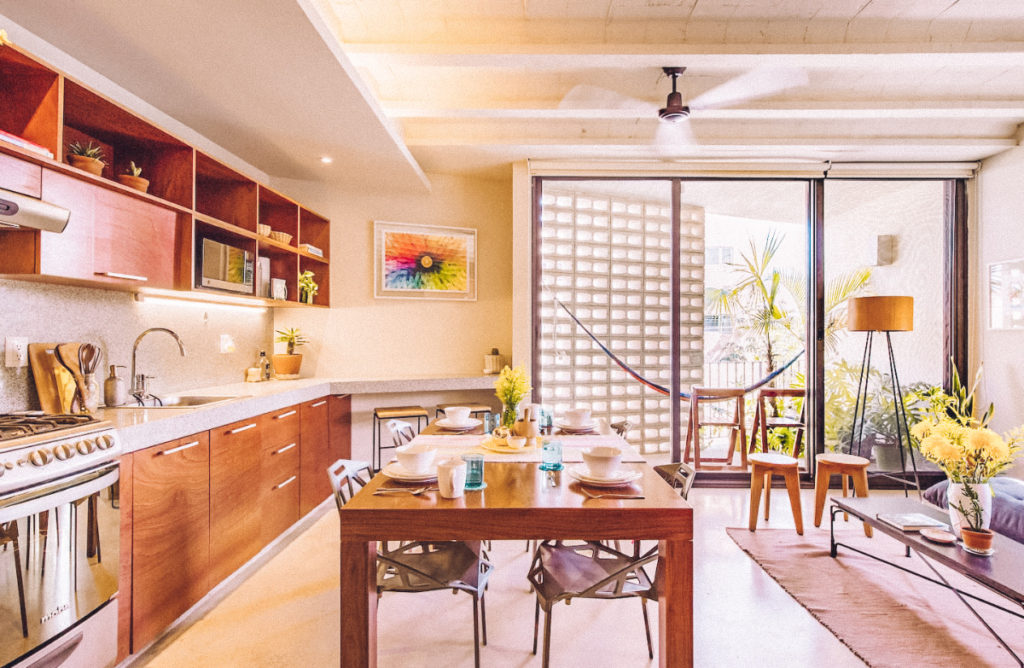 This compact designer apartment is located just outside the city's Hotel Zone and close to local restaurants and markets in downtown Cancun. The ferry to Isla Mujeres is also close by.
The apartment features 1 bedroom, 1 bathroom, a living room, and a fully equipped kitchen. Guests will also have access to wifi, a private patio, rooftop deck, parking, and a washer and dryer.
Sleeps: 3 guests
Size: 1 bedroom / 1 bathroom
Prices start at: $50/night
6. Ocean Front Studio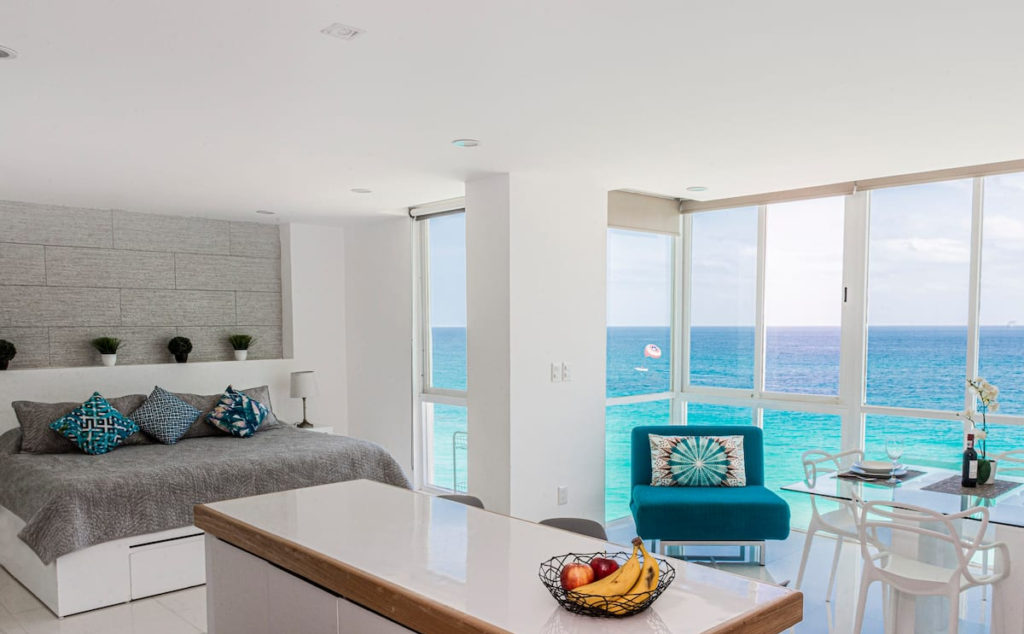 This bright ocean front studio is located on the south end of the Cancun Hotel Zone. You'll have plenty of windows that open up to spectacular ocean views.
The condo features one king bed, a pull out double bed, one bathroom, a full kitchen and large balcony. Guests will also have access to the resort pools.
The resort's dining options are also available to guests who would like to pay a little extra for all inclusive access. All inclusive access can be added on for the duration of your stay, or one day at a time if you prefer.
This rental is perfect for a couple or small family. Previous guest reviews are excellent so I think this is a great opportunity to save some money while still enjoying a resort property in the Hotel Zone.
Sleeps: 4 guests
Size: Studio / 1 bathroom
Prices start at: $110/ per night
7. Stylish Cancun Loft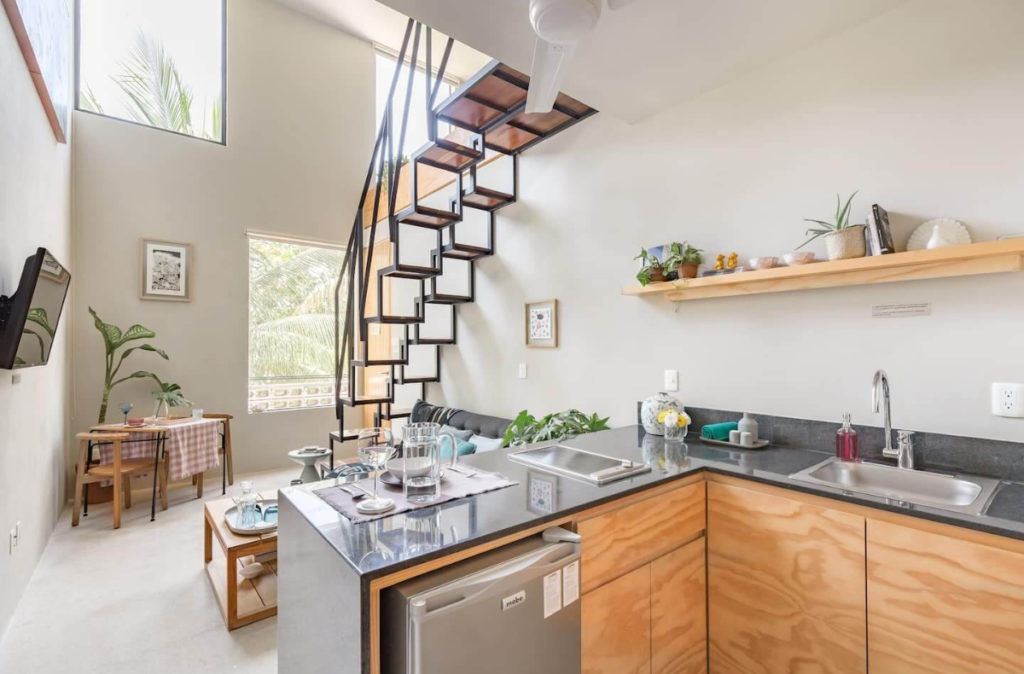 This stylish loft apartment is located near the Isla Mujeres ferry just outside the main hotel zone. You'll be walking distance to local restaurants and markets.
The loft apartment features a mini kitchen, small living room and dining area with an upstairs loft bedroom. The upstairs bedroom has a king bed, air conditioning, and a ceiling fan.
Sleeps: 3 guests
Size: 1 bedrooms / 1 bathroom
Prices start at: $45/night
8. Luxury Apartment with Lagoon View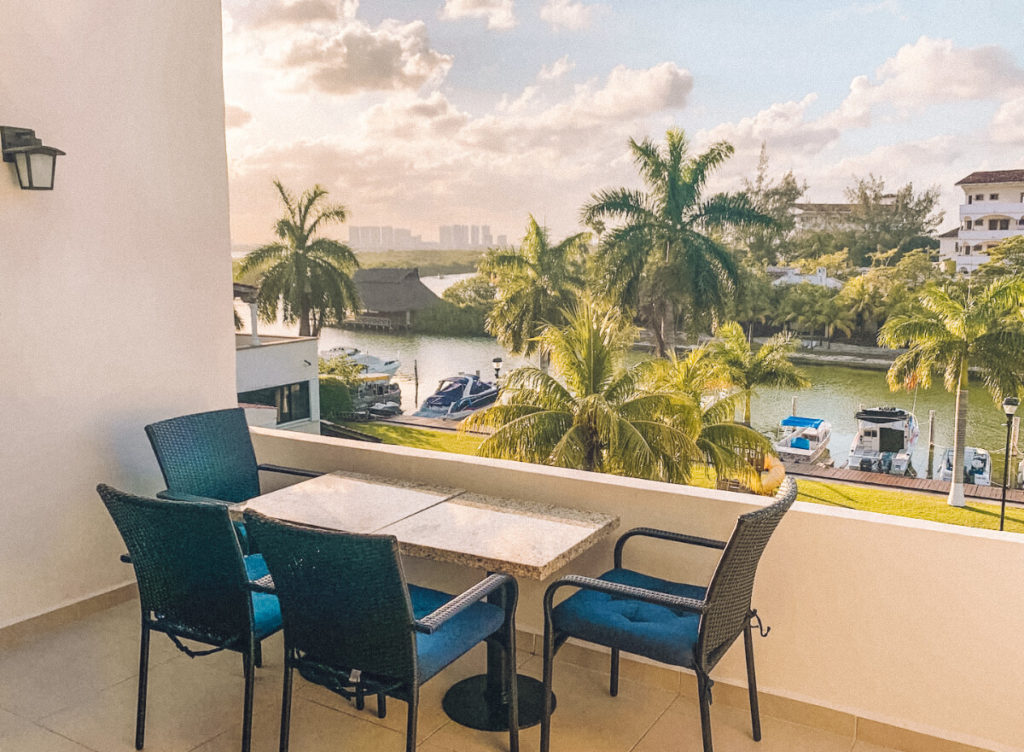 This luxury apartment is located in the Cancun Mexico Hotel Zone overlooking the Nichupté Lagoon.
The rental comes with one bedroom, one bathroom, living room, fully equipped kitchen, private patio, a pool, and a rooftop deck. You'll also be just a short drive from the city's best beaches.
Sleeps: 4 guests
Size: 1 bedroom/ 1 bathroom
Prices start at: $65/night
9. House with Private Pool
Small house in a local residential neighborhood with a private pool.
The house is located near downtown Cancun in close proximity to the airport. This rental would be perfect for a small group looking to explore tha many attractions in Quintana Roo and the Yucatan Peninsula.
Guests will have 3 bedrooms, 2.5 bathrooms, a fully equipped kitchen, living room, dining area, and a small private pool.
Sleeps: 4 guests
Size: 3 bedrooms / 2.5 bathrooms
Prices start at: $65/night
10. Upscale Beachfront Condo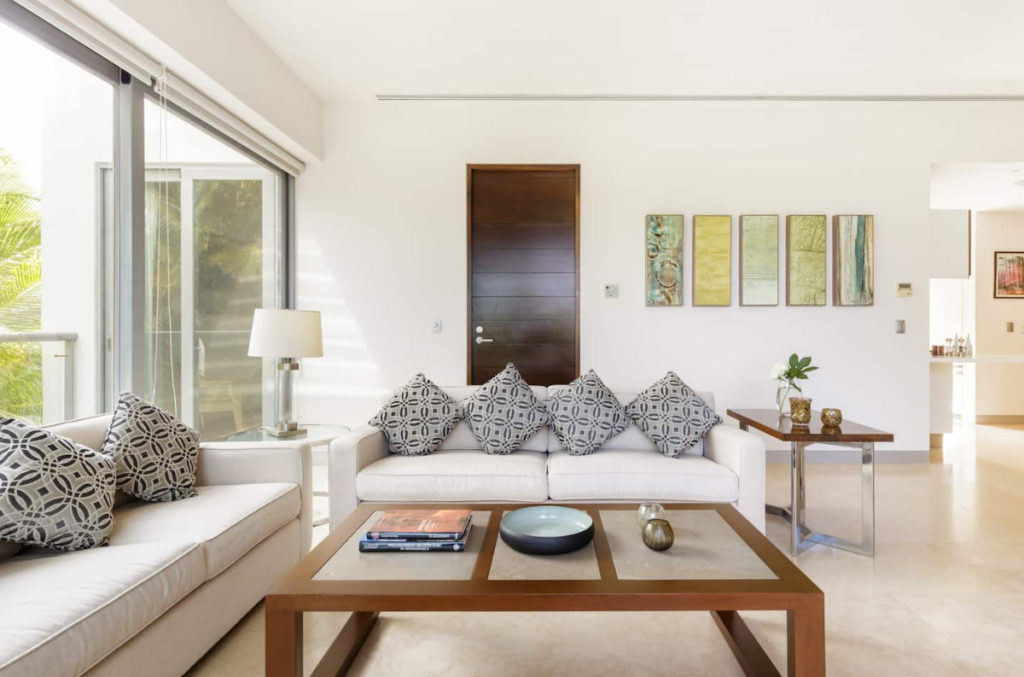 This is an upscale luxury condo perfect for a romantic couples getaway. This rental is an excellent choice for those with a larger budget willing to spend extra for upgraded style and amenties.
This condo is thoughtfully decorated and features one king bedroom, 1.5 bathrooms, a full kitchen, outdoor terrace, infinity pool and gym.
In addition to the above amenities, you'll be right on the beach and close to the city's best restaurants and bars.
Please note: Some vacation rentals have a minimum stay requirement. This rental currently has a 15 day minimum so its best for those planning a longer stay.
Sleeps: 2 guests
Size: 1 bedroom / 1.5 bathrooms
Prices start at: $300/night
Additional Considerations
Here are a few additional considerations when booking AirBnBs in Cancun Mexico:
High season in Cancun runs from November to April, so expect higher prices and larger crowds during this time.
Spring Break and New Year's are especially busy in Cancun.
If your main purpose for visiting Cancun is to relax and enjoy the beaches, make sure to book your accommodations in the Hotel Zone. This will eliminate the need to drive back and forth everyday.
Hotels in Cancun can be very expensive, so consider booking one of the rooms mentioned above through AirBnB instead. There are some very good deals to be found.
For first time visitors, I recommend staying in the Cancun Mexico Hotel Zone. You can then take day trips from your hotel if you'd like to visit Tulum, Playa del Carmen or Chichen Itza.
If you do only one day trip, make it Chichen Itza. It's an incredible experience to see it in person. Here's a link to the Chichen Itza tour I took and loved.
Is it safe to stay at an AirBnB in Cancun? For the most part, yes. As with anywhere, be mindful of your surroundings and don't be out walking alone at night. The hotel zone is considered one of the safest areas of the city. If you're concerned or nervous about your safety, stay in the hotel zone.
There are hundreds of things to do in Cancun besides enjoying the beaches. Consider taking a tour of the city, visiting the area's museums, joining a food tour, or street art tour.
I hope this post has helped you find the best AirBnBs in Cancun Mexico for your upcoming visit. If you'd like to support this blog please consider sharing this post. Thanks for reading.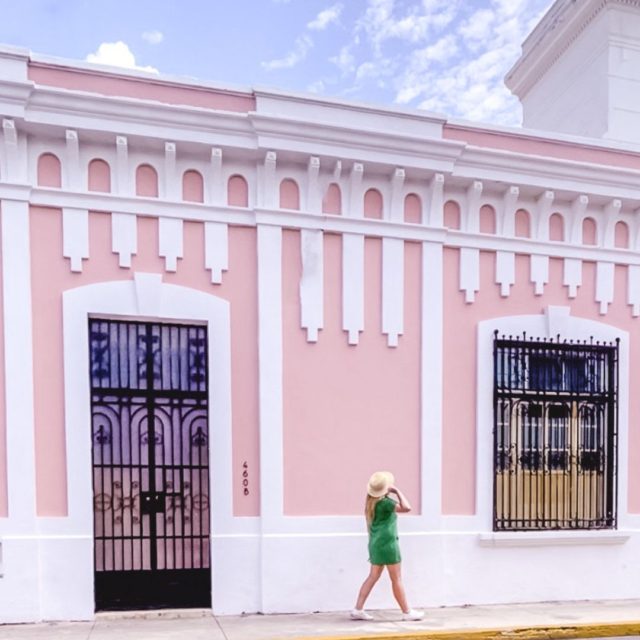 The best things to do in Merida Mexico can all be enjoyed with just a few days in this beautiful, vibrant city. Merida is located …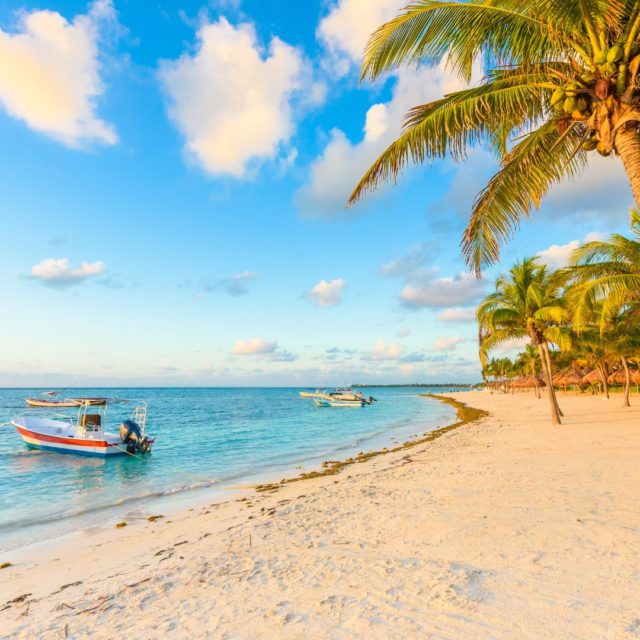 If you've never been to Cancun before, then these Top 10 Cancun Travel Tips are for you. Having just returned from my own two week …
Book Your Trip
Find the best flight deals by using Google Flights, then book direct with the airline. This is the search engine I use to compare flights and prices before booking my own trips.

BOOK YOUR ACCOMODATION
I recommend searching for hotels through Booking.com to compare hotels on amenities, location, and price. If you are a member of a hotel's rewards program, always book direct with the hotel. If you are not loyal to a specific hotel brand, using Booking.com for the best price.

TRAVEL INSURANCE
Travel insurance is more important than ever. For just a few dollars a day you can protect yourself and your trip. I personally use World Nomads, but whomever you choose, don't skip out on travel insurance. It can literally save you thousands of dollars.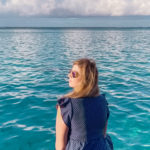 Eden Fite
Part-time Traveler | Dog Lover | Avoider of Crowds
I help busy people find creative ways to travel more.