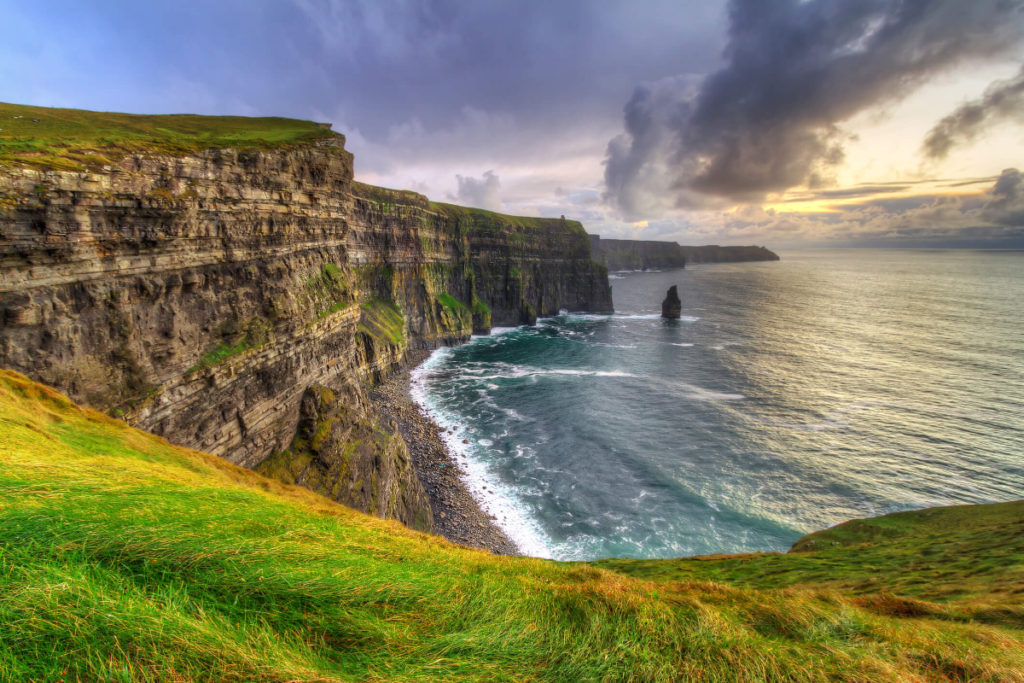 These 10 Day Trips from Dublin are sure to make your visit to Ireland a memorable one.
While I think everyone traveling to Ireland should spend a few days seeing the sights in Dublin, there is so much more to see in Ireland outside the city.
If you're comfortable renting a car and driving on the opposite side of the road, you should definitely plan this trip as an Ireland road trip. This way you can explore the whole country at your own pace.
However, if you're not comfortable driving, don't feel like driving, or just prefer to join a few group tours, then this guide to 10 incredible day trips from Dublin is for you.
Down below you'll find 10 different guided day trips from Dublin to various parts of Ireland. I list my favorite ones at the top so you don't miss those.
Congratulations on planning your first trip to Ireland, it's a beautiful country and I know you'll have a great time.
Some of the links in the post are affiliate links. If you make a purchase through these links it helps to support this site at no extra cost to you.
Day Trips from Dublin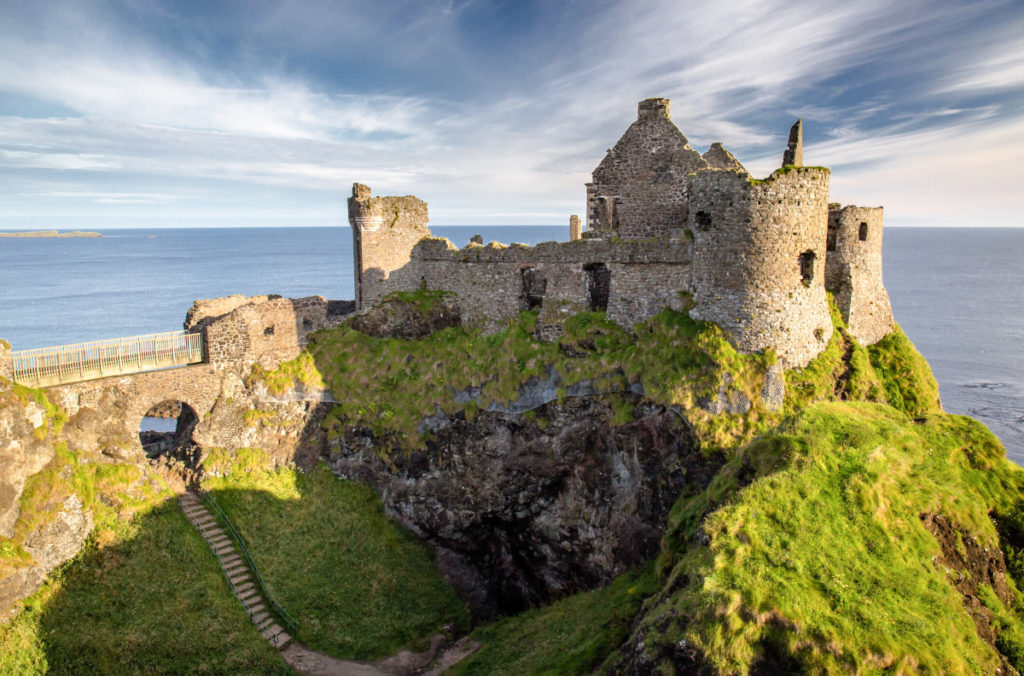 The 10 day trips from Dublin listed below were selected based on my own recent road trip around Ireland.
I selected these 10 destinations because I think you'll enjoy them, and because they offer an experience you won't get if you spend your whole trip in Dublin.
I list my favorites at the top. If you're visiting Ireland on a short trip, I would start with one of the first few listed. Those were the places where I had the most fun, and that I think will add the most value to your visit to Ireland.
However, if you are looking for something a bit different and a little less touristy, the day trips at the bottom are for you.
Either way, Ireland is incredible and you're going to have a fantastic time.
Real quick, if you've never done a group day trip before, here are a few tips to ensure you have a good time.
Be ready to go at least 15 minutes before your scheduled pick up time in the morning. You don't want to miss your pick up, and sometimes they show up early.
Dress in layers so you can remove something if you're too hot, or add something if you get cold. Bring an umbrella as well.
Pack water and snacks for the road.
Bring headphones and something to listen too.
Finally, approach your group trip with an open mind and be willing to meet people. As a frequent solo traveler, I often join group day trips so I have others to travel with. It's also a great way to meet new people and make new friends.
So what are the best day trips from Dublin?
I'm glad you asked, let's get to it.
Traveling Soon? Don't forget your travel insurance.
Travel insurance is now more important than ever.
Travel insurance is probably less than you think it is. (Ex. For a week in Spain next month I'm paying less than $62.00.)
Travel insurance covers a lot more than you think it does.
It's better to have it, than need it and wish you'd bought it.
See for yourself. Check prices here.
1. Cliffs of Moher Day Trip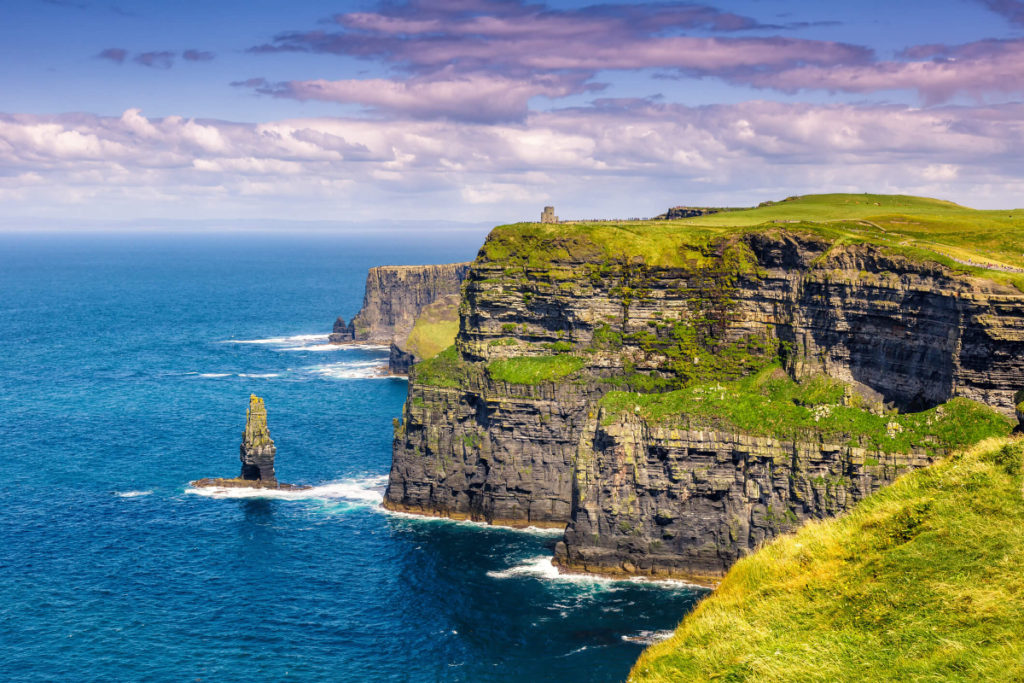 If you take only one day trip from Dublin, let it be this one.
The Cliffs of Moher are the highlight of Ireland's Atlantic coast and definitely worth the rather short drive across the country to get there.
Once at Cliffs of Moher you'll find several viewing platforms overlooking the cliffs. Explore this area for a bit, but then head over to the Cliffs of Moher Coastal Walk.
The Cliffs of Moher Coastal Walk connects the Cliffs of Moher to the neighboring city of Liscannor to the north or Hags Head to the south.
You don't need to hike the entire distance of the trail to get the benefit of the incredible views along the Coastal Walk. At minimum, head down the trail in either direction for about 15 to 20 minutes. The views from the trail are far more impressive than those from the viewing platforms. Plus, you'll be able to get much better photos.
If you're up for the challenge, here are the distances to Liscannor and Hags Head:
Liscannor: 20 kilometers round trip. Walking time is about 4 to 5 hours.
Hags Head: 5.6 kilometers. Walking time is about 90 minutes to 2 hours.
The tour linked below also includes a Cliffs of Moher tour, some time driving along Ireland's famous Wild Atlantic Way, and a stop in Galway city.
Cliffs of Moher Day Trip from Dublin
Duration: About 13 hours
Price: About $60
2. Kilkenny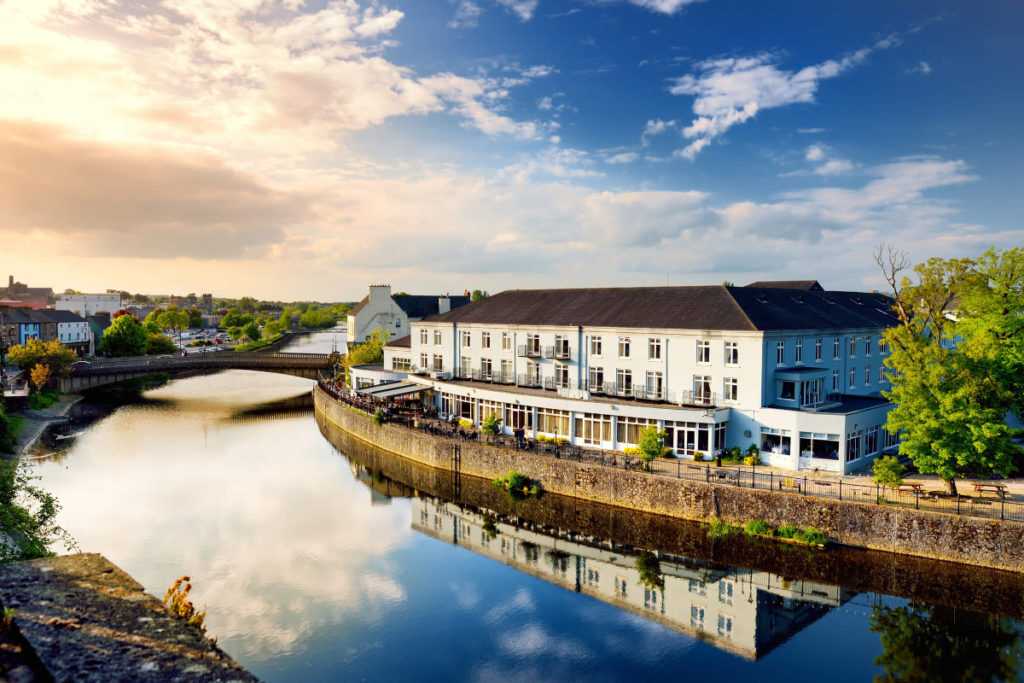 kilkenny was another one of my favorite stops in Ireland. It's a totally walkable city and is best explored on foot.
Kilkenny is a very well-preserved Medieval town. Visitors will want to explore Kilkenny Castle, St. Canice's Cathedral, and St. Mary's Medieval Mile Museum.
As you wander around town going from place to place you'll also get to see and walk along the town's old Medieval walls. It's impressive the walls still exist and are in such good shape.
After you've finished exploring the Medieval history of Kilkenny, head over to the town's famous Kytelers Inn. Here you can grab dinner, try a pint of local beer or cider, and enjoy live traditional Irish music.
Duration: About 8 – 12 hours
Price: About $35
3. Blarney Castle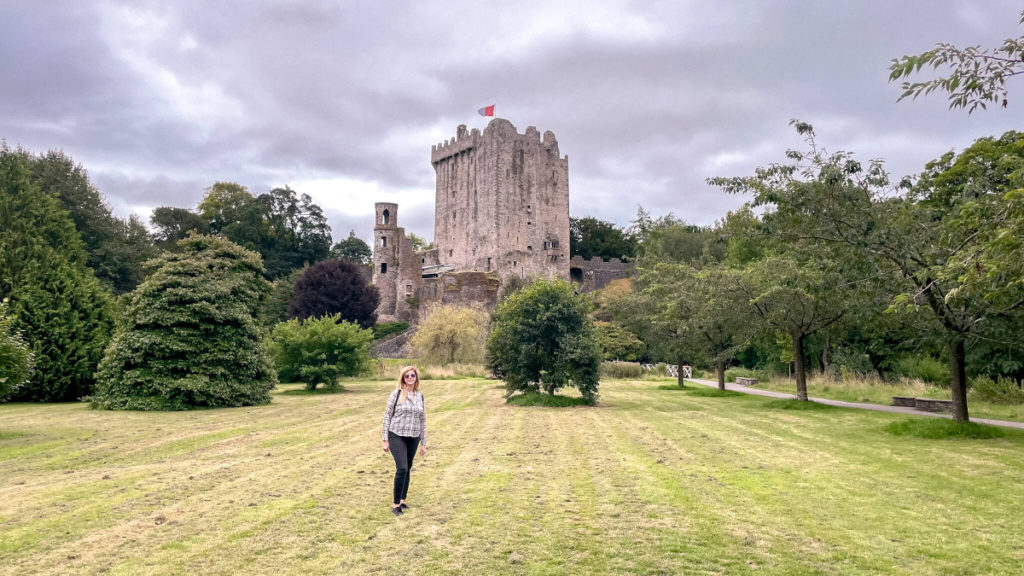 Blarney Castle is Ireland's most visited castle and one of the most well-preserved Medieval castles in the country.
Visitors to Blarney Castle will get to explore not only the outside, but also the inside of the castle. There is a very narrow (and steep) spiral staircase that winds up to the top of the castle.
Fortunately, you can also stop on the different levels as you make your way up to the top level, which is good news since you'll likely want a break from the stairs every once in a while.
Once at the top, you'll be greeted with some impressive views of the surrounding area and gardens. You'll also have your chance to kiss the infamous Blarney Stone.
While this may not be the year you want to partake in kissing the Blarney Stone, you can rest assured that the stone is disinfected in between each person. But, you can always just leave a bit of distance between the stone and your lips, if you'd like to be on the safer side.
Either way, it's a fun experience that involves a little gymnastics and the help of an assistant for safety who works there. Those with back issues may want to skip this activity.
After you've explored the castle and kissed the Blarney Stone, you can wander around the surrounding gardens for a bit.
Blarney Castle Day Trip from Dublin
Duration: About 12 hours
Price: About $75
4. Northern Ireland and Giant's Causeway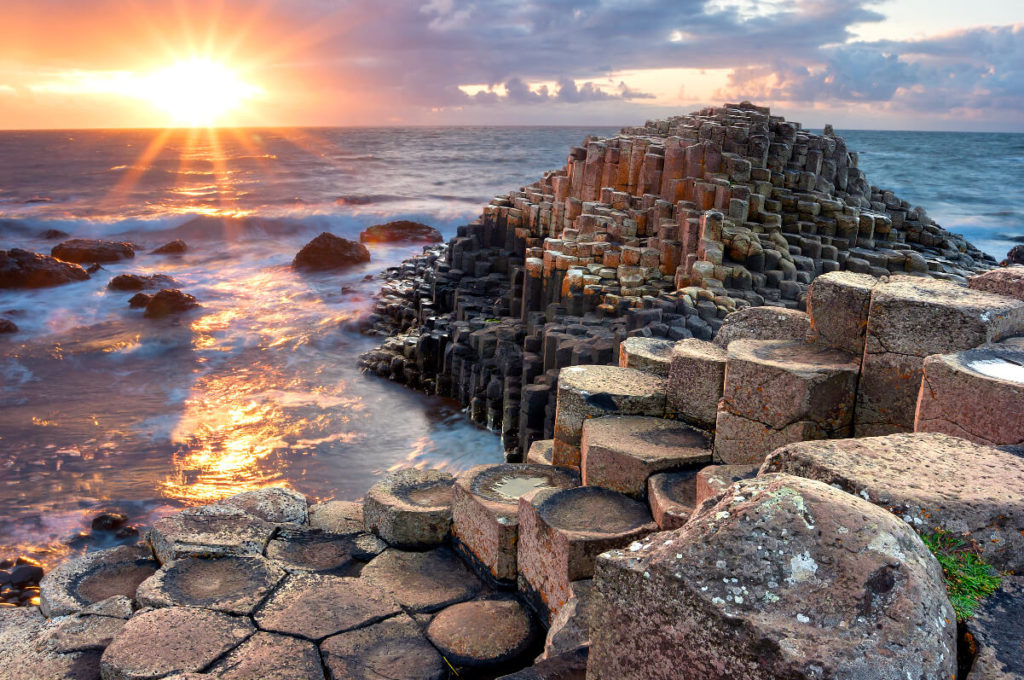 If you have enough time during your visit to Ireland, I highly recommend a Giants Causeway tour from Dublin, which includes a visit to Belfast.
If you're at all familiar with the history between Ireland and Northern Ireland, you'll likely find the visit to Belfast very interesting. The Belfast city tour includes stops at some of the city's most popular destinations, along with plenty of information on its history and current political climate.
After a stop in Belfast the tour continues on to the stunning coast of Northern Ireland. Here you'll get to explore Giant's Causeway and the country's famous Carrick-a rede rope bridge.
This is one of the most popular day tours from Dublin. Be sure to book this early if you'd like to go to Northern Ireland during your visit.
Northern Ireland and Giant's Causeway Day Trip
Duration: About 13 – 14 hours
Price: About $88
5. Ring of Kerry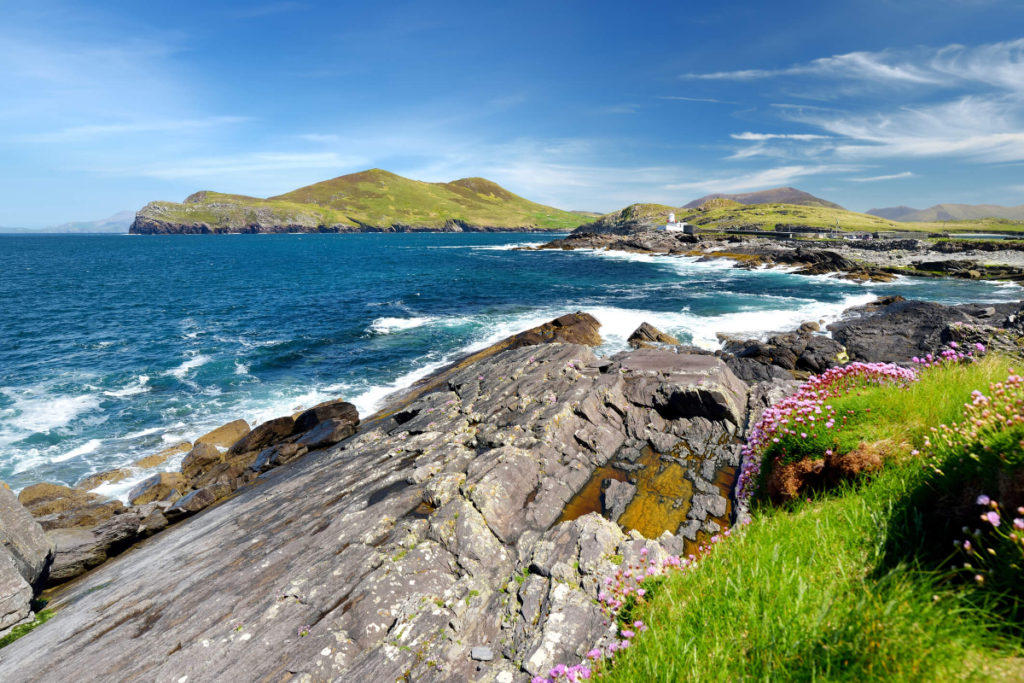 This Ring of Kerry day trip from Dublin is quite the adventure. Due to its distance from Dublin, this guided tour also includes transport via a very scenic train ride.
The Ring of Kerry is a scenic drive around the Iveragh Peninsula located in the southwestern corner of Ireland in County Kerry. The Ring of Kerry runs 179 kilometers (111 miles) in length.
The full drive around the Ring of Kerry is about 3.5 hours without stops. This tour does include several stops along the way at scenic lookouts, and of course a stop for tea and another for lunch.
Along the route you'll get to view Ireland's gorgeous rocky coastline along with several local villages. As one of Ireland's top road trip destinations, you're sure to have a good time on this day trip from Dublin despite the long time to get there.
Ring of Kerry Day Trip from Dublin
Duration: About 15 – 16 hours
Price: About $150
6. Rock of Cashel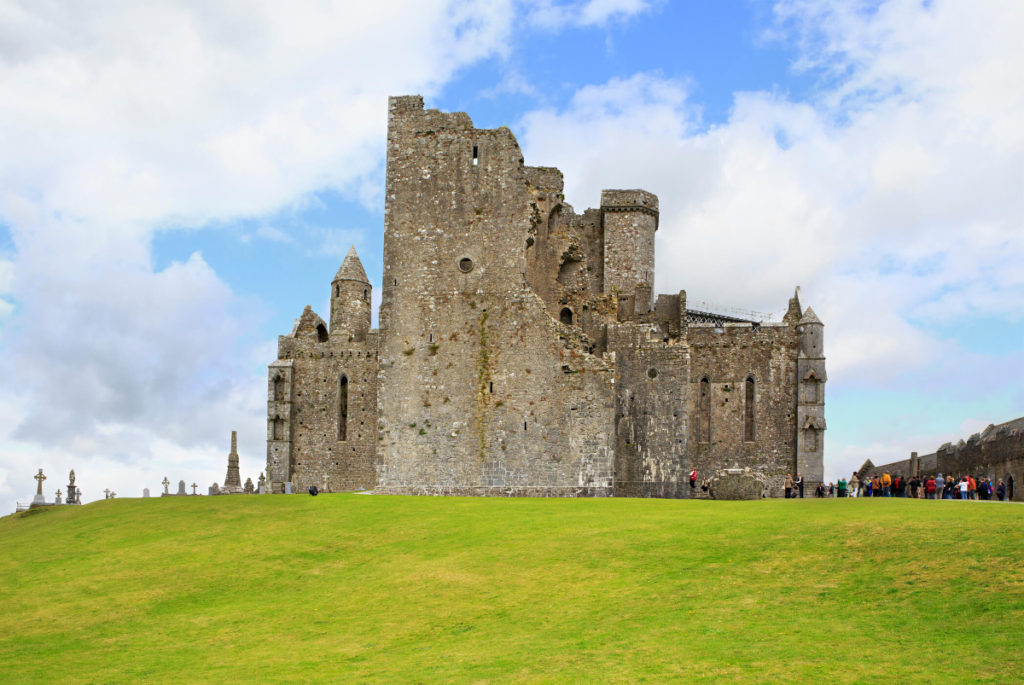 The Rock of Cashel was one of the most unexpectedly cool stops on my Ireland road trip this past year. The castle sits on a hilltop overlooking a valley about 50 minutes west of the Medieval town of Kilkenny.
This castle looks so ominous as you approach it from the roadway down below. It seriously looks straight out of a movie.
The other cool thing about Rock of Cashel is that you get to go inside. This castle is not as well preserved as say Blarney Castle, but its just as cool in my opinion. Actually, don't tell anyone, but I actually enjoyed visiting Rock of Cashel way more than Blarney Castle.
Rock of Cashel dates back to the 12 century, and you'll have the opportunity to learn all about its history on your day tour from Dublin.
Inside the castle you get to see how massive the structure was and how thick the walls are. It's amazing to see how these things were built back in the day.
This Rock of Cashel day trip from Dublin also includes a stop at Cahir Castle and a city tour of Cork, Ireland's second largest city.
Rock of Cashel Day Trip from Dublin
Duration: About 12 hours
Price: About $85
7. Wicklow Mountains National Park
Wicklow Mountain National Park is located just 45 minutes south of Dublin and makes a fun day trip from the city. This is also one of the few Dublin day tours that gets you out in nature and into one of the country's beautiful national parks.
This national park is home to some incredible scenery, many miles of hiking trails, several lakes, and even a waterfall.
This guided tour will take you on a 90 minute hike in the mountains and also to Enniskerry Village Square, Guinness Lake, Glendalough Monastic Settlement, and Glendalough Upper Lake.
Bring good hiking shoes for this one, and don't forget your camera.
Wicklow Mountains Day Trip from Dublin
Duration: About 8 hours
Price: About $50
8. Trim Castle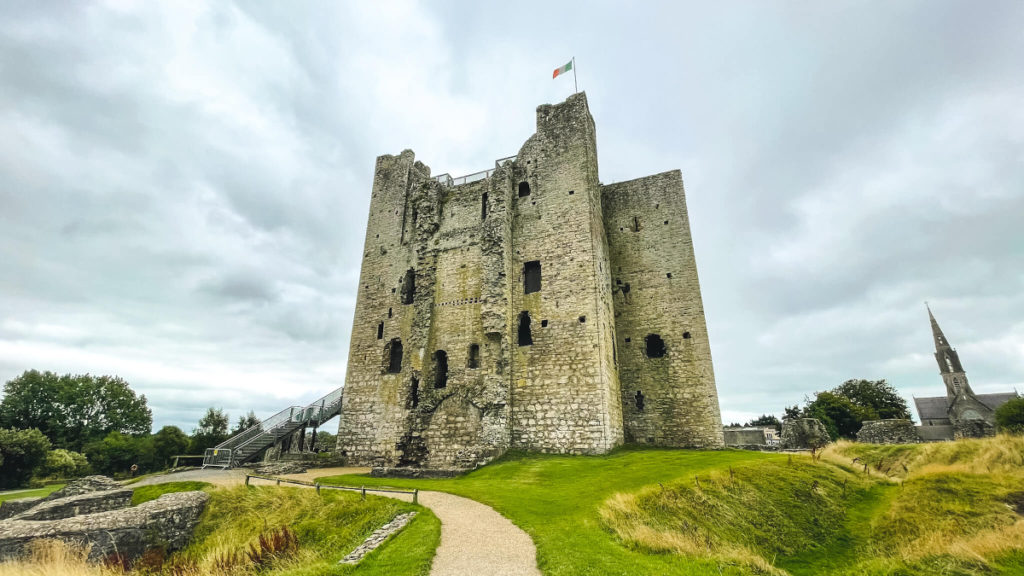 Trim Castle was another unexpectedly fun stop on my Ireland road trip. This castle is also fairly well-preserved, though visitors are not permitted on the inside.
You can however enjoy a walk along the paved pathway that circles the castle. From the paved trail you can see the remaining ramparts and the area where the moat used to be. How cool is that?
In addition to a 90 minute visit to Trim Castle, you'll also have the opportunity to visit the ancient monument of Newgrange, a former burial site and place of ancient worship. Newgrange is one of only two UNESCO World Heritage Sites in Ireland.
This tour also includes a short stop at Slane Castle, where Irish band U2 recorded one of their songs.
Trim Castle Day Trip including Newgrange from Dublin
Duration: About 8 hours
Price: About $45
9. Galway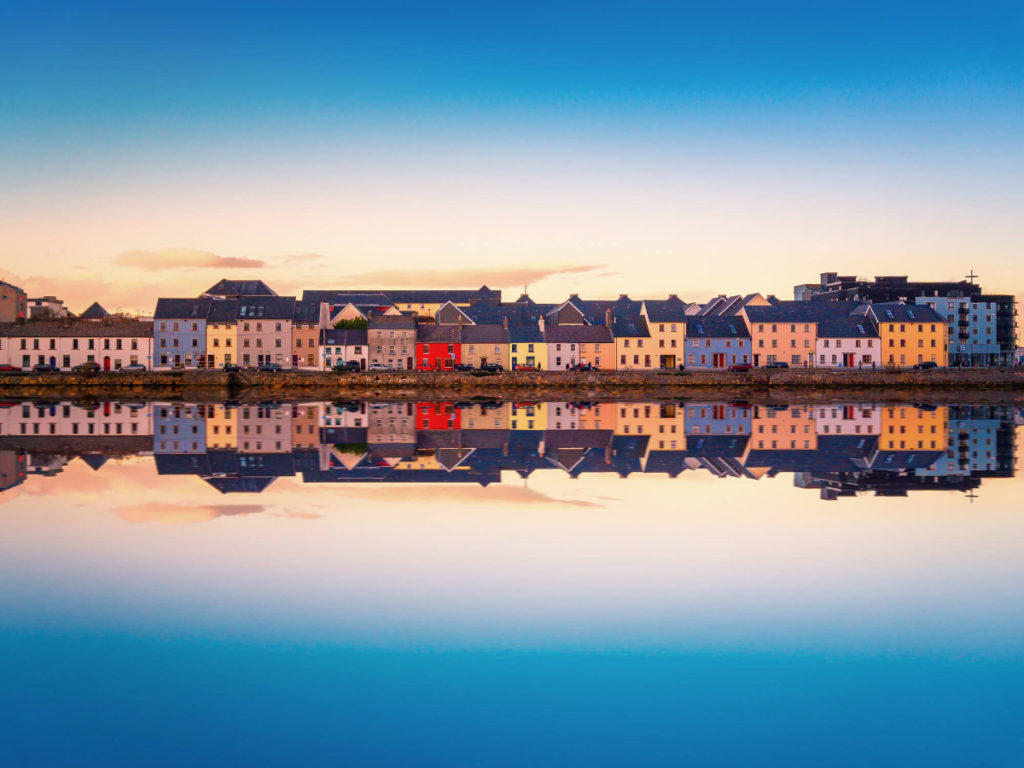 Galway is a lively and fun city located along Ireland's Atlantic coast. Its home to an abundance of great pubs and restaurants, and is truly worth a visit during your time in Ireland.
If you won't be renting a car during your Ireland visit, this tour is the perfect way to see the city. After visits to Kilmacdaugh Monastery, Cliffs of Moher, and The Burren, you'll have the chance to explore Galway city for a bit.
I recommend walking around the city for a short while, then finding a local pub for lunch and a pint or two. This city is all about its pub culture, so you might as well enjoy it while you're there. I know I sure did!
Galway Tour Including Cliffs of Moher from Dublin
Duration: About 12 hours
Price: About $55
10. Boyne Valley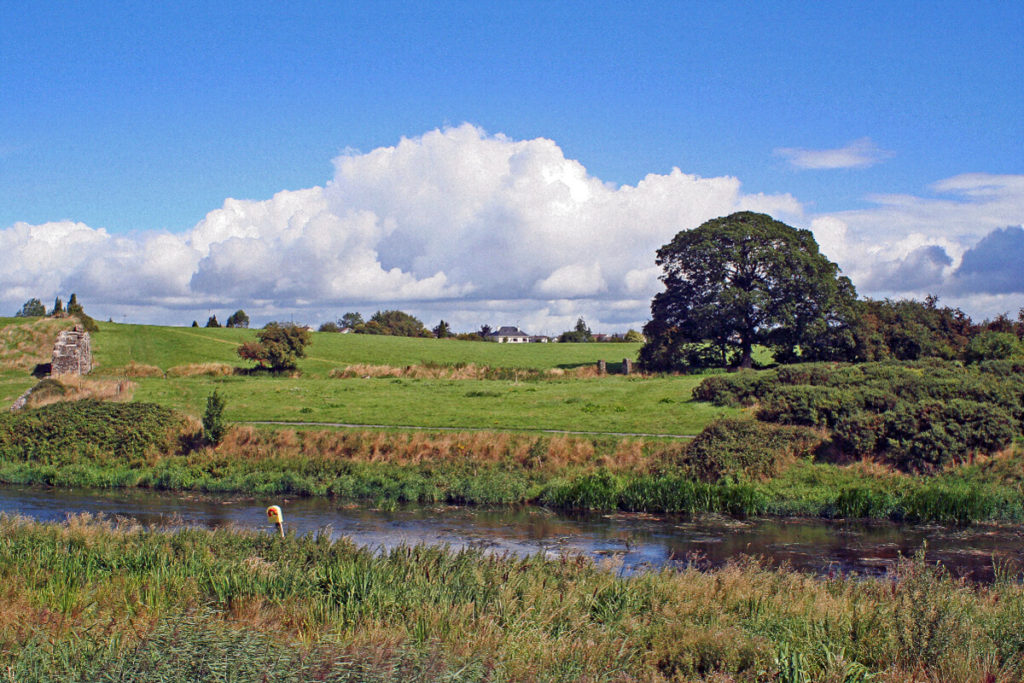 Finally, if you're looking for one of the most unique day trips from Dublin, book this tour to the Boyne Valley. The Boyne Valley is located a short drive north of Dublin and makes an easy day trip destination.
This tour stops first at the Hill of Tara, an archaeological site dating back to the Iron Age which served as a both a ceremonial site and burial site.
After an hour or so at Hill of Tara, you'll make your way to the town of Trim where you get to explore Trim Castle.
After Trim Castle you'll head to Loughcrew Cairns, the site of multiple passage tombs from the Neolithic Age.
Finally, the tour will take you to Fore Abbey, a Christian monastery dating back to the 7th century.
Boyne Valley Day Trip from Dublin
Duration: About 10 hours
Price: About $60
That's it for my guide to the best Dublin day trips. No matter which trip you choose, I think you'll enjoy the opportunity to explore Ireland outside of Dublin. Safe travels.
I hope you've enjoyed this short guide to the best day trips from Dublin and were able to find a day trip you'll enjoy. If you would like to support this blog please consider sharing this post. As always, thanks for reading.
Kilkenny was easily my favorite stop during my recent trip to Ireland and it also…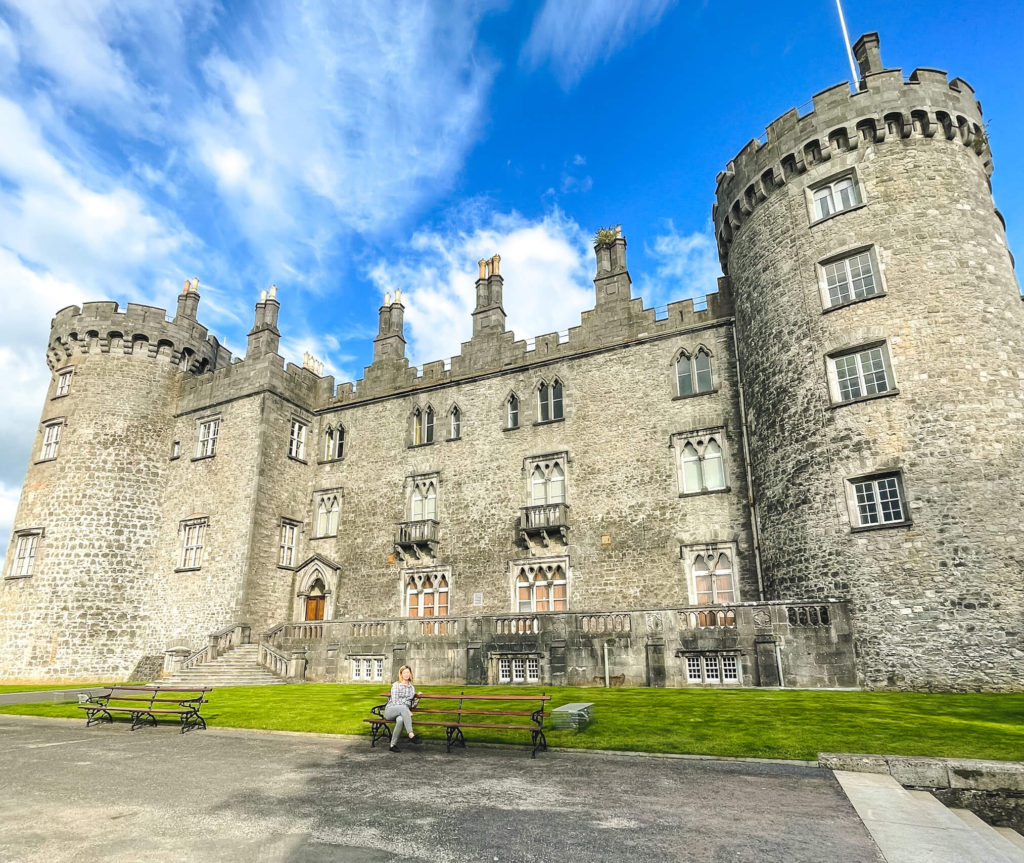 Patryk Kosmider/iStock These 10 Day Trips from Dublin are sure to make your visit to…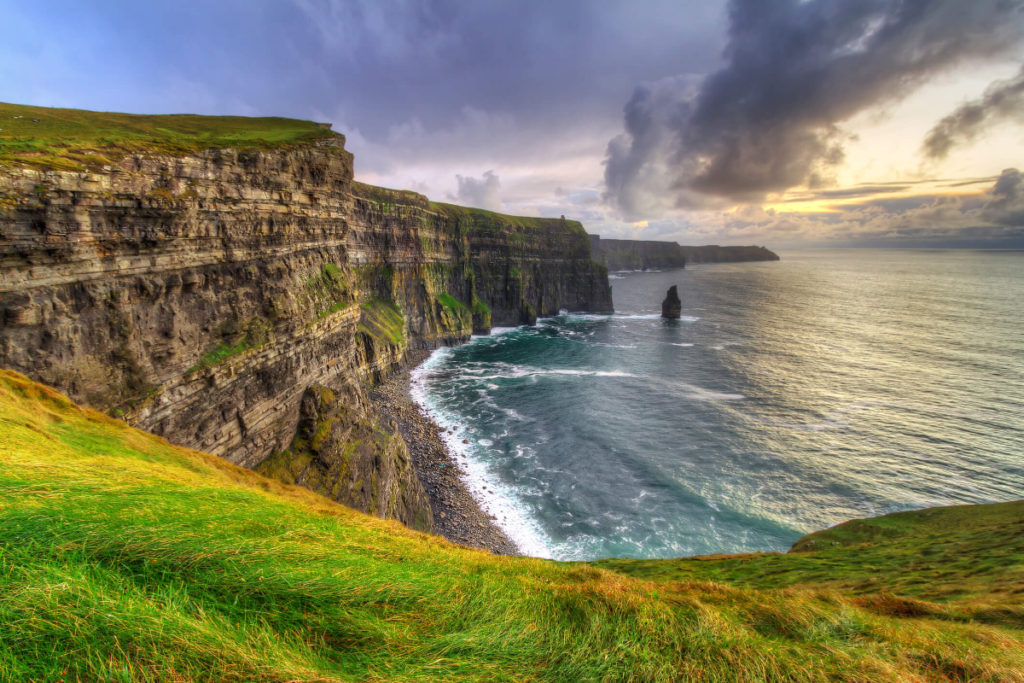 If you're planning to visit Ireland, an Ireland Road Trip is the perfect way to…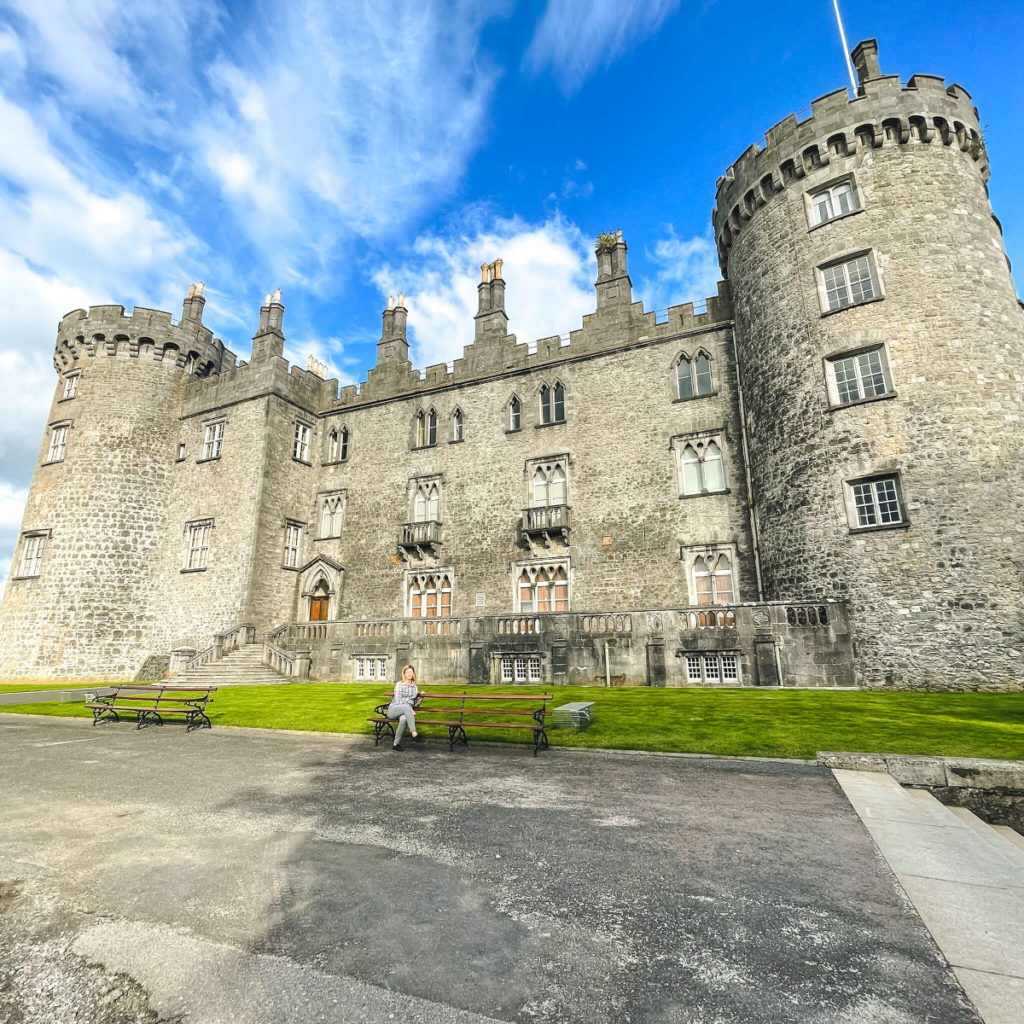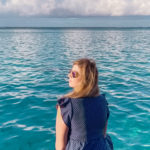 Eden Fite
Part-time Traveler | Dog Lover | Avoider of Crowds
I help busy people find creative ways to travel more.