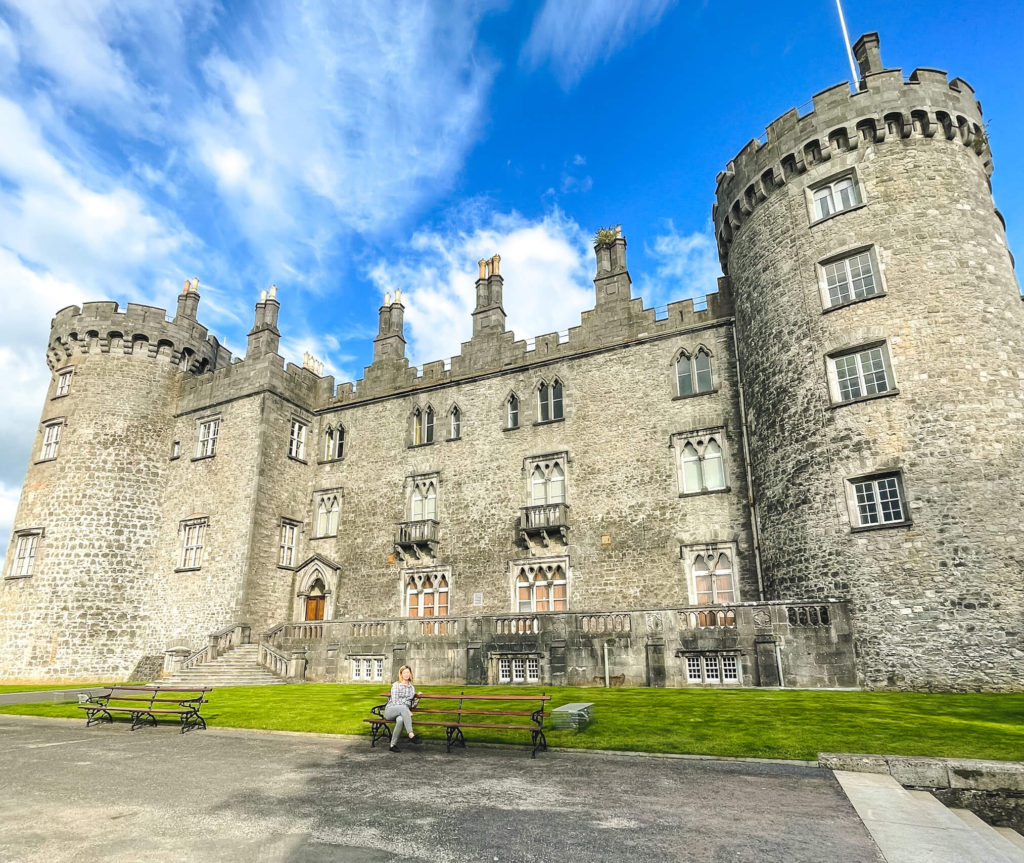 Kilkenny was easily my favorite stop during my recent trip to Ireland and it also just so happens to be the country's best preserved Medieval city.
What I loved most about Kilkenny was exploring the town's history along what's known as the Medieval Mile, a discovery trail running through the city that connects Kilkenny Castle to St. Canice's Cathedral.
There's so much interesting Medieval history in this town, it really is a destination you don't want to miss.
You'll find Medieval castles and cathedrals near the Kilkenny historic center along with the remnants of the old Medieval walls that used to guard the city.
In addition to its Medieval history, Kilkenny also has great restaurants and lively pubs to enjoy after you've spent the day sightseeing. I share some of my favorite places for food and drinks down below.
While there are many places to visit during a trip to Ireland, I highly recommend making Kilkenny one of the destinations you choose to visit.
Kilkenny is a wildly fun city and if you're short on time also makes an easy day trip from Dublin.
However you choose to visit, whether you're just in town for a day, or you decide to stick around a while, you're really going to love this city.
Some of the links in the post are affiliate links. If you make a purchase through these links it helps to support this site at no extra cost to you.
Things to do in Kilkenny Ireland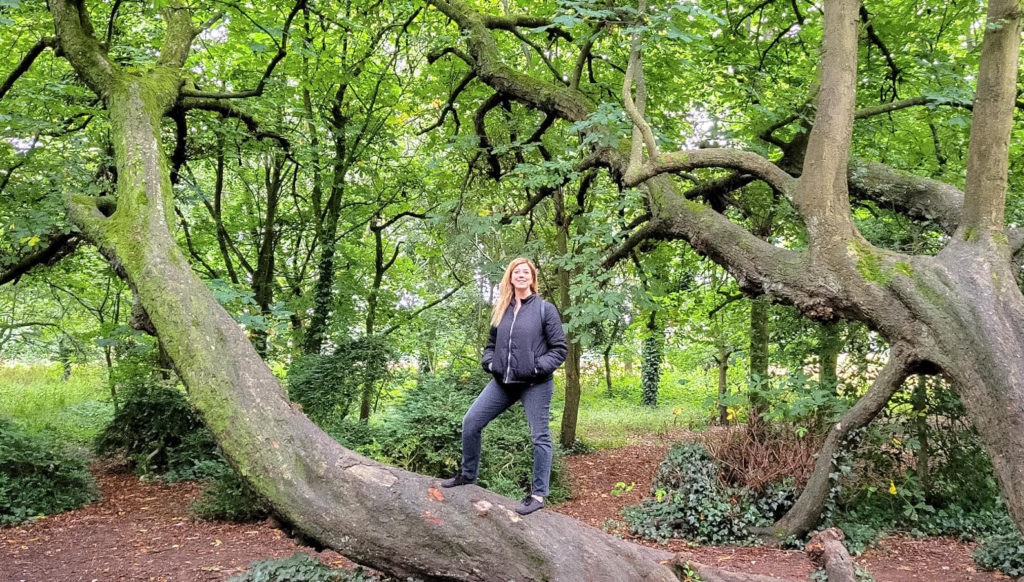 Kilkenny is located about 90 minutes south of Dublin and is easily reached by car or bus.
First time visitors will want to spend at least one full day here if possible. If visiting as part of an Ireland road trip, I would spend the night here so you have more time to explore the following morning.
I include a few hotel suggestions down below, but Kilkenny is a very walkable city. As long as you're in the city center, you'll be in a good place to explore.
Down below you'll find my favorite things to do in Kilkenny. Most of these places are within 10 to 15 minutes walking distance to each other. You can use Google Maps to get walking directions as you go from place to place.
You can also stop into the Shee Alms House on High Street. This is the Kilkenny Tourist Office and they can provide tips for your visit and a map of the city's attractions and points of interest.
Tours in Kilkenny Ireland
If you're interested in joining a guided tour to Kilkenny during your visit to Ireland, I recommend taking this one:
Kilkenny and Wicklow Mountains: This is a 9 hour day trip from Dublin with stops at the Wicklow Mountains and Kilkenny. I like this one because it's affordable and a bit shorter than the other 12 hour day trips on offer.
If you decided to drive on your own to Kilkenny but would like a guided tour of the city, I recommend this one:
Don't like guided tours? No problem. Just keep reading.
Traveling Soon? Don't forget your travel insurance.
Travel insurance is now more important than ever.
Travel insurance is probably less than you think it is. (Ex. For a week in Spain next month I'm paying less than $62.00.)
Travel insurance covers a lot more than you think it does.
It's better to have it, than need it and wish you'd bought it.
See for yourself. Check prices here.
1. Kilkenny Castle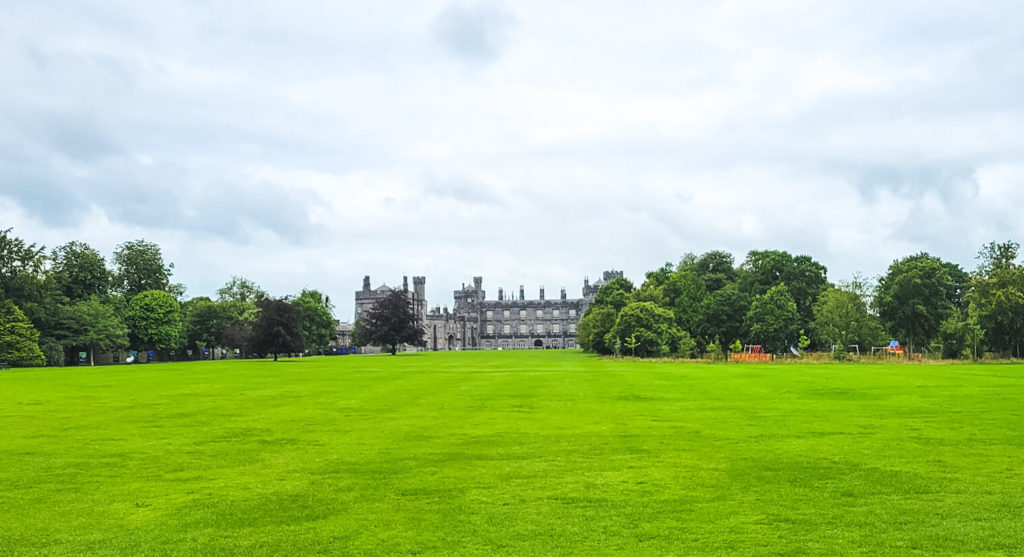 Kilkenny Castle dates back to around 1195 and is one of the most popular Kilkenny attractions.
You'll find Kilkenny Castle right in the heart of the city's historic center and surrounded by expansive gardens with grass, trees, and flowers.
I recommend arriving at Kilkenny Castle first thing in the morning to get pictures outside before heading inside. If you arrive early, you'll also beat the crowds wanting to tour the interior.
On the inside of the castle you'll get to wander from room to room viewing the old furniture and art while learning about the history of Kilkenny, the castle, and the people who once lived there.
Kilkenny Castle is open daily from 9:30 a.m. Admission is free.
2. St. Mary's Medieval Mile Museum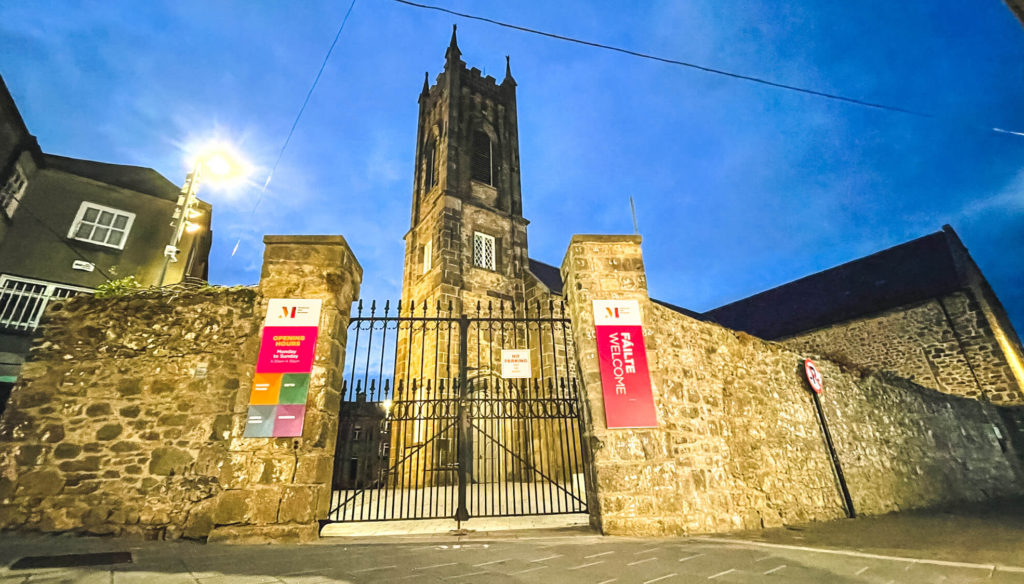 St. Mary's Medieval Mile Museum is located about a five minute walk from Kilkenny Castle and was my favorite historical site in Kilkenny.
Admission to the Medieval Mile Museum comes with a guided audio tour which leads you through the museum's various exhibits, including outdoor cemetery.
The interior exhibits walk you through the Medieval history of Kilkenny where you'll learn about important events and people from the city's past.
The Medieval Mile Museum is open daily from 9:30 a.m. to 4:30 p.m.
3. Explore the Medieval walls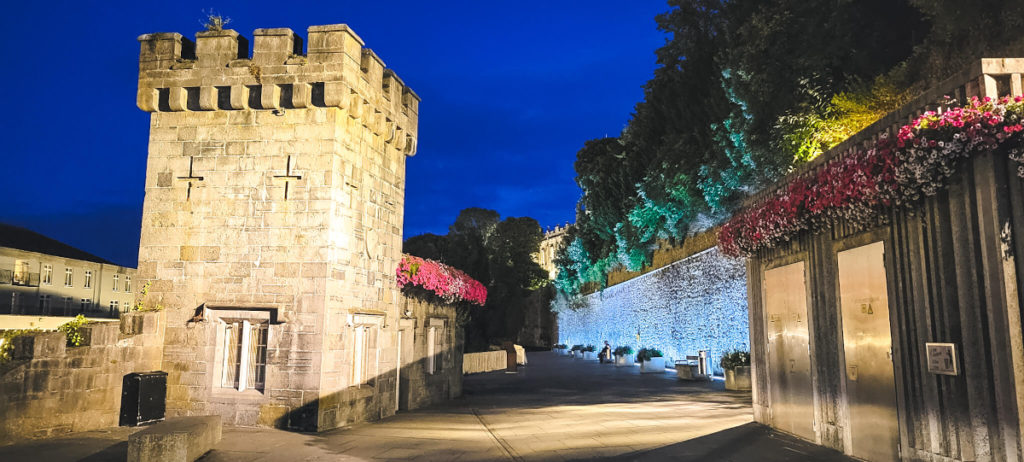 One of the more unusual things to do in Kilkenny is to wander around exploring the city's old Medieval walls.
You'll find the Medieval walls in the city center near the Medieval Mile Museum. There's no one particular thing to see, it's just cool to get to experience a city like this built up around the old walls.
So my recommendation is to just wander around and explore, and see what you can find.
If you'd like to spice this activity up a bit, stop into the various pubs as you make your way around the city. You can thank me later for this fantastic idea!
4. Visit St. Canice's Cathedral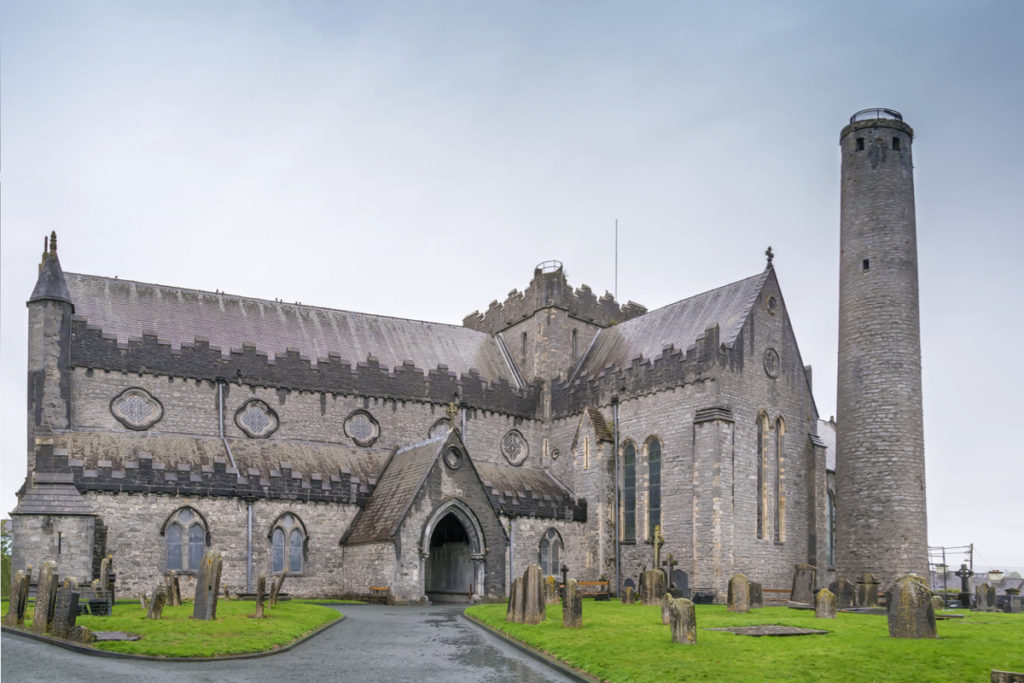 One of the biggest historical attractions in Kilkenny city is St. Canice's Cathedral, which dates back to the 13th century. The cathedral was built between 1202 – 1285 and is a beautiful example of Gothic architecture.
St. Canice's Cathedral still holds worship services on Sundays and Wednesdays, so be sure to check their website to avoid visiting during these times if you're hoping to view the interior.
Visitors to the cathedral can also climb the adjacent Round Tower which stands at about 100 feet high. At the top of the platform there is a viewing platform that offers incredible views of Kilkenny, making the climb to the top well worth the effort.
As you might have guessed, the interior of the round tower is quite small. Those uncomfortable in small spaces may want to pass on climbing the tower.
St. Canice's Cathedral is open Monday through Saturday from 10:00 a.m. to 4:00 p.m.
5. Cocktails along the River Nore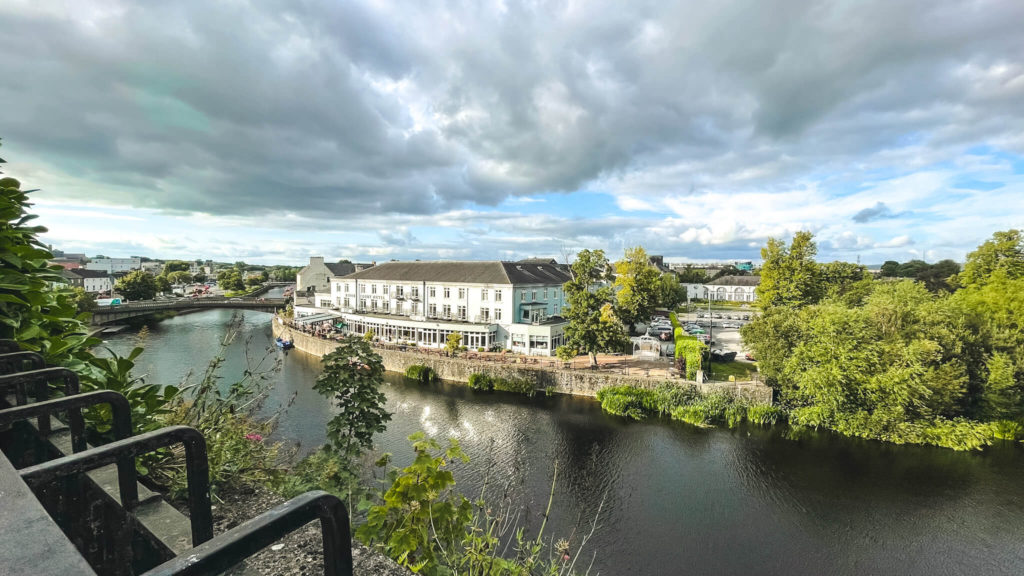 If you're looking to take a little break from all the sightseeing around Kilkenny, make your way over to the Kilkenny River Court Hotel for cocktails at The Terrace.
The Terrace sits along the bank of the River Nore and offers impressive views of nearby Kilkenny Castle. If you can time it right, this is also a great place to be for sunset.
At The Terrace you can enjoy wine, cocktails or a pint of beer. They also serve sandwiches, burgers, salads, local Irish dishes and desert.
Reservations for the outdoor area are not required and all are welcome. You do not need to be a guest of the hotel to visit, thought it is a nice hotel if you're looking for a place to stay.
6. The Black Abbey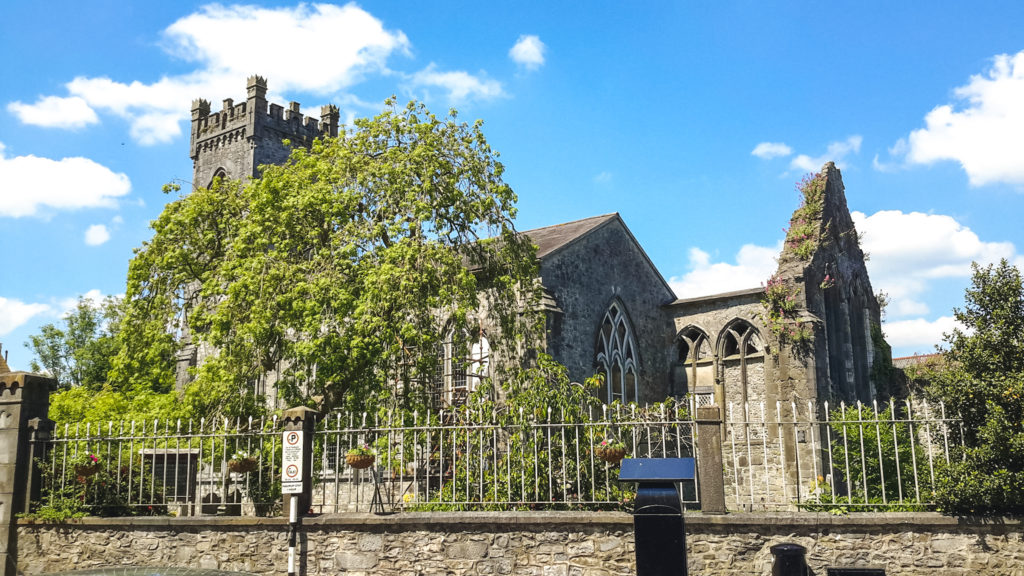 As you explore Kilkenny, you'll want to be sure to leave time for a visit to the city's historic Black Abbey.
The Black Abbey is a 14th century Dominican church and priory located about a 12 minute walk from Kilkenny Castle along the city's Medieval Mile.
The Black Abbey is best known for its huge stained glass windows that depict the Mysteries of the Rosary and date back to 1892. It's the largest stained glass window in Ireland and the church's most notable feature.
7. Rothe House and Garden
Rothe House and Garden is a historic home turned museum located at the midway point of the Medieval Mile.
The home used to belong to John Rothe Fitz Piers, a local merchant, landowner and mayor of Kilkenny City. The property consists of three homes and three courtyards that date back to between 1594 and 1610.
Today, guests can wander the three historic homes and courtyards and learn about Mr. Rothe and his family, and also about what like was like in Kilkenny in the early 1600s.
Rothe House and Garden is open Tuesday through Sunday from 10:30 a.m. to 5:00 p.m. Adult admission is 7.50 (EUR).
8. Visit Dunmore Cave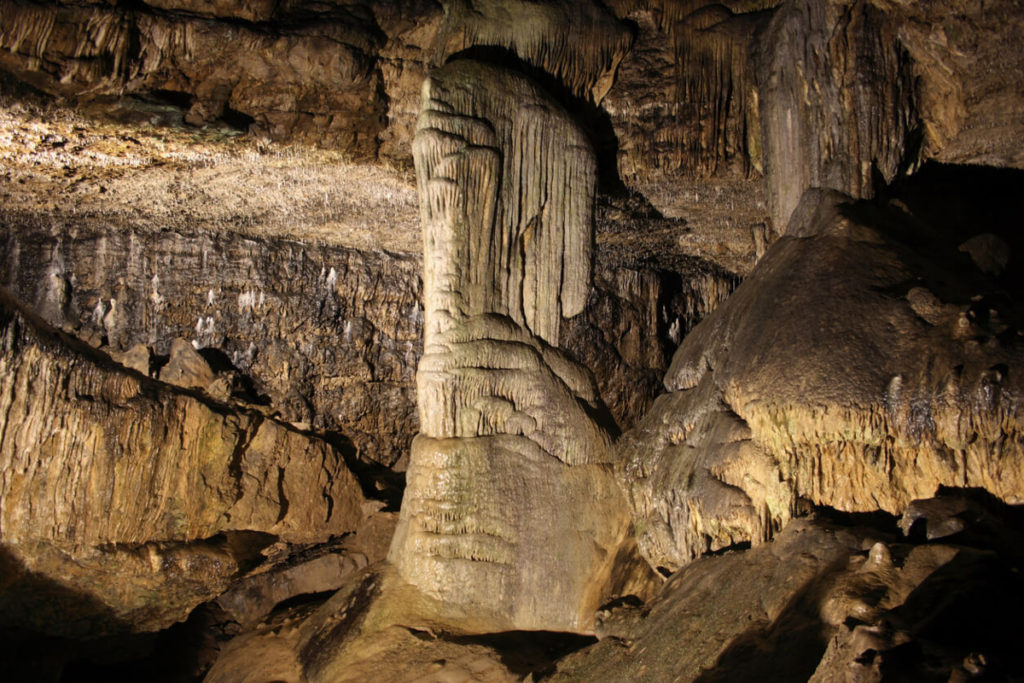 Dunmore Cave is a large limestone cave in County Kilkenny, known for important archaeological discoveries.
Visitors enter the wide opening to the cave via a series of stairs leading down further into the back of the cave. It gets darker and wetter the further down you go, but it also gets a lot more interesting. You'll definitely want comfortable walking or hiking shoes for this activity as the stairs and rocky surfaces can get a bit slippery.
Even more interesting, the cave was the sight of a Viking massacre back in 928. I'll leave the fascinating stories for you to discover on your own visit, but definitely plan to visit Dunmore Cave if you have the time.
If you're looking for another activity before heading back to Dublin, consider visiting Castlecomer Discovery Park. This is an adventure park with ziplining, canoeing, tree top walks and more. The park is located about 15 minutes north of Dunmore Cave or 20 minutes north of Kilkenny.
9. Visit the local shops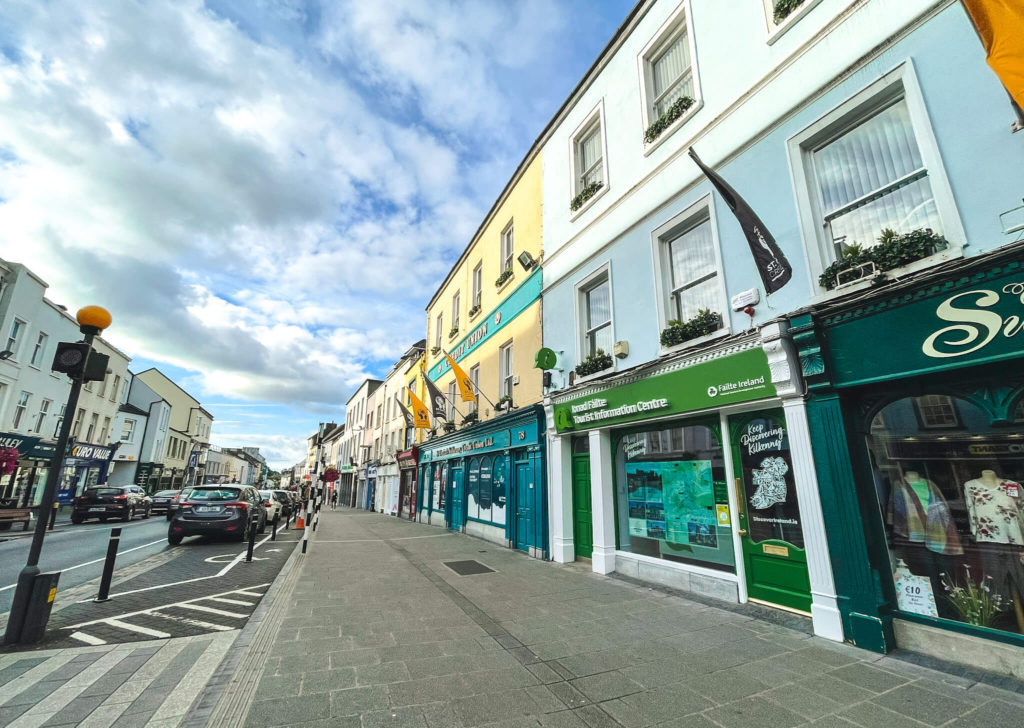 Once you've finished exploring Kilkenny's Medieval tourist attractions, you can enjoy the rest of your day visiting the city's local shops.
You'll find all sorts of local boutiques selling everything from candy to clothing and shoes. You will also of course find plenty of souvenir shops if you're looking for something to take home with you.
If you're looking for something a bit more unique, head over to the Kilkenny Design Centre located right across the street from Kilkenny Castle.
At the Kilkenny Design Center you'll find locally made crafts and art including candles, clothing, jewelry, and home goods. If you're looking for a unique gift for yourself or someone back home, this is the place to get it.
10. Enjoy a pint at Kytelers Inn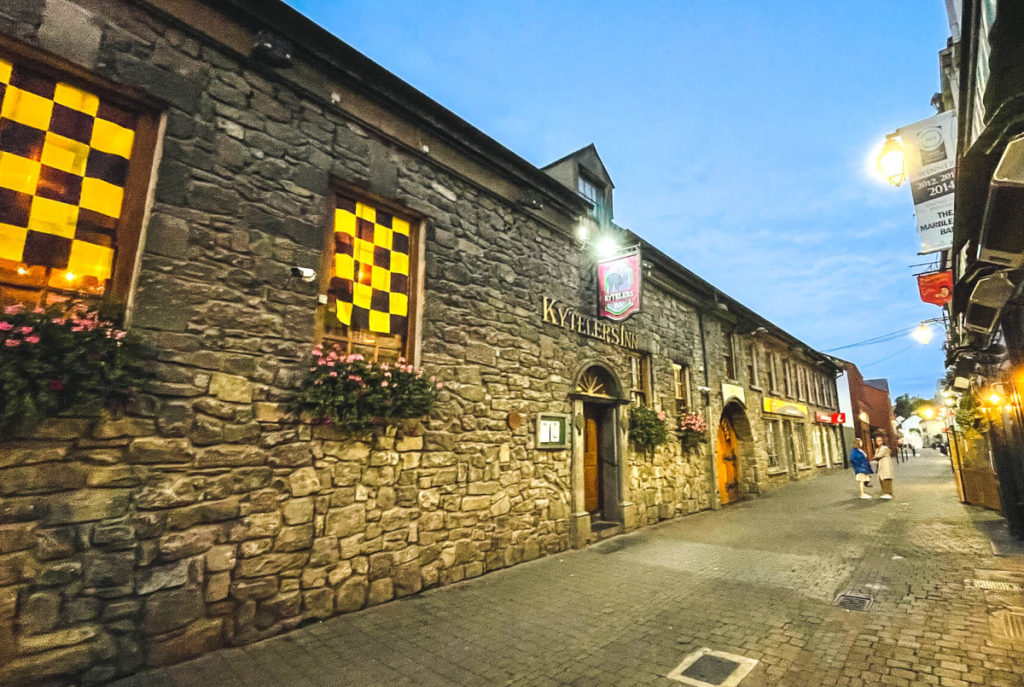 Don't judge, but Kyteler's Inn was my favorite stop while in Kilkenny. It didn't hurt that they had my favorite cider on tap, but what I enjoyed most was the venue's history and lively atmosphere.
The Inn is actually a pub and restaurant that dates back to the 13th century, but is now known as a lively gathering place for locals and visitors alike.
I recommend stopping into Kyteler's Inn for drinks and dinner at the end of the day. They serve traditional Irish cuisine and local Irish beers and offer live music most nights of the week.
They offer both indoor and outdoor seating and can accommodate large groups. If seated outside, be sure to check out the interior of the building as well to see the original Medieval stone walls that were restored in the late 1980s.
Kyteler's Inn is open daily and hours vary.
If you have extra time during your visit to Kilkenny you can also visit the following places:
Kells Priory – Located in the village of Kells, this Priory is considered one of the most impressive Medieval monuments in Ireland. Kells Priory is located just 17 minutes south of Kilkenny.
Kilfane Glen and Waterfall – This is a large natural area with gardens and a waterfall which date back to the late 1700s.
Where to Stay in Kilkenny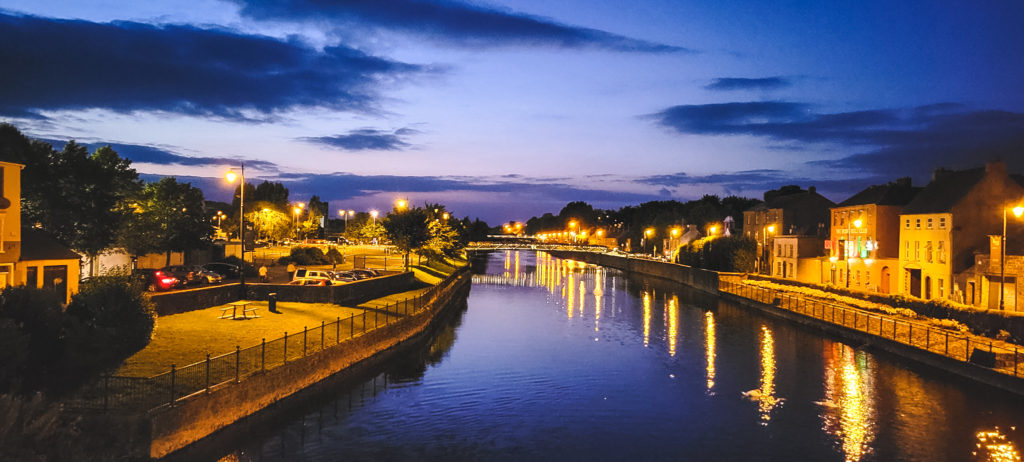 Here are a few options for hotels in Kilkenny including the hotel I stayed at during my recent visit. When visiting Kilkenny you'll want to be near the historic center so you're in close proximity to all the main sights.
Here are my Kilkenny hotel recommendations:
I hope you've enjoyed this guide to the best things to do in Kilkenny and that I've inspired you to plan a trip of your own. If you'd like to support this blog please consider sharing this post. As always, thanks for reading.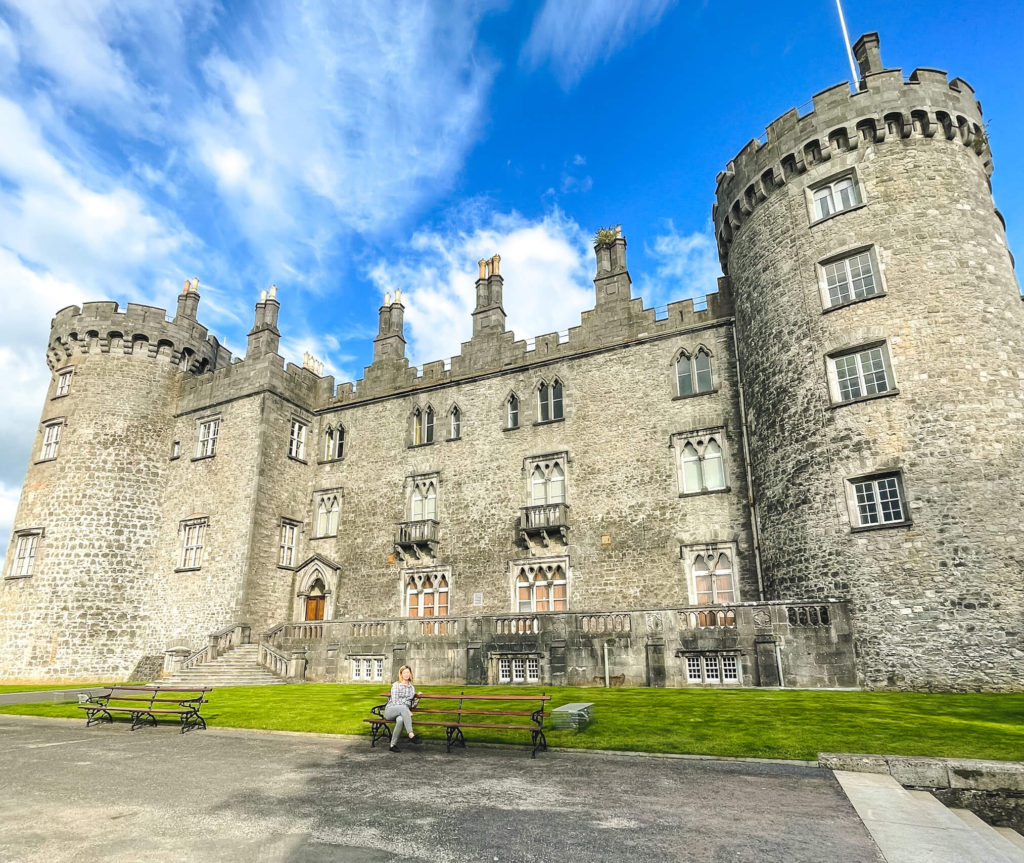 Kilkenny was easily my favorite stop during my recent trip to Ireland and it also just so happens to be the country's best preserved Medieval …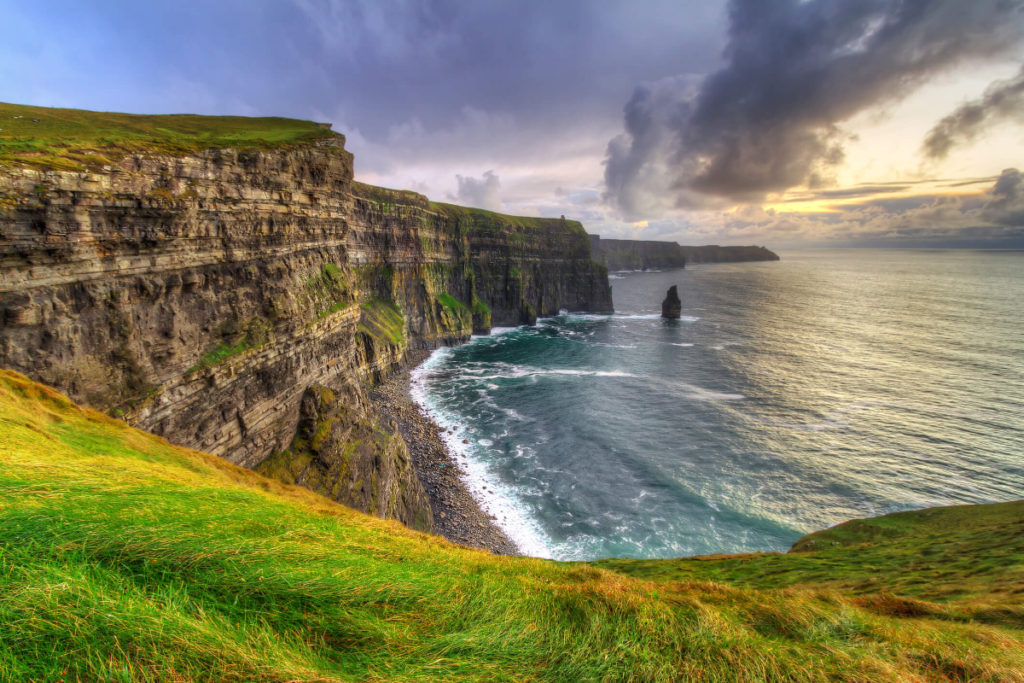 Patryk Kosmider/iStock These 10 Day Trips from Dublin are sure to make your visit to Ireland a memorable one. While I think everyone traveling to Ireland …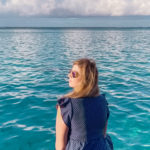 Eden Fite
Part-time Traveler | Dog Lover | Avoider of Crowds
I help busy people find creative ways to travel more.